Microsoft Surface Pro X And Pro 7 Review: Snapdragon And x86 Experience
Microsoft Surface Pro X And Pro 7: Performance Summary and Conclusion
Surface Pro X Performance Summary:
Microsoft's
Surface Pro X
performance can be summed up best as
uneven
. Even with native Arm applications, the Surface Pro X couldn't keep up with any of our 64-bit x86 test machines nor a 3rd gen iPad Air. Granted, we were mostly limited to web browsers for our native testing, but that's at least in-part because there currently aren't enough Arm-native apps available. Those browser tests might be passable in everyday usage, but they came up short of every other entrant in our field.
However, when all of the stars align, the Surface Pro X is unsurpassed for battery life in
Windows 10
. Thirteen hours of video playback is a huge consideration. Even when you're stuck with an x86 32-bit app or two, battery life was still pretty good. We still saw more than 7 hours out of the x86 video playback test, so in a pinch, those 32-bit apps don't totally kill the luster of this super-efficient convertible, hybrid 2-in-1 PC.
Surface Pro 7 Performance Summary:
On the other hand, the
Surface Pro 7
performed admirably. Because of its x86 roots, it could run any application we threw at it, and we didn't have to worry about compatibility. Performance was right in line with what we expected, too. Intel's
Ice Lake
architecture did a great job of giving plenty of oomph for everyday tasks without burning through battery life. While the Surface Pro 7 didn't score the very highest in the tests we ran, the system provides a unique mix of performance and portability that road warriors will be sure to both enjoy and utilize.
Battery life was solid if unspectacular, but having an actual x86-64 CPU inside of it made for a much more usable machine. Conversely, the Surface Pro 7 is also a totally fanless design, so it should be noted that over time performance under a heavy load will degrade somewhat. That's just the price we pay for having such a lightweight PC with a quad-core processor inside. Ice Lake continues to impress as it makes its way into more and more systems. We liked the choices that Microsoft made, dropping the
CPU
clock speed over time to stay well under its thermal limit. For tablet mode especially, keeping skin temps down and not scorching users is important.
The Surface Pro 7 and Pro X hardware are both really nice machines but in different ways. The Pro X has a more modern appearance thanks to its slimmer bezels, USB Type-C connectors, and of course an always-connected integrated cellular radio for more persistent connectivity in a multitude of use cases and environments. Meanwhile the Surface Pro 7 is still pretty svelte despite packing some powerful mobile hardware. The Intel-powered machine keeps some of its modern cool thanks to a forward-thinking Type-C port, and
Microsoft
kept it conveniently compatible with all of our existing peripherals via the Type A slot. Both machines have attractive, well-built all-metal chassis and look great with their respective keyboard covers.
Windows On Arm Is Getting Better But Microsoft Needs 64-bit Emulation ASAP
There's also a full Windows 10 experience here on both devices. Unless we were specifically told the Surface Pro X had an Arm processor, we might not have ever known it was such a different beast in comparison to the
Surface Pro
7...until we tried to run a 64-bit app, anyway. Everything you love (or don't) about Windows 10 on
Snapdragon
is alive and well, and for the most part app compatibility is pretty good. Chrome, Office 365, and lots of other critical apps at least run, even if they aren't getting the most out of the system.
However, where compatibility falls down with the Surface Pro X, it falls down hard—giving up every 64-bit x86 app is a big ask, especially since most of the big content creation apps are 64-bit only. Most folks wouldn't want to run
Photoshop
CC, Pro Tools, or Da Vinci Resolve much slower than the performance of say Surface Pro 7 or, better yet, a high-powered workstation. Regardless, if you're a content creator, there's really only one Surface for you currently, and it's the Surface Pro 7.
The bigger picture problem with Surface Pro X is that, simply put, Microsoft needs prioritize bringing 64-bit emulation to the platform and get it out as soon as possible. For most users, sacrificing some performance for better general compatibility would cure a lot of these aforementioned shortcomings in the short term. If things just work out of the box, beyond just Office and a web browser, the
Qualcomm Snapdragon 8cx
-powered Surface Pro X becomes a much easier sell when you consider its great battery life advantages and Gigabit LTE connectivity.
Without question, it makes sense to drive development of native Windows on Arm apps for best performance, but in reality a mix of native apps and quality emulation is probably the best of both worlds, for now.
USB
3.0 performance wasn't up to par with Intel's USB controller. We only saw around half to three-quarters of the speed of the Surface Pro 7 in our data transfer tests. We also had a rough time getting optimal Wi-Fi speeds out of our TP-Link Archer C7 on the Surface Pro X. Our router's DD-WRT firmware is pretty common, so not being able to jump on the 5 GHz band was disappointing.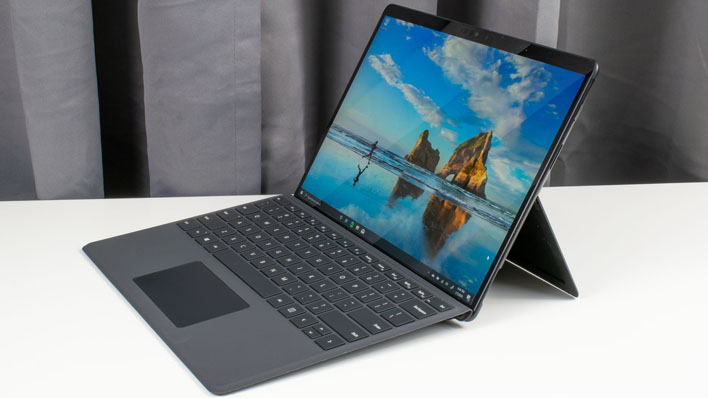 As far as pricing is concerned, the Surface Pro X doesn't represent a price break compared to the Surface Pro 7. For
$999, the Surface Pro X comes with
8 GB of LPDDR4x memory and a 128 GB solid state drive. Sure, there are extras like a larger, higher-resolution screen, better battery life, and
4G
connectivity, but for the level of performance we measured, as well as app compatibility issues, its price is still a steep ask.
In fact, the Surface Pro 7 line starts at a lower price point, though.
For $749, you can get
a Core i3 with 4 GB of RAM and a 128 GB SSD. Step up to $899 and that increases the CPU to a Core i5 and the RAM to 8 GB. That's still $100 less than the Surface Pro X, and it's a pretty powerful tablet hybrid machine. Our test unit's configuration of a Core i5-1035G4, 8 GB of LPDDR4x, and a 256 GB SSD will set buyers back $1,199. The $300 price premium for 128 GB of extra storage is truly Apple-esque, but it's a storage config we'd recommend none-the-less.
Kudos To Microsoft For Stepping Out With A Solid Windows On Arm Device, Now Make It's Time To Make It Whole
All told, the Surface Pro X represents a bold step for Microsoft and a big leap for Windows devices. Even when it has to rely on x86 app compatibility, Microsoft's first Arm device since it let
Nokia back
into the smartphone market several years ago, gives glimpses of a future where PCs are always connected to the internet, always available, and last for hours upon hours. The Connected PC vision is something we can get behind, but right now there are an awful lot of trade-offs. If you have very specific needs that include cellular connectivity and stellar battery life, and if performance is secondary to you, this is a machine we can easily recommend. Everyone else, keep reading.
In fact, we'd encourage you to keep an eye on the Windows on Arm ecosystem. As more native apps become available, the platform will become much more attractive. Microsoft really needs to work with some content creation developers especially, though Adobe and others have made some currently unfulfilled promises at least. Heck, even the iPad gets a pretty beefy version of Photoshop, so not having it as an option at all here really hurts. Normally we produce these notebook reviews entirely on the system being reviewed to get a feel for life with the
PC
, but this time we had to resort to using the trusty desktop for image processing.
On the other hand, the
Surface
Pro 7 at the same price is a speedy little 2-in-1 convertible, especially if you can live with 128 GB of storage. At $899 the Core i5 with 8 GB of memory and 128 GB of storage is extremely reasonable. The upcharge for more storage is more palatable when the performance is excellent like it is here. We really liked the Surface Pro 7's mix of looks, great display, light weight, and nice performance, so we're happy to give it our Recommended award.
Microsoft Surface Pro X





Full Windows 10 experience on Arm

Good compatibility with x86 32-bit apps

Bright, sharp PixelSense display

Amazing battery life
Totally fanless

Premium materials and build quality

Integrated always-connected 4G

Native app performance doesn't catch x86

Performance with x86 emulation is lacking

No USB-A ports

Windows on Arm is still maturing

Slower USB and Wi-Fi performance than its sibling

Kickstand is not very "lapable"
Microsoft Surface Pro 7





4-core 10th Gen Intel CPU impresses

Industry standard x86-64 native compatibility

Excellent multi-touch PixelSense display

Totally fanless

Good battery life

Premium materials and build quality

Performance drops over time due to fanless design
Bigger bezels and smaller display than Surface Pro X
Kickstand is not very "lapable"
Related content
Comments