Microsoft Surface Pro X And Pro 7 Review: Snapdragon And x86 Experience
Microsoft Surface Pro 7: Specs, Experience, And Testing
The Surface Pro X isn't the only convertible we have on hand for testing. The latest in Microsoft's long-running convertible PC series, the
Surface Pro 7
comes with a 10th-generation Core processor based on Intel's 10-nanometer fabrication process, between 4 and 16 GB of LPDDR4x memory, and an SSD between 128 GB and a full 1 TB in size.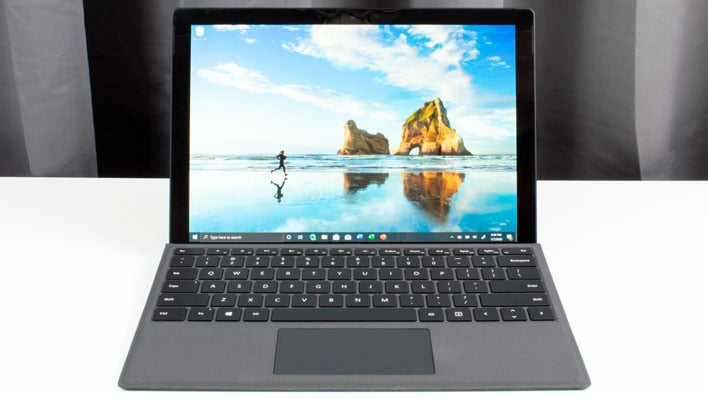 Microsoft Surface Pro 7

Specifications & Features
Processor
Intel Core i5-1035G4 (1.1 GHz base, up to 3.7 GHz turbo)
Display
12.3-inch 2736x1824 PixelSense IPS touch, 450 nits
Graphics
Intel Iris Plus Graphics
Storage
256 GB PCI-Express NVMe (soldered)
Memory
8 GB LPDDR4x (soldered)
Audio
Stereo Speakers
Camera
720p HD IR Webcam, Windows Hello Compatible
Networking
Qualcom 802.11ac Wi-Fi with Bluetooth 5.0
Ports: Left
None (Power and volume rocker only)
Ports: Right
1x USB Type-C (USB 3.1 Gen 2)
1x USB Type-A (USB 3.1 Gen 1)
1x Microsoft Surface Dock connector (compatible with included 45W charger)
Keyboard
Optional removable Keyboard Type Cover, backlit chicklet-style
Touchpad
Optional touchpad built into Keyboard Type Cover
Battery
4-cell 43.2 Wh
Weight
1.7 lb (no keyboard)
Dimensions
11.5 in x 7.9 in x 0.33 in (292 mm x 201 mm x 8.5 mm)
Warranty
1 year limited hardware warranty
Operating System
Windows 10 Home
Price
Starts at $749.99 ($1,199.99 as tested)
The $1,199 configuration of the Surface Pro 7 we have on hand today has a Core i5-1035G4 CPU, which has four cores and eight hardware threads via HyperThreading. The G4 in its name indicates that it has Iris Plus Intel Gen 11 graphics in tow as well. The processor's base clock speed is a relatively pokey 1.1 GHz, but the maximum turbo boost speed is 3.7 GHz. This CPU is a small step down from the
Dell XPS 13
7390 2-in-1's Core i7-1065G7, but the price on this unit makes up for the difference. Our review sample also has 16 GB of LPDDR4x RAM, the same as the Pro X, and a 256 GB SSD, twice as large as our Pro X review unit's drive.
The only thing ugly about this configuration is that the bigger
SSD
comes at a $300 premium and can only come in a device with a black, rather than silver, finish. Step down to 128 GB and the price drops to an otherwise identical configuration in silver for a mere $899. We'd say this is a move that previously only Apple could make, but even Apple charges
only
$200 to step up from a 128 GB SSD to 256 GB of storage. Regardless, all this hardware gets its power from a 43.2 Wh battery Microsoft says is good for 10.5 hours of "typical use".
External Differences
The Intel-equipped Surface Pro 7 has a slightly smaller 12.3" display with a lower 2736 x 1824 resolution when compared with its
Qualcomm Snapdragon
powered-based sibling. That's still good for the same 267 DPI pixel density as the
Surface Pro X
. The smaller display still looks fantastic, and has a maximum brightness of 400 nits. For those keeping score at home, the Surface Pro X's display wins in every way: it's bigger, has a higher resolution, and its maximum brightness is higher. That's not to say that the Surface Pro 7 looks bad somehow, but the displays certainly don't match up.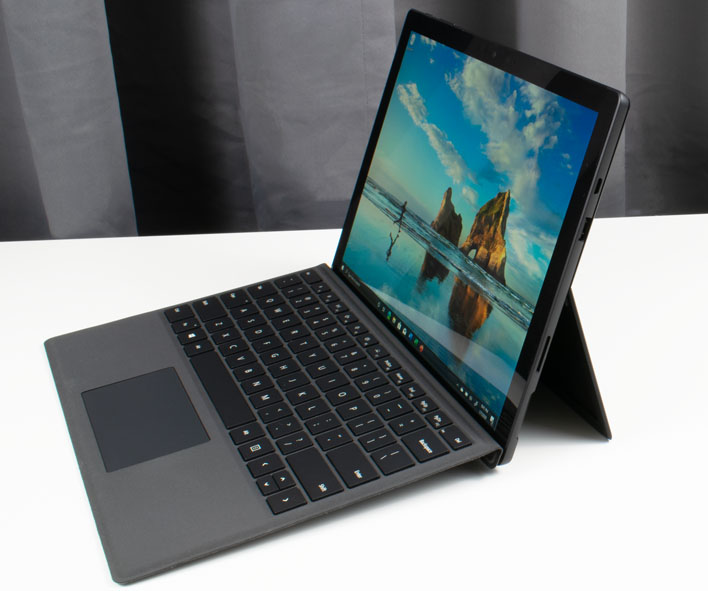 In addition, unfortunately, the Surface Pro 7 isn't much smaller than the Pro X because its bezels are quite a bit thicker. In fact, despite the smaller IPS screen, the Surface Pro 7 is both wider and thicker than its X variant, though the X is a little taller overall. Between the bigger screen and narrower bezels, the Surface Pro X has a sleeker look over the Surface Pro 7.
Other external differences from the Pro X include a
USB
3.1 Gen Type-A port in place of one of the Pro X's Type-C connectors, and there's no cellular connectivity on the Surface Pro 7. However, the Pro 7's Wi-Fi supports 802.11ax rather than the older 802.11ac spec, thanks to Intel's Wi-Fi 6 module. The Surface Pro 7 also has a micro SD card reader where the Arm-based model does not.
Both Surface Pros on hand have the same kickstand and are compatible with optional keyboard covers. However, the connector for the Surface Pro 7 is different than that of the X, so a single keyboard cover can't be shared between the two. Like the Surface Pro X, the Pro 7 has an infrared camera for
Windows Hello
facial recognition and Bluetooth 5.0. The 65-watt charger is identical between the two units, too.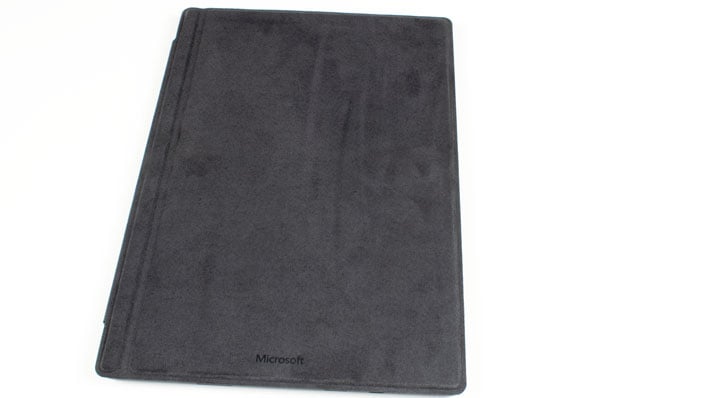 What's really unfortunate is that the feature sets between the two are so different. It's not like one device has a superset of the other's features, so if you want a dongle-free Type A port, you need a
Surface Pro
7, whereas if you want cellular connectivity, the Surface Pro X is where it's at. If you want both, you're kind of out of luck. While the two devices share a design language, it's clear they were not produced in parallel by the same team. Even the power and volume button placement and the connector for the keyboard cover are different between the two.
Living with the Surface Pro 7
One important thing about the Surface Pro 7 is that all of those concerns about compatible software just go out the window with
Intel
's native x86 processor inside. On the flip side, Microsoft doesn't advertise quite as much battery life out of this model. However, the 10.5 hours advertised should net some pretty good battery life on the go, and the 42.2 Wh battery should be big enough to back up that claim. We'll check out the specifics later on, but we wanted to just use it off the charger to see how it performs.
Since it weighs in at just 1.7 pounds, the Surface Pro 7 is lighter than just about every PC we've reviewed in recent months. That means it's easy to carry just about anywhere. Unfortunately, adding the
Surface Pro Type Cover
to the device adds another 0.7 pounds, and the combined weight is very similar to that of the recently-tested Dell
XPS 13
7390 2-in-1.
First and foremost, having a detachable keyboard makes the Surface Pro 7 a much better tablet than any machine that folds back 360 degrees. It's always felt a little weird hanging onto a 2-in-1 convertible and pressing keys with your fingers by accident.
Windows 10
doesn't ever recognize those key presses (and that's a good thing) but being able to just pull off the keyboard, save some weight, and take away the awkward feeling is nice. Windows 10 has a very functional software keyboard built into the OS that gets by for writing quick emails and browsing the web. We wouldn't want to write our memoirs or do serious Excel work without a proper keyboard and mouse, but that's true of any platform.
We've mentioned the passive cooling system on both Surface Pros before, but it's worth noting again. It doesn't matter what the workload is, the Surface Pro 7 doesn't make a peep. When sitting on the couch, it does get moderately warm to the touch. Under a normal couch workload, which includes
YouTube
, web browsing, and responding to emails, it never got hot or uncomfortable to hold. While that's a pretty light workload, it's still remarkable that a totally passive system with a body made entirely from a magnesium alloy wouldn't get hot. We could heat it up, for sure, but not to levels where it was uncomfortable to hold. We'll explore this more in our testing section.
Aside from the weight and removable keyboard, the
Surface
Pro 7 feels a lot like any other ultraportable PC. After using the Surface Pro X for a weekend, it felt nice to come back to a machine without any software compatibility worries, and we never had any concerns about how a particular app would run. It was built for this system's architecture, and so every app just
ran
.
Related content
Comments