Microsoft Surface Pro X And Pro 7 Review: Snapdragon And x86 Experience
Microsoft Surface Pro X And Surface Pro 7: ARM-friendly Benchmarks
About Our Tests
One of the issues with reviewing a trailblazing device like the Surface Pro X is that the software ecosystem hasn't quite caught up. Much of our benchmarking suite is made up of 64-bit x86 exclusives, so the raw numbers are going to be kind of light. You won't see 3DMark,
PCMark
, nor will you see our gaming tests of 3DMark or
GRID Autosport
on the Surface Pro X. However, we do have many of those numbers on the Surface Pro 7, so we'll still cover those tests where appropriate.
The lack of tests on the Surface Pro X in itself is telling, however. No 64-bit only apps are not going to run on the Qualcomm Snapdragon-based tablet, and that leaves some gaps in its compatibility. If you live in Photoshop, which requires not only a 64-bit x86 processor but OpenGL 2.0 support (Qualcomm's Adreno 685 integrated GPU only supports OpenGL 1.1 and OpenGL ES),
Adobe's documentation
says you're just plain out of luck. Because it's early days for Windows on Arm, not every app may be compatible. The Surface Pro 7, however, will handle these with aplomb.
On the other hand, there's still plenty of software that's compatible with the Surface Pro X either natively, like Edge and
VLC
, or via x86 emulation for loads of 32-bit x86 apps, including Office 365. With that in mind, we're still going to test what we can on the Surface Pro X, so we'll see how copes with what it
can
handle.
Since the
Surface Pro X
in many ways has a limited software library, we felt it was appropriate to bring in another Arm-based device with limited software: Apple's iPad family. We have an iPad Air generation 3, which has the same A12 Bionic SoC as the iPhone XS and XR, on hand and where the benchmarks are available, we've included it in our web tests as a point of reference. The iPad Pro 12" encroaches on both the Surface Pro X's price point and battery life specs with the A12X Bionic, so it may have been a better comparison point, but we can still work with what we have on hand nonetheless. Of course, the usual suspects from recent reviews will be along for the ride as well, to give a frame of reference on all the tests.
ATTO Disk Benchmark
Primary Storage Performance
We use
ATTO
to get a rough idea of how primary storage in a device performs. Thankfully, it's a 32-bit application that runs quite well in the Surface Pro X's x86 emulation mode, so let's see how the disk performs.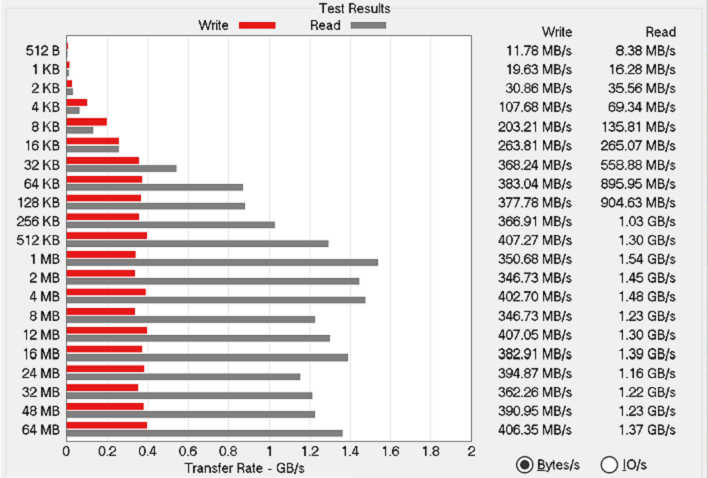 Performance seems to be decently fast; reads are more than twice as fast as even the best
SATA
drives, but it quite catch some of the speeds attained by x86 systems we've reviewed recently, depending on which NVMe drive is employed in the system. The model in our review unit is HFM128GDGTNG, which is an SK Hynix device in the BC501 family and has an M.2 2242 form factor. This drive seems to be hitting its rated speeds for the 128 GB model, which has theoretical maximums of 1.5 GB/sec reads and 395 MB/sec writes. So regardless, ikt seems that the WOW64 compatibility layer doesn't hurt drive performance one bit.
Next up, let's see how the Surface Pro 7 handles ATTO.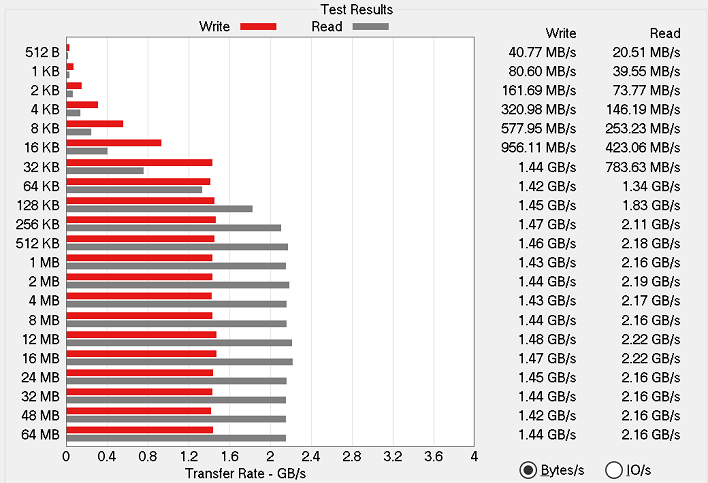 The Surface Pro 7's main advantage is that the primary storage is 256 GB in size. That means more Flash chips to better saturate controller bandwidth. The results here are in line with just many of the drives we see in typical laptop configurations. The downside is that the primary storage is completely inaccessible, and soldered to the motherboard so you can't change it even if we could. Based on the identification string in Device Manager, the storage itself is
Toshiba
's 64-layer BiCS 3D NAND-based NVMe SSD, which we've seen put up these kind of numbers before.
Long story short, our Surface Pro 7 system simply has a faster SSD than the Surface Pro X we're testing here.
Geekbench
5 is fully Arm compatible on Windows, which makes it a good indicator for the Surface Pro X's full potential, and fortunately we've been stockpiling Geekbench scores from recent laptops. As a result we have a few points of comparison.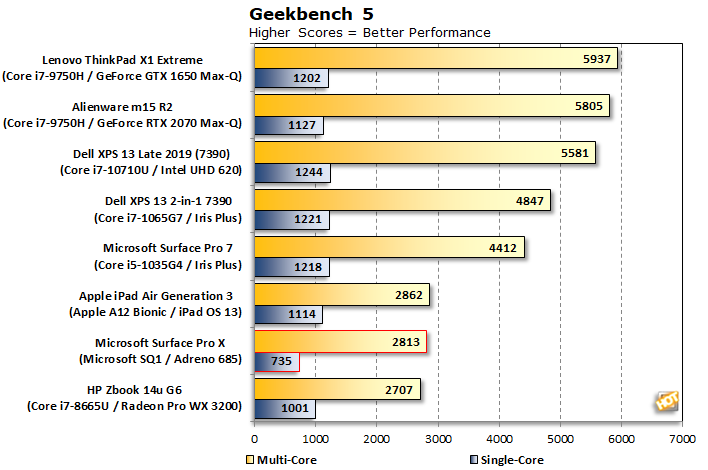 The Surface Pro X performs relatively well in Geekbench. Apple has had the best IPC among mobile CPUs for a while now, and lands well into x86 notebook territory with its single-core score, but the extra cores in the SQ1 propel the Surface Pro X to a very comparable multi-core result. Both of those machines leap ahead of the 8th-generation
HP Zbook 14u G6
in multi-threaded tests, however. Unfortunately for the
Surface Pro X
, all of the other systems on our chart are leaps and bounds faster in both single-threaded and multi-threaded tests. The Surface Pro 7 has a 40% advantage in the single threaded test and a huge 60% lead in the multi-core test, despite having four fewer cores to work with. HyperThreading seemingly comes in handy here.
Speedometer 2.0
Web Application Performance
Web testing on the Surface Pro X is something of an adventure.
Chrome
is, as we mentioned earlier, a 32-bit x86-only application, and it runs on the SQ1 no sweat, so we ran our tests like normal. However, the Developer branch of Microsoft's Edge browser comes with an Arm-native executable, so we felt like we should show the full potential of the system, too. We also threw in the Edge Beta channel's current version, which is also x86-only like Chrome, so we can see how Edge might perform vs. Chrome. We also did Edge and Chrome testing on the Surface Pro 7.
The result is that there's a lot of repeated tests on the same hardware in different browsers here, but those tests should give us more context into how x86 emulation works, how well the
Qualcomm Snapdragon 8cx
-based SQ1 handles Arm-native browsers, and a point of comparison to the internet's favorite browser. Let's take a look at how
Browserbench.org
's Speedometer 2.0 handled these different scenarios.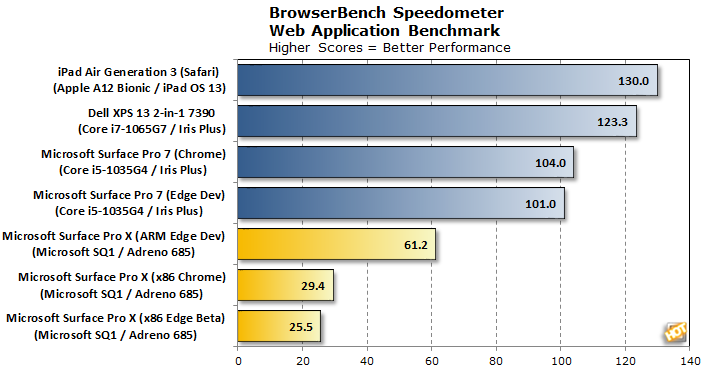 JavaScript performance in most web apps tends to be a lightly-threaded load. If Geekbench was any indication, that spells trouble for the Surface Pro X. Indeed, the 40% advantage the Surface Pro 7 had in Geekbench turned into a 67% advantage in web app performance. And then the iPad comes along and thoroughly embarrasses the new Surface; remember that the
iPad Air
3rd generation is just a $500 tablet, and it's upstaging Microsoft's $999 Qualcomm
Snapdragon
-powered entrant. In fact, the iPad turns in the single fastest runs-per-minute score on the whole chart. Much of this is just software maturity, however--Apple has spent a lot of time and effort on optimizing Safari's JavaScript performance, and it's paying off here.
More interesting is how the x86 browsers ran on the Arm platform. If these scores indicate performance on x86 apps in general, then it's in Microsoft's best interest to help developers get apps into Arm-native versions as quickly as possible. Chrome and
Edge Beta
both ran at around 40% the speed of the Surface Pro X using the Edge Developer channel. Chrome fared a bit better since it's apparently better optimized on the x86 side of things, but still, it could only muster half the speed of the native Arm browser. This is budget Chromebook levels of performance, which is not acceptable in a $1000 PC, so buyers will want to make sure the apps they use every day have Arm native distributions.
While we don't normally spend a lot of time on web browser tests, that seems to be one of the main points of interest for the Surface Pro X, at least in part because the Arm native application ecosystem is still kind of sparse. With that in mind, we ran BrowserBench.org's
JetStream
computational tests. This is a little less real-world than Speedometer, but should still give us an indication of relative performance.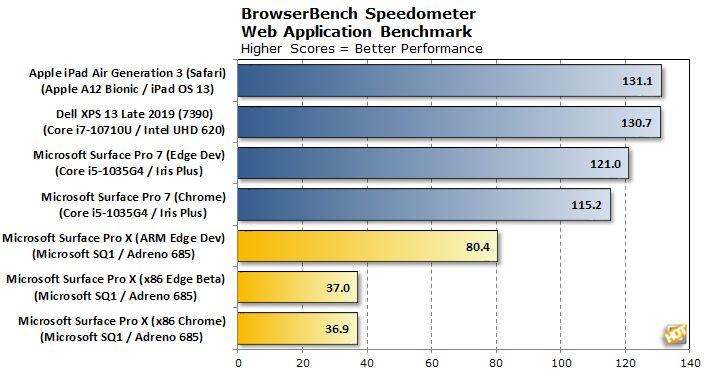 The percentage leads are slightly different in this test, which doesn't at all measure DOM manipulations like Speedometer does. Instead, this is a pure JavaScript and
WebAssembly
math test and each system was on the clock. When our competitors put their pencils down, overall, the Arm-based system still trailed its x86 brethren by a considerable margin of over 40%. This time out, native apps are closer to a "mere" twice as fast as x86 apps emulated by the Arm architecture, which is kind of a win for x86 emulation but still not great.
Surfing the Web on Surface Pro X
Subjectively, popular web apps like Twitter and
Facebook
drag and stutter somewhat when running in an x86 browser. It's possible that as the x86 translation layer in WOW64 optimizes chunks of the browsers it might get better over time, but there's a better way. Edge Developer channel (and soon, the production version of the browser when it releases later this month) give a huge uplift in performance. There's also an
Arm-native version of Firefox
available, too. It's just Chrome that lives in x86 land. Hopefully an Arm native version of Chrome is right around the corner. If Arm performance scales in Chrome like it did in Edge, that should push performance higher.
Browsing in an Arm-native app isn't a bad experience, though. A score around 60 runs per minute may not look all that fast, but it's in "good enough" territory when it comes to a desktop browsing experience. Still, when every millisecond counts, the x86 systems (Surface Pro 7 included) still spend around half as many milliseconds doing work. That can be the difference between "nearly instantaneous" and "feels laggy", and as web apps become more capable and complex the
Surface Pro X
will venture into the latter category before any of our other competitors, including the iPad Air which costs half as much.
That said, a reason to give up some performance is to get some sort of other tangible benefits that might be available in a platform. Next up we'll run our battery tests and see if the advantage for the Surface Pro X lies in battery longevity.
Related content
Comments