HotHardware's readership is a vast growing audience of tech savvy individuals from a well educated demographic with strong buying power. Since our inception in early 1999, we've developed brand-name recognition as a forerunner of the online media in Personal Computing and Tech journalism. Our in-depth analysis of cutting-edge technology brings to us each month, a readership that is hungry for the knowledge that will properly guide them through the all important decision making and purchasing process.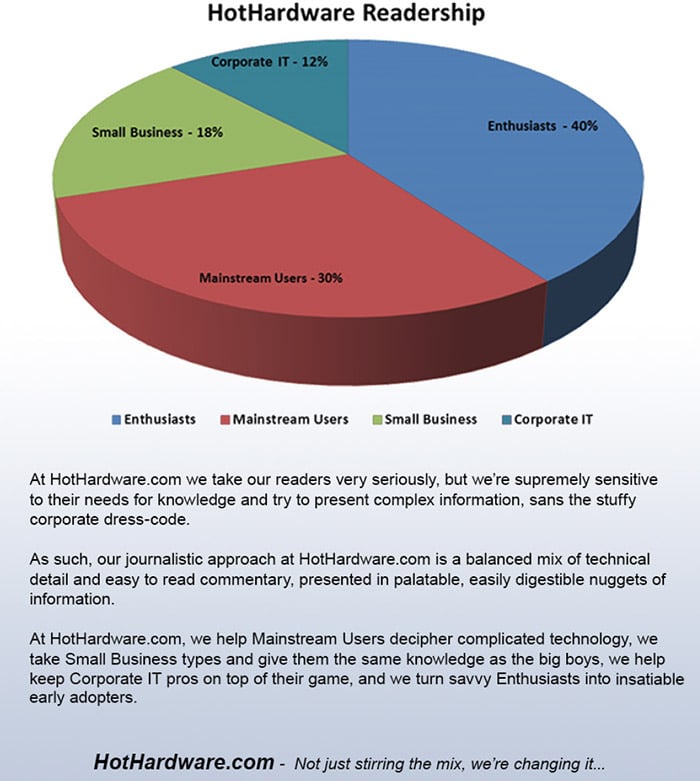 From the IT professional to the PC enthusiast and average end user, your targeted ad campaigns will be seen with maximum impact, exposure and visibility. We can accommodate virtually any ad type or size and deliver high click-through rates to go along with millions of page views per month, served to over a million unique visitors.
Past And Present Advertisers At HotHardware.com
Intel - NVIDIA - AMD - Samsung - Microsoft - Lenovo - Dell - SanDisk - Best Buy - ASUS - Gigabyte - MSI - Epson - IBM - T-Mobile - Verizon - LG - Toshiba - EVGA
Build your brand - image is everything - people need to find you and your products. HotHardware.com is the right place. To get started today, reach out to advertising@hothardware.com.


Licensing, Reprints And Reuse Of Content
Contact our official partner, Wright's Media, about available usages, license fees, and award seal artwork for more information. Please note that Wright's Media is the only authorized company we've partnered with for HotHardware's brand materials.
All Assets Of This Site And Its Trademark Are Copyright HotHardware.com. All Other Brands And Trademarks Are Copyright Of Their Respective Owners)


Hot Hardware, Inc. participants in various affiliate advertising programs designed to provide a means for us to earn fees by linking to affiliated sites.