Microsoft Surface Pro X And Pro 7 Review: Snapdragon And x86 Experience
Microsoft Surface Pro X and Pro 7: Introduction and Specs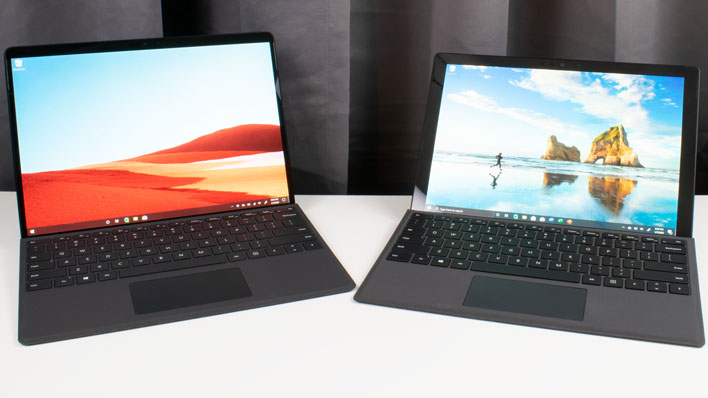 Microsoft's
Surface Pro
line of convertible tablets has long been one of the standards by which premium Windows hybrid convertibles are judged. The Surface Pro family has been around for years, but these latest tablet 2-in-1 devices come with a twist. First is the tried-and-true Surface Pro 7 with an Intel Core processor and a surprising amount of power for the form factor. However, the Surface Pro is now available with an Arm 64 system-on-a-chip (SoC) and platform from
Qualcomm
, to boost battery life and expand connectivity with Gigabit LTE, while still providing respectable performance. We're going to take a look at each of these new Surfaces, but we'll start with the more exotic of the two: the new Microsoft Surface Pro X.
Surface Pro X: Arm-powered Windows 10
There are already tons of Arm-based tablets on the market. Most of them run some form of Apple processor and
iPadOS
13 at the high end. While there are also a handful of Android and Chrome OS options to choose from, most of those are based on lower-powered SoCs designed for media consumption rather than productivity tasks. Amazon's Fire tablets fall into that latter category, for example, so perhaps we can look at Apple's iPad as one rival for the Surface Pro X, though there are obvious differences in operating systems and app ecosystems.
The difference between Apple's tablets and this device is that this runs a full build of Microsoft Windows 10 Pro. That means not only do we get Windows on a tablet convertible, we can also hook up (or pair) external keyboards, mice, displays, and other devices to use as a compromise-free PC. That's what Microsoft claims, anyway. The truth is a little murkier than that, and Microsoft has
a support page
explaining the limitations. Some of the apps that won't run are pretty benign, such as apps that require x86 drivers. Other limitations put a pretty big damper on the Arm 64 party; not being able to run 64-bit x86 apps that haven't been ported to Arm is a pretty big drawback, at least currently.
Microsoft Surface Pro X

Specifications & Features
| | |
| --- | --- |
| Processor | Microsoft SQ1 (8 Kryo 485 cores up to 3 GHz) |
| Display | 13-inch 2880x1920 PixelSense IPS touch, 450 nits |
| Graphics | Qualcomm Adreno 685 integrated graphics |
| Storage | 128 GB PCI-Express NVMe M.2 SSD |
| Memory | 8 GB LPDDR4x (soldered) |
| Audio | Stereo Speakers |
| Camera | 720p HD IR Webcam, Windows Hello Compatible |
| Networking | Qualcom 802.11ac Wi-Fi with Bluetooth 5.0 |
| Ports: Left | 2x USB Type-C (USB 3.1 Gen 1) |
| Ports: Right | 1x Microsoft Surface Dock connector (compatible with included 45W charger) |
| Keyboard | Optional removable Keyboard Cover, backlit chicklet-style |
| Touchpad | Optional touchpad built into Keyboard Cover |
| Battery | 4-cell 38.2 Wh |
| Weight | 1.7 lb (no keyboard) |
| Dimensions | 11.3 in x 8.2 in x 0.28 in (287 mm x 208 mm x 7.3 mm) |
| Warranty | 1 year limited hardware warranty |
| Operating System | Windows 10 Home |
| Price | Starts at $999.99 ($999.99 as tested) |
At the heart of the Surface Pro X is the Microsoft SQ1 processor. Microsoft produced this chip in conjunction with Qualcomm to run Windows 10 Pro on Arm and the
Snapdragon 8cx Compute Platform
. That means the SQ1 has an eight-core Kryo 495 main processor and a speed-bumped Adreno 685 integrated GPU. The CPU bears a total of 7.25 MB of cache overall distributed amongst its eight cores running up to 3GHz. There's also Gigabit 4G LTE connectivity thanks to the integrated
Qualcomm X24
modem, which will be handy for users who need to stay connected even when roaming from the reach of known Wi-Fi networks.
Microsoft equips the Surface Pro X with either 8 or 16 GB of LPDDR4x, and it has a "removable" SSD between 128 and 512 GB in size. Our test unit comes with 8 GB of RAM and the 128 GB SSD. While the drive is a discrete M.2 gumstick (more like postage stamp in the M.2 2242 size),
Microsoft
does not consider it to be user replaceable, and does not cover user-initiated upgrades. As you'd expect from any Windows notebook, the Surface Pro X has both 802.11ac and Bluetooth 5.0 wireless connectivity, too.
The Surface Pro X has a lovely 13" 2880 x 1920 PixelSense display with an unconventional (yet welcome) 3:2 aspect ratio, which gives more vertical real estate than the same width in a 16:9 display. This panel has plenty of brightness subjectively, and maxes out at 450 nits. The touch and
Windows Ink
-enabled display also has very wide viewing angles, which is a must when using a tablet that can be rotated and held at any angle. We had no problems seeing what was on the screen at extreme viewing angles, and colors remained bright and saturated throughout.
With the 2019 Surface devices, Microsoft finally brought USB Type-C connectivity to the line, and the Surface Pro X has two such ports on the left side. These carry USB 3.0 (or USB 3.1 Gen 1, if you prefer) and DisplayPort 1.2 signals. Along with the built-in display, the SQ1's Adreno 685 can drive a separate 4K secondary monitor or a pair of full HD displays. On the right-hand side is the typical Microsoft Surface Connect port that can connect to the included 65-Watt charger or the
Surface Dock
, which has its own Mini DisplayPort, USB, and Gigabit Ethernet ports.
Surface-level Extras
As usual, Microsoft sells an optional
Keyboard Cover
for the Surface Pro X. This $139 add-on attaches to the keyboard cover connector on the bottom edge of the tablet to provide a more traditional laptop feel. They keyboard itself looks nice and keys have plenty of travel for a portable keyboard. On the other hand, the Keyboard Cover bounces a bit when we type on it, so a light touch is a necessity. The keyboard has a built-in trackpad which is also convenient, even if Microsoft intends the screen itself to be the primary input method.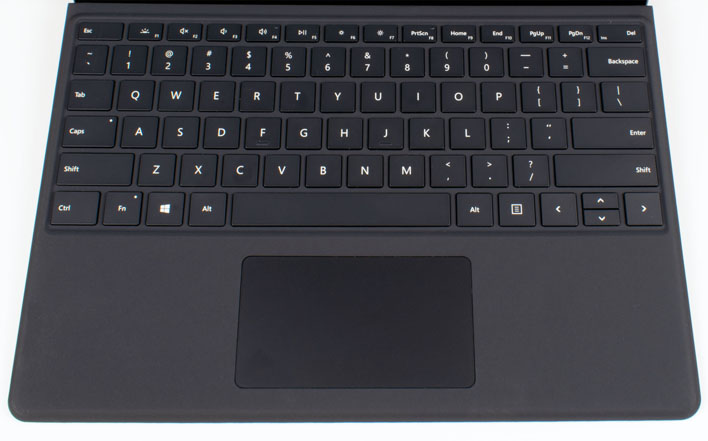 Despite a similar appearance, the Surface Pro X's Keyboard Cover is not compatible with other Surfaces.
The
Surface Pro X
relies on a kickstand just like every other Surface Pro, however, we found using it on our laps to be a little cumbersome. There's got to be ample room for the kickstand to rest on a knee, so those of us with short legs (myself included) may have to tilt the screen forward more than might be comfortable, and have the edge of the keyboard cover right up against you. I personally couldn't use the system like this for an extended period, but on a table, the kickstand does a pretty nice job of making a propped-up tablet work like a laptop. Under the kickstand and the rest of the interior is a 38.2 Watt-hour battery, and it's glued in there, so we won't be disassembling this guy.
Due to the unique hardware configuration and nature of the Surface Pro X, we spent some time living with the device as our primary computing companion. The recent holidays and their requisite travel made for the perfect opportunity to just live with the system like a normal user, so that's just what we did...
Related content