HP Elite Dragonfly Review: A Super Stylish 2-In-1 Laptop
HP Elite Dragonfly: A Premium 2-In-1 Hybrid Laptop With Unique Styling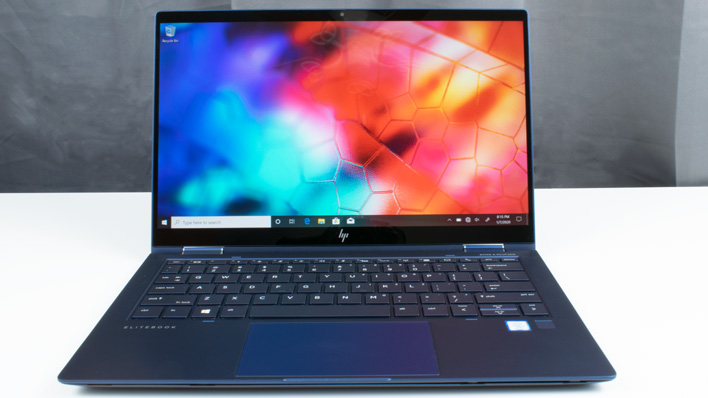 The high end 2-in-1 notebook market is pretty crowded with entrants from Microsoft, Dell, Lenovo,
HP
, ASUS and others. As a result, it's pretty tough to make a convertible laptop that stands out from the rest. HP's doing its best, however, with its new Elite Dragonfly line of lightweight, 2-in-1 hybrid PCs.
What we have on hand today is the currently-shipping edition of the
Elite Dragonfly
. That means this notebook carries an eighth-generation Intel Core processor. No doubt that right now is a transitional period, where the previous generation is being phased out, and new Intel 10th Gen CPUs, with either
Ice Lake
or at least Comet Lake architectures with more cores, are the new hotness. There's also a bit of Osborne effect here, since HP
just announced
the next generation of Dragonflys (Dragonflies?) at CES earlier this month, but those won't ship for a few weeks yet.
Fret not, however, because there's still plenty to talk about with the current edition, which is the first convertible notebook to carry the Elite Dragonfly name. HP aimed the Dragonfly at business users who need maximum portability while maintaining respectable performance. As a result, this laptop occupies the same price range and target market as
Lenovo's ThinkPad X1 Yoga
family or
Dell's XPS 13 2-in-1
. That's some heavy competition, but HP thinks it has the premium build, software and security features to set itself apart. Before we get to that, however, check out the HP Elite Dragonfly in our quick hands-on demo...
HP Elite Dragonfly

Specifications & Features
Processor
8th Gen Intel Core i7-8665U (4 core, 8 thread, 8 MB cache, 1.9 GHz base / 4.8 GHz max) - Intel vPro supported
Display
13.3" 1920x1080 Full HD LED-backlit display, max 400 nits
Graphics
Intel UHD 620 Graphics
Storage
256 GB NVMe SSD + 32 GB Intel Optane cache
Memory
16 GB LPDDR3-2133 (soldered)
Audio
Bang & Olufsen quad speakers
Camera
720p HD Webcam with infrared Windows Hello supported
Networking
Intel AX200 Wi-Fi 6 module with Bluetooth 5.0
Ports: Right
2x Thunderbolt 3 USB Type-C connector
1x HDMI 1.4
1x Four-pole universal headset jack
Ports: Right
1x USB 3.1 Type-A connector
1x SIM slot for WWAN adapter
Keyboard
Chicklet-style tenkey-less, spill resistant, white LED backlit HP Collaboration Keyboard
Touchpad
Seamless glass precision touchpad, integrated buttons
Battery
4-cell (56 Whr)
Weight
As tested 2.5 lb
Dimensions
11.98 x 7.78 x 0.63 inches (304 x 198 x 16 millimeters)
Warranty
1 year warranty
Operating System
Windows 10 Pro
Price
Starting at $1549, $2079 as tested + $76 for HP Active Pen G3
As we alluded to earlier, HP's currently-shipping Elite Dragonfly was sent to us with an 8th Gen Intel Core processor. Our review model has a four-core Core i7-8665U, which is the top dog in Intel's
Whiskey Lake
lineup. HP backed the processor with 16 GB of LPDDR3-2133 memory soldered to the motherboard. For networking, HP did include Intel's Wi-Fi 6 module, which also supports Bluetooth 5.0.
Primary storage for this Dragonfly is an interesting configuration: HP blessed our review unit with a 512 GB of fast
NVMe
storage and backed it up with 32 GB of even faster Intel Optane memory. This unusual configuration should speed up random access operations thanks to that huge Optane cache. The system does reserve a chunk of both the
Optane
and traditional NAND memory, but there's still a 477 GB volume to write data to. Unlike several recent 2-in-1s like the aforementioned XPS 13, primary storage is on a single M.2 PCIe gumstick.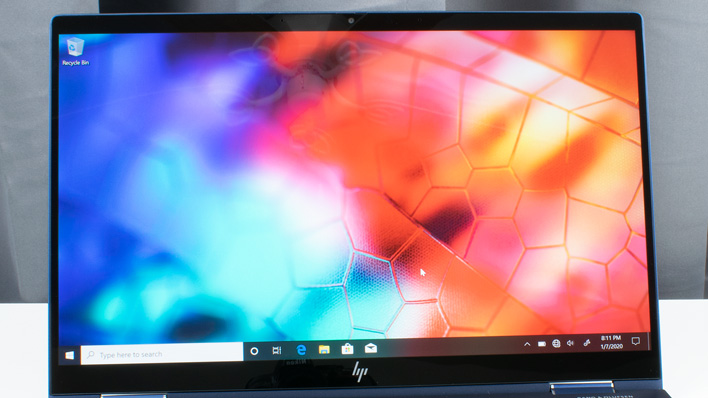 The graphics horsepower is provided by Intel's UHD 620 graphics controller integrated into the Core i7-8665U. While Intel's "Gen 9.5" graphics are getting pretty long in the tooth, the integrated GPU should have no problem driving the display's 1920x1080 panel for all sorts of productivity tasks and a bit of light content creation. That multi-touch capable panel has a maximum brightness of 400 nits, which isn't the brightest display around, but HP offers an optional 1080p display with a retina-burning 1,000 nit maximum brightness. There's also a UHD 4K option available, so there's plenty of options on the visual front.
Speaking of the display, we can't talk about the panel without also mentioning its footprint. The side bezels are quite slim which allows the Dragonfly to be fairly narrow left-to-right. By contrast, the top bezel is around twice as thick, but it houses the integrated webcam and microphone array. The bottom bezel is thicker still, but the hinges connect down there and if one wants to use the Dragonfly as a tablet, the device needs somewhere to grab hold.
HP Elite Dragonfly Look and Feel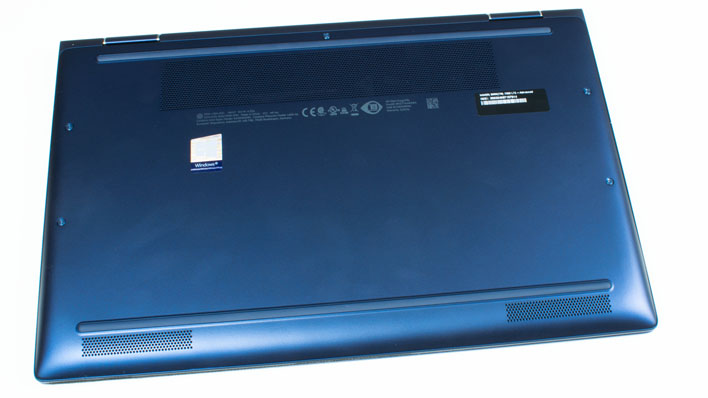 HP packages the Elite Dragonfly in a gorgeous, deep blue anodized magnesium body the company calls "Dragonfly Blue". It's not exactly navy blue, as the Dragonfly is a bit brighter than that, but it's certainly not gaudy. Thanks to its lightweight materials and small footprint, our review unit weighs in right at 40 ounces, or 2.5 pounds, according to our in-house scale.
The HP Elite Dragonfly's integrated 720p webcam supports
Windows Hello
for hands-free access to Windows 10 via facial recognition. Users that prefer to log in with a fingerprint can do that, too, thanks to an integrated reader below the keyboard. Biometric login is totally optional, however, for folks who prefer to log in the old-fashioned way.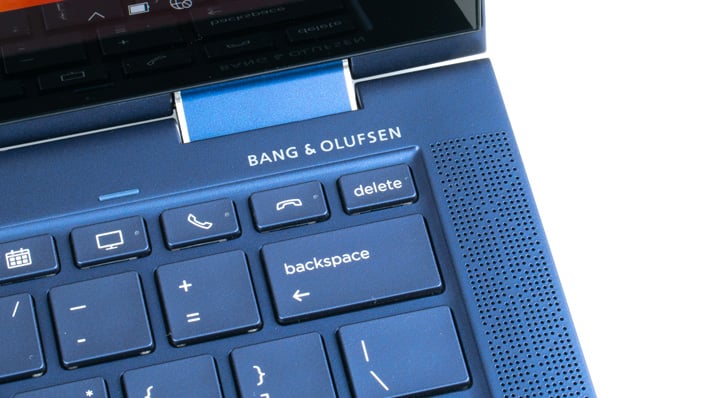 Between the webcam, noise-canceling microphone array, and Bang & Olufsen speakers, business users should have no problem with video conferencing, voice chat, or any other teleconferencing uses. We found the microphone array could cancel out the sound of our running furnace on a cold Illinois night without any problems. The four top-firing speakers aren't ideal for music since they lack low-end punch, but they have plenty of mids and highs, satisfying enough for Skype chats or watching YouTube or
Netflix
in a hotel. They can fill a small room with plenty of sound and not distort in the process, just set your expectations for low-end response in accordance with its ultralight frame.
Below the display in its traditional resting place sits the Elite Dragonfly's backlit chicklet-style keyboard. HP gave the backlight four brightness levels, including the off position. Despite the Dragonfly's diminutive form factor, the keyboard felt really nice while typing this product review. The keys have just over a millimeter of travel and snap back up into place quickly, so there aren't any lost keystrokes.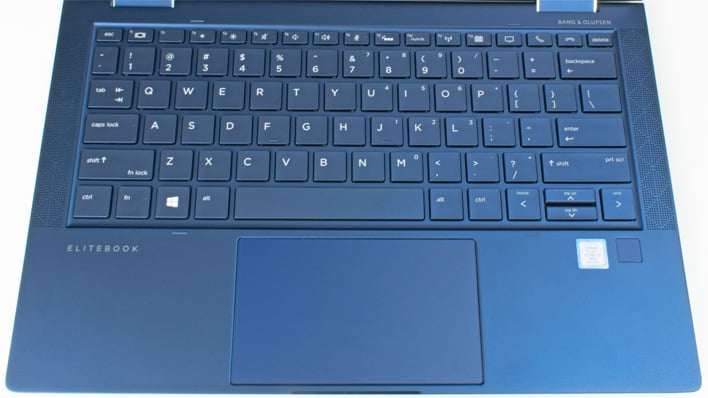 It's rather large and yes, the Elite Dragonfly's trackpad has a great feel with decent precision. On many notebooks, button clicks sound hollow and the trackpad flexes, but that's not the case here. On the contrary, clicks feel very solid and substantive. HP executed a premium build quality to every corner of the device, which we appreciate. Despite the lightweight specs, the input options, from its keyboard to the trackpad feel incredibly solid overall.
Next up we'll continue our tour of the Elite Dragonfly and take a peek at what's under the hood...
Related content
Comments