HP Elite Dragonfly Review: A Super Stylish 2-In-1 Laptop
HP Elite Dragonfly: Graphics and Gaming Performance
UL's well-known
3DMark
benchmark suite features tests that target different types of computing devices. We selected the Cloud Gate, Sky Diver, and Night Raid tests since they are light-duty 3D graphics and gaming benchmarks aimed at PCs that weren't built specifically for gaming. We also have plenty of comparison data for Cloud Gate and Sky Diver, which is the more strenuous of the two tests. Night Raid is UL's newest addition, which measures DirectX 12 performance in mainstream PCs.
3DMark Benchmarks
3D Performance
3DMark has several different graphics tests which focus on different types of systems. The Cloud Gate test focuses on integrated graphics performance with DirectX 11. It's the lightest of the three tests we'll look at.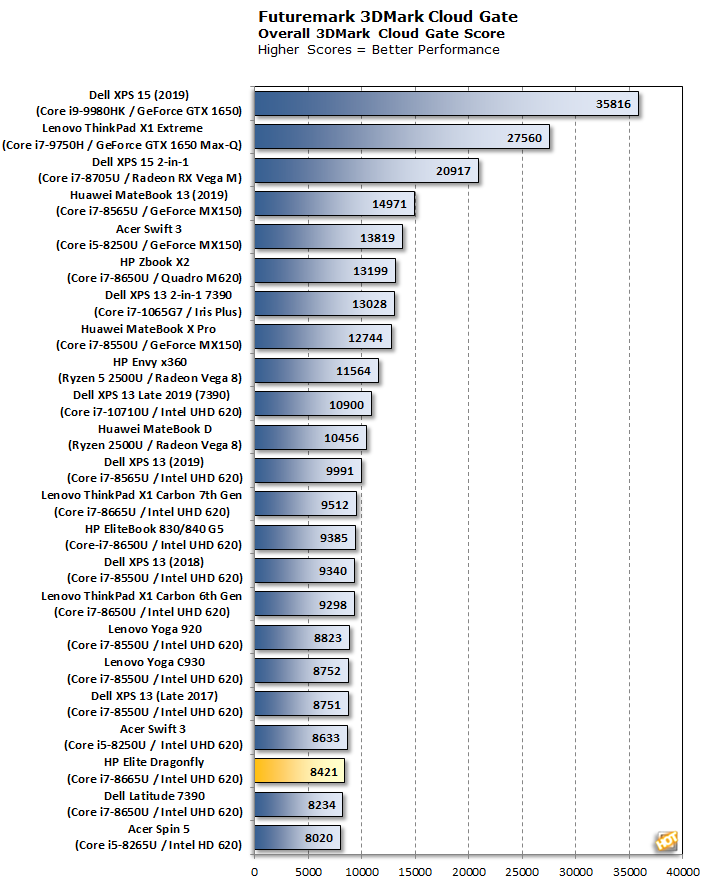 Cloud Gate saw our test system hanging out towards the bottom with all the other systems with Core i7-8665U processors and UHD graphics. However clustered they are together, though, the Elite Dragonfly finds itself at the bottom of the grouping, trailing faster 8th generation systems like
Lenovo
's ThinkPad X1 Carbon by upwards of 20%.
Next up let's see how Sky Diver performs.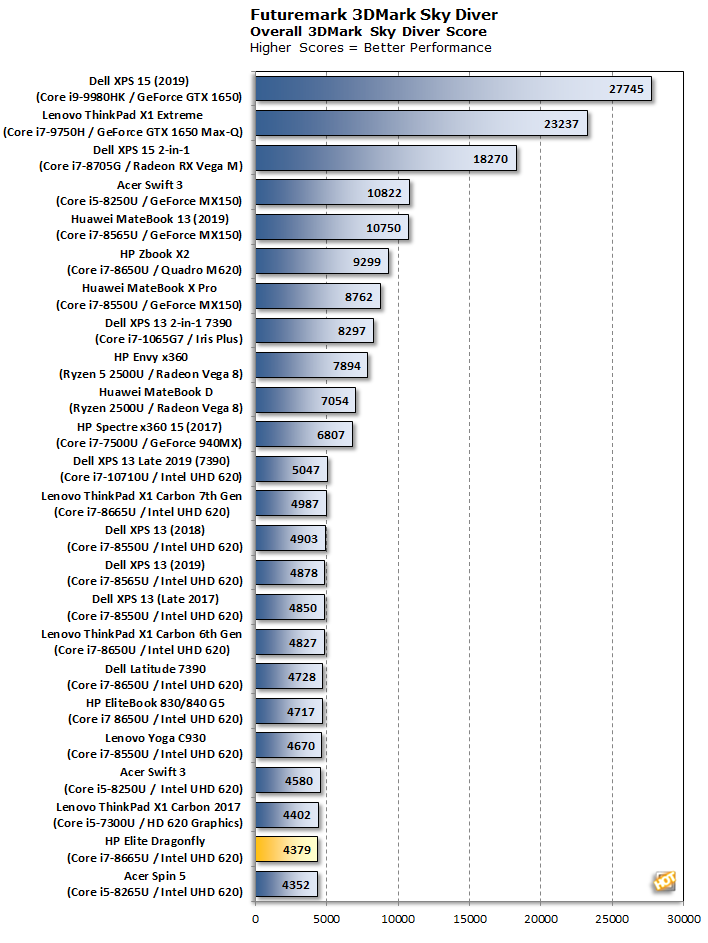 Once again, there's a clear divider between UHD 620 graphics and faster options, and the Elite Dragonfly finds itself on the wrong end of the divide. This time the systems are more tightly packed, too. There's not much to say here that hasn't already been said about this kind of configuration. Obviously the Elite Dragonfly isn't a gaming PC.
Lastly, we'll take a look at Night Raid, which is made for DX12 integrated graphics processors. This test should be right up the UHD 620's alley, but the same can be said for the rest of the competition, too. There won't be quite as much competition, however, since Night Raid is one of the newer tests in UL's benchmarking suite.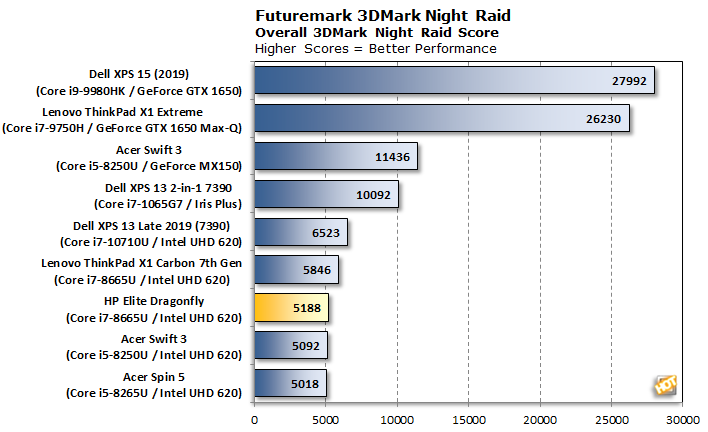 In this test, we start to see a little separation between the various chips with UHD 620 graphics. Unfortunately it does seem that some extra CPU horsepower would have come in handy, as the newest
XPS 13
's six-core processor enjoys a 30% advantage over the Dragonfly, and both systems have the same integrated GPU. Once you move out of UHD 620 graphics, however, just about anything else can win. The Iris Plus integrated GPU in the
XPS 13 2-in-1
gives a particularly brutal beatdown, nearly doubling up the Elite Dragonfly's overall score.
GRID Autosport
Gaming Performance
GRID Autosport
is a cross-platform racing simulation developed by Codemasters. The developer wanted to make up for GRID 2, which released to mediocre reviews from critics and gamerse alike. Codemasters set out to improve
GRID Autosport
's handling and environment rendering to make it a true racing simulator. The third GRID game is built on Codemasters' EGO engine that boasts more realistic physics and damage systems to add a bit of danger and some extra realism to the racing. Codemasters also tuned its graphics engine to perform well over a wide variety of mainstream systems, which makes it a great test for systems with integrated graphics. Codemasters also promotes that
GRID Autosport
is "optimized for integrated Intel HD Graphics", which is certainly something. We tested at 1080p with the High image quality preset.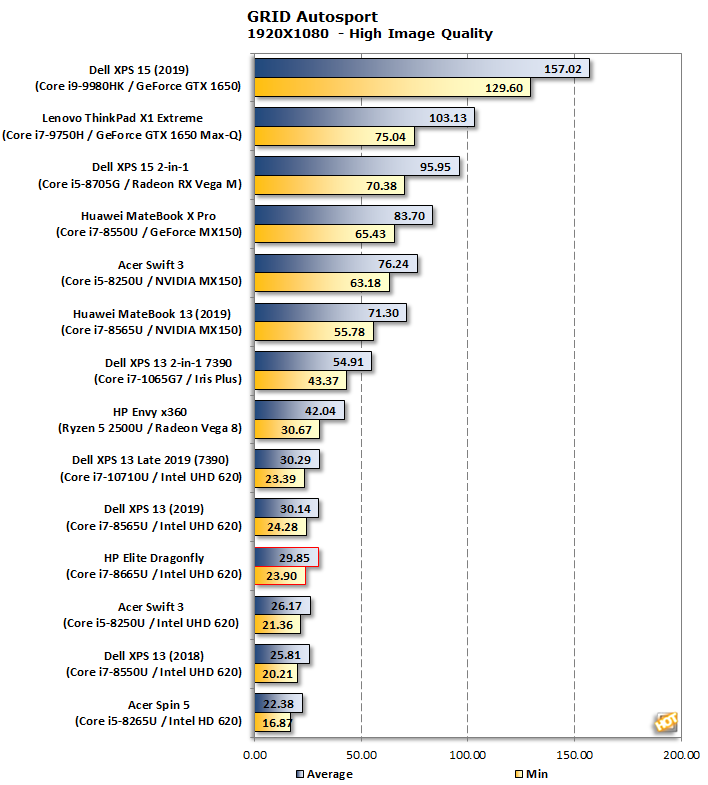 As has been the case in every test so far, the Elite Dragonfly is not a gaming system, which means it lags towards the bottom of the pack. The XPS 13 7390 2-in-1 with Intel Iris graphics nearly doubled up the frame rate of our HP test unit on performance in both the average and low framerates. All the CPU power in the world can't overcome the UHD 620 graphics, since even the
Comet Lake
-based XPS 13 failed to separate itself from the rest. Subjectively, we suppose the game is somewhat playable at these settings, but the frame rate falls below 30 fairly often throughout a run. We'd definitely turn down the details and perhaps even the resolution to speed up performance if we were playing for real.
Next up let's see how the battery life, thermals, and acoustic performance all fare.
Related content
Comments