HP Elite Dragonfly Review: A Super Stylish 2-In-1 Laptop
HP Elite Dragonfly: Performance Summary and Conclusions
Performance Summary:
Overall, the HP Elite Dragonfly performed like many other convertible 2-in-1 laptops with 8th Gen Intel Core processors. That would have been good news four to six months ago. However, now that both 10nm Ice Lake quad-cores are shipping alongside six-core Comet Lake CPUs that have been available for a couple of months, performance was less impressive. Also somewhat unimpressive was the combination NVMe drive with 32 GB of
Optane
cache HP chose. Maybe ATTO isn't the most exhaustive storage benchmark, but we had hoped for more from such a premium configuration.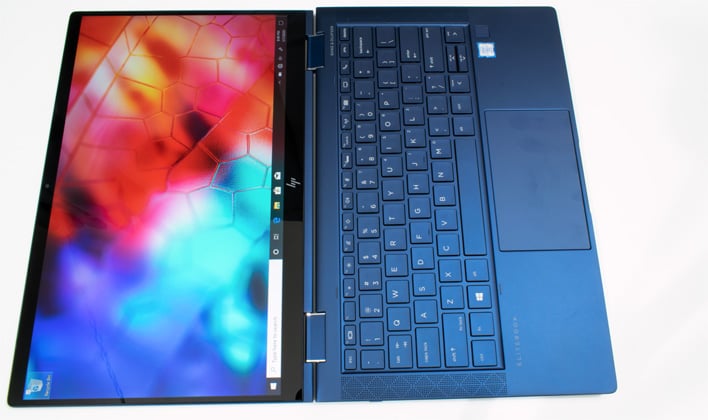 From a processor standpoint, this
Whisky Lake
-based system held its own in lightly threaded loads. The single-threaded workloads in Geekbench and real-world web work as represented by Speedometer viewed the system's tried-and-true Core i7-8665U and LPDDR3-2133 RAM pretty favorably. However, under a full load, the lightweight cooling system in our Elite Dragonfly felt like it couldn't let all four cores stretch their legs.
Because of that, HP's Elite Dragonfly didn't fare very well next to Dell's XPS 13 7390 2-in-1 with next-generation Intel processor and graphics power. Even other 8th Gen systems with better cooling solutions fared better. The Lenovo
ThinkPad X1 Carbon
is a slightly bigger and heavier notebook, but it also surpassed the Elite Dragonfly by as much as 35-40% in our CPU tests.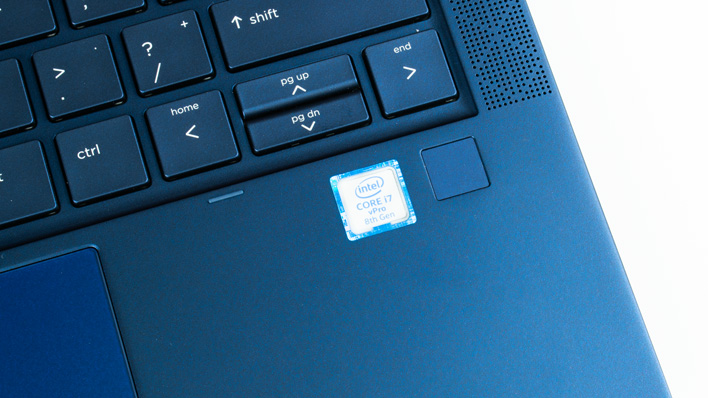 When it comes to graphics performance, the legacy UHD 620 integrated GPU just couldn't keep up with Intel's newer Iris Plus graphics in the Core i7-1065G7 found in the latest
XPS 13
2-in-1. Not only did 3DMark run slower on the older graphics tech, but games stand to gain upwards of 100% better performance with the newer technology. Fortunately, HP says revised Elite Dragonfly systems with those newer CPUs are right around the corner.
Is This The Model Of HP Elite Dragonfly For You?
It might seem from the above like we're down on the
HP Elite Dragonfly
, but that's not entirely the case. There aren't many systems on the market that catch the eye quite like this machine. That beautiful blue finish stands out in a world of black and silver, and this machine's premium design extends beyond its finish, too. The HP system's 2.5 pound weight and flexible 360-degree hinge turn the Elite Dragonfly into a tablet that's much less awkward than most convertibles of a heavier weight class. HP's optional Active Pen G3 also provides artists and handwritten note takers alike the ability to draw, paint, and jot down everything they need for just over 75 bucks.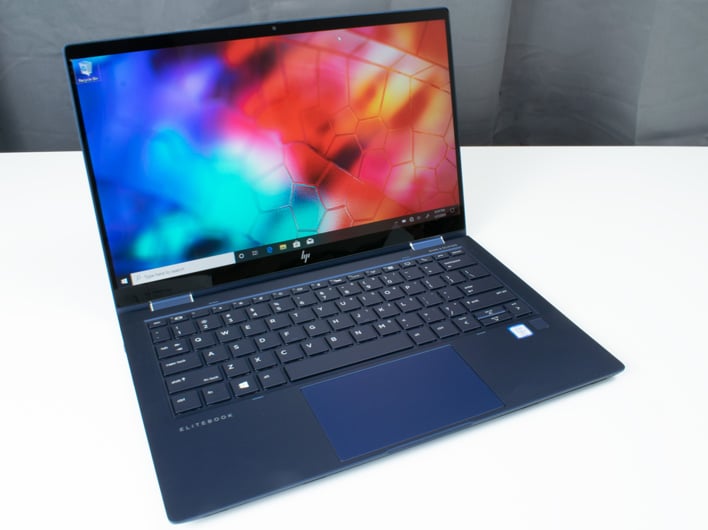 To be objective, however, we have to look again at the hardware configuration. The older 8th Gen CPU is a configuration you'll need to take into consideration with this brand new laptop family, for now at least. Intel's Core i7-8665U comparatively doesn't have enough processing power in its standard 15 Watt TDP configuration to justify the system's price tag, versus more current-gen platforms. Fortunately, help is on the way and a 10th Gen version of the Elite Dragonfly is due to arrive in
just a few weeks
.
Conversely, there are positive aspects to this laptop's performance. Lightly-threaded workloads, which encompass the majority of work a convertible laptop will likely be asked to do, were pretty quick, and the Elite Dragonfly's battery life was excellent. Getting seven full hours out of a single charge in our video playback test isn't unheard of, but it's still pretty rare for a system so lightweight.
Apart from its unique and stylish good looks, HP's newest convertible notebook has a lot going for it that isn't strictly about performance. The Elite Dragonfly has plenty of useful safety and security features. Sure Click's micro VM architecture separates unknown or suspicious websites from the rest of the system. HP's self-healing BIOS should help prevent firmware-based malware attacks from gaining a stronghold. In addition, its upgraded Sure View display option should keep your data safe from nosy neighbors at Starbucks or on the road, too. Self-healing BIOSes and good anti-virus protection aren't unique to just one vendor, though, as
Dell
and other vendors have these features too, of course. The machine is also rigid, feels durable, and passed 19 MIL-SPEC-810G testing to withstand some shocks, drops, and vibration.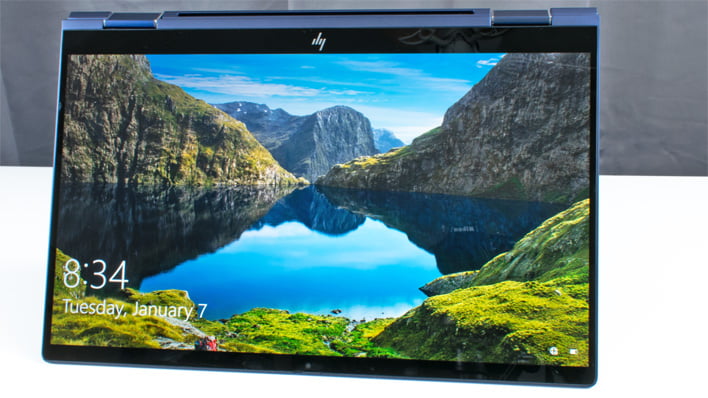 When it comes to pricing, HP has set the Elite Dragonfly's price tag well into MacBook Pro territory. The base configuration has a Core i5-8265U, 8 GB of memory, and a 256 GB NVMe SSD for $1,549. That system also has a smaller 38 Watt-hour battery, too. That's almost exactly what a similarly configured
MacBook Pro
would cost, and quite a bit more than other 2-in-1 systems go for these days. For example, a similarly configured XPS 13 7390 2-in-1 will set you back just $1,299, so it's up to buyers to decide if the Elite Dragonfly's safety features are worth the extra scratch.
Once you get into well-endowed systems like our test configuration, the Dragonfly's price escalates quickly. HP's recommended configuration has a Core i5-8365U with vPro, 16 GB of memory, a 256 GB SSD, and the Sure View panel
set for $1,849
. Our test unit with the Core i7-8665U, 16 GB of LPDDR3-2133 RAM, the 512 GB SSD with Optane cache, (but still the base display panel) would set you back $2,079, according to HP's current pricing. In short, this is a premium product with a premium price tag to match.
Overall, we like the new HP Elite Dragonfly, with a few caveats. The most important issue is that it's best to wait on a purchase if you're considering this machine. While we like so many aspects of the Elite Dragonfly, it's only going to get better when the revised systems hit in February. With Intel 10th Gen-powered Elite Dragonfly systems right around the corner, we feel that the next generation of
t
his machine will go from generating buzz to soaring to new heights.





Plenty of security features baked in

Sleek industrial design with gorgeous blue finish

Very light weight with 360 degree hinge

Active Pen with Windows Ink support

Extremely quiet, even under a load

Excellent battery life

CPU performance doesn't measure up
Graphics cannot keep up with modern workload
NVMe + Optane did not live up to its billing
Base configuration is pricey, and upgrades add up
Related content
Comments