Samsung Galaxy Book S Review: Thin, Sleek, Big Battery Life
Samsung Galaxy Book S: Living With Windows On Arm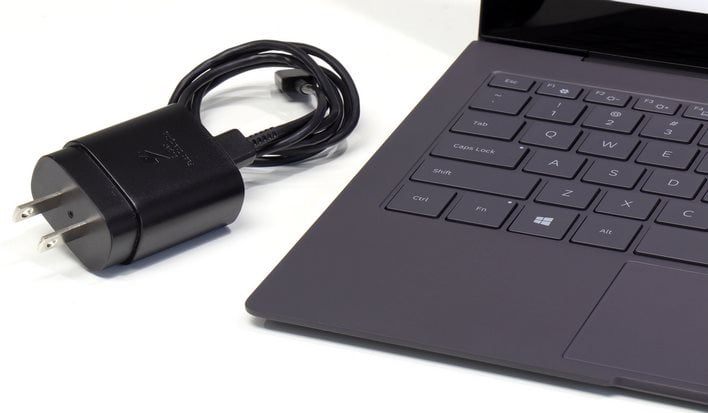 A burgeoning, native Arm64 apps library and support for existing 32-bit apps sounds great on paper, but what's it like living with the
Galaxy Book S
as a primary machine? To answer that, we decided to do just that: I put away my traditional x86 notebook that gets used around the house and replaced it with the Galaxy Book S. The usual notebook is frequently tasked with streaming video on several services, editing documents in Google Docs, browsing the internet, writing the occasional HotHardware review, and three to four meetings on
Zoom
and Google Meet with friends and family each week. We gave the Galaxy Book S no quarter; it had to do all of these things and then some, actually.
Working With The Galaxy Book S As A Daily Driver
For the most part, we just used the Galaxy Book S as we would any other laptop. So much mainstream software is either Arm64-ready or 32-bit x86, so we just didn't have to think about it that much. To get started, we loaded up the system with apps that were required for day to day living around the house. That includes Netflix, Hulu, Microsoft Office, and
Paint.NET
(which I love because I'm too cheap to buy Photoshop).
The only regularly-installed app we chose to swap out was Chrome, since the newest version of Edge is
built on Chromium
and it's both very fast and standards-compliant. MS Edge is native Arm 64 so it's the obvious choice to use with a system like the Galaxy Book S.
OneDrive
was already installed with Windows, so I had access to all of my photos and documents, and
Skype
was ready to go for messaging of course as well. Beyond Microsoft's first-party apps, we almost didn't have to think about the apps we wanted to install for day-to-day usage of the system.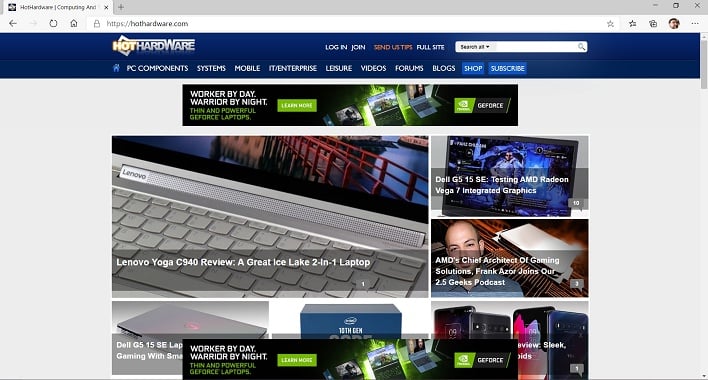 And then the experiment was to just use the Galaxy Book S like any other laptop. This meant performing my HotHardware duties, but also I'm in a minimum of three Zoom meetings each week with different groups of friends and family, and those went great. My daughter's
Google Meet
sessions with her classmates and teacher were similarly good. The Zoom desktop app worked flawlessly. IN short, my home-life productivity needs were completely met by the Galaxy Book S, which came as a little bit of a surprise, if I'm being honest, and that's a very good thing.
Beyond Mainstream Apps, Some Victories And A Few Caveats
For my day job, I'm also in multiple GoToMeeting status meetings, writing design documents in Word, updating spreadsheets, sketching out designs in
Balsamiq Wireframes
, and managing development tasks in Jira. For those tasks, the Windows version of Office worked great, but the vast majority of business needs have moved to the cloud. GoToMeeting, Jira, and Wireframes are all web apps that ran flawlessly in the Arm64 version of Edge.
Trying to do the work of a developer isn't all roses on a newer platform like Windows on Arm, though. Did you catch how we said that we "almost" didn't have to think about apps? There were a couple unusable apps, but we really had to stretch our use case to get to that point. Visual Studio Code installed and ran, but as an Electron app running inside an x86 shell, it was kind of slow.
Node.js
had similar performance issues, too. The biggest road block is that SQL Server Management Studio is x86-64 only, so it wouldn't even install. As a result I couldn't get any development work done, unfortunately, but it's nice to know there are some aspects of a fairly technical job that can happen from the couch and away from my desk.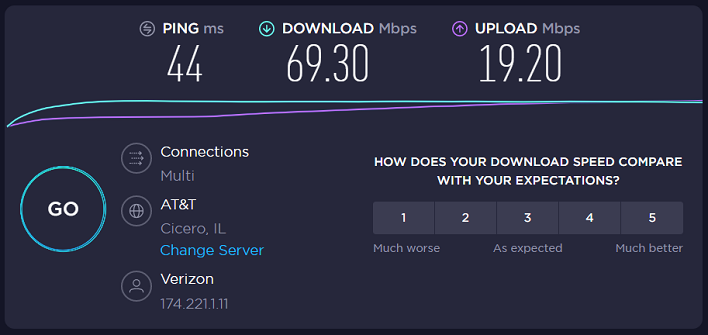 We could even work without Wi-Fi no problem of course. Remember that the Galaxy Book S has a SIM tray for adding cellular connectivity and the requisite Qualcomm Snapdragon LTE modem. In central Illinois we connected to Verizon's network from my living room sofa at roughly 75 megabits per second for downloads and 20 mbps for uploads. That's right in line with what my
iPhone 11 Pro
pulls down, so cellular connectivity is very strong. It's tornado season in Illinois. Being able to stay connected without interruption and without killing the battery on a cell phone is an excellent benefit of the Qualcomm ACPC (Always-Connected PC) platform. Taking the Galaxy Book S on the road without having to rely on spotty hotel Wi-Fi is another of course as well.
The Galaxy Book S As A Machine for Play
The house laptop is a work machine, certainly, but it's also an entertainment device. The four streaming services we have at home are Netflix, Hulu, Disney Plus, and
Amazon
Prime Video. Of those, only Netflix and
Hulu
make Windows apps for download. We started in the browser, and as mentioned earlier, we relied on Edge. Image quality and performance were both exactly as one would expect. It seems that playback relied on the video decode block on the Snapdragon 8cx, and CPU usage registered at around 10% throughout.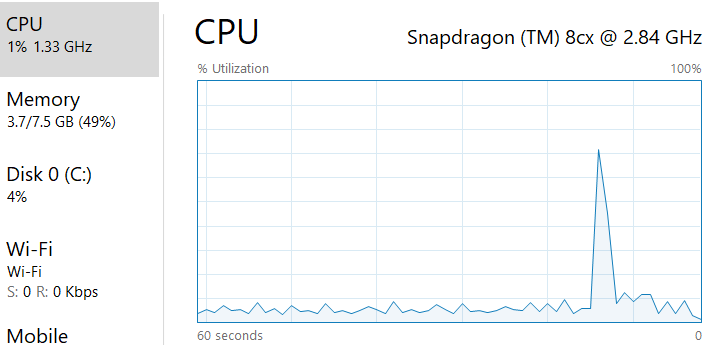 Netflix
playback was super smooth on the Galaxy Book S, and more importantly, the Windows apps also spared the CPU a lot of heavy lifting. Task Manager reported that both apps only consumed around 3-4% of the CPU's time. The most important benefit of this, whether it's a native app or a website, is that using the fixed-function logic in a GPU's decode block should maximize battery life. When we switched the app from full-screen to a window, the CPU graph bumped up a bit closer to 8-9%, but that's still in inconsequential territory. Hulu was similarly snappy and easy on the processor. For streaming video, we have every confidence in the Galaxy Book S being able to handle anything you might throw at it,
even at 4K
.
Unfortunately, we ran into an issue with
Plex
. The media player app is x86-64 only, and while we could install the app, Windows informed us that it couldn't run. Never fear, however, because Plex has a web interface that works great in Edge. We could navigate to the Plex server in the browser and stream content that way. Doing so didn't incur an additional penalty over using Disney Plus or
Amazon
in Edge, so all was not lost. The only problem is that we'd have to sync content to the Galaxy Book S manually if we wanted to take it on a trip with any of our Plex content, since our server isn't available over the internet.
Gaming on the Galaxy Book S is certainly possible, though you're not going to be playing recent AAA blockbusters on the system, obviously, though you wouldn't with anything but a true gaming notebook either. We started in the Windows Store, which shows that the Windows 10 version of
Minecraft
is built natively for Arm. Obviously we had to download that and take it for a spin.
Minecraft
(at least, as long as you're not running the
RTX version
) is pretty light on GPUs, and so it's probably no surprise that performance was perfectly smooth. Running side-by-side with other systems with integrated graphics, like the recently-reviewed
Dell XPS 13
, showed nearly identical performance between the two with the same video settings.
Emboldened by our success, we went back a few more times to the Windows store and downloaded a couple other games that are available to us via Game Pass for Windows:
Halo Spartan Strike
and
Pinball FX 3
. Spartan Strike is a Windows port of a mobile game, complete with on-screen dual-stick controls played from a top-down perspective. This is a mobile-focused game with a native Arm port, so again, performance was flawless, and for folks that are into
Smash TV
or
XenoCrisis
-style twin stick shooters, it's pretty fun for three dollars as well.
Pinball FX 3
was not as kind to the Galaxy Book S. It's built for x86 only and with all settings turned to the lowest possible options, it just wasn't playable. Frame rates were sub-30 fps at all times, and it wasn't smooth.
That got our brains going, though, and we figured there were plenty of lighter games on Steam or
GOG
that
should
be eminently playable. It turns out we were right about that. We dug into our GOG library and downloaded
Fallout 2
and
WarCraft II BNE
. Both games behaved just like they should, fast and responsive. We think that folks with an interest in old-school games will find plenty to pass the time with on the Galaxy Book S.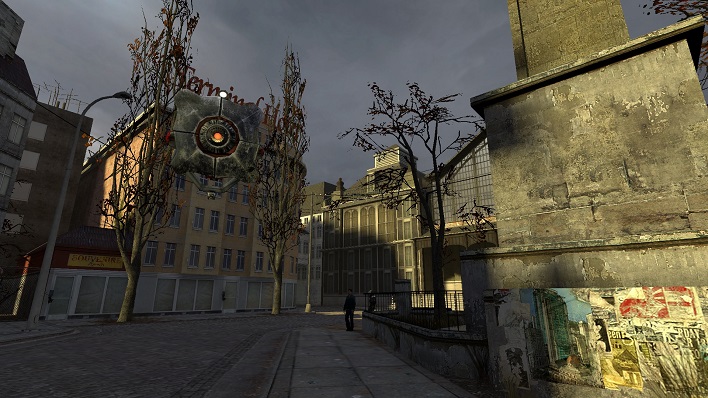 On Steam, we installed
FTL: Faster Than Light
,
Max Payne 2: The Fall of Max Payne
, and
Half-Life 2
. First off, FTL ran great and proved to not be a challenge at all for the Galaxy Book S. Secondly,
Max Payne 2
and
Half-Life 2
are classic 3D games that should run well on just about anything, x86 emulation or not. The good news is that both titles lived up to the challenge.
Half-Life 2
in particular looked great. We maxed out all graphics settings except for anti-aliasing and cranked the resolution to native 1080p, and again, the game ran great. Our normal frame rate monitoring tools like CapFrameX and OCAT wouldn't run, so we can't give exact figures, but there was nary a hitch. These gaming victories were a refreshing, pleasant surprise as well.
Galaxy Book S Conclusions
The
Samsung
Galaxy Book S is a pretty nice, svelte little laptop. Lighter than just about any x86-based ultraportable PC on the market, this laptop makes for a solid
Windows 10
experience with battery life that exceeds anything else we've ever tested. Somewhat surprisingly, we had no problem with the vast majority of the tasks that we threw at the machine as well. Especially these days when so many productivity tasks are cloud-based, the hardware inside a notebook and reliance on native apps becomes de-emphasized, as long as the web browsing experience is speedy. In the case of
Microsoft Edge
for Windows 10 on Arm devices, the browser is very snappy.
Even when local apps on the machine are important, so many common, every day apps just download and run on the Galaxy Book S, you
almost
don't have to think about it. For productivity, we had great success with
Office
and web apps. In the entertainment realm, we were able to stream video both locally and over the internet. In addition, while the system isn't a gaming powerhouse (nor are most x86 ultralights for that matter), it did a nice job running light-duty games and older titles that don't need as much horsepower, even though those older games weren't available on the native Arm platform. I inadvertently spent hours playing
Half-Life 2
after the photo was taken, just because it was easy to fall into when a game that great runs on the system so well.
The caveat to all of this was that we have to say "almost." We
almost
didn't have to think about what app we wanted to run, but when we had to, it was because running a demanding, non-native app was occasionally a bumpy experience. Modern 3D games, even a relatively lightweight one like
Pinball FX 3
, can be a slide show on the system. Using the web interface in Plex is less than ideal, although it's a workable solution. Don't forget that
Adobe
still hasn't shipped an Arm version of the Creative Cloud suite, something which has needed correction
since November
when the Surface Pro X shipped (get on it Adobe, you're missing out). Windows on Arm is so close to doing anything and everything, that these few gaps are frustrating. It's time that either big vendors get on board, or smaller developers embrace it and cut themselves a bigger slice of the app market.
Regardless, Samsung's Galaxy Book S is a winner in the Windows 10 on Arm category. It's a premium machine with great build quality and a beautiful display. The all-aluminum lid will protect the device from scratches, and the polycarbonate body keeps the system nice and light. A
Gorilla Glass
-covered 1080p touch display with a high maximum brightness looks great in motion. Our review unit has the Snapdragon 8cx platform with 8GB of LPDDR4 memory and a 256GB SSD, which retails for $999. That's no small amount of money, but to folks who need insane multi-day battery life, it might just be worth it. In addition, it's also more aggressively-priced than Microsoft's
Surface Pro X
. Extras like fingerprint authentication via
Windows Hello
and cellular 4G LTE connectivity take a bit of the sting out of the price tag, but this no impulse purchase.
Overall, we think the Galaxy Book S is a solid device, and by far the nicest Windows on Arm laptop we've laid our hands on thus far. If your use cases align with its strengths, including media playback, web app productivity, and the need to always be connected while having great battery life, this machine is worthy of serious consideration. With our few complaints about apps that didn't quite worked out, the Galaxy Book S running Windows 10 is also far more useful beyond web browsing than any
Chromebook
.
Even if your workload doesn't line up with the Galaxy Book S just yet, it's important to keep an eye on this sector because it's just a couple of critical apps away from a major tipping point. Intel and AMD need to keep on their toes, as this system's respectable performance mixed with amazing battery life is just what a whole lot of consumers are looking for. We're just waiting for the day that Windows on Snapdragon devices like this hit a price point that attracts critical mass.





Snapdragon 8cx is extremely power-efficient

Exceptional battery life

Gorgeous 13.3" 1080p display

Super-thin, capable ultraportable

Growing library of Arm applications

4G LTE connectivity built-in

Some devs haven't hopped on the Arm 64 bandwagon
No keyboard backlight for darker rooms
No Type-A USB port
Related content
Comments