Moto Edge+ Review: Gorgeous But Living On The Edge (Of 5G)
Moto Edge+ Software Experience, Pricing And Review Verdict
Moto Edge+ Software Experience
Moto's well-known for making "pure" Android handsets, and the Edge+ is no exception. It runs an almost stock build of
Android 10
, with some of Moto's magic touch sprinkled on top. And honestly, it's a delight to use. There's no annoying skin here -- just a very clean, streamlined user experience. Everything behaves exactly like you'd expect, from the launcher to the app tray, to the way notifications and settings are handled. And have we mentioned Moto's awesome clock/weather/fitness widget yet? Let's take a look at some of Moto's tweaks.
First, there's Moto Actions, a set of configurable gestures that give you more control over the Edge+. For example, you can turn the flashlight on and off with a double chop hand motion. Similarly, a double twist of the wrist starts the camera. You can take a screenshot with a three-finger swipe and there's a comprehensive screenshot editor that supports auto scrolling. Turning the phone over silences the ringer. You can even re-purpose the volume rocker to change tracks when the screen is off. Clever...

Then, there's Moto Display, a set of features that optimize how you interact with your handset. One setting keeps the screen on while you're looking at it. And while the Edge+ doesn't have an always-on display, it will show you the date, time, weather, and notifications if you tap it or reach for it. Some of these notifications are even actionable, right there on the lock screen. It's not groundbreaking, but it's extremely well executed, and super intuitive. Finally, the curved edges offer additional functionality in the form of Edge Touch and Edge Lights.

As we previously described, Edge Touch brings the curved edges to life via a small area (visualized by a translucent "pill") that you can position anywhere along the left or right side of the display. Double tapping this "pill" toggles between full screen and a narrower 21:9 aspect ratio, thus reducing the "waterfall" effect. This works on a per-app basis and can also be overridden in the settings. Some apps, like the camera, don't support this mode (which is a bummer), but the vast majority of apps we tested do.
You can also swipe the pill up or down along the curved edge. Going up once brings up recent apps, and twice brings up the app tray. Swiping down once shows the notification shade, and twice the quick settings. Sliding the pill in towards the center of the display reveals a set of six shortcuts -- apps or contacts you select. Finally there's Edge Lights, which turns the curved edges into a notification light. Unlike a proper notification LED, though, this isn't persistent, ie. the curved edges don't continue pulsing until you dismiss the notifications.
Then there's Moto Gametime, which is pretty much your standard game mode except you can also setup two virtual shoulder/trigger buttons -- complete with haptic feedback -- within the curved Edge area. We tried these in
PUBG
and they work rather well. Now let's talk about pre-installed apps, because there's an absolute crapload of bloatware on the Edge+. Between Verizon's apps, Amazon's apps, Yahoo!'s apps, Apple Music, Disney Plus, NetFlix, and a bunch of games, we had to uninstall or disable over two dozen apps -- ugh!
In summary, Moto's wonderful software experience is spoiled by loads of bloatware:
3.5/5
Moto Edge+ Pricing And Competition
In the US, the
Moto
Edge+ will be available exclusively on Verizon for $1000 (or $42 per month for 24 months) starting May 14, in Thunder Grey or Smokey Sangria. Canada will also be getting the Edge+ on Bell, Rogers, TELUS, and Freedom Mobile -- details TBD. For customers outside of North America, it's still unclear when the Edge+ will grace your shores, if at all. Moto is planning to launch the cheaper Edge (with a Snapdragon 765,
only
4/6GB of RAM, and a 64MP main shooter) sometime this summer, so we'll keep you posted on that.
Focusing on the US market, the Edge+'s main competitors are the
OnePlus 8 ($700) and 8 Pro ($900),
Samsung Galaxy
S20 ($800) and S20+ ($1000)
, and the
LG V60 ThinQ 5G ($700)
. Here's what you need to know. First, there's no dedicated telephoto lens on the OnePlus 8 or V60. Second, the OnePlus 8 doesn't have wireless charging. Third, the V60's display is only 60Hz, and its cameras lack a macro mode. Fourth, the Galaxy S20-series and V60 accept microSD cards. And if you want a headphone jack, the V60 is your only other option.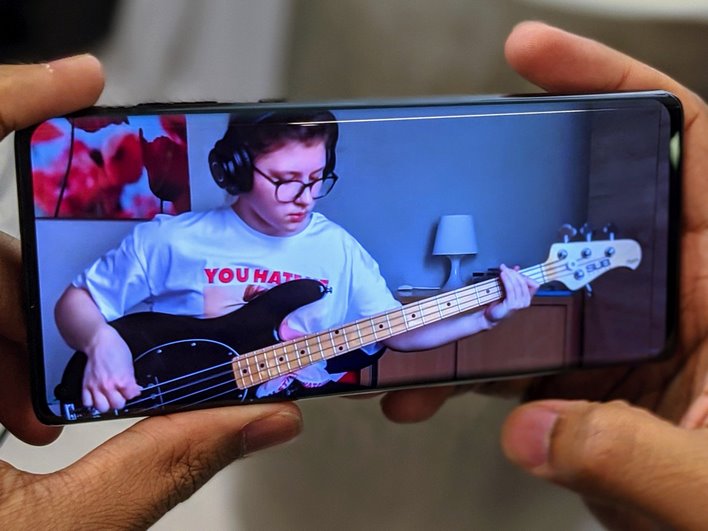 The smaller Galaxy S20 isn't available on Verizon yet -- Samsung's still working on a special
mmWave
version. Also, the OnePlus 8 Pro isn't compatible with Verizon's 5G network, and while the OnePlus 8 for Verizon includes mmWave support, you'll pay $100 more for the privilege. Finally, if you're shopping abroad, you have a lot more options, including
Oppo's excellent Find X2 and X2 Pro
, Huawei's GMS-less
P40 and P40 Pro
, and Xiaomi's new Mi 10 Pro, to name a few
Moto Edge+ - The Verdict
We really like the Edge+. It's a beautiful flagship that boasts impressive specs and delivers a great user experience. While the display is nice, we're not sold on the extreme "waterfall" design -- and no, the name does
not
justify the screen. The cameras are pretty decent, but there's still a lot of room for improvement. Sound quality is quite good, and we applaud the headphone jack. Battery life is excellent, at least on 4G LTE. And finally, Moto's Android software setup proves that less is more. The only wildcard is Verizon's
5G
network, which we weren't able to test.
And herein lies the rub. We can't help but wonder how much better (or cheaper) the Edge+ would be if it wasn't shackled to Verizon's network and shaped by the carrier's quixotic pursuit of mmWave as 5G's panacea. Everyone understands by now that 5G growth will be driven by sub-6GHz networks for longer reach and coverage. Can you imagine a sub-6GHz capable Edge+ sold unlocked for $800 that competes directly with the OnePlus 8 Pro? Or a version with a QHD+ display? What if Moto had spent more time fine-tuning its shooters instead of the mmWave radios for Verizon's network?
If you're interested in the Moto Edge+ and you're a Verizon customer -- especially if you live in one of Verizon's few 5G mmWave markets -- then by all means, buy this phone. Otherwise, take a good look at the competition. There are a lot of solid
5G
flagships at this price point today. Ultimately, making the Edge+ a Verizon exclusive was a mistake. Moto should have made this handset available unlocked and on multiple carriers. Instead, it chose to play it safe. So much for living on the edge.
| | |
| --- | --- |
| | |
| Great user experience | Extreme "waterfall" screen |
Related content
Comments