LG V60 ThinQ 5G Review: Dual Display, Almost Flagship
LG V60 ThinQ 5G Intro, Hardware, Display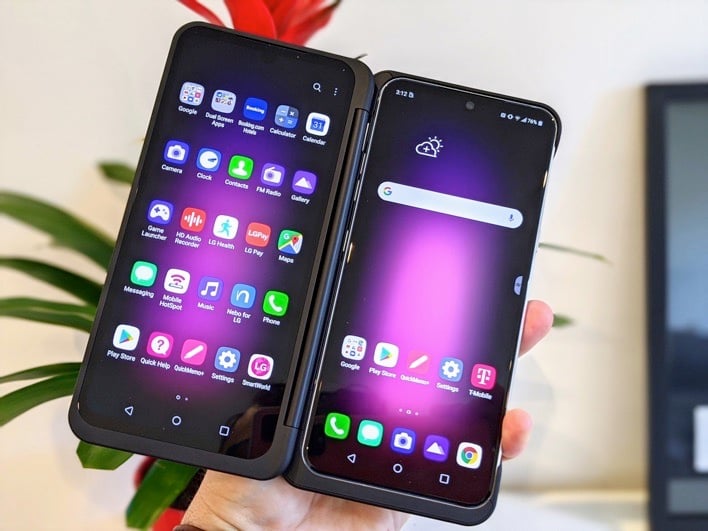 It's fair to say that when you think of flagship phones, LG may not be the first brand that comes to mind. Although the company's made some strong devices over the years, including some of Google's Nexus and Pixel-branded phones, the South Korean giant hasn't had the same kind of success in the mobile space as some of its larger competitors. The company's introduced some competent handsets over the years, but often seems to rely on the strength of its carrier relationships -- at least here in the US. As a result, LG's phones often feel designed to please the operators more so than end users, and to meet a particular -- typically aggressive -- price point.

Last year's G8 and G8x ThinQ were no exception. While affordable, these handsets lacked some important features and relied on proprietary (and often gimmicky) differentiators like hover gestures and a dual screen case, respectively. The V50 ThinQ was a more complete offering but was only available in select 5G (mmWave) markets. Enter the V60 ThinQ 5G Dual Screen we'll be showing you here today, LG's first flagship of 2020. Priced at $900 with a dual screen case ($800 without), it undercuts most of today's premium competition despite its high-end innards -- like Qualcomm's potent Snapdragon 865, and multi-screen support.

But the real question is, did LG cut corners to achieve this price point? Is the V60 really flagship material? And is that dual screen case a worthy differentiator? Let's find out...
LG V60 ThinQ 5G Hardware And Design
LG provided an AT&T-branded "Classy Blue" review unit. It's dark blue with gold trim, but there's a "Classy White" version as well, also with gold trim available. The V60 tweaks LG's familiar V-series (and G-series) design language. It's your typical glass and aluminum sandwich with rounded corners, but instead of placing the three world-facing cameras flush under the rear glass, they are mounted in a rounded-off rectangular pod reminiscent of Samsung's Galaxy S10/S10+.

The blue glass back uses curved edges to hide some of this phone's girth while making it more comfortable to hold. A massive 6.8-inch 1080p AMOLED display (20.5:9 aspect ratio) dominates the front glass. It features minimal bezels and a sliver of an earpiece, plus a teardrop notch for the 10MP front shooter -- something you're more likely to expect on a budget handset than a flagship these days. But there's a good reason for this, so read on.
Did we mention this is a big phone? It's actually taller, wider, and thicker than Samsung's already large Galaxy S20 Ultra, and about the same weight. But unlike the latter, the V60's camera pod barely protrudes from the glass back. Speaking of, there's no telephoto lens here -- only a 64MP main shooter, 13MP ultra-wide, and time-of-flight (ToF) sensor. LG makes good use of all this real estate by including a large 5000mAh battery and wireless charging.

Looking around the gold aluminum frame, you'll find a headphone jack (thankfully), USB Type-C port, primary mic, and speaker along the bottom edge, a power/lock button on the right, a SIM/SD card tray and secondary mic on top, plus a third mic, volume rocker, and Google Assistant button on the left side. In all, the V60 looks and feels like a premium flagship, and it's water resistant, too, with an IP68 rating. The V60's design is far more interesting than what LG offered last year.


LG V60 ThinQ 5G

Specifications & Features
| | |
| --- | --- |
| Processing And 5G Platform | Qualcomm Snapdragon 865 + Snapdragon X55 5G Modem |
| Display | 6.8" FHD+ AMOLED, 3200x1080 resolution, 60Hz, HDR 10+ |
| Memory | 8GB |
| Storage | 128GB UFS 2.1 + microSD |
| Rear-Facing Cameras | 64MP f/1.8 Main OIS, PDAF - 13MP f/1.9 117º Ultra-Wide, ToF sensor |
| Front-Facing Cameras | 10MP f/1.9 |
| Video Recording | Up to 8K @ 24 fps, 4K @ 60fps, 1080p @ 60fps, 1080p slow-mo |
| Battery | 5000 mAh |
| OS | Android 10 With LG UX 9.0 |
| Dimensions | 169.3 x 77.6 x 8.9mm |
| Weight | 218 grams |
| Connectivity | 802.11ac Wi-Fi, Bluetooth 5.1+LE, NFC, USB-C, LTE, 5G, FM Radio |
| Colors | Classy White Or Classy Blue |
| Pricing | Find LG's V60 ThinQ 5G Dual Screen @ Amazon Starting at $800 |
---

LG V60 ThinQ 5G Display Quality
The V60 packs a huge 6.8-inch edge-to-edge FHD+ AMOLED display (1080 x 2460 pixels, 395 ppi) with a 20.5:9 aspect ratio, 60Hz refresh rate, and HDR10+ support. It's also completely flat, forgoing the curved "waterfall" edges prevalent on other modern flagships -- and that's a good thing in our opinion. Overall, we're happy with this screen. Like other LG panels, it's crisp and bright, with vibrant but accurate colors, inky blacks, and nice viewing angles.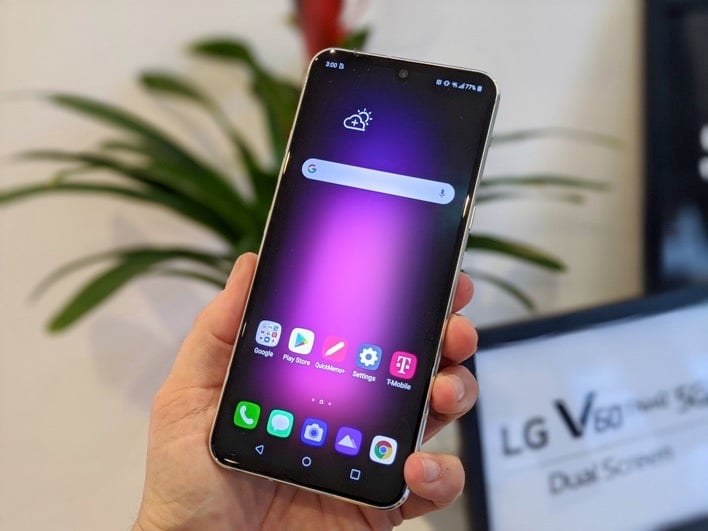 There are some shortcomings, though. First, this 6.8-inch display is only 1080p, which is fine in terms of pixel density for a flagship today, but not as high as some of its competitors. Second -- and this is more problematic -- LG gave the V60 a 60Hz screen when everyone else is shipping flagships with 90, 120, and even 144Hz panels. If you've ever used a phone with a high refresh rate, you know how much smoother everything looks and feels.

The dual-screen case is really something you'll have to try for yourself. While there are some interesting use cases, we think that it doesn't necessarily deliver on LG's promise of higher productivity. Yes, you gain a second display, but it comes at the expense of bulk, battery life, and convenience. To us, the trade-offs aren't worth it more often than not. Of course your mileage may vary, so let us explain.

The dual screen case is a folio-like design made of high-quality, black, soft touch plastic. A 2-inch monochrome OLED display is hidden under the glass front cover, and shows the date, time, battery level, and notification icons. It's not a touch screen, though -- it's strictly there to convey information. Inside, the left half of the case features the exact same 6.8-inch 1080p AMOLED display (20.5:9 aspect ratio) found on the handset itself, complete with the same notch (but no shooter).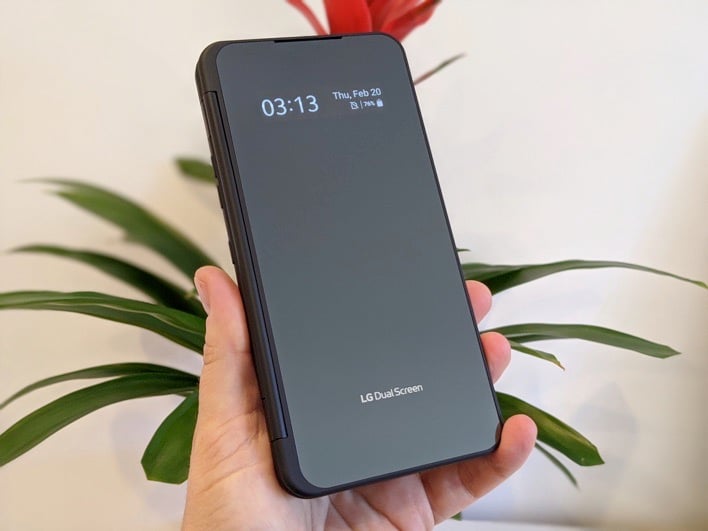 The right half of the case accommodates the V60. It slides in -- bottom edge first -- and mates with a USB Type-C plug protruding inside the case. You then push the top of the screen until the phone snaps into place. It's pretty intuitive, but not something you'll want to do very often to minimize wear on the connectors, since it slides in at an angle. There's a camera pod cutout in the case's plastic back cover, and button pass-throughs on the sides.

This dual-screen case design comes with some trade-offs. First, this case is very big. If the V60 alone is already large by today's standards, the dual screen case kicks things up a notch. Second, because of the second screen, the case reduces battery life by about 20% (more on this later). Third, the case uses a proprietary MagSafe-like connector so you can charge the phone in the case. LG provides a USB Type-C adapter in the box to mitigate this, but it's small, and easy to forget or lose.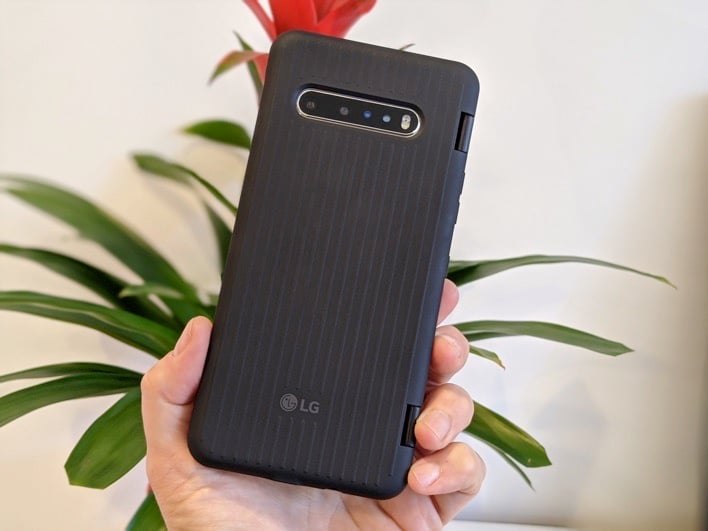 Then there's the headphone jack pass-through -- a hole in the case to access the V60's audio connector -- which is too small for half the 3.5mm plugs we tried. As an aside, this was also an issue with the dual screen case for last year's G8x, so it's nothing new. On the plus side, the case opens to any angle, up to 360-degrees. Then again, with the case flipped most the way open, you can't use the rear shooter, since it's obstructed.

So, what do you gain from having two displays? There's more screen real estate for sure, but it comes with the overhead of having to manage it. Sure, you can run two apps side by side, or even three apps by splitting the main display in half. LG includes software that lets you swap apps between the left and right screens, and span some apps (like YouTube) across both. But then you end up with a big black plastic gap in the middle of your content.
For us the biggest challenge was having to manage apps across two screens. It wasn't intuitive, and makes for a rapidly frustrating experience. You quickly realize that Android multitasking (and display spitting) makes the second screen redundant. As such, a phone like Samsung's Galaxy Fold makes a lot more sense, since it's basically a single, uninterrupted, tablet-sized display. Obviously, this also comes with a sizable cost increase.

There are a few interesting use cases, though. You can use the dual screen case like a tiny laptop, with a keyboard on the main display and a landscape app on the second panel. Or you can turn your phone into a proper handheld-gaming device, with a virtual game controller on the main screen and a game on the second panel. And it also enables easier top-down photography or shooting from different angles, since you can place the camera controls on the second screen and position the phone itself in creative ways. Whether or not those use cases are appealing is going to be up to you, however.

Now let's dig into the cameras a little deeper...
Related content