Moto Edge+ Review: Gorgeous But Living On The Edge (Of 5G)
Moto Edge+ Camera Hardware Specs And Shot Samples
When it comes to imaging, the Moto Edge+ checks all the boxes, at least on paper. The main shooter clocks in at 108MP -- yes, that's
one hundred and eight
megapixels (!) -- just like
Samsung's Galaxy S20 Ultra
. In fact, this phone appears to use the exact same massive (1/1.33-inch, 0.8-micron pixel) HM1 sensor, but instead of pixel binning 9-to-1 for a 12MP output, it combines sets of 4 pixels into 1.6-micron superpixels for a 27MP effective resolution. Combined with an f/1.8 lens with PDAF and OIS, this makes for a potent combination.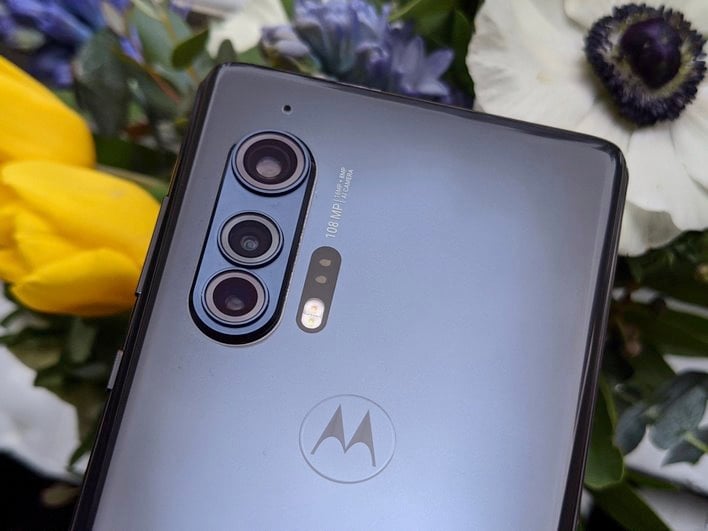 There's also a 16MP f/2.2 1-micron 117-degree ultrawide camera (with AF plus macro) and an 8MP f/2.4 1-micron 3x telephoto with OIS. For selfies, the Edge+ packs a 25MP f/2.0 0.9-micron shooter with 4-to-1 pixel binning (6.2MP output). When it comes to video recording, the Edge+ is able to capture stabilized video and time lapses at up to 6k 30fps / 4k 30fps / 1080p 60fps with the main sensor, and up to 1080p 30fps stabilized with the other cameras (ultrawide, telephoto, and selfie). It also supports slow motion at 1080P 120fps and 720p 240fps.
Other features include a night mode (strangely limited to the main and selfie shooters only), which produces mixed results. There's also an ultra resolution (108MP) mode, that generates incredibly detailed stills -- at least when there's enough light. Also on deck are Moto's usual Cinemagraph, Spot Color, Cutout, and Group Selfie modes. The Macro mode -- which uses the ultrawide shooter -- is quite impressive. Video modes also include portrait and macro capture (1080p 30fps) using the main and ultrawide modules, respectively.
So, how does the Edge+ camera system fare? It's pretty decent actually, but there's no mistaking it for a Pixel or
Huawei flagship
when it comes to overall quality. A closer match is
the OnePlus 8 Pro
, which is no slouch -- great pics in daylight, (especially from the main shooter), mixed night-mode results (sometimes helps, sometimes not), excellent macro performance, nice ultrawide shots, and an OK telephoto shot results. We think the Edge+ beats the OnePlus 8 Pro when taking selfie portraits, but that's really about it.
Moto also does a respectable job at matching the color science between the three rear shooters -- something that many
Android
flagships struggle with. Video recording is fine, even though 6K shooting is a gimmick (then again, so is 8K, at least on phones). It's just unfortunate that you can't capture video beyond 1080p 30fps with the ultrawide, telephoto, and selfie cameras. Our only other gripe is that the extreme "waterfall" display makes it difficult to frame shots properly. This, combined with aggressive screen dimming in low light makes shooting a challenge at times.
While there's still room for improvement, the Edge+ did better than we expected in the imaging department: 3.5/5
Next up: audio, performance, and battery life...

Related content
Comments