OnePlus 8 Pro And OnePlus 8 Review: Disruptive 5G Flagships
OnePlus 8 Vs OnePlus 8 Pro - Are We Settling Or Is This Android Greatness?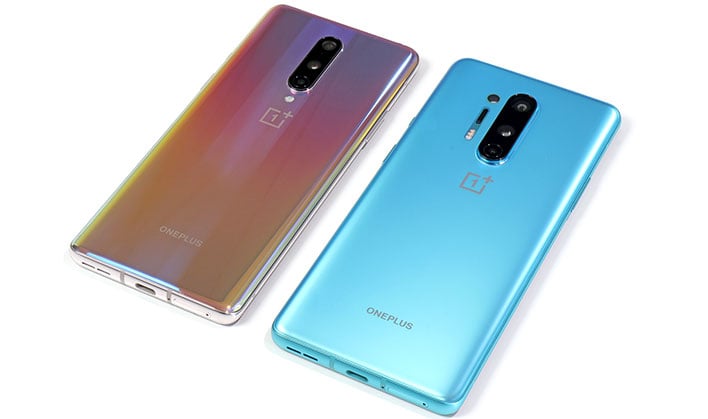 The highly anticipated OnePlus 8 and OnePlus 8 Pro are on sale starting today, and lucky for prospective Android flagship shoppers, we have our full deep dive review on the pages ahead.
OnePlus
has made a name for itself over the years, especially with Android enthusiasts, for building high quality devices with thoughtful feature inclusions, while limiting costly unnecessary features and delivering exceptional value at almost unheard-of price points. Top-tier Qualcomm
Snapdragon
-powered devices with more RAM, more storage, and OnePlus' lean, mean
Android
-based Oxygen OS -- at price points hundreds less than competitive devices -- has been the hallmark of the brand. However, this new OnePlus 8 dynamic duo is inherently different, with a very specific delineation line between the two.
The OnePlus 8 Pro is the clear top-end flagship, with a 6.78-inch Fluid AMOLED 1440p display capable of a buttery 120Hz refresh, super-fast 30 Watt wireless Qi charging, full IP68 liquid/particle ingress protection and additional camera capabilities that we'll dive into later. This model drops in at a starting price of $899, a solid $200+ over the previous gen OnePlus 7 Pro and a clear breakaway from OnePlus' "value but premium" lineage. Then again, wireless charging and official IP68 protection were never options with top-end OnePlus phones previously, so we begin to see the intent here to deliver more features for the dollar at least.
Snapdragon 865
, backed up back 8 or 12GB of RAM and 128GB or 256GB of speedy UFS 3.0 storage. However, the OnePlus 8 drops in at just $699, and though it's certainly a hat-tip to the OnePlus heritage of value but premium Android devices, it's still commands a cool $100 more than
the OnePlus 7 T
from just a few short months ago.
So, either way you slice it, OnePlus is going a little more up-market here, but when you consider
Samsung's Galaxy S20 series
starts
at $1K, you can tell OnePlus is at least trying to strike a balance. However, at their respective price points, and with the same mobile processing platforms, how do these two new OnePlus entrants fair in the market and differ between the two?. In some areas, the differences between these new OnePlus phones are fairly stark, so let's dive in deeper and explore.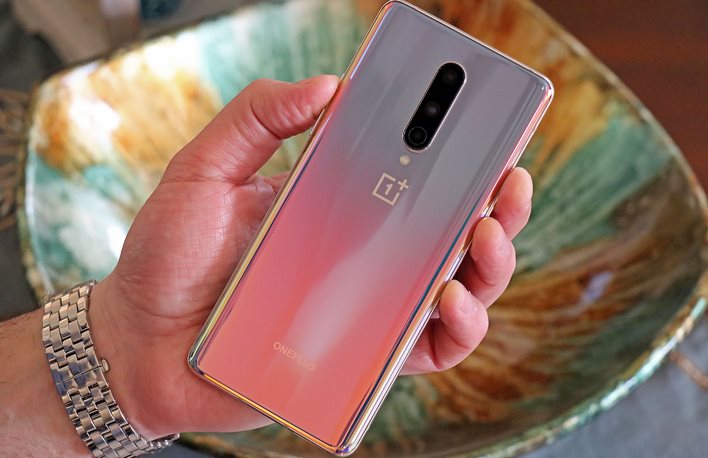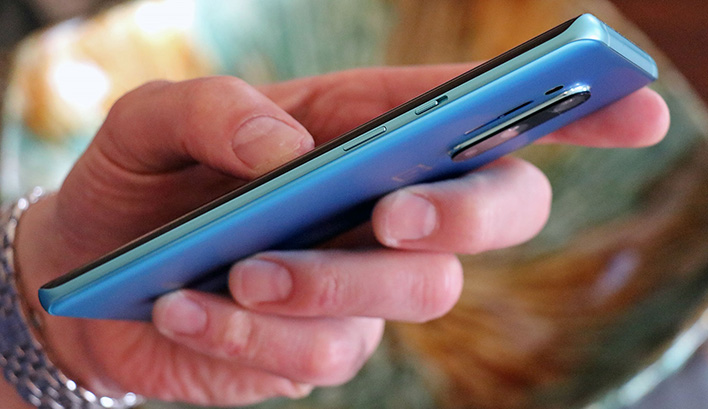 For starters, we have different color options, with the OnePlus 8 Pro delivered in Ony Black, Galacial Green (seen above), and Ultramarine Blue (my personal fave). The OnePlus 8 standard comes in the same black (a nice smudge-free matte black mind you) and a green-blue color, but instead of the true blue of the OP8 Pro, there's Interstellar Glow, a soft of metallic rose hue that reflects light like crazy (see above) and looks great, when it's not attracting fingerprints and smudges. You also get OnePlus' handy Silent/Vibrate/Ring slider on the edge of both devices near the right side power button, while both of their volume rockers are on the left, for easy thumb access.

Now let's hit the rest of the spec particulars, what's in the the box, and some key features and accessories...


It's All In The Particulars - OnePlus 8 Pro Vs OnePlus 8
OnePlus 8 Pro And OnePlus 8

Specifications And Features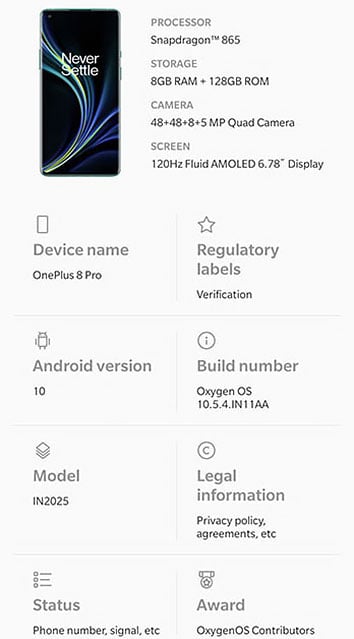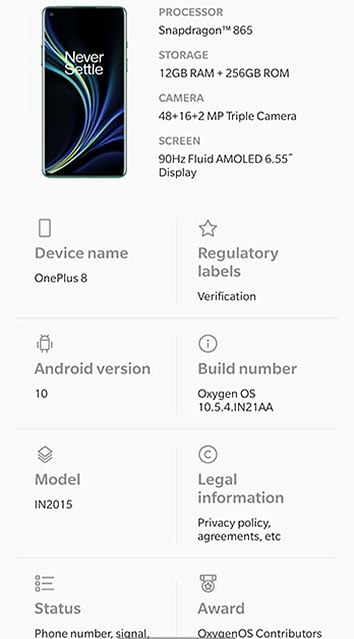 ---
OnePlus 8 Pro

Rear Cameras



OnePlus 8

Rear Cameras

Sony IMX689, 48MP, f/1.78 OIS/EIS, 48MP UWA f/2.2, 8MP Telephoto f/2.44 OIS
5MP Color Filter f/2.4
Sony IMX586, 48MP f/1.75 OIS/EIS, 16MP UWA f/2.2, 2MP Macro f/2.4
Front Camera

(Both)




Sony IMX471, 16MP f/2.45, EIS, Fixed Focus

Video Recording (Both)

4K - 30/60fps, 1080p - 30/60fps Super Slow-Mo: 720p 480fps, 1080p 240fps
Time-Lapse : 1080p 30fps, 4k 30fps, Video Editor
OnePlus 8 Pro

Battery


OnePlus 8

Battery



4510 mAh - 30W Warp Charge, 30W Wireless Warp Charge
4300 mAh - 30W Warp Charge
Dimensions, Weight: OnePlus 8 Pro
165.3x74.35x8.5 mm, 199g


Dimensions, Weight: OnePlus 8

160.2x72.9x8.0 mm, 180g

Connectivity (Both)

802.11ax Wi-Fi, Bluetooth 5.1+LE, NFC, USB-C, LTE, 5G Sub-6 And mmWave

Colors OnePlus 8 Pro

Onyx Black/Glacial Green/Ultramarine Blue


Colors OnePlus 8

Onyx Black/Glacial Green/lnterstellar Glow

Pricing OnePlus 8 Pro
Pricing OnePlus 8
8GB+128 Storage - $899, 12GB+256GB $999
8GB+128 Storage - $699, 12GB+256GB $799

Diving into their common Snapdragon 865 Mobile Platform, you can see OnePlus actually sent us a lower-end config of the OnePlus 8 Pro, with 8GB of
LPDDR5
RAM and 128GB of UFS 3.0 storage, and a higher-end OnePlus 8 with 12GB of LPDDR5 RAM and 256GB of UFS 3.0 storage. These two phones will retail at $899 and $799 respectively, and for $100, among these specific configs, the OnePlus 8 Pro we feel is a better value for most folks due to its additional features, IP68 certification, wireless charging, and better camera setup, unless you really need that storage of course, since internal storage is non-expandable, with a dual SIM tray on both and no microSD card expansion.
What's In The Box? OnePlus Accouterments And Optional Accessories
Keeping on the topic of value coefficient here, let's look a bit deeper at what's in the box of the new OnePlus 8 series and a few extra accessories.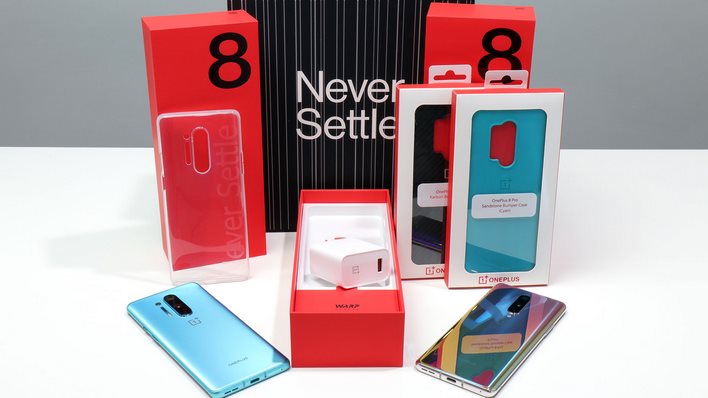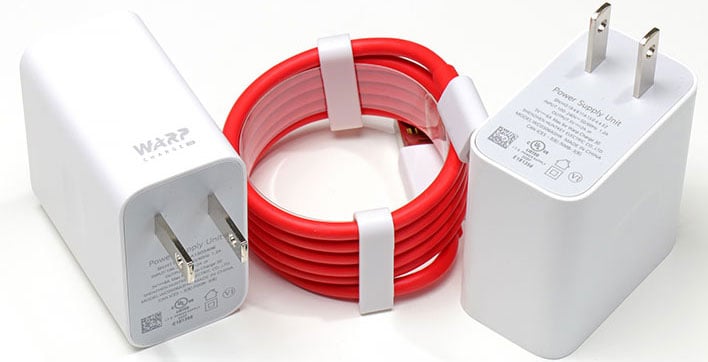 One area that always pleasantly surprises us with OnePlus phones is their packaging and bundle. Though these are review kits you're looking at here, in a standard retail box, along with the phone, consumers get a Warp Charge 30 Power Adapter, heavy-duty Warp Type-C cable, Quick Start Guide and lit pack, a OnePlus sticker, a pre-applied screen protector, a SIM tray ejector and a clear case. We much prefer that clear case than a pair of cheap, tinny-sounding earbuds we won't use, and OnePlus' 30 Watt Warp Chargers can't be beat currently for ridiculously quick top-offs.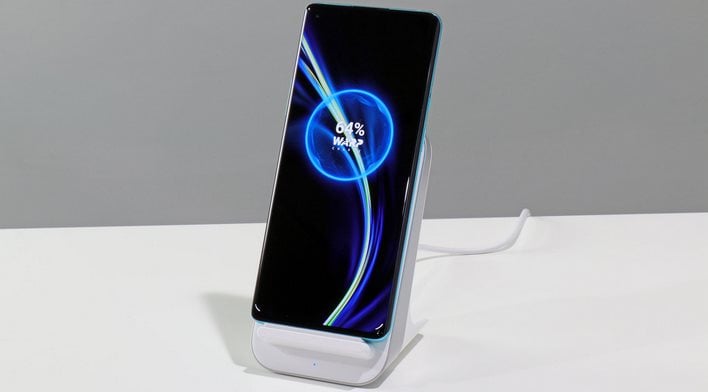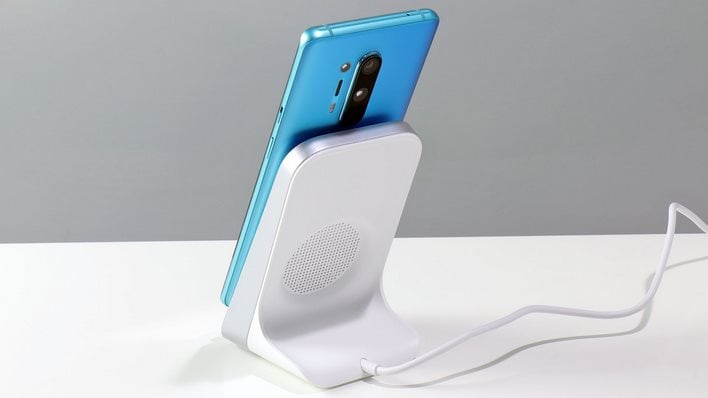 Look Ma, no wires, just back in the saddle...
Ah, but that 30 Watt Wireless Warp Charge cradle for the OnePlus 8 Pro is sublime. This $69.95 accessory makes hooking up for some juice a breeze and is a long overdue feature add for OnePlus. It has a small fan in the back, but you can barely hear it much at all over average ambient room noise. What you will appreciate, however, is being able to go from 0 to 50% charge in under 30 minutes and it's
Qi
compatible, so it will charge any Qi wireless charging ready device. The
OnePlus 8 Pro
itself also sports Reverse Charge, which will allow you to charge any Qi charge compatible device just by resting it on the back of the phone.
OnePlus 8 And OnePlus 8 Pro HDR10+ Fluid AMOLED Displays At 90 And 120Hz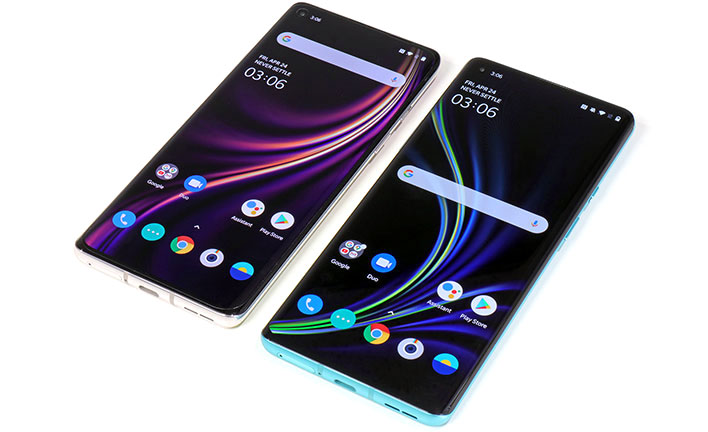 OnePlus 8: 90Hz 1080p (L)
OnePlus 8 Pro: 120Hz 1440p (R)

The other aspects of these two new OnePlus phones that are sublime are their displays. The OnePlus 8 Pro has a slightly more pronounced curve on its edges whereas the standard OnePlus 8 is less pronounced. However, both are HDR10+ capable and look fantastic with excellent brightness of 1000 nits and plenty of calibration options in the OnePlus Oxygen OS settings, as you'll see below.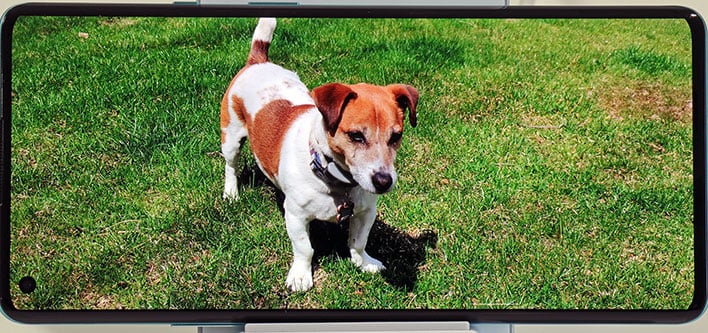 It can't be understated how good these displays look and though the OnePlus 8 Pro's higher 120Hz refresh rate and 1440p resolution (it's also larger at 6.78-inches, vs 6.55-inches on the OP8) does make it look and feel subtly smoother and sharper, you certainly won't be disappointed with the OnePlus 8's 90Hz 1080p display. These are two of the best smartphone displays in the business right now and OnePlus does an excellent job of setting them up out of the box. They're eye-popping gorgeous and compete on every level with Samsung's Galaxy S20 lineup.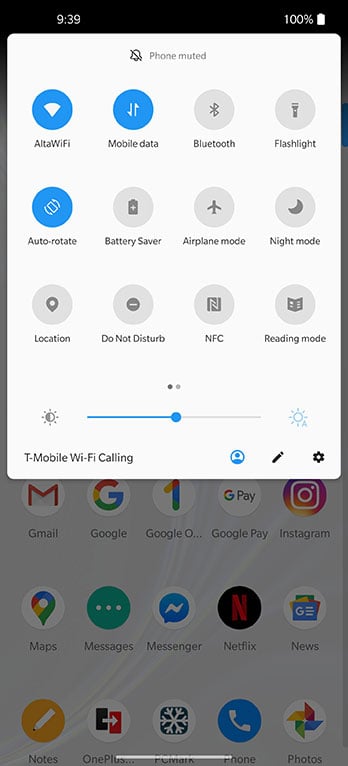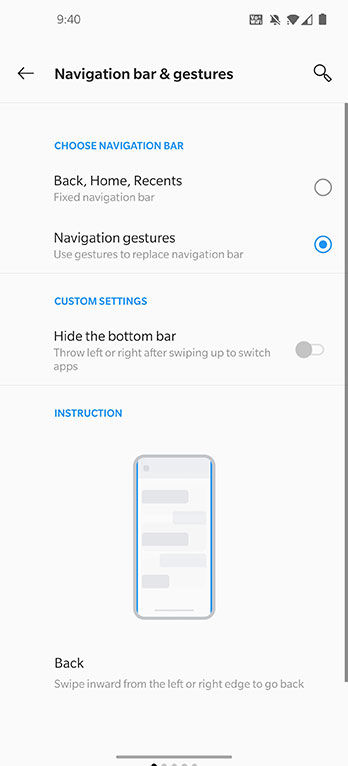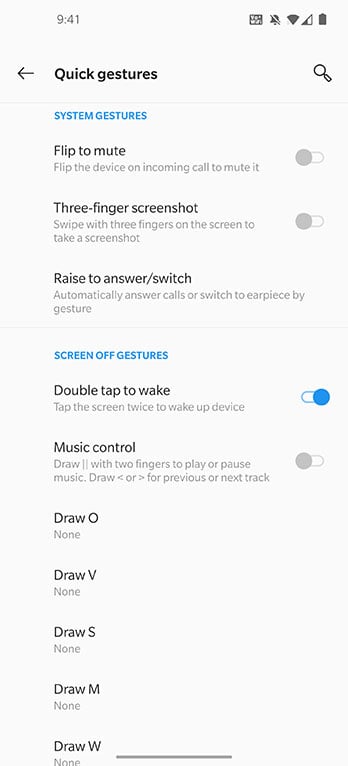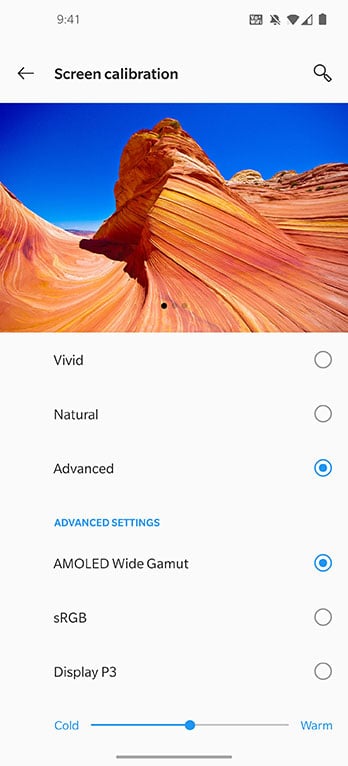 We've included some screen shots of the current OnePlus Oxygen OS setup of Android 10 here to give you a taste, but suffice it to say this OS skinning is ultra-light and highly configurable. As previously noted there are copious settings for calibrating displays and also returning are OnePlus' thoughtful quick gestures, should you wish to enable a few more hooks, as well as the option to go with Android 10's gesture navigation or a traditional fixed navigation bar at the bottom of the display. There's even an option to hide the selfie cam bullet hole with a thin blackout strip on top, but we didn't feel the camera hole was that disruptive and we much prefer that smooth, near bezel-free look.
Of Camera Hardware And Sensors - OnePlus 8 Vs OnePlus 8 Pro
When all is said and done, other than the OnePlus 8 Pro's larger 4510 mAh battery, 30W wireless Warp Charging, and IP68 protection, what really stands out between these two new OnePlus phones are their different camera sensors and lens arrays. For true shutterbugs, the Sony IMX689 sensor and the quad camera array of the OnePlus 8 Pro, versus the standard OnePlus 8's Sony IMX586 sensor and tri-camera array, is going to be where the rubber meets the road.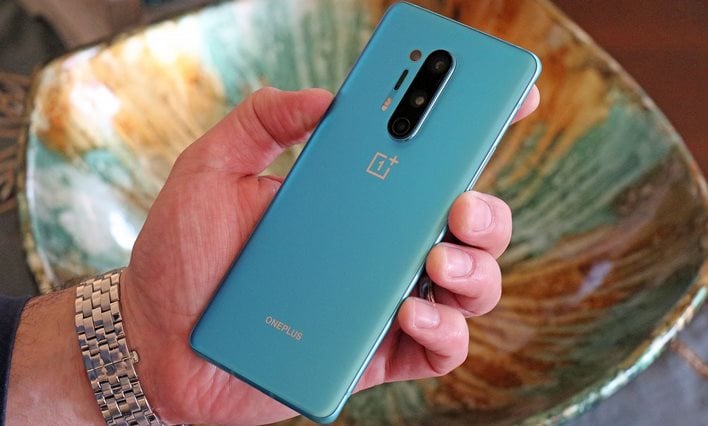 However, it's not that four cameras are better than two, though the OnePlus 8 Pro can take some interesting shots with its fourth, 5MP color filter camera, as you'll see on the pages ahead. It's that the OnePlus 8 Pro sports that new, larger Sony IMX689 sensor and in short, that larger sensor allows for better color fidelity, better low light capability, and in some cases more detailed shots. The less expensive OnePlus 8 employs the same Sony IMX586 sensor as the OnePlus 7T and
OnePlus 7 Pro from last year
, but also basically the same camera array, with the exception of substituting a dedicated telephoto shooter with a low resolution 2MP marco mode camera that lacks OIS (Optical Image Stabilization).
Both phones have primary 48MP shooters (f/1.78 aperture OnePlus 8 Pro vs f/1.75 OnePlus 8) that output 12MP images by binning 4 pixels together for better low-light performance, but the larger effective pixel size of the OnePlus 8 Pro (2.24µm) will deliver better shots in most situations. The OnePlus 8 Pro also has a 48MP Ultra Wide-Angle(UWA) shooter (f/2.2 aperture) versus the OnePlus 8's 16MP (f/2.2) UWA camera, and again true 8MP Telephoto capture (f/2.44 with OIS) off the UWA camera on the OnePlus 8 Pro, versus just a 2MP Macro mode camera on the OnePlus 8 without OIS. Thankfully, selfie cams between these two OnePlus 8 series phones are the same - that is to say both are based on a Sony IMX471, with a 16MP f/2.45 shooter and are fixed focus. And they get the job done just fine.
But that's enough camera mumbo-jumbo for one day. Let's see how this all shakes out in the samples shots and peep at the pixels, next...
Related content