Moto Edge+ Review: Gorgeous But Living On The Edge (Of 5G)
Moto Edge+ Audio, Performance, Battery Life
Moto Edge+ Audio, Data And Call Reception
Before we dive into 5G on the Edge+, let's talk about 5G networks in general. Without getting too technical, 5G comes in two flavors at this point in time: sub-6GHz and mmWave. The former is slightly faster than 4G LTE, and already offers extensive coverage in the US, especially in the lower bands, while the latter is much quicker than 4G LTE (Gigabit speeds), but only provides limited coverage (think a few blocks), and is currently available in very few cities. So far,
Verizon's been mostly all in on mmWave
while AT&T and
T-Mobile are prioritizing sub-6GHz
.
Why does this matter? 5G phones that only support sub-6GHz are cheaper and simpler to build, while 5G handsets that support mmWave generally also have to handle sub-6GHz, making them more expensive and complex. Verizon's devices are all compatible with the company's mmWave network, so you're immediately paying a premium. For example, the OnePlus 8 for Verizon is $100 more than the OnePlus 8 for T-Mobile. That's Verizon's mmWave tax. And you're also paying for spottier coverage -- just a few blocks in a handful of US cities.
Verizon will eventually be rolling out its own sub-6GHz network, but the harsh reality is that right now, most Verizon customers don't have access to the company's mmWave network. As such, it's disappointing that the Edge+ is a Verizon exclusive. Worse yet, this phone is SIM locked, so you can't use it on AT&T and T-Mobile's 5G networks (despite being compatible with bands n5/n71 -- 850/600MHz).

The San Francisco bay area and Portland (OR) metro area are two significant markets that lack 5G coverage on Verizon, but have access to 5G on AT&T and T-Mobile. As a result, we ended up using the Edge+ on Verizon's 4G LTE network for the duration of this review. Our experience was trouble free, with decent call quality and data speeds -- in line with other devices on Verizon's 4G LTE network in the same locations. Still, it was frustrating to know that this otherwise great handset couldn't be used to its full potential.
Given that only a handful of our readers out there have access to Verizon's mmWave network, and that the Edge+ is SIM locked, Moto is letting us down: 2.5/5

Moto's very proud of the Edge+'s stereo speakers (earpiece and bottom edge driver). They sound quite good, but frankly they're outclassed by Moto's very own
G Power ($250) and G Stylus ($300)
. And while the Edge+ audio settings match those of the G-series, they lack their budget sibling's Dolby branding, which is odd. We're stoked that Moto gave the Edge+ a headphone jack, and while the built-in DAC and headphone amp sound nice enough, they don't really shine -- unlike
LG's celebrated 32-bit HiFi Quad DAC
.
On the audio front, the Edge+ offers a competitive experience and even includes a headphone jack:
4/5
Moto Edge+ Performance
Like so many other 2020 flagships, the Edge+ packs Qualcomm's latest and greatest SoC -- the
Snapdragon 865
-- paired here with the company's X55 5G modem for both mmWave and sub-6GHz support. It's a potent combo that's further enhanced by 12GB of LPDDR5 RAM and 256GB of UFS 3.0 storage. There's no microSD expansion, but we think 256GB is plenty. Otherwise, there's WiFI 6 (802.11ax), Bluetooth 5.1 (with LE), NFC, and A-GPS/ GLONASS / Galileo / BDS positioning, plus the usual complement of sensors.
The Edge+ feels nice and fast no matter what you throw at it -- thanks in great part to that speedy processor, gobs of memory, and that responsive 90Hz display. Moto's almost stock build of Android also makes a big difference by keeping the software neat and tidy. Overall, this phone is a pleasure to use -- whether you're deathmatching like a boss in PUBG or rocking to your favorite Twitch livestream. But ultimately, it doesn't quite match the almost telepathic reflexes of the OnePlus 8 Pro. Then again, few flagships do.
Let's check out some benchmarks.
Futuremark PCMark For Android

General Purpose Pocket Computing Performance Metrics
Futuremark's PCMark for Android is an excellent suite of tests if you want to benchmark a wide range of tasks on any handset -- things like image and video editing, as well as lighter-duty, everyday workloads such as email and web browsing. When you see the test running live, it's clear the scripted application tests are carefully selected and tuned to make use of the each mobile platform in a very controlled way...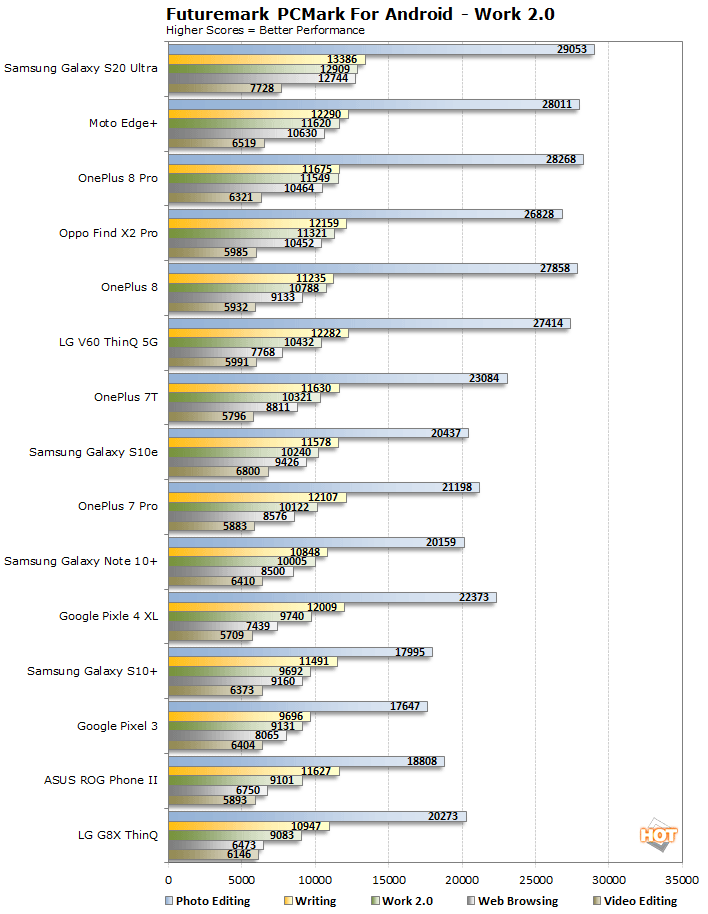 The Edge+ scores a second-place finish behind Samsung's Galaxy S20 Ultra. The Snapdragon 865 powering the device clearly offers strong all-around performance for the workloads used in PCMark for Android.
AnTuTu 8 And AITuTu

Platform Benchmarks
AnTuTu's latest benchmark returns a number of metrics ranked with somewhat nebulous scores, rather than frame rates or time to complete. Here we're running the latest version of AnTuTu across an multiple Android devices. AnTuTu returns four top level performance results which are all included here: CPU, RAM, 3D, UX (or User Experience), along with a total score...
We saw more of the same in the AnTuTu benchmark. Here, the Edge+ comes in second after Oppo's Find X2 Pro and climbs near the top of the charts.
AITuTu evaluates the AI performance of a device by leveraging two mainstream neural network models for machine learning and
AI
--
Inception v3
for Image Classification and
MobileNet-SSD
for Object Detection. The benchmark determines the device's accuracy and speed when inferring data from each workload...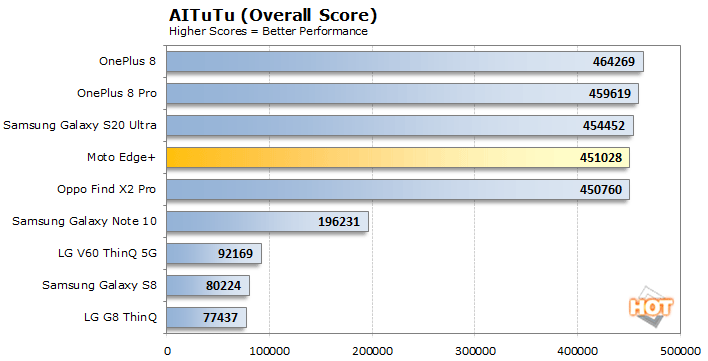 Moto's clearly done a good job optimizing AI workloads. In AiTuTu, the Edge+ scores right below Samsung's Galaxy S20 Ultra, and OnePlus' latest flagships.
3D Graphics Benchmarks: 3DMark And GFX Bench

Pushing The Pixels
Next we're checking how the Edge+ compares in GFXBench, which has been one of the standard mobile graphics/gaming performance benchmarks for years. To ensure that display refresh (v-sync) and resolution aren't limiting factors, we're comparing off-screen test results here. GFXBench tests OpenGL ES graphics workloads and we're specifically testing OpenGL ES 2...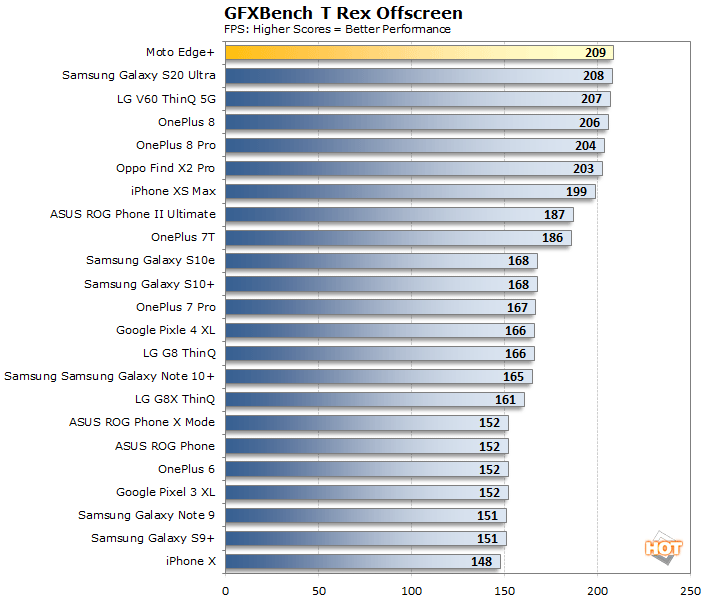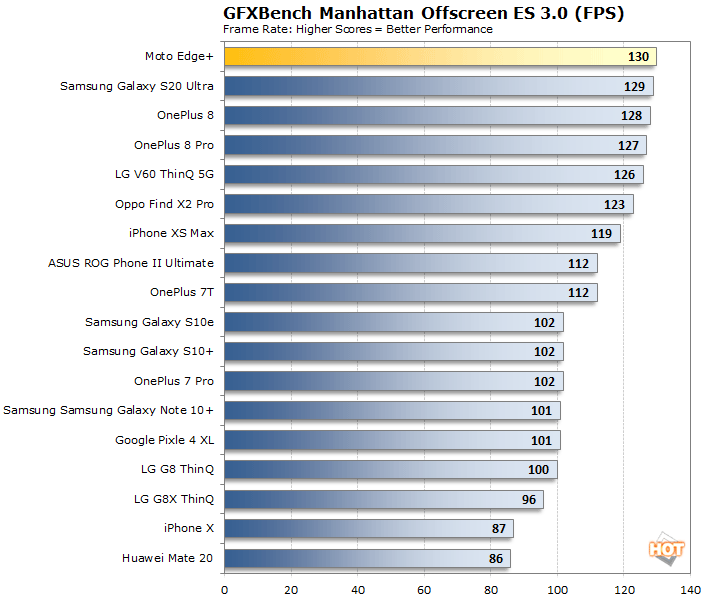 Graphics performance is a clear strong suit for the Snapdragon 865 mobile platform. Here, the Edge+ lands in first place, beating Samsung's Galaxy S20 Ultra.
Futuremark's 3DMark Sling Shot is a newer benchmark module that's been added to the
3DMark
mobile suite. Unlike previous gen 3DMark mobile tests, Sling Shot is a much more advanced OpenGL ES 3.1 and Metal API-based benchmark that employs more advanced rendering techniques, like volumetric lighting, particle illumination, multiple render targets, instanced rendering, uniform buffers and transform feedback.
Futuremark 3DMark Sling Shot Extreme Benchmark

We're running this test in off-screen mode once again to remove display resolution differences from the equation. This lets us compare cross-platform results more reliably...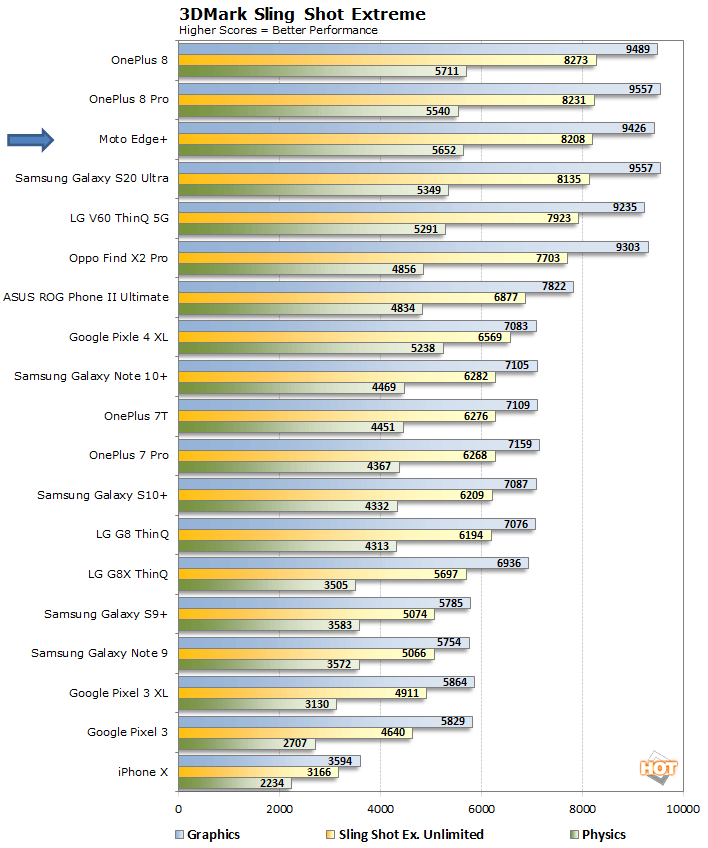 The Edge+ also performed well in these 3DMark tests. The OnePlus 8 and 8 Pro finish at the top of the heap, but Moto wasn't too far behind.
Moto Edge+ Other Features And Battery Life
We're pretty satisfied with battery life. PC Mark's battery test lasted 15 hours and 36 minutes, which is very good. Then again, what else do you expect from a 5000mAh battery? We're pretty sure the Edge+ will handle a busy day without needing a refill -- we even managed to use it for a couple days on a full charge since we're spending so much more time at home these days. Now, keep in mind that we only tested the Edge+ on Verizon's 4G LTE network. The real question is: how will battery life fare on Verizon's 5G mmWave network?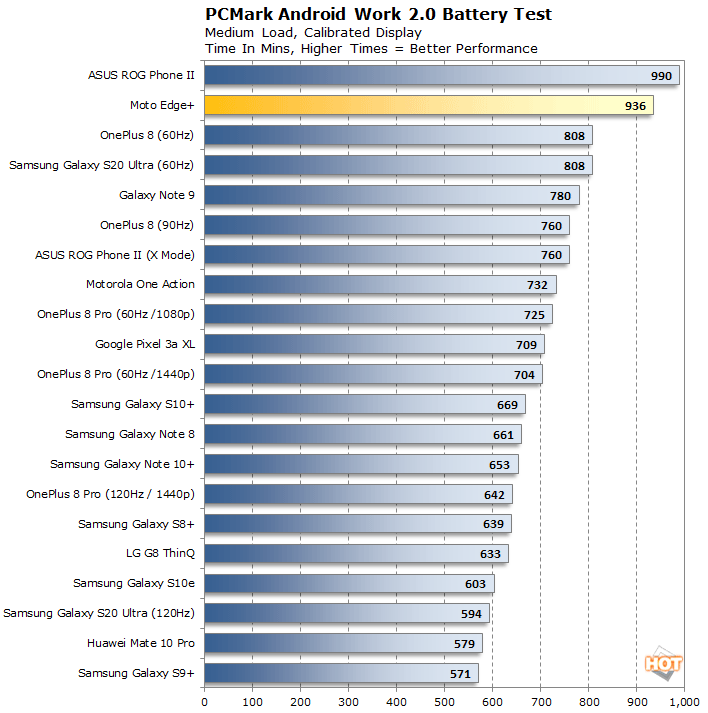 When it's time for a refill, there's 18W wired charging, 15W wireless charging, and 5W reverse wireless charging. Haptics feel quite satisfying on the Edge+. It probably uses a precision linear vibration motor, which is a nice touch. The optical in-display fingerprint sensor is reasonably quick and accurate, even with our dry fingertips (from all that pandemic hand washing). Unfortunately, the Edge+ lacks face unlock, which is rather odd for a flagship with a punch hole selfie camera these days. Perhaps this was mandated by Verizon for some reason?

So it looks like Moto nailed battery life, at least on Verizon's 4G LTE network: 4/5
Next up: software, pricing, and verdict...

Related content
Comments