T-Mobile Launches Nationwide 5G Wireless Network Ahead Of Schedule
The
5G revolution
has begun, and America's big wireless carriers are all jockeying for position to tout their initial efforts. T-Mobile is hoping to get a leg-up on the competition with today's announcement that its nationwide 5G network is now operational a
few days ahead of schedule
.
While AT&T and Verizon are both using mmWave technology, which only provides spotty coverage outdoors when close to a transmitter, T-Mobile is using its 600MHz spectrum to deliver 5G coverage. As a result, T-Mobile can cover more people at greater distances. T-Mobile's 5G speeds at this point, however, are closer to that of 4G LTE than the 1Gbps transfers that you can see in optimal conditions with Verizon's mmWave solution.
But what T-Mobile lacks in speed, it more than makes up for it in availability. The company says that it offers the nation's "biggest 5G network" and that it currently covers more than a million square miles -- including in rural areas. According to the company, its 5G network is accessible to 60 percent of Americans. And where 5G is not available, customers will be able to fall back on its existing 4G LTE cellular network.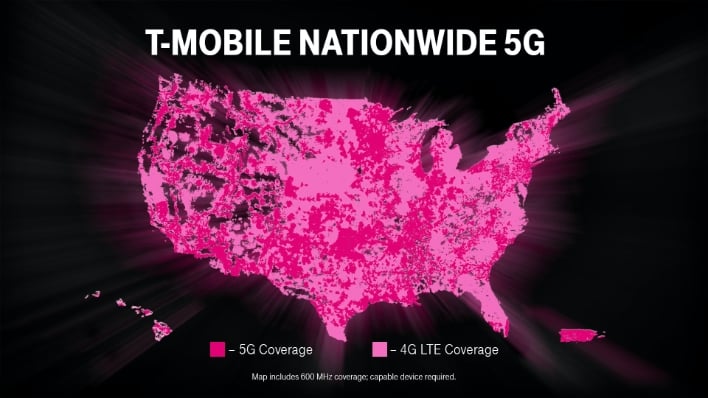 Given that this is T-Mobile we're discussing here, there was plenty of trash talk thrown around regarding AT&T and Verizon. "T-Mobile's 5G network covers 200 million people and more than 5,000 towns," wrote the company in a press release. "That's over 20,000% more towns than Verizon and AT&T, who won't even say how many people they currently cover … because the real number has got to be so embarrassing.
T-Mobile even mocked the 5G interference issues inherent with mmWave, adding, "Verizon's 5G gets blocked by things like walls, windows and leaves."
T-Mobile is currently offering up two 5G-compliant smartphones that will work on its network: the Samsung Galaxy Note 10 5G and the OnePlus 7T Pro 5G McLaren. In the case of the Galaxy Note 10 5G, T-Mobile has a buy one, get one free offer (after 24 bill credits). With the OnePlus device, you can get one for free (after 24 bill credits) when you switch to T-Mobile and trade in a device.
You can preorder either device by clicking the following link, and both will be available on December 6th.