Qualcomm Snapdragon 865: Next-Gen Android Phone Benchmark Preview
Qualcomm Snapdragon 865 - Benchmarking The Beast
We are fresh back from the 2019 Qualcomm Snapdragon Summit, during which the company revealed a number of new products and technologies. In addition to the
XR2 5G
next-generation VR platform, new Always-Connected PC processors, and the Snapdragon 765, which will target mainstream, 5G-enabled smartphones next year, Qualcomm also announced its
flagship Snapdragon 865
Mobile Platform.
Just like its previous-gen predecessor, the Snapdragon 855 (and 855+), the
Qualcomm
Snapdragon 865 platform will be the foundation for an array of premium Android smartphones released throughout 2020 (and beyond).
Snapdragon 865 Chip Architecture - More Resources, Efficiency And Performance
The Snapdragon 865 will be paired to the company's discrete Snapdragon X55 5G modem to enabled next-generation 5G smartphones. The X55 is a more power-efficient 5G modem, with support for both mmWave and sub-6GHz spectrum, support for virtually all carriers and higher peak throughput than Qualcomm's Snapdragon X50 modem that was announced last year. And as you probably suspect, based on the naming convention, the Snapdragon 865 is an upgrade all-around versus the 855/855+ as well. The Snapdragon 865 itself is comprised of a Kryo 585 CPU block with quad, high-performance arm Cortex-A77 cores and quad, low-power arm Cortex-A55 cores. The A55s are 128K of L2 cache a per core, while three of the A77 cores have 256K of L2, and one "Prime" core has 512K. 4MB of L3 is shared across all of the cores. We should also mention that the Prime core is also capable of clocking higher than the other A77s – 2.8GHz versus 2.4GHz. The low-power A55s will operate at up to 1.8GHz. Single-threaded workloads will be scheduled on the Prime core when possible, to improve overall performance and responsiveness.
Qualcomm is claiming up to a 25 percent performance uplift over the Snapdragon 855, but that's only in terms of CPU performance, The Snapdragon 865 also features the new
Adreno 650 GPU
, that likewise offers up to a 25 percent uplift in performance. Performance for the entire platform is likely to be further enhanced by support for up to 16GB of 2,750MHz LPDDR5 memory; LPDDR4x memory is also supported at up to 2133MHz.
Complementing the Kryo 585 and Adreno 650 is the Hexagon 698, fifth-generation
AI
engine that offers a 4X increase in TOPS performance and a 35% improvement in power efficiency versus previous-gen processors. All told, the Snapdragon 865 platform can deliver up to 15 TOPS of total compute performance, which represents a doubling in overall performance versus its predecessor. Other ancillary items include the Spectra 480 ISP, which supports up to a 200MP sensor, and up to 64MP dual cameras. Both 4K/120fps and 8K video is supported along with 720p/960fps slow-motion capture as well. The Snapdragon 865 also includes integrated support for current
Wi-Fi 6
and Bluetooth 5.1 wireless standards too.
Considering its feature set and performance – and if history is any indicator – the Qualcomm Snapdragon 865 is going to be inside a wide array of high-end smartphones and other mobile devices soon. We don't, however, have to wait until those smartphones arrive to get a glimpse at the Snapdragon 865's performance. While out at the Snapdragon Summit, we got the chance to benchmark a Snapdragon 865 test platform and will present the results to you right here. The particular device we tested was outfitted with a 5.9" display with a 2880x1440 resolution, 12GB of LPDDR5 memory in a dual-rank configuration, and 128GB of internal storage.
As configured in this particular device, the
Snapdragon 865
could operate in two modes, a more conservative normal mode and a performance mode that didn't operate at higher frequencies, but did allow the processor to more quickly ramp up to peak performance levels and migrate workloads from the "little" to its "big" cores. Throughout our results we've got data for both the Snapdragon 865's normal and performance modes. We were not able to install our own benchmarks, though. As such, we don't have extensive reference data for in some of the tests that are newer or aren't part of our existing test suite, though we did test a handful of existing flagship devices where possible, to show how the Snapdragon 865 compares to some of the best phones currently on the market.
Snapdragon 865 Benchmarks
JetStream And Speedometer

JavaScript and Browser Testing

For our firsts set of tests, we're using the JetStream benchmark to evaluate Javascript performance and Speedometer 2.0 for a more comprehensive, mixed-media web performance analysis. Here we'll primarily determine how the Snapdragon 865, handles this specific workload with the Android Chrome web browser. All tests were performed at the phone's default screen resolution.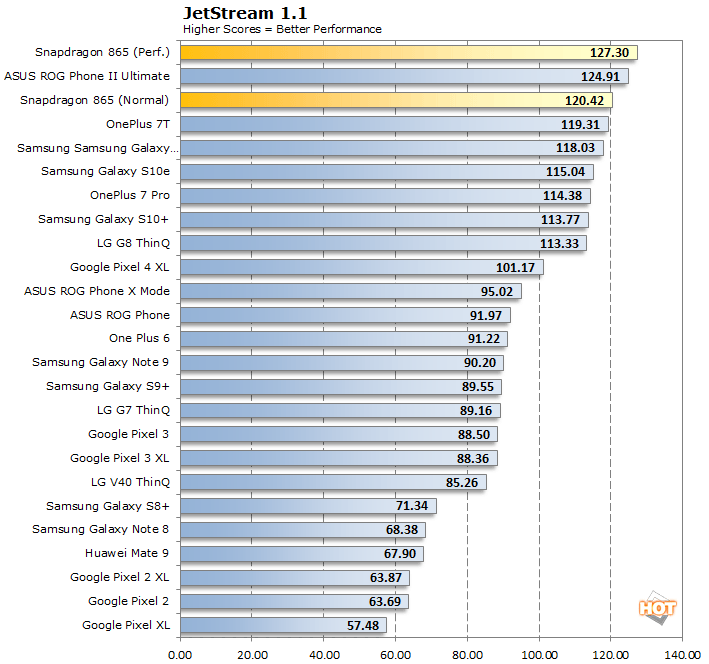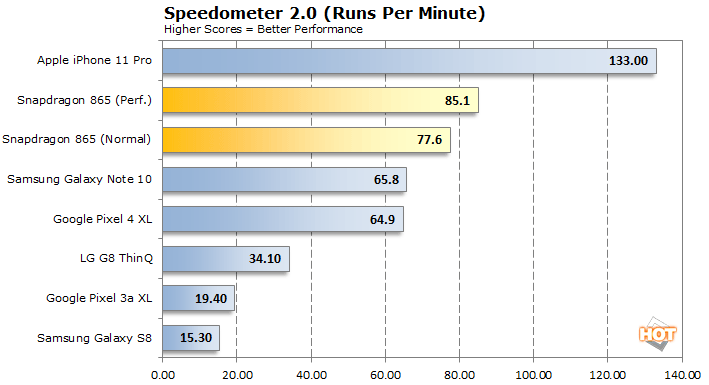 When operating in performance mode, the Snapdragon 865 leads all of the other Android-based devices in both tests. When operating in normal mode, the overclocked Snapdragon 855+ based ASUS ROG Phone II Ultimate pull ahead slightly in Jetstream, but we unfortunately don't have a result for that device in Speedometer. Speaking of Speedometer, the iPhone 11 Pro with its A13 Bionic processor clearly dominates, but none of the current Android flagships come close to matching the performance of the Snapdragon 865.


GeekBench

Synthetic CPU Benchmark

In the GeekBench test, we're stressing only CPU cores in a handset (not graphics), with both single and multi-threaded workloads. The test is comprised of encryption processing, image compression, HTML5 parsing, physics calculations, and other general purpose compute processing.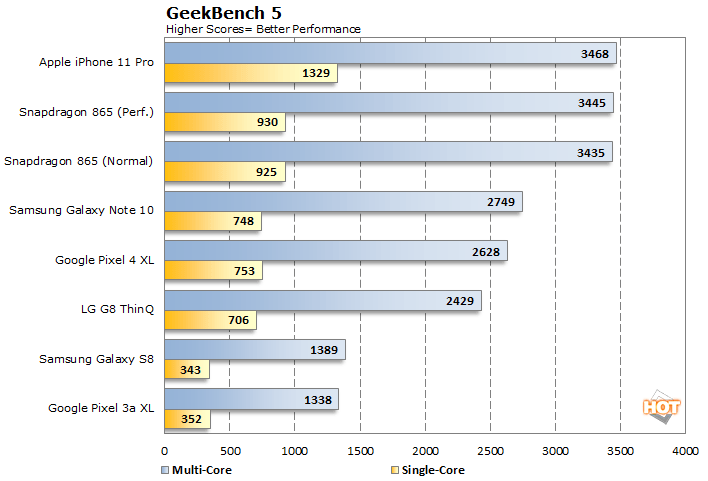 In Geekbench 5, the iPhone 11 and A13 Bionic pulls ahead of the Snapdragon 865 in the single-threaded test, but multi-core performance is essentially a wash. Versus the Snapdragon 855-based Note 10 and
Pixel 4 XL
, the Snapdragon 865 offers vastly superior performance, in both the single and multi-threaded tests, which is right in-line with Qualcomm's 25% improvement claims.
Futuremark PCMark For Android

General Purpose Pocket Computing Performance Metrics

Futuremark's PCMark for Android is an excellent suite of tests that we recommend for benchmarking performance of a handset in a wide range of tasks, for things like image and video editing, as well as lighter-duty, everyday workloads such as email and web browsing. When you see the test running live, it's clear the scripted application tests are carefully selected and tuned to make use of the mobile platforms involved in a very controlled way.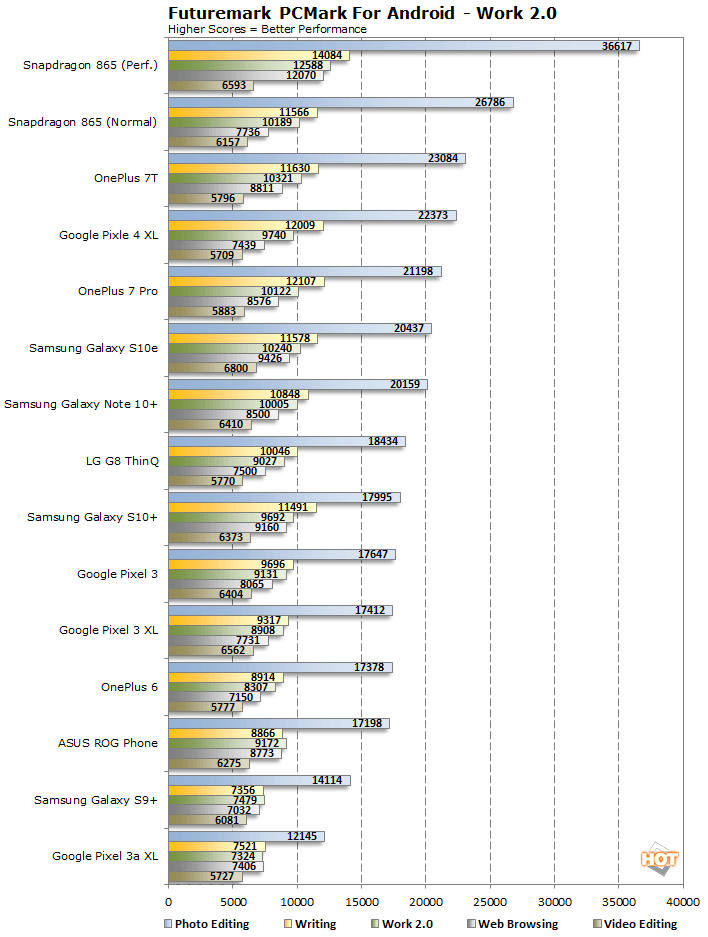 AnTuTu 8

Platform Benchmarks

AnTuTu's latest benchmark returns a number of metrics ranked with somewhat nebulous scores, rather than frame rates or time to complete. We tested with the latest version of AnTuTu across an all Android platform group. AnTuTu returns four top level performance metric results that we are including here: CPU, RAM, 3D, UX (or User Experience), along with a total score.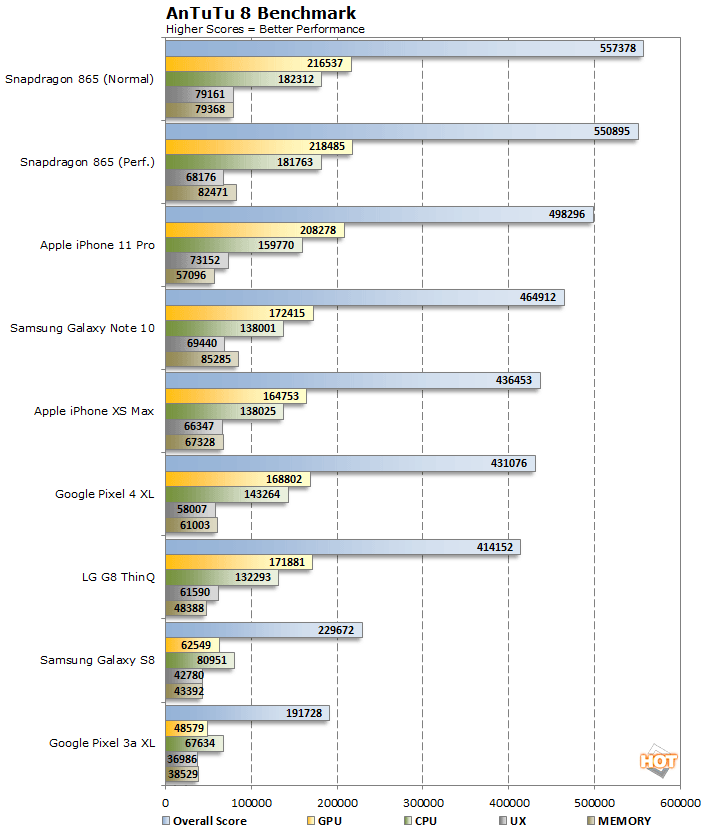 With AnTuTu's, short, bursty varied workloads, the Snapdragon 865 in normal mode ended up posting higher overall scores than performance mode, but the margin of error in this benchmark means they're essentially a wash. Regardless, the Snapdragon 865 finishes well out in front of all of the other devices, including the iPhone 11 Pro which trails in every single category.

Related content