Gaming Level-Up: Benefits Of Upgrading Integrated Graphics With EVGA & ASUS
Upgrading A Desktop PC With Discrete GPUs from EVGA And ASUS
AMD's
camp. Raven Ridge's Vega-based (Ryzen 3000 series) integrated GPU provides a surprisingly capable IGP solution that lets folks play some of the latest games, albeit with the resolution and detail levels turned down. Intel's
Gen 11
Iris graphics in Ice Lake has also shown promise in some of the current crop of laptops. Obviously, there's still plenty of room to grow though, which is why AMD and
NVIDIA
have spent years releasing a whole new top-to-bottom lineups of discrete graphics cards. All those desktop systems with integrated graphics are ripe for an upgrade, however, for folks who want to play the latest game titles and breath new life into their machines.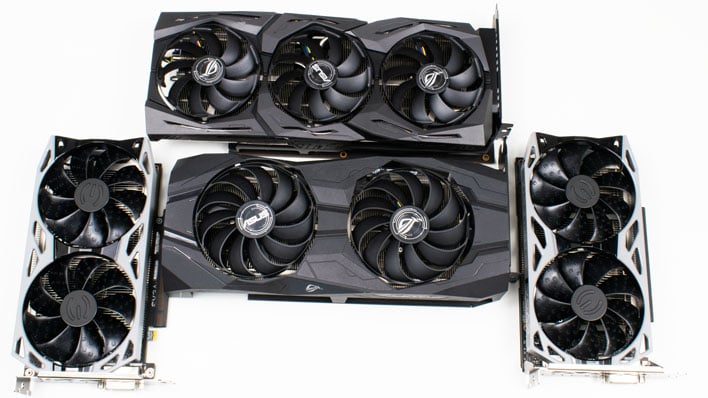 The Case For A Discrete Graphics Card Upgrade, Even If You're Just A Casual Gamer
The shelves of big box retailers, and many pages at online sellers, are lined with low to midrange PCs targeted at home or office users, many of which get by without discrete graphics. We wanted to examine a couple similar configurations with integrated graphics, and then see what we could wring out of them with lower-cost graphics card upgrades. Now is a great time if you're in the market for a sub-$300
graphics card
, since new entrants from both
AMD
and NVIDIA broke cover last fall.
This price point is very interesting for folks who have desktop PCs because it's the same price range that most game consoles fall into. If you're interested in checking out the latest triple-A game titles like
Fornite
,
Destiny 2
or
Call of Duty
, what's the best way to proceed? You could buy a shiny new console for $200 to $400, depending on what you're looking for. According to
most rumors
, however, that console is roughly nine months from being replaced by new hardware. So we'd suggest instead, you could buy a graphics card and turn your average desktop into a very capable gaming machine that's faster than an equivalently-priced console's GPU.
This conundrum is especially relevant to
Xbox
fans. Microsoft has taken to publishing recent Xbox exclusives on the Windows store, so it's not really even a matter of platform, but rather preference. An Xbox One S will run you around $200 to $250, but so does a midrange graphics card with more than enough horsepower to play games at 1080p at 60 frames per second, rather than the 30 where many console titles are locked. Thanks to Microsoft's
Xbox Game Pass for PCs
, constant Steam sales, and even the frequent freebie from Epic and other stores trying to get a cut of your gaming dollars, it's a great time to enter the PC gaming market on the cheap.
ASUS
and
EVGA
provided a dynamic duo, each, of their newest graphics cards, with midrange
GPUs
that fill a variety of price points. Let's take a look at each card in detail.
EVGA GeForce GTX 1660 SUPER SC Ultra Black Gaming
The first card we'll look at is the
EVGA GeForce GTX 1660 SUPER SC Ultra Black Gaming
. The folks at EVGA sent us a pair of cards, but for our direct comparison purposes, the GTX 1660 SUPER is what we'll look at first. The GeForce 1600 series is built on the
Turing
architecture, but these budget-focused GPUs lack the hardware-accelerated ray tracing features of the GeForce RTX family. Our experiment to upgrade a PC from integrated graphics for about the cost of an Xbox precludes the very fastest cards, though, so this is just what the doctor ordered. EVGA's GeForce GTX 1660 SUPER family runs
an affordable $240
on Amazon.
This card steps up to the plate with 1,408 CUDA cores with a maximum boost clock of 1,785 MHz. That's good for a 157 Gigatexel fill rate and just over 10 FP16 GFLOPs in the compute department, or 5 GFLOPs at 32-bit precision. This card has 6 GB of 192-bit GDDR6 running at 336 GB per second. There should be absolutely no problem driving our target resolution of 1080p with all of the details cranked. When we
reviewed the GTX 1660 SUPER
in late October, it handled 1080p with aplomb and ventured into 1440p without too much issue, but couldn't quite hang at 60 fps all the time.
EVGA says this card only needs 125W to do its work, and it has an eight-pin PCIe connector for additional power headroom. There's also an adapter in the box to convert a pair of six-pin connectors to provide the needed juice. EVGA gave the GeForce GTX 1660 SUPER SC Ultra a modest-looking dual-slot, dual-fan cooler but that should be plenty to keep the GPU cruising along under load. The GTX 1660 SUPER SC Ultra Gaming has three display outputs: one each of HDMI 2.0, DisplayPort 1.4, and DVI-D. Just like all of the other Turing GPUs, this card supports
G-Sync
via the dedicated module or by VESA Adaptive Sync, also known as AMD FreeSync. No matter what variable refresh monitor you choose, this card can take it.
ASUS ROG Strix Radeon RX 5500 XT OC 8G
The AMD camp is also flush with new midrange gaming cards, and the folks at ASUS sent along a pair from AMD's current stable. The graphics processors
ASUS
provided come from the ROG Strix Gaming OC family of cards based on the smaller Navi variants which were released late last year. The GeForce GTX 1660 SUPER has a direct competitor, so let's take a look at that first.
In this case, we have the ROG Strix Radeon RX 5500 XT OC 8G, which is based on the same RDNA-based architecture as AMD's fastest Radeon RX 5000 cards. This Radeon RX 5500XT model costs around
$230 on Amazon
, which is a few bucks less than the EVGA GTX 1660 SUPER SC Ultra Black Gaming. When we
reviewed the RX 5500 XT
in December, we found that AMD's smallest Navi trailed the 1660 SUPER by a small but consistent margin. Being priced a little lower helps keep the value proposition up, though.
The ROG
Strix
RX 5500 XT is a factory-overclocked unit with a maximum boost speed of 1,865 MHz for its 1,408 stream processors. There's also a higher-than-normal game clock, which is where AMD and ASUS say the GPU will settle in during extended gaming sessions, of 1,737 MHz. That's good for a peak throughput of 5.2 GFLOPs of single-precision math. 8 GB of 14 GT/s 128-bit GDDR6 provides 224 GB per second of memory bandwidth.
ASUS gave this
Radeon
card a very beefy "2.5-slot" cooler with a pair of 90-millimeter fans and a solid metal backplate to keep the card from bending under its weight. That big, beefy heatsink allows the fans to shut off completely when the GPU rests at idle, so unless you're gaming, you shouldn't hear it at all. A single eight-pin PCI Express connector needs a cable to provide 130 watts of power.
A small button on the rear of the card enables or disables a red ROG logo on the side, and that setting persists across power cycles. While it's not RGB-infused bling, we appreciate that ASUS didn't require an extra software package to control the lighting. Around the rear of the card we find three
DisplayPort
1.4 ports and a lone HDMI 2.0 connector. We think that this is plenty of connectivity for just about everyone.
The pair of cards above gives us a great way to compare like for like in terms of pricing. Below, we'll take a look at some other options available for folks with either more or less cash in the budget.
For roughly the cost of an Xbox One S console, we've got two direct competitors for our test, but that's not all we'll look at today. For folks with bigger or smaller budgets, we needed to look in a larger price range. To get a feel for how our budget and midrange PCs scale with faster or slower graphics cards, we've got two more cards from
EVGA
and
ASUS
to look at.
EVGA GeForce GTX 1650 SUPER SC Ultra
To keep the GeForce GTX 1660 SUPER SC Ultra Gaming company, EVGA also shipped us the similarly-branded
GeForce GTX 1650 SUPER SC Ultra Gaming
. Cards based on the GTX 1650 SUPER sit just a bit above the vanilla GTX 1650 in pricing, and
this particular model
rings up at $169.99 at Amazon. On the other hand, the GeForce GTX 1650 SUPER towers above the tiniest Turing in terms of theoretical specs, so we expect this EVGA GeForce will bring some serious value.

EVGA's
GeForce GTX 1650 SUPER
has 1,280 CUDA cores with a maximum boost clock of 1,775 MHz. That's good for 9.0 GFLOPs of half-precision (16-bit floating point) compute power, or 4.5 GFLOPs of 32-bit math. This card's price point prevents a preponderance of VRAM, so it gets by with a 4 GB pool of of 128-bit GDDR6 memory. The VRAM is still fast though, as it runs at 12 GT/s for 192 GB per second of throughput. While 4 GB is on the low end of the video memory scale these days, it should still be plenty for gaming at 1080p in most situations.
While the GeForce GTX 1650 SUPER SC Ultra Gaming only draws 100 watts of power in total, EVGA still endowed this card with a decently large two-slot cooler equipped with a pair of 80-millimeter fans. That modest electrical load means that the card only has a six-pin PCI Express connector for external power. Around the rear of the card, the 1650 SUPER SC Ultra has one each DVI-D, DisplayPort 1.4, and
HDMI
2.0 ports. Like its big sibling, this card isn't particularly long, so we don't think folks would have much trouble slotting this model into a tight mini-ITX setup. Still, it needs a full-height PCIe x16 slot, so no low profile cases allowed. There's also a nice reinforced metal plate on the rear to help dissipate heat from the backside of the GPU.
ASUS ROG Strix Radeon RX 5600 XT OC 6G
Let's go in the other direction and start climbing to a higher price point, and this time we'll use a card with one of AMD's GPUs. The next rung up the ASUS Radeon ladder is the
ROG Strix Radeon RX 5600 XT Gaming 6G
. This card is a beast in both appearance and specifications, but it's also the most expensive entrant in our tests at a
street price of $339
, which does push into GeForce RTX 2060 territory. However, when we reviewed the RX 5600 XT back in January, AMD's cut-down Navi outran the RTX 2060 in traditionally-rendered games by a good margin. Like many Radeon RX 5600 XT models, AMD gave this card a speed bump right before launch. Unlike some of those cards, however, ASUS provided a simple toggle switch to allow owners to choose the performance or quiet mode right on the card.
The
ASUS ROG
Strix RX 5600 XT has a massive cooler attached and moves air via three 80-milllimeter fans. Those fans aren't your typical 80mm spinners, however, as ASUS's Axial Tech allows for smaller fan hubs and longer blades, which overall should push more air than traditional fans at the same size. There should be plenty of fin surface area and air movement to keep the card cool without a lot of effort. The cooler is really big, though, so take that into consideration with your build. We had moderate difficulty getting this thing into our Cooler Master MasterBox Lite 3, and we had to move some cables to get it to fit (including the USB 3 header, which was difficult since it's thick).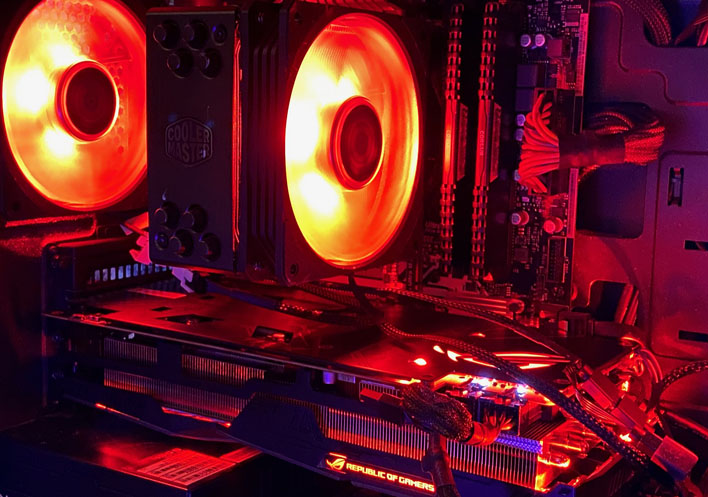 This model also has a relatively large RGB LED array on the shroud and back plate, and ASUS's Aura Sync
RGB
software can control the lighting. If your PC already has one of ASUS's Aura Sync motherboards, then the software is probably already installed on the PC. Above you can see a photo of this card in the MasterBox Lite 3. The RGB LEDs blended in quite nicely with the other RGB fans in the case and on the cooler. If this case was going to be this card's permanent home, we'd straighten up the cables a bit, but for testing it was fine.
Our Test Setup
Usually, our focus is on stressing our graphics cards as much as possibly by placing them in a high-end desktop system that will wring the absolute most performance out of them. Today, we're looking at lower-end PCs, so our test setup includes two different PCs with CPUs that sit at different price points. The
Ryzen 3 2200G
is a fairly low-end processor with four cores based on AMD's Zen+ architecture, and it retails for less than $100 these days. On the other hand, Intel's Core i5-9600K is a six-core processor with higher operating clock speeds and a heftier $240 price tag.
After we test with the integrated graphics processor, we'll also see what each price level brings in terms of added performance. Our cards from ASUS and EVGA will probably be the stars of the show. The budget Ryzen CPU will demonstrate if it's a worthwhile investment to add discrete graphics to a slower system. The comparisons against a faster processor will show us how much performance we leave on the table by doing so. AMD's integrated Vega graphics is pretty potent, and the company will continue to offer similar configurations in the
Ryzen 4000
family, but we suspect that integrated graphics is holding back gaming performance quite a bit.
Test Systems

Specifications & Features
Component
Budget PC
Midrange PC
Processor
AMD Ryzen 3 2200G (4 core, 8 thread, 3.9 GHz maximum boost)
Intel Core i5-9600K (6 core, 6 thread, 4.3 GHz maxmimum boost)
Memory
16 GB HyperX DDR4-2666 (2 x 8 GB)
16 GB Corsair LPX DDR4-3000 (2 x 8 GB)
Motherboard
ASRock AB350M Pro 4 micro ATX Motherboard
MSI MPG Z390 Gaming Plus ATX Motherboard
Storage
480 GB Sandisk SSD Plus 2.5" SATA
960 GB Corsair Force MP510 M.2 NVMe SSD
Operating System
Windows 10 Pro with fall 2019 update (1909)
AMD Driver
Adrenaline 2020 Edition 20.2.1
NVIDIA Driver
GeForce Experience with 442.19
How We Tested
Each of our test machines was tested five different ways: with integrated graphics and then with each of our four test cards. That sounds well and good, but we can't actually do an apples-to-apples comparison here. We tried, but nobody actually plays
Gears 5
or
Shadow of the Tomb Raider
on integrated graphics at
7 frames per second
(my goodness). For this reason, we dialed the resolution down to 720p for all of our integrated graphics tests in games so we could produce something playable. This way not only do we see a frame rate increase (probably) at the higher resolution, the scenery will be much more detailed.
3DMark is the exception here; those tests rely on specific settings at specific resolutions, and so we didn't change that. In every game we tested, though, you'll see numbers for integrated Intel and
AMD
graphics, and those will be for 720p. Everything else will be at the full HD resolution of 1920x1080, or 1080p.
Related content
Comments