Palit GeForce RTX 3080 GamingPro OC Review: Big, Custom Ampere
Palit GeForce RTX 3080 GamingPro OC Custom Ampere GPU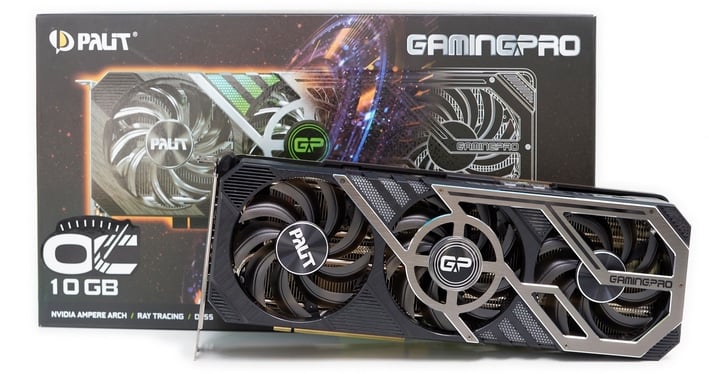 The Ampere-based NVIDIA GeForce RTX 3080 review embargo lifted yesterday and immediately got hardcore gamers and GPU enthusiasts buzzing. Cards may not be in the hands of consumers just yet, but witnessing the power and performance of the GeForce RTX 3080 alongside NVIDIA's and AMD's now previous-gen flagships, it is plain to see that Ampere is giant leap forward. The $699 NVIDIA GeForce RTX 3080 skunked even the ultra-high-end Titan RTX and it blew past the similarly-priced GeForce RTX 2080 Super. What about AMD you ask? Well, for all intents and purposes, the GeForce RTX 3080 was more than twice as fast as AMD's current flagship Radeon RX 5700 XT in GPU bound situations, essentially across the board.
October 28 can't come fast enough
for AMD fans.
Today we're able to lift the veil on even more Ampere-based goodness. On tap for you here, we have a custom GeForce RTX 3080 from Palit, specifically the GeForce RTX 3080 GamingPro OC. This card looks nothing like NVIDIA's Founder's Edition – it's bigger, uses standard PCIe supplemental power feeds, has RGB lighting, and the oversized cooling solution is packing three fans – but at its heart lies the very same GPU with support for all of the same features and technology. The full spec-list below tells a bit more of the story, but we'll dig in deeper on the pages ahead as well. Let's get started...
Palit GeForce RTX 3080 GamingPro OC

Specifications & Features
| | |
| --- | --- |
| Memory Amount | 10G |
| Memory Interface | 320bit |
| DRAM Type | GDDR6X |
| Graphics Clock | 1440 MHz |
| Boost Clock | 1740 MHz |
| Memory Clock | 19 Gbps |
| CUDA Cores | 8704 |
| Memory Bandwidth (GB/sec) | 760 |
| Bus Support | PCI-E 4.0 |
| HDMI | HDMI 2.1 |
| DisplayPort | DP1.4a x 3 |
| Maximum Digital Resolution | 7680x4320 |
| Height | 2.7 slot |
| Board Size | 294 x 112 x 60 mm |
| Graphics Card Power | 320W |
| Recommended System Power | 750W |
| Supplementary Power Connectors | 8-pin X2 |
| Accessory | Manual, Power Cable, Sag Reinforcement |
---
We are not going to cover the underlying architectural details of NVIDIA's GeForce RTX 3080 and the Ampere-based GA102 GPU powering it in this article. If this is your first exposure to the RTX 3080, you owe it to yourself to check out
yesterday's review of NVIDIA's Founder's Edition
and our earlier coverage of Ampere and the rest of the GeForce RTX 30 series. Those articles will the lay the foundation necessary to understand what we're going to show you here and showcase all of the other ancillary features and software NVIDIA introduced alongside the GeForce RTX 30 series.
But we digress. Here, we present to you, the Palit GeForce RTX 3080 GamingPro OC. Palit has a wide array of GeForce RTX 30 series cards coming down the pipeline, including multiple GeForce RTX 3080s. This particular model falls on the higher-end of the scale and features all of the goodies common to enthusiast-class GPUs targeting hardcore gamers. Its boost clock is 1,740MHz, which is 30MHz higher than FE cards, but it's packing the very same 10GB of 19Gbps GDDR6X memory, which offers up to 760GB/s of peak bandwidth. Peak fillrate and compute performance will technically be a touch higher than a Founder's Edition card due to the slightly higher boost clock, but under sustained load, when the maximum boost clock is not maintained, that might not always be the case -- something to keep in the back of your mind as you peruse the benchmarks on the pages ahead.
GeForce
RTX 3080 GamingPro OC. The fans themselves feature dual-bearings and are dust resistant as well, to help ensure durability and longevity. The fans sit atop a massive array of heatsink fins, which cover the entire length of the PCB, and then some. Like NVIDIA's FE cooler, the rear-most fan on the Palit GeForce RTX 3080 GamingPro OC blows air all the way trough the heatsink, which extends past the edge of the PCB underneath. There is also a large, honey-combed vent on the card's case bracket, however, so some of the heat produced from the card is directly exhausted from the system too.
The large heatsink is segmented, with two sides linked together via dual U-shaped heat-pipes to maximum contact with the fins. The front portion is mounted to a copper vapor chamber that makes direct contact with the GPU, but the whole assembly is sandwiched between two die-cast, molded plates that help wick heat away from virtually all of the card's components – front and back. And protecting and dressing up the whole assembly is an angular shroud with just a bit of built-in RGB lighting, which can be controlled via Palit's Thundermaster application. Thundermaster can also be used to monitor hardware health, overclock, or alter the fan/cooling profile should you choose to do so. We should also mention that the fans on the Palit GeForce RTX 3080 GamingPro OC spin down completely – and generate no noise as a result – if the GPU isn't under load and is operating below 60°C.
The Palit GeForce RTX 3080 GamingPro OC is clearly different than NVIDIA's own offering in terms of its overall dimensions and physical appearance. Now, let's see how it performs...
Related content