AMD Radeon RX 5500 XT Review: Navi Targets 1080P Gamers
AMD Radeon RX 5500 XT - Navi Targets The Sweet Spot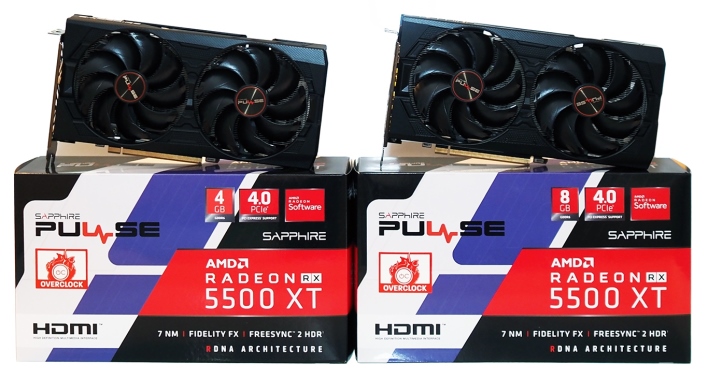 Back in October,
AMD
released its
Radeon RX 5500 series
GPUs for OEM desktop and mobile systems. The Radeon RX 5500 featured the same RDNA-infused Navi GPU architecture as the more powerful Radeon RX 5700 XT, but scaled things back for lower-power applications and more affordable price points. The cards weren't destined for the channel or traditional retail availability, but rather pre-built systems and laptops. Soon thereafter, rumors began swirling that a somewhat more powerful, Navi-based mainstream solution was in the works, however – known as the Radeon RX 5500 XT.
Well, it turns out the rumors were true. Today AMD is officially launching the Radeon RX 5500 XT, in two flavors. The Radeon RX 5500 XT will be offered in both 4GB and 8GB memory configurations, though both target the mainstream sub-$200, 1080P gaming segment currently occupied by previous-generation Radeons and NVIDIA's Turing-based
GeForce GTX 16-series cards
.
We've got a pair of nearly identical Sapphire Pulse Radeon RX 5500 XT cards on-hand, to test both the 4GB and 8GB versions. First up, some quick specifications and then we'll check out the cards and dig into some benchmarks...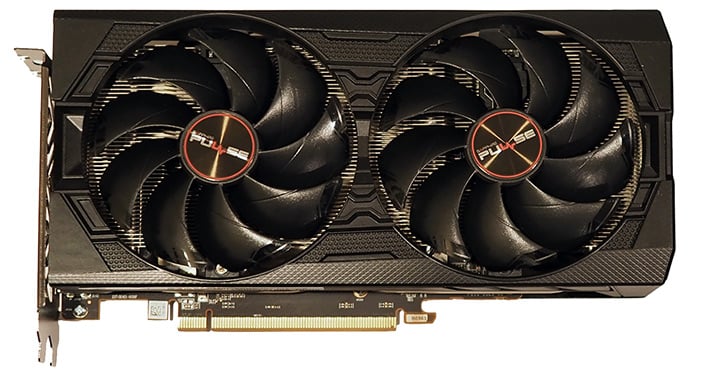 AMD Radeon RX 5500 XT

Specifications & Features
| | |
| --- | --- |
| Graphics Processing | Radeon RX 5500 XT "Navi - 6.4B Transistors / 158mm2" |
| Core Clock | Boost Clock: Up to 1845 MHz, Game Clock: 1717 MHz |
| Stream Processors | 1408 (22 CUs) |
| Process Technology | 7nm |
| Memory Clock | 14000 MHz |
| Memory Size | 4GB or 8GB |
| Memory Type | GDDR6 |
| Memory Bus | 128 bit |
| Memory Bandwidth (GB/sec) | 224 GB/s |
| Card Bus | PCI-E 4.0 x 16 |
| Digital max resolution | 7680x4320@60Hz |
| Multi-view | 4 |
| Board Power | 130W |
| Recommended PSU | 500W |
| Power Connectors | 8-Pin x 1 |
| Output | DisplayPort 1.4 x 3, HDMI 2.0b x 1 |
Find AMD Radeon RX 5500 XT Cards @ Amazon
---
Radeon RX 5500 XT cards are based on the same
Navi
GPU architecture as AMD's current high-end Radeon RX 5700 series cards, but leverage a chip that's smaller and scaled-down for a different market segment. The GPU at the heart of the
Radeon RX 5700 XT
is comprised of roughly 10.3 billion transistors and has a die size of about 251 square millimeters. The Navi-based GPU powering the Radeon RX 5500 XT, however, features
only
6.4 billion transistors and is a relatively svelte 158 square millimeters.
The smaller GPU means fewer CUs, stream processors, and other elements. The Radeon RX 5500 XT GPU is outfitted with 22 compute units, with a total of 1,408 stream processors (the Radeon RX 5700 XT has 2,560). The Radeon RX 5500 XT also has 32 ROPs and its 4GB or 8GB of GDDR 6 memory is linked to the GPU over a 128-bit wide, 14Gbps interface – half the size, but at similar speed to the Radeon RX 5700 XT. Reference Game and Boost frequencies clock in at 1,717MHz and 1,845MHz, respectively. At those clocks, Radeon RX 5500 XT cards are capable of peak single and half-precision compute performance of 5.2TFLOPS and 10.4 TFLOPS, with a peak pixel fillrate of 59GP/s (162.4GT/s), and up to 224GB of memory bandwidth. Typical board power is 130W.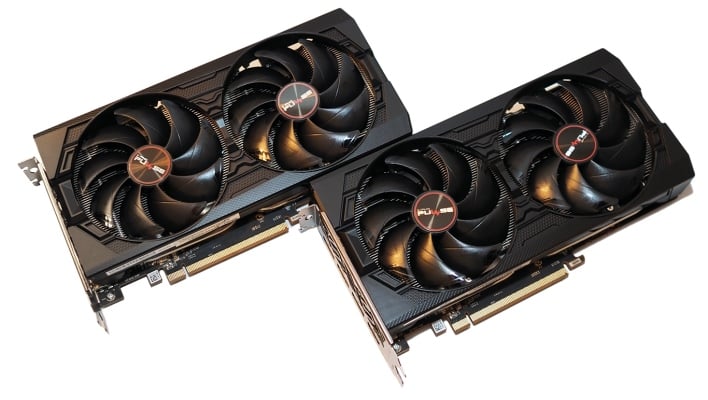 In terms of its features and capabilities, we're going to point you to a few previous articles. We've got the
Navi GPU architecture covered here
, and here's our launch coverage of the
Radeon RX 5700 XT
. We should also point you to this piece highlighting the just-released
Radeon Software Adrenaline 2020 Edition
suite. AMD packed a ton of new features in the latest Radeon Software release, that may make the Radeon RX 5500 XT more enticing to some of you – Radeon Boost is particularly interesting, so check out that article when you have a moment. Scott Wasson from AMD even
jumped on our podcast yesterday
to chat about the latest Radeon Software release, if video is more your bag. You can listen in on our discussion here, when you've got time to spare...
The specific Radeon RX 5500 XT series cards we'll be showing you today are both from
Sapphire
, the 4GB and 8GB Sapphire Pulse variants to be exact. Without disassembling them and inspecting the memory chips on-board, there's virtually nothing to physically differentiate the two cards – they simply have differing amounts of memory.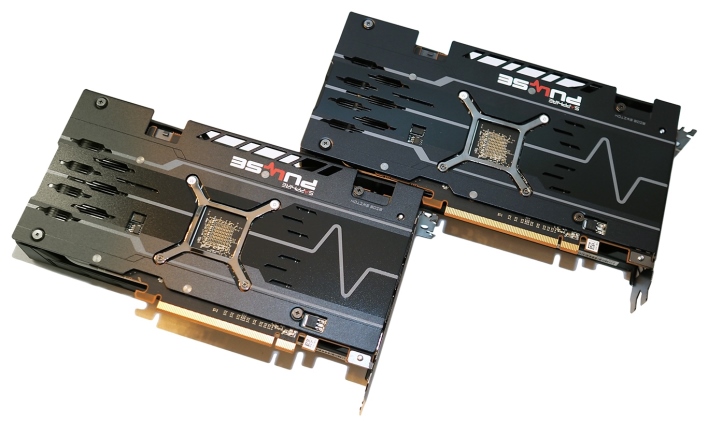 During our testing, we typically saw real-world Game clocks hovering north of 1,800MHz with our Sapphire Pulse Radeon RX 5500 XT cards and their dual-axial fan cooler did a great job keeping temperatures in check, without making much noise at all. As you'll see a little later, after hours of benchmarking, GPU temperatures remained in the low-60'C range, at least according to the health monitoring data available in AMD's latest drivers.

The cooler on the Sapphire Pulse Radeon RX 5500 XT features two 95mm axial fans, that sit atop a large array of heatsink fins, that run the entire length of the PCB. Three heat-pipes snake through the heatsink fins and converge directly above the GPU. An additional heat-plate makes contact with some components on the back-side of the card as well, while also adding some rigidity.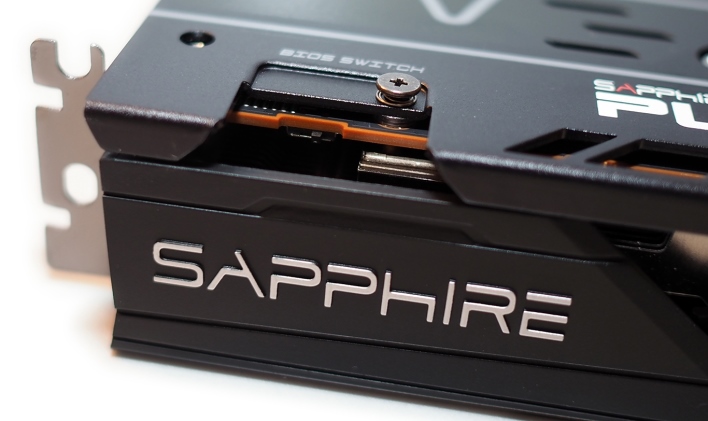 The Sapphire Pulse Radeon RX 5500 XT features a dual-BIOS setup, with a simple switch to toggle between the two, and there is a single, 8-pin power connector facing upward at the tail-end of the PCB. Note, that the PCB is about an inch and half shorter than the heatsink and fan shroud, and there are no fancy lighting or other bells and whistles on the card.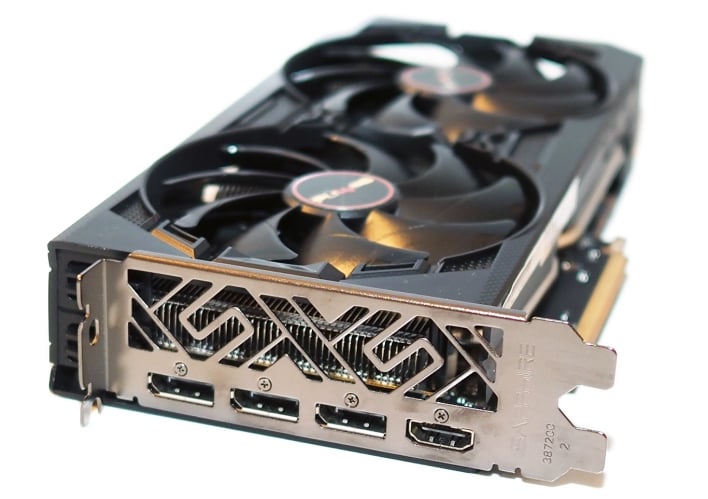 Like the Radeon RX 5700 series cards, outputs on the
Radeon
RX 5500 XT consist of a trio of full-sized DisplayPorts and a single HDMI port. The rest of the case bracket is essentially just a large vent, with a couple of stylized "S"es and some funky geometric designs.
Related content