Sony Xperia 1 II Review: A Beautiful Phone With Caveats
Sony Xperia 1 II Review: Audio Quality, Performance, and Battery Life
Sony Xperia 1 II Audio, Data and Call Reception
We mostly used the Xperia 1 II on Verizon's LTE network in San Francisco and AT&T's LTE network in Portland (OR), and we didn't have any problems with call quality or data speeds. "But wait," we hear you say, "this is a 5G device, right?" Yes, but for some inconceivable reason, it doesn't support any
5G
bands in the US -- a major omission considering the $1200 price tag, and a serious drawback in our opinion. If you're abroad, Sony's specs list the following 5G bands: n1, n3, n28, n77, n78 (all sub-6GHz). So there's that.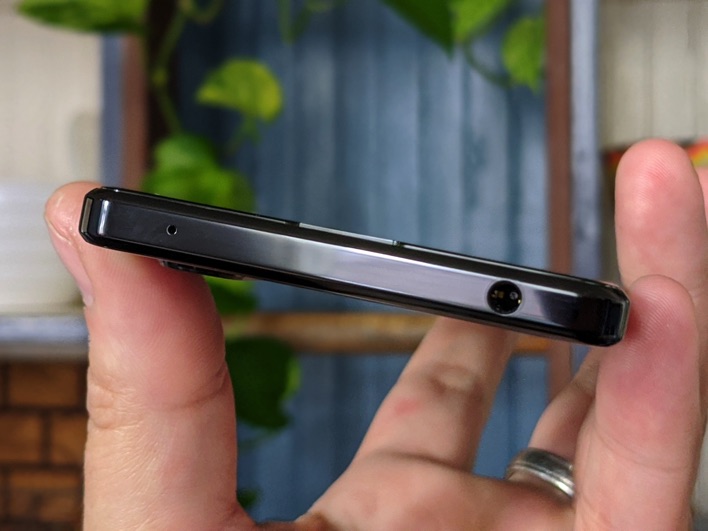 On the plus side, the Xperia 1 II's audio performance is excellent. The stereo speakers (dual front-firing drivers) sound detailed and balanced, and there's a headphone jack -- a rarity on today's flagships. Sony also includes features like Dolby Atmos, 360 Reality Audio (with hardware decoding), LDAC/aptX HD (for lossless audio over Bluetooth), and DSEE Ultimate (its own upsampling algorithm). Our only gripe is that the speakers aren't loud enough, and ditto the 3.5mm output when using high-impedance wired headphones and earbuds.

Sony Xperia 1 II Performance
Reviewing
Snapdragon 865
-based flagships is a lot like being stuck in the movie
Groundhog Day
. Qualcomm's best SoC consistently delivers stellar performance no matter the handset, and Sony's Xperia 1 II is no exception. This isn't just reflected in our benchmarks (below), but also in our experience using these phones. Sure, there are minor variations in both measured and perceived speed -- mostly related to software optimizations and hardware choices (like RAM/storage/display) -- but overall you can't go wrong with any of these devices.
The Xperia 1 II pairs the Snapdragon 865 with 8GB of LPDDR5 RAM and 256GB of UFS 3.0 storage (expandable via microSDXC cards up to 1TB), plus Qualcomm's X55 5G modem -- without support for 5G in the US, unfortunately. Sony managed to keep things snappy, despite having to draw 40% more pixels. This phone gobbled up anything we threw at it with aplomb -- from streaming our favorite Twitch channel to nerding out in World of Warships. Still, the lack of 90Hz+ refresh rate is palpable, despite a very clean build of Android 10.
Futuremark PCMark For Android

General Purpose Pocket Computing Performance Metrics
Futuremark's PCMark for Android is an excellent suite of tests if you want to benchmark a wide range of tasks on any handset -- things like image and video editing, as well as lighter-duty, everyday workloads such as email and web browsing. When you see the test running live, it's clear the scripted application tests are carefully selected and tuned to make use of the each mobile platform in a very controlled way...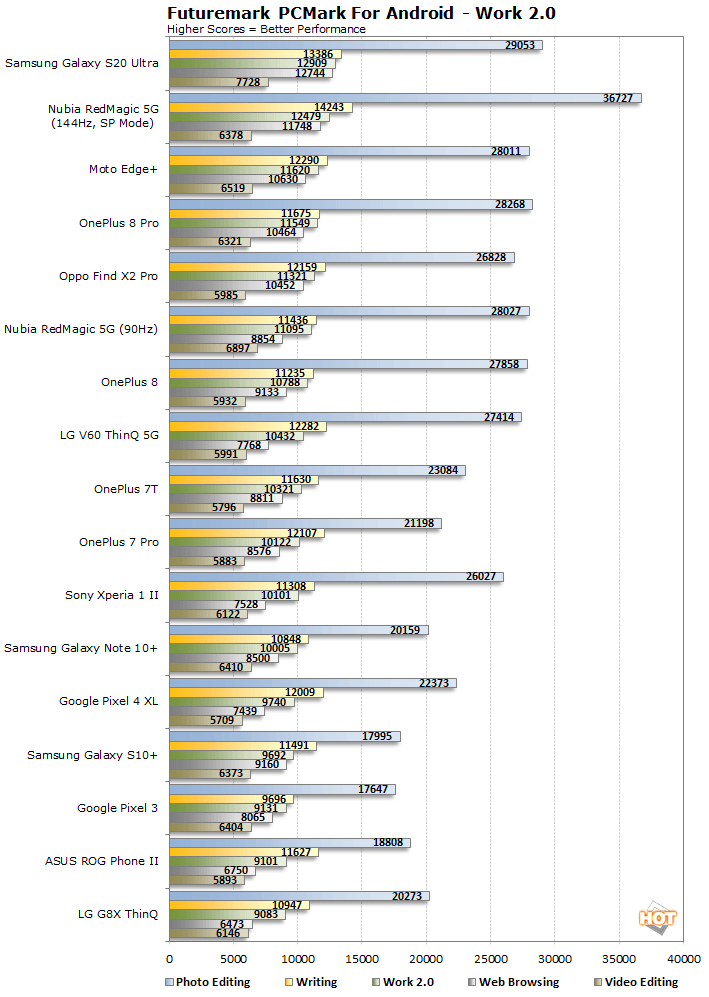 The Xperia 1 II scores below
LG's V60 ThinQ 5G
, landing in the in the middle of the best performing Snapdragon 855-equipped flagships from 2019. While the Snapdragon 865 powering this device offers strong all-around performance for the workloads used in PCMark for Android, there's room for improvement. Then again, keep in mind that the Xperia 1 II has to draw 40% more pixels because of that lovely 4k display.
AnTuTu 8 And AITuTu

Platform Benchmarks
AnTuTu's latest benchmark returns a number of metrics ranked with somewhat nebulous scores, rather than frame rates or time to complete. Here we're running the latest version of AnTuTu across an multiple Android devices. AnTuTu returns four top level performance results which are all included here: CPU, RAM, 3D, UX (or User Experience), along with a total score...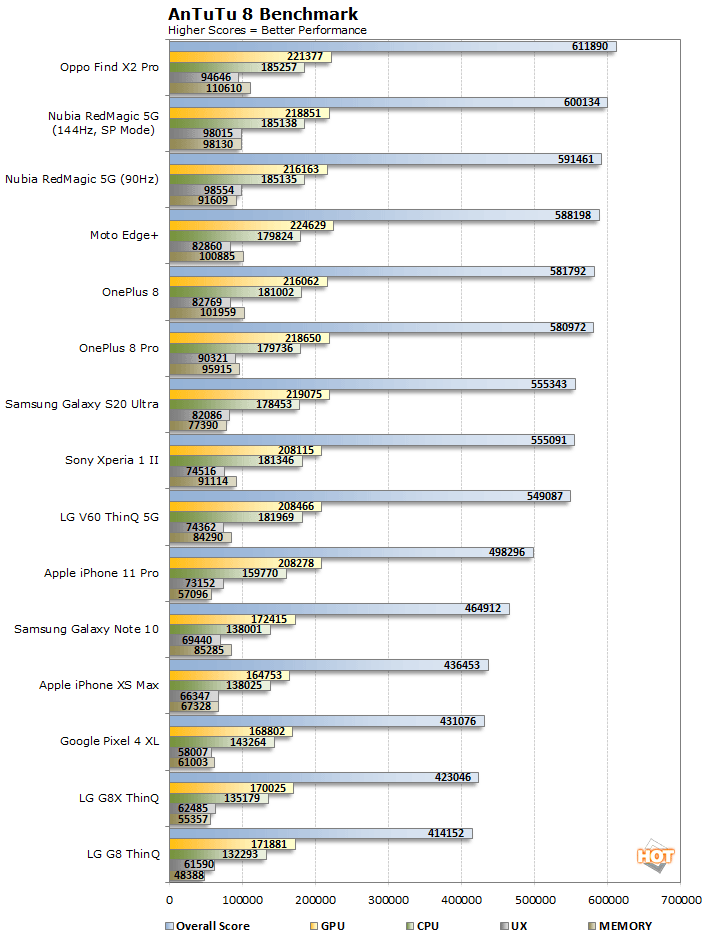 We saw more of the same in the AnTuTu benchmark. Here, the Xperia 1 II comes in right below
Samsung's Galaxy S20 Ultra
and lands in the middle of the pack.
AITuTu evaluates the AI performance of a device by leveraging two mainstream neural network models for machine learning and
AI
--
Inception v3
for Image Classification and
MobileNet-SSD
for Object Detection. The benchmark determines the device's accuracy and speed when inferring data from each workload...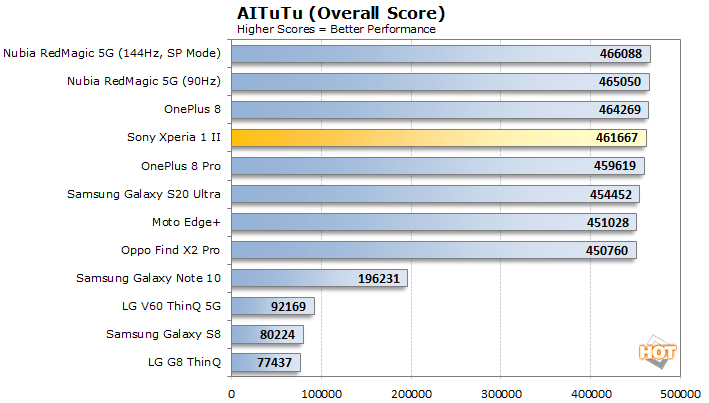 Sony's clearly done a good job optimizing AI workloads. In AiTuTu, the Xperia 1 II scores right between the
OnePlus 8 and 8 Pro
, near the top of the heap.
3D Graphics Benchmarks: 3DMark And GFX Bench

Pushing The Pixels
Next we're checking how the Xperia 1 II compares in GFXBench, which has been one of the standard mobile graphics/gaming performance benchmarks for years. To ensure that display refresh (v-sync) and resolution aren't limiting factors, we're comparing off-screen test results here. GFXBench tests OpenGL ES graphics workloads and we're specifically testing OpenGL ES 2...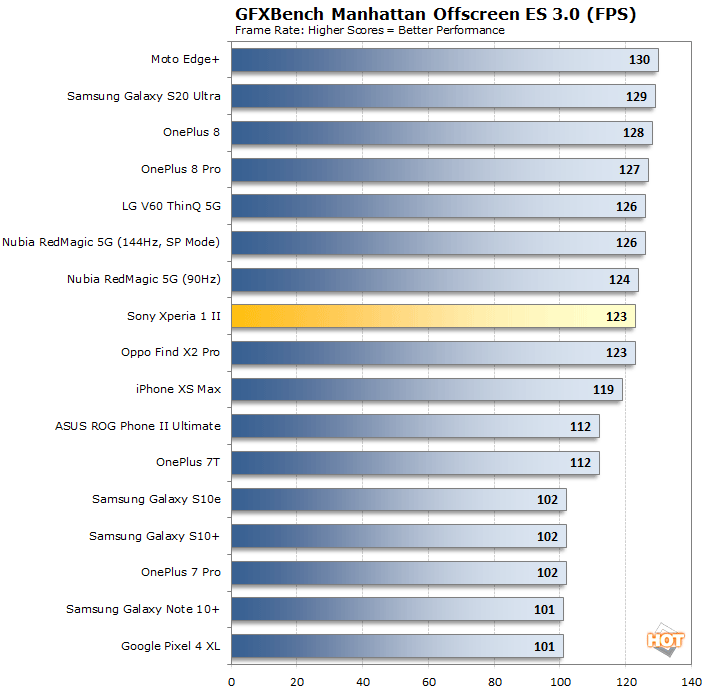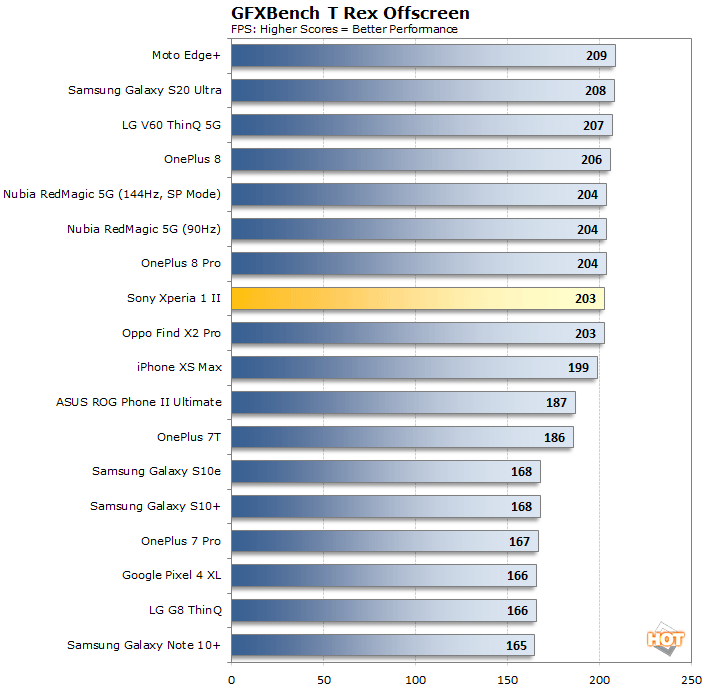 Graphics performance is a clear strong suit for the Snapdragon 865 mobile platform. Here, the Xperia 1 II lands in the middle, just below the
OnePlus 8 Pro
.
Futuremark's 3DMark Sling Shot is a newer benchmark module that's been added to the
3DMark
mobile suite. Unlike previous gen 3DMark mobile tests, Sling Shot is a much more advanced OpenGL ES 3.1 and Metal API-based benchmark that employs more advanced rendering techniques, like volumetric lighting, particle illumination, multiple render targets, instanced rendering, uniform buffers and transform feedback.
Futuremark 3DMark Sling Shot Extreme Benchmark

We're running this test in off-screen mode once again to remove display resolution differences from the equation. This lets us compare cross-platform results more reliably...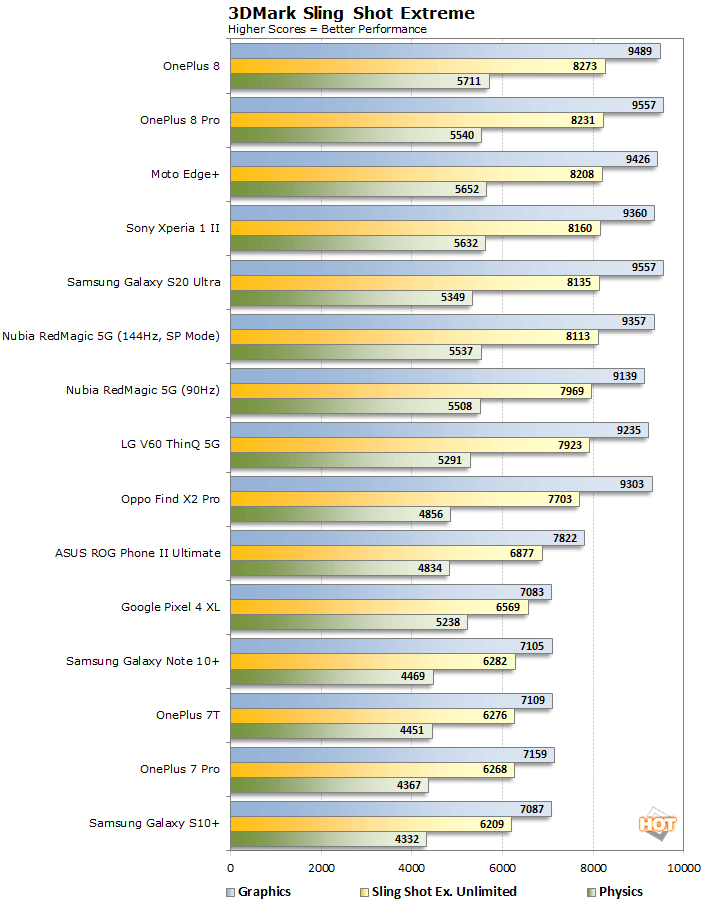 The Xperia 1 II also performed well in these 3DMark tests. The
OnePlus 8 and 8 Pro
finished at the top of the heap, but Sony wasn't too far behind.
Sony Xperia 1 II Other Features and Battery Life
In terms of specs, the Xperia 1 II features everything you'd expect from a 2020 flagship. That means WiFi 6 (802.11ax), Bluetooth 5.1 (LE), NFC, and A-GPS/ GLONASS / Galileo / BDS positioning. Sensors include an accelerometer, a gyro, a proximity sensor, a barometer, a compass, and a color spectrum sensor. The vibration motor feels pretty nice, and can be synced with audio for additional haptics. We also like the side-mounted capacitive fingerprint sensor, which is quick and accurate, and doubles as the power / lock key.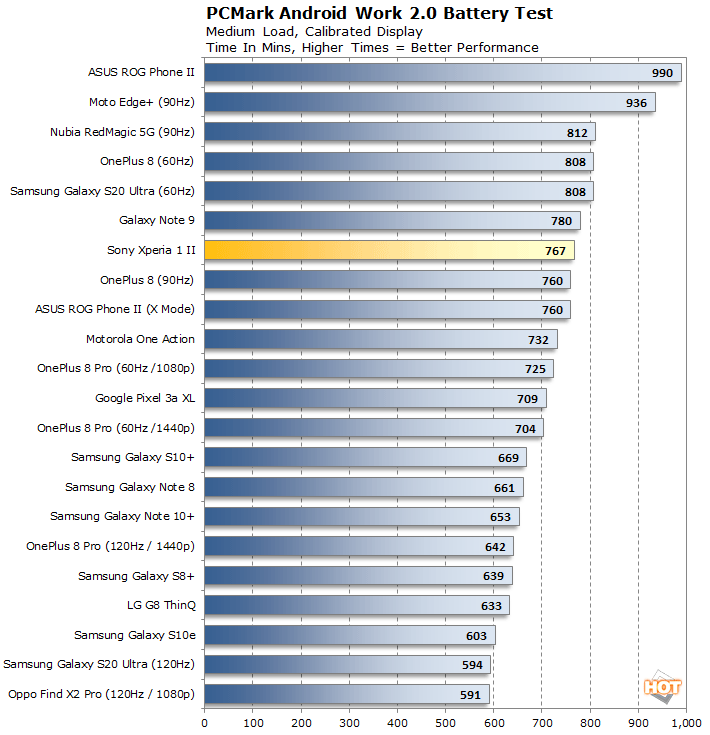 Battery life is very good considering the Xperia 1 II's 4K display likely draws more power than a lower resolution panel. The 4000mAh cell (which is relatively small for a modern flagship) lasted 12 hours and 47 minutes in our PCMark battery test. Obviously, that's on LTE since this handset lacks 5G bands for the US. Basically, we didn't have any issues using this phone for an entire day (and often longer) on a full charge. And when it's time to fill up, there's 21W wired fast charging (USB PD), and 11W Qi-compatible wireless charging.


Next up: the software, pricing, and the verdict...

Related content
Comments