Samsung Galaxy Book3 Pro 360 Review: Great Perf, Superb OLED
Galaxy Book3 Pro 360 2-In-1 Laptop: Samsung Brings A Truly Premium Convertible Computing Experience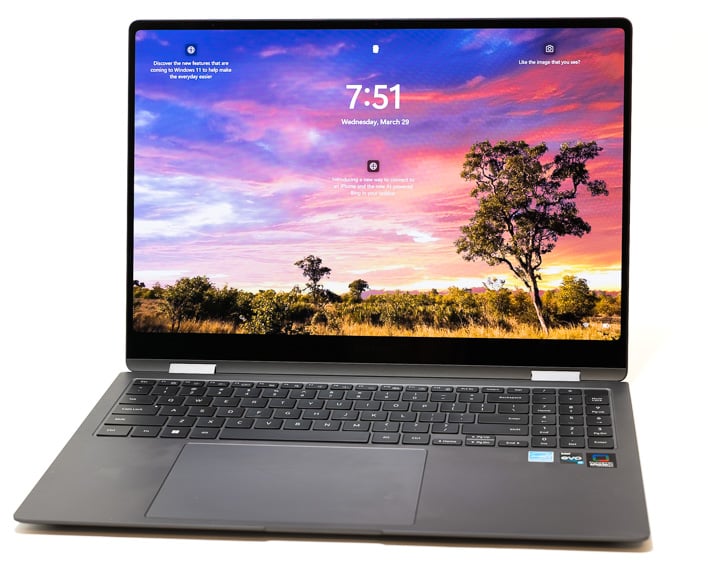 Samsung Galaxy Book3 Pro 360: As Configured - $1699.99


The Samsung Galaxy Book3 Pro 360 delivers a premium convertible computing experience with dazzling 120Hz AMOLED display.






Brilliant OLED Display
Strong Battery Life
Very Responsive Performance
Immersive Dolby Atmos Audio
Massive Trackpad
Full 10-Key NumPad Included

Grainy "FHD" Webcam
Size Can Be Unwieldy As Convertible
Overloaded With Samsung Apps



---
Ultrathin laptop shoppers are spoiled for choices these days. Every major manufacturer seems to offer an array of compelling options, pushing them to incorporate increasingly premium features that stand out in the crowd. Samsung has taken the course of doubling down on
its display chops
, by incorporating 120Hz OLED panels across its new lineup of
Galaxy Book3 laptops
, including the Galaxy Book3 Pro 360 we have in for review today.
The Samsung Galaxy Book3 Pro 360 is a 16-inch convertible-style 2-in-1 laptop that packs a lot in to its 12.8mm thick frame. It supports the latest
13th generation Intel
Core i5 and Core i7 processors, up to 32GB of LPDDR5 memory, and up to 1TB of NVMe solid-state storage. It also brings excellent connectivity, a generous 76Wh battery, AKG Quad Speaker array, and includes an S-Pen for artists and notetakers alike.
The full specifications of our review unit as tested are laid out below…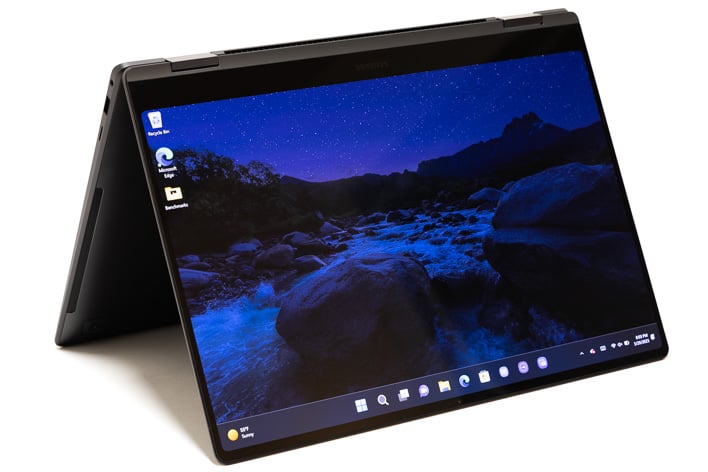 Spec
Samsung Galaxy Book3 Pro 360
Processor
Intel Core i7-1360P (12 Cores (4P+8E) / 16 Threads, 2.2GHz base, 5.0GHz max boost)
Display
16.0" Dynamic AMOLED 2X (2880x1800 [16:10]) touch display, 400-nits, 120Hz, 120% Color volume (DCI-P3)
Graphics
Intel Iris Xe Graphics
Storage
1TB WD SN740 NVMe SSD Gen 4
Memory
16 GB LPDDR5-6000
Audio
AKG Quad Speaker with Dolby Atmos and dual mic array
Camera
1080p FHD Webcam
Networking
Wi-Fi 6E (Gig+), 802.11 ax 2x2, Bluetooth v5.1
Ports: Left
1x HDMI 1.4
2x Thunderbolt 4 Type-C
Ports: Right
1x USB 3.2 Gen 1 Type-A
1x Combination headset jack
1x MicroSD Reader
Keyboard
Backlit keyboard, chicklet-style, with NumPad
Touchpad
Precision 10-point multi-touch with integrated buttons
Battery
76 Wh (Typical) / 65W Type-C Adapter
Weight
3.65 lb (1.66 kg)
Dimensions
355.4 x 252.2 x 12.8 mm (13.99 x 9.93 x .50 inches)
Warranty
1-year
Operating System
Windows 11 Home 64-bit
Price
$1699.99 As Configured And Tested
The design language here is understated and slightly industrial, though effectively
unchanged from prior generations
beyond its now-larger dimensions. It has a smooth-touch aluminum finish on the exterior. Samsung's logo on the lid is subtle and positioned discretely to the left side.

The laptop's profile has a slight apparent taper. This is mostly accomplished by rounding up the edges towards the front, similar to the
Dell XPS family
. Otherwise, the actual thickness from front to back is mostly uniform.

The Galaxy Book3 Pro 360 offers a healthy array of ports for such a thin system. The left side provides two Type-C ports with
Thunderbolt 4
and an HDMI 1.4 port. While HDMI 1.4 is good for a quick hookup at 1080p, the Type-C ports will be a better choice to support 4K external displays beyond 30Hz.

The right side offers a headset jack, USB 3.2 Type-A port, microSD slot and is where the optional nano SIM tray would reside. Our model is not 5G-enabled. We always prefer to see a full-side SD card slot included, but microSD is welcome over a complete exclusion. The rise of mirrorless cameras has put more emphasis on UHS-II SD cards, which tend to be full size, though other cameras require CF Express cards with a different formfactor that would require a separate reader anyway.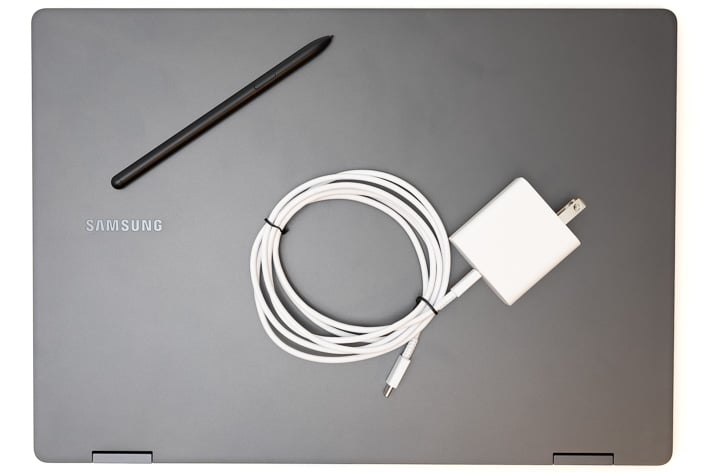 Samsung's included 65W power adapter is a highlight of the Galaxy Book3 Pro 360. While the power delivery is standard fare, it is remarkably compact and could easily be mistaken for a phone charger. Though unlike most smartphones, the laptop includes a longer 6-foot (1.8 meter) USB-C cable. Samsung says it can charge the Galaxy Book3 Pro 360 to 35% in just 30 minutes, which is in line with our experience. We always appreciate when a charger can serve double-duty for a smartphone or other devices, as well.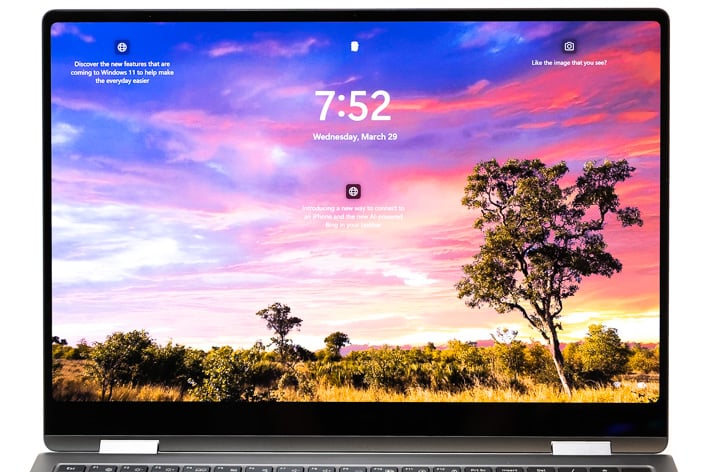 The most distinctive feature of the Galaxy Book3 Pro 360, though, is that 16.0-inch Dynamic AMOLED 2X display. It carries a 16:10 aspect ratio, which we have come to prefer, at a resolution of 2880x1800. This lands it somewhere between QHD and UHD, just shy of 5.2 megapixels. The corners are rounded to give a premium look, but thankfully do not interfere with any UI that we have encountered. Despite the taller aspect ratio, there's still a sizeable bezel at the bottom, but this mostly means the display is brought up to a slightly more comfortable position.
The spec sheet reports a brightness level of 400 nits, but Windows display settings indicates a peak brightness of 566 nits and VESA DisplayHDR 500 True Black certification. In either case, this is not the brightest laptop display on the market, but it is able to punch through outdoor use just fine. Samsung wisely does not enable HDR out of the box, as Window's support is still frustratingly inconsistent, but the option is there for those who want it.
As with the rest of the Galaxy Book3 Pro family, this is capable of a 120Hz refresh rate. This is a tangible advantage over the Galaxy Book2 Pro 360's 60Hz AMOLED. It is preconfigured to switch between 120Hz and 60Hz depending on the displayed content and usage to save power, but can be pinned to 120Hz, if desired. The extra smoothness of a 120Hz panel is appreciated, even if this is not a "gaming" device and can be particularly helpful while using the S-Pen.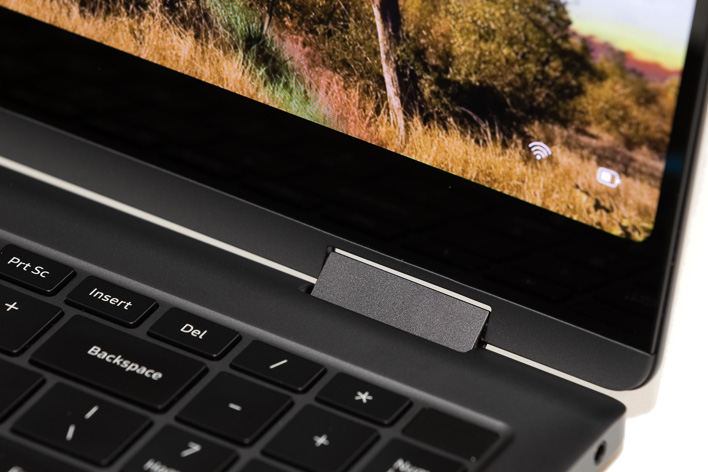 The Galaxy Book3 Pro 360 uses a dual-hinge design for the display. This allows it to flip around into a tablet mode, hence the 360 in the name. The keyboard remains active until the display is opened by about 270-degrees. Beyond this position, the keys can still be pressed, but no input is relayed. The power will turn on or wake the device in this state but not turn it off, and the fingerprint reader likewise continues to function.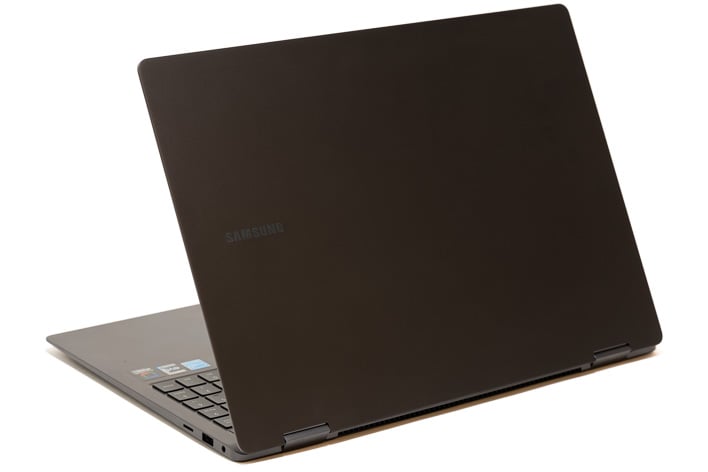 The hinge strength is adequate to keep the display in place, though it could stand to be a little more rigid. There is a magnetic clasp to keep the lid closed whether in clamshell or tablet mode. It effectively keeps the lid from shaking open, but still lifts with a single finger.
The main formfactor consideration is how unwieldy a 16-inch convertible notebook can be. The Galaxy Book3 Pro 360 is reasonably well-balanced in that regard. The sub-4lb weight keeps it easy to sling around, though the large footprint can still take some adjustment for those more used to a 13- or 14-inch chassis. The aluminum frame does a great job of minimizing flex, as well.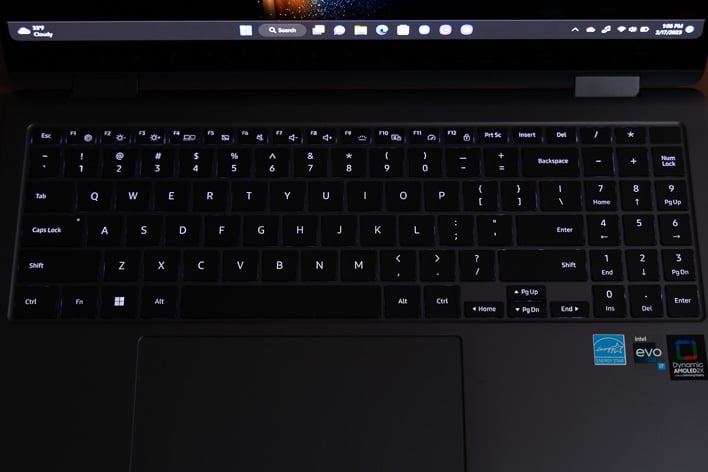 The backlit keyboard is spacious with full-sized keycaps for most of the plank. Samsung also includes a full numpad, though these keys are squished in a bit. We think the layout is a great trade-off to maintain a solid typing experience without forgoing a 10-key altogether.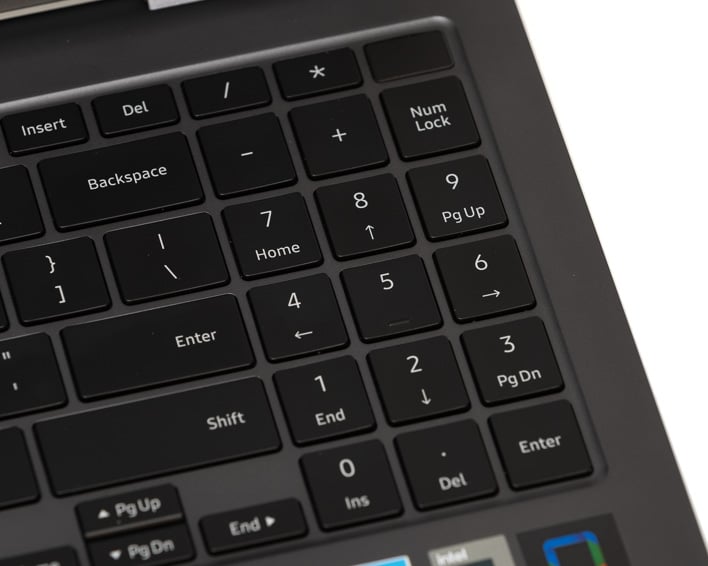 The keys are chicklet style with minimal travel distance. The tactile feel is a little more mushy than we prefer, but the keys are well stabilized so you don't have to hit each one square on, either. Even the space bar depresses evenly when one extreme edge or the other is used. Typing purists might find the shaped key caps of a
Lenovo ThinkPad
more bit more satisfying, but Samsung's keyboard does not leave us with too many complaints, either.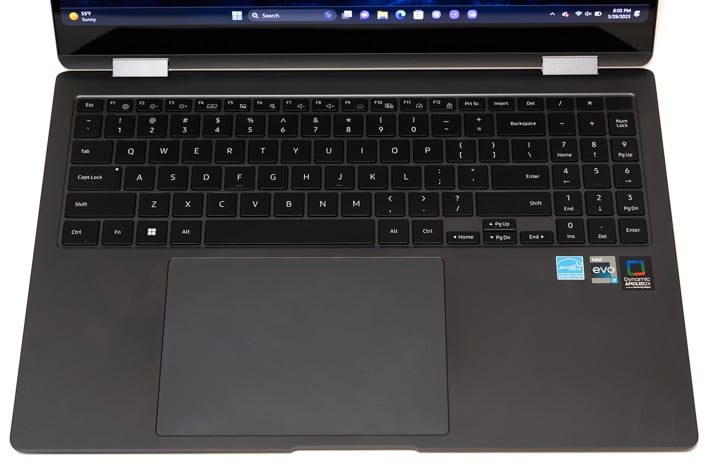 On the other hand, the Galaxy Book3 Pro 360's trackpad is a treat. It spans a full 6.0" across by 4.25" deep, 39% larger than
the 2nd gen
, with a slightly offset position that allows your palms to rest on either side while typing. The glass surface is smooth and tracks well, with excellent palm rejection. The only potential nitpick is that the top inch-or-so of the trackpad cannot be clicked, but that is not a downside we even noticed until we deliberately started looking for it.
The Samsung Galaxy Book3 Pro 360 does nothing to really reinvent the wheel with its physical design, but it doesn't really need to. Samsung has managed tolerances well and focused on creating a refined experience for the user. It is productivity focused and just gets out of the user's way.
Before we move on to see how it performs, let's take a look at the software and user experience.
Related content