OnePlus Buds Pro 2 Review: Supreme Comfort, Solid Sound
OnePlus Buds Pro 2 Active Noise Cancelling Earbuds: A Successful Sequel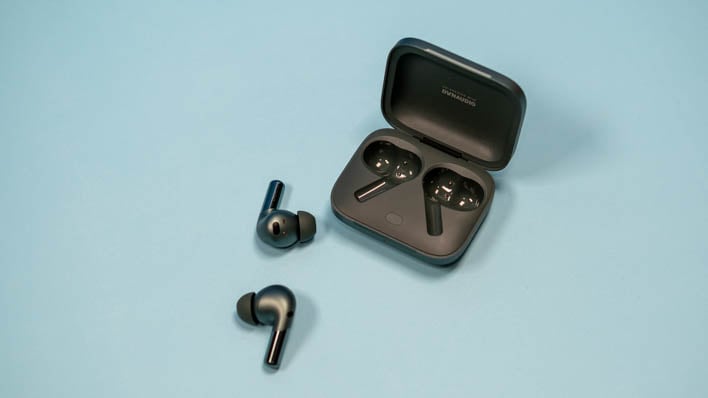 OnePlus Buds Pro 2 - Priced at $179


The latest OnePlus Buds Pro 2 earbuds have great sound and a comfy design that many folks will enjoy.






Attractive, comfortable design
Supports Google Fast Pair and Spatial Audio
Good audio quality

No Google Assistant integration
Some features only work on OnePlus phones






---
With a headphone jack increasingly rare, almost to the point of extinction in 2023, Bluetooth audio is no longer a luxury but a necessity for smartphone users. Many of the big names make true wireless, noise active cancelling (ANC) earbuds that pair perfectly with their phones—Google, Apple, Samsung, and yes, even OnePlus. There have been a few iterations of OnePlus Buds, and even some cheaper Nord-branded OnePlus earbuds, but the new OnePlus Buds Pro 2 are the polar opposite. These Buds don't skimp on the features, build quality, or audio. However, they're competing with the big dogs, given their $180 price tag.
The Buds Pro 2 pair perfectly with the latest
OnePlus 11 5G
, but they're missing some features if you connect them to a different phone. On the audio front, there are earbuds that may sound a bit better in the same price range. Still, the OnePlus Buds Pro 2 are exceedingly comfy, sound great and support a few acoustic tricks, making them easily the best earbuds OnePlus has ever made.
OnePlus Buds Pro 2 Design
These earbuds will look familiar if you remember the first-gen
OnePlus Buds Pro
from 2021. The OnePlus Buds 2 Pro make a good first impression with a clean, sophisticated case. It's made of sturdy matte plastic, available in a boring black or the much more stylish "Eternal Green" shade, which is also available on the OnePlus 11 5G. The USB-C port is around back, but that's not the only way to charge the buds. These babies have wireless charging, a feature that even OnePlus' latest flagship phone lacks, unfortunately, likely for cost constraints at its aggressive price tag.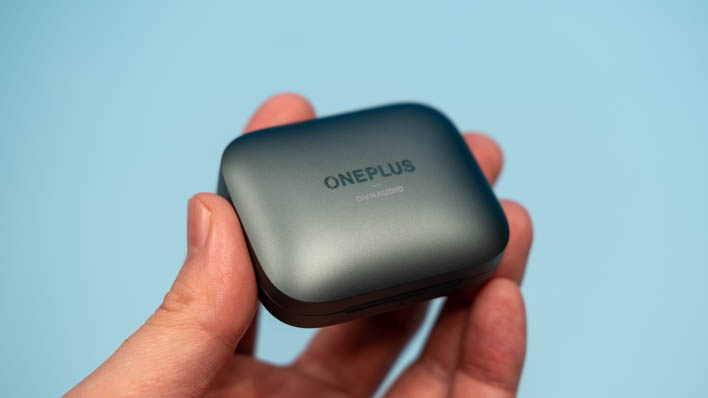 There's a small lip on the front that makes it easy to flip open the lid to reveal the buds themselves. They're held in place magnetically but are easy to lift out, even if you're not looking. The earbuds stay put well—only on one occasion in several weeks of testing did an earbud fail to properly line up with the charging contacts. Between the buds in the case is a recessed pairing button. We appreciate having a physical control for this -- too many earbuds rely on esoteric touchpad controls to enter pairing mode.
The Buds are shaped like the AirPods Pro with a long stick extending downward from the drivers and ear tip. They have a two-tone appearance with a matte finish at the top and glossy at the bottom. Both the case and the buds are IP55 rated, which makes them suitable for sweaty workouts. Just don't drop them in the sink.
There are no traditional touch surfaces. Instead, you control playback by squeezing the stick on either earbud. We were skeptical of this setup at first, but we've grown to like it. Most earbuds have touch pads, but they're often too easy to press accidentally. It doesn't take much force to trigger the Buds Pro 2 squeezable sticks, but you can lift and readjust them without triggering the control if you're gentle. If you just need to nudge an earbud back into place, you can do that easily without inadvertently pausing your music.
OnePlus Buds Pro 2 Comfort And Sound
Too many earbuds rely on the seal in your ear canal to keep them in place, but the OnePlus Buds Pro 2 nestle in your outer ear, giving them more support and stability. The seal isn't as perfect as fully in-ear buds, but we think the comfort tradeoff is worth it. These earbuds are a delight to wear, even for hours at a time. The Buds Pro 2 come with three sizes of antimicrobial tips, which we like just fine. These aren't ideal earbuds if you like to replace the stock tips with foam—the plastic connector is oval-shaped instead of round like most earbuds.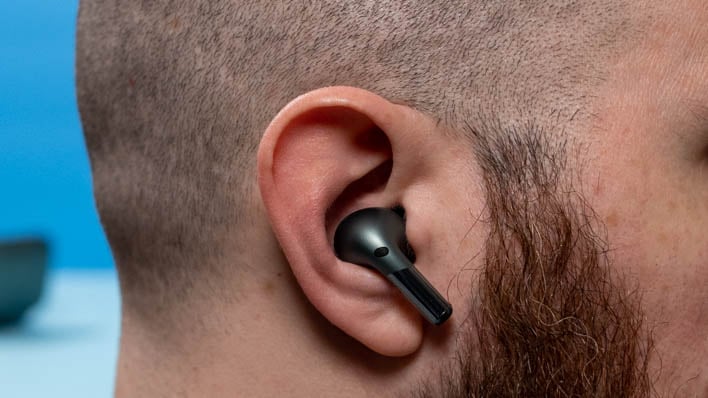 OnePlus worked with a Danish company called Dynaudio to design the Buds Pro 2—it says so right on top of the case. The fruit of that partnership is the dual-driver design, which features an 11mm and 6mm driver in each bud. The last-gen OnePlus Buds Pro only had a single driver. OnePlus says the Pro 2 offer fuller sound as a result. There are several Dynaudio-optimized EQ presets, including "bold" and "serenade." You'll have to guess what each of them do because OP doesn't include any details. There is a custom 6-band equalizer for the more picky among you.
We tested the Buds Pro 2 with regular streaming media, as well as with lossless local tracks (in LHDC mode). The sound is definitely an upgrade over the original OnePlus Buds Pro, which overemphasized the lows but lacked the power to back it up. The Buds Pro 2 have even, rich sound across the spectrum. You'll have no trouble picking out individual instruments, the bass thumps to the correct degree, and vocals are open and crystal clear. However, lossless tracks don't reach their full potential—the difference compared to lossy audio is minimal. That's common with the earbud form factor, though.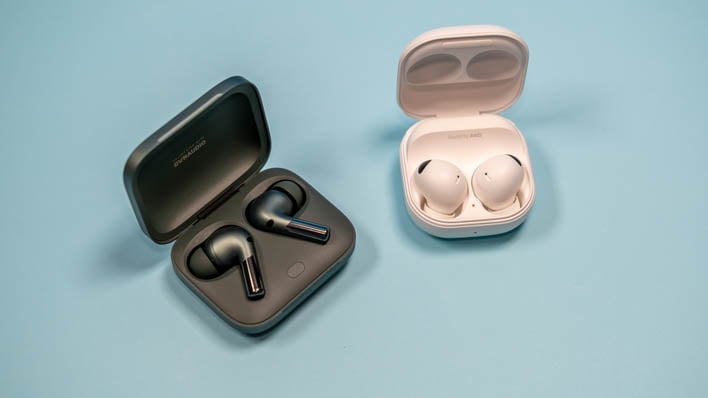 OnePlus claims up to 48dB of noise cancellation. In the default mode, the earbuds intelligently switch ANC intensity based on your environment. You should keep it there because, generally, you want as little adjustment as necessary to mute the outside world. OnePlus' buds have more noticeable ANC hiss than most, which can be annoying when listening to audio books or music at lower volume. The hiss gets louder at higher ANC levels, but it does do a pretty good job of covering up low environmental noise. Voices and high-pitched sounds bleed through more. The OnePlus Buds Pro 2 are not as good as Sony or Samsung when it comes to ANC, but it's about on par with
Google Pixel Buds
.
There are three microphones on the Buds Pro 2, but call quality is as much about software as hardware. Here, the OnePlus buds are running a little behind the pack. Voice pickup is clear enough but can sound a bit hollow and distorted. We're happier with how the microphones perform for audio passthrough. It's possible to carry on a brief conversation with the earbuds in your ears if you switch to piping in external audio. You can do that with a long-squeeze on the control sticks (or another combination of presses, if you modify the settings).
OnePlus Buds Pro 2 Features And Battery
Pairing the OnePlus Buds Pro 2 is a snap with the physical button on the case, and getting them operational on another device is even faster thanks to Google Fast Pair. That's not the only handy Google-fueled extra. The Buds Pro 2 are also among the first earbuds to support Google's spatial audio implementation, which can make sound in supported apps more immersive, with optional head tracking. I'm not a spatial audio believer, but the feature does make audio sound a bit "bigger" in some ways. You'll need to have the OnePlus 11 to get Spatial Audio right now. The company promises more devices will be compatible eventually, but there are no details yet.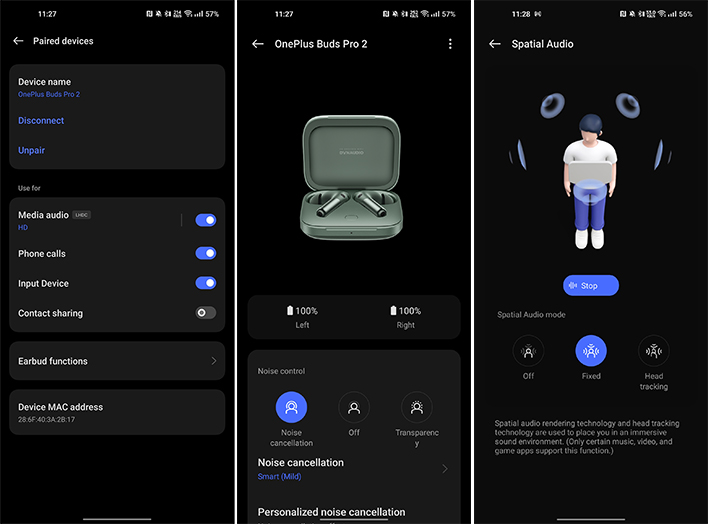 Unfortunately, the buds don't have Assistant built-in. You can trigger your phone's default assistance app (which will probably be Google Assistant) with the configurable earbud controls, but the response won't be as quick, nor will it support hot word activation. One upshot here, many earbuds with Assistant integration limit your options for solo listening mode, but you can use either the right or left OP bud alone while the other is in the case.
Audio codec support is all over the map, even among high-end earbuds. For example, Google and Bose don't have any lossless audio option, Sony uses LDAC, and Samsung has its custom Scalable Codec. OnePlus supports SBC and AAC, which are table stakes for Bluetooth earbuds, but it adds LHDC for lossless audio. The main drawback here is that most Android devices don't support LHDC. OnePlus phones do, of course, so you'll be all set for lossless audio if you pair the buds with an OP phone. However, the difference in audio quality is subtle enough that it's not a dealbreaker if your phone doesn't have support. And if you're just going to stream music, it's a non-issue.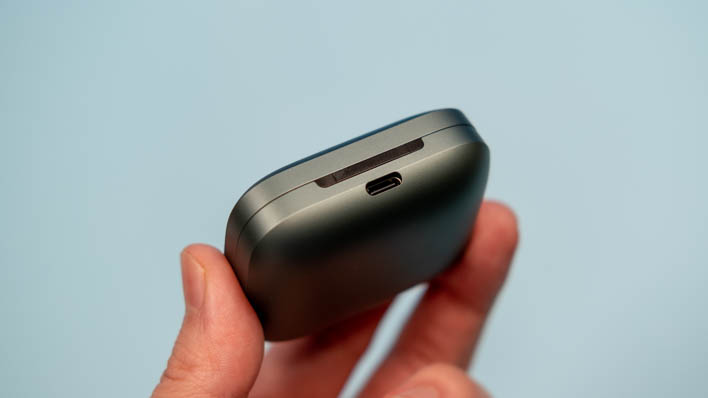 OnePlus claims up to nine hours of playback per charge without ANC and six hours with ANC. In our testing, the buds got close enough to that mark that we can't complain. Even with noise canceling, you'll easily top five hours, and the case has about four more charge cycles inside. If you listen to music for a few hours per day as we did in testing, the Buds Pro 2 could easily last a week or more.
OnePlus Buds Pro 2: The Verdict
The OnePlus Buds Pro 2 are undeniably the best earbuds OnePlus has ever made. They're among the most comfortable true wireless options we've tested, and the sound is clean and powerful without being overwhelming. The squeezable stick controls take a bit of adjustment, but we've grown to like them as it's easier to adjust the buds without triggering the button. That constantly happens with earbuds that use touchpads. We also appreciate the inclusion of wireless charging, even if OP can't manage the same for its new flagship phone.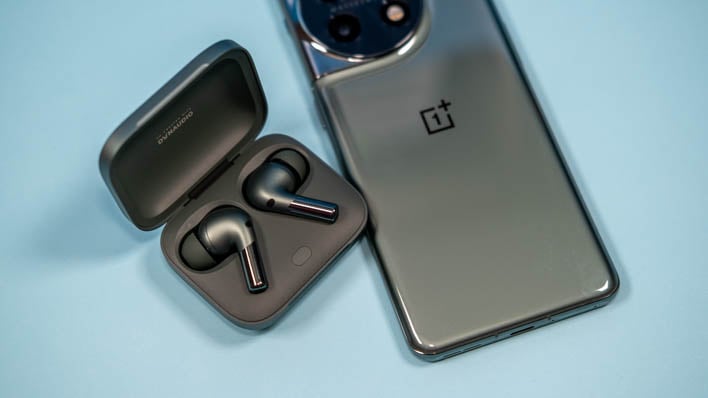 Find The OnePlus Buds Pro 2 & OnePlus 11 5G On Great Deals @ Amazon
The OnePlus Buds Pro 2 are a solid value for just shy of two-hundred bucks. However, Sony has the less impressive
LinkBuds S
for around $150 now, and you might prefer
Samsung's Buds2 Pro
(about $190), if you have a Samsung phone. However, especially for OnePlus fans, these earbuds are an excellent choice. They support lossless audio, spatial audio, and you don't need to install an app to manage them.
Even if you don't have a OnePlus phone, you won't be disappointed with the Buds Pro 2 and we have no trouble recommending them.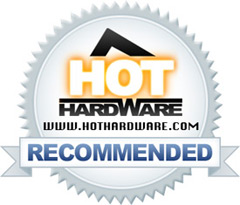 Related content