Samsung Galaxy Book3 Pro 360 Review: Great Perf, Superb OLED
Samsung Galaxy Book3 Pro 360: Software And User Experience
Samsung would do well to focus its app experience. Windows carries a lot of baked in functionality these days, but Samsung includes many redundant solutions of its own which are more likely to leave the end user confused than to help. Focusing on the truly unique functionality of the device is a much better tact. In this case, that is
the S-Pen
and the handful of included apps that leverage it.
Samsung Notes is a relatively lightweight option to quickly jot down a few thoughts using the S-Pen. It allows for a range of pen styles, colors, and formatting, but its most appealing potential may be its ability to convert handwritten notes to printed text. The OCR does a good job deciphering my printed handwriting, but does not know what to make of my unpracticed cursive. I'm not entirely sure I can blame the software for that, though.
Smart Select and Screen Write let you quickly take a screenshot and optionally annotate it to share. These essentially take the functionality of the Snipping Tool while not needing the keyboard to trigger it. Truth told, users could drop a shortcut to the
Snipping Tool
in the pop-up menu instead, as every part of that still works with the S-Pen. These are seemingly another example of Samsung needlessly reinventing the wheel.
The PENUP application is a different story, though, and is where the more artistically gifted among us will take interest. PENUP is a much more capable digital canvas that can be used to create true works of art. I am not among the artistically gifted, though, so I found another aspect of it to channel my limited creativity. The app includes a coloring book option, with many drawings to choose from. You can try your hand at using the pen tool and keeping within the lines, but I found the bucket option was more my speed.
Experientially, we found the S-Pen to be very easy to use. It is sized similarly to a standard ink pen and really doesn't feel much different. We experienced no issues with palm rejection, either. The only personal gripe is that the flattened side of the pen (so it doesn't roll away) is opposite the button, which took some getting used to. There's also no place to stow the S-Pen within the Galaxy Book3 Pro 360, which is a shame. It would not take much for the S-Pen to slip out of a bag or pocket and be lost forever.
In addition to the S-Pen features, the software experience of the Galaxy Book3 Pro 360 carries an emphasis on mobile connectivity. Samsung wants to make it easy for users to sync up their smartphone whether for file transfers, shared messaging, or a couple other unique functions.
As with any modern Windows laptop, the Microsoft
Phone Link app
handles the primary tether. This is a good move, in our opinion, as it opens up support to a wider variety of phones than just other Samsung Galaxy devices. Virtually any Android phone can sync up, and Microsoft is working on adding
iPhone
support as well.
There is even more you can do if you do have a
Galaxy Phone
, though. The Samsung Flow app allows for a more seamless experience across devices, enabling easier file sharing (via Quick Share) and richer notifications. Unfortunately, I was not able to test this as a
Pixel 7 user
. Additionally, the Second Screen app allows a
Samsung tablet
to be used as an additional display.
Covering every included Samsung app would just about bring us to the point of overload. For example, Samsung Studio Plus appears to be a basic video editor for quick clips mirroring
ClipChamp
or the other video editors built into Windows, while Samsung TV Plus is really just a shortcut to its website (which works on any device).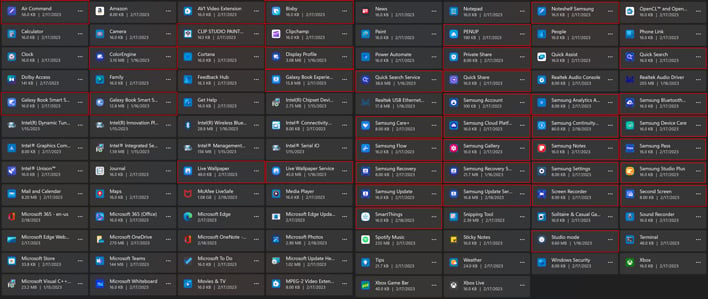 Quick Search offers a timeline view of files you've interacted with and when, but also seems to register files you haven't actually touched. There's also a file tagging option, but otherwise this app is performing the same role as the built in Windows search, just with more steps. We could go on and on, as the above screenshot illustrates.
Galaxy Book3 Pro 360 Webcam And Speaker Experience
The Galaxy Book3 Pro 360's integrated camera is somewhat of an exception to an otherwise fantastic user experience. On the plus side, it features a 1080p sensor and can record up to 60fps at that resolution. However, the actual image quality from it is somewhat grainy, even in a well-lit room. It is usable, sure, but there is significant room for improvement here.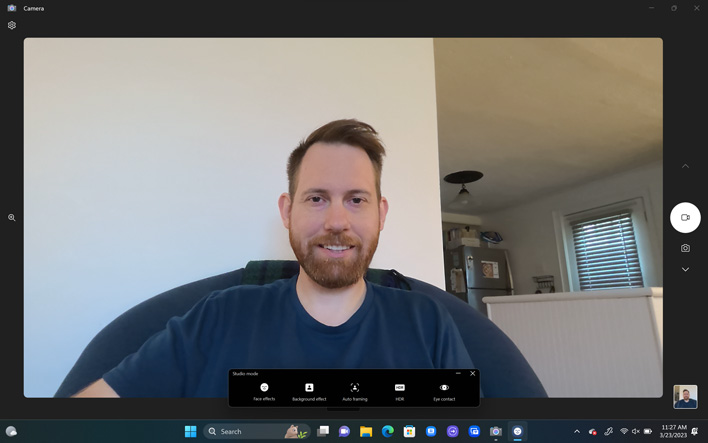 Samsung helpfully pops up some additional webcam controls when the camera is accessed. These include beauty filters, an eye-contact filter, background replacements, and an auto-framing feature. While most of these are not particularly convincing (no doubt hampered by the grainy source image), the auto-framing function can be genuinely useful.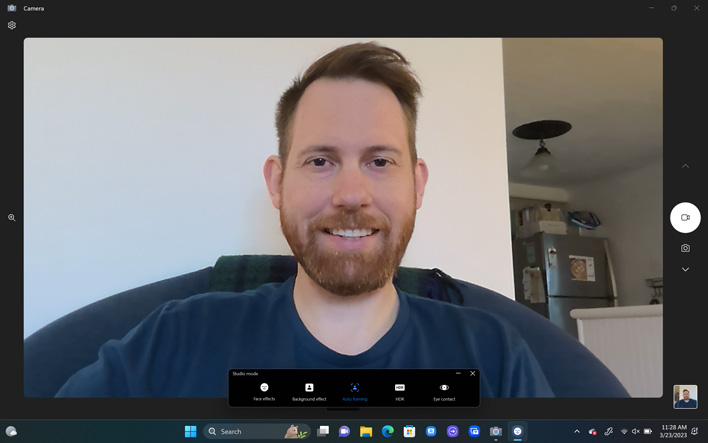 The webcam has a very wide field of view by default – good for working with the laptop on your lap – but automatically punching in as needed gives you a bit more flexibility. The tradeoff is, of course, an even noisier image as a digital crop is no replacement for optical zoom. It will get you through that
Zoom call
just fine, though.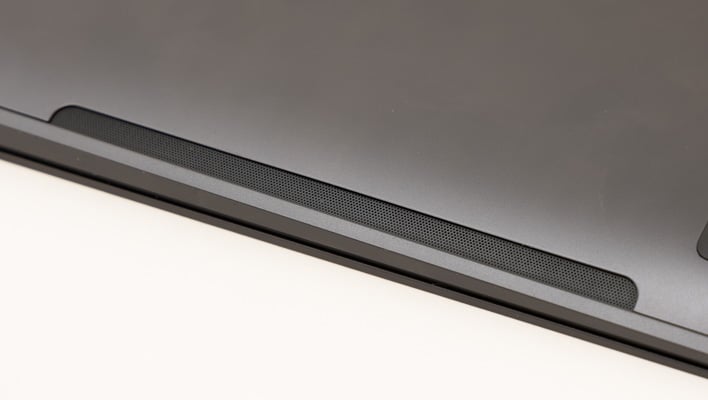 The AKG-tuned speakers are modestly good out of the box, but seemingly suffer from the usual pitfalls of a downwards firing speaker system. At least, that is the case until you enable
Dolby Atmos
in the Samsung Settings app. Once enabled, the speakers come alive and deliver a surprisingly loud and rich experience you wouldn't expect from such a thin and light machine.
Let's move along and see how Samsung's new premium convertible fairs in our benchmark suite…
Related content