Razer Blade 16 Laptop Review: RTX 4090 & Raptor Lake Gaming Weapon
Razer Blade 16: A Powerful GeForce RTX 4090 And Raptor Lake Infused Gaming Laptop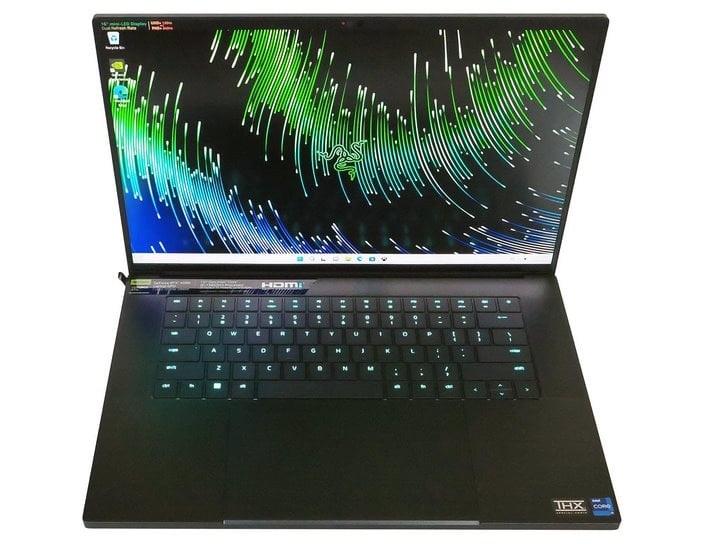 Razer Blade 16: As Configured - $4,299


Razer managed to cram a GeForce RTX 4090 and Core i9-13950HX into the powerful and sleek, sub-20mm new Blade 16 gaming laptop.






Attractive Design
Stellar Performance
Leading-Edge Platform Tech
Beautiful, Versatile Display
Good Audio

Price Premium
Some Sharp Edges
Finicky Trackpad
Battery Life



---
In one of its demo stations at
CES 2023
, NVIDIA had a racing simulator setup, complete with a mock roll cage, racing seat, wheel and pedals, and a trio of 4K displays. Back in the day, a realistic simulator setup like this would have required a leading-edge desktop system to push the pixels, but the demo station was actually powered by a single laptop – the new Razer Blade 16, which we'll be showing to you here.
The Razer Blade 16 is a new class of gaming laptop from the industry stalwart, which packs the latest and greatest platform technologies from NVIDIA and Intel – namely a
GeForce RTX 40
series GPU and
13th Gen Core
CPU – into a slim, svelte, easily portable chassis. As its name suggests, the Razer Blade 16 features a 16" display, but its bezels are so thin, the machine isn't much bigger than most 15" notebooks and its Z-height comes in just hair below 20mm.
Here's a quick rundown of the Razer Blade 16's main features and specifications. Take a peek to get the gist of what we'll be showing off, and then we'll dive in a little deeper to see what this machine is all about...
Jump to 1:15 To See The Blade 16-Powered Simulator In Action...
Razer Blade 16 (2023) Gaming Laptop Specifications
| | |
| --- | --- |
| | 13th Gen Intel Core i9-13950HX 5.5 GHz, Boost up to 5.5 GHz, 24 Cores / 32 Threads, 36MB of Cache |
| OS | Windows 11 Home |
| DISPLAY | 16" UHD+, 16:10 (3840 x 2400 WQUXGA) / FHD+ 16:10 (1920 x 1200, WUXGA) |
| GRAPHICS | NVIDIA GeForce RTX 4090 (16GB GDDR6 VRAM) |
| | TGP (Total Graphics Power) - Up to 175W, NVIDIA CUDA Cores - 9728, Boost Clock - Up to 2040MHz, NVIDIA GPU Boost, NVIDIA Optimus Technology, NVIDIA Whisper Mode 2.0, VR Ready |
| STORAGE | 2 TB SSD (M.2 NVMe PCIe 4.0 x4) |
| MEMORY | 32 GB DDR5-5600MHz |
| KEYBOARD | Per key RGB Powered by Razer Chroma N-Key rollover |
| CONNECTIVITY | Killer Wireless Wi-Fi 6E AX211 (IEEE 802.11a/b/d/e/g/h/i/k/n/r/u/v/w/ac/ax/az) |
| TOUCHPAD | Precision glass touchpad |
| INPUT & OUTPUT | 1 x Thunderbolt 4 (USB-C) (100W USB PD 3), 1 x USB-C 3.2 Gen 2, Supports Power Delivery 3 (100W), 3 x USB-A 3.2 Gen 2, HDMI 2.1 output, UHS-II SD Card Reader |
| AUDIO | 4 speaker array (tweeters x2, sub x2), 2 Smart Amps, 3.5mm Combo-Jack, Build-in 2-mic array, THX Spacial Audio, 7.1 Codec Support (via HDMI) |
| FINISH | T6 CNC Aluminum, anodized, black with illuminated Razer Logo |
| DIMENSIONS | 21.99 mm x 244 mm x 355 mm (0.87" x 9.61" x 13.98") |
| APPROXIMATE WEIGHT | 2.45 kg / 5.40 lbs |
| BATTERY AND ADAPTOR | Built-in 95.2 WHr rechargeable lithium-ion polymer battery with 2-year limited battery warranty, 330W GaN Power Adapter |
| ADDITIONAL FEATURES | Windows Hello built-in IR FHD w/ Shutter, Razer Synapse 3 enabled with performance, programmable keyboard, backlighting, and fan control, Kensington Security Slot, Modern Standby, Intel PTT - (sTPM 2.0) |
| WARRANTY | 1-year limited laptop warranty, 2-year limited battery warranty |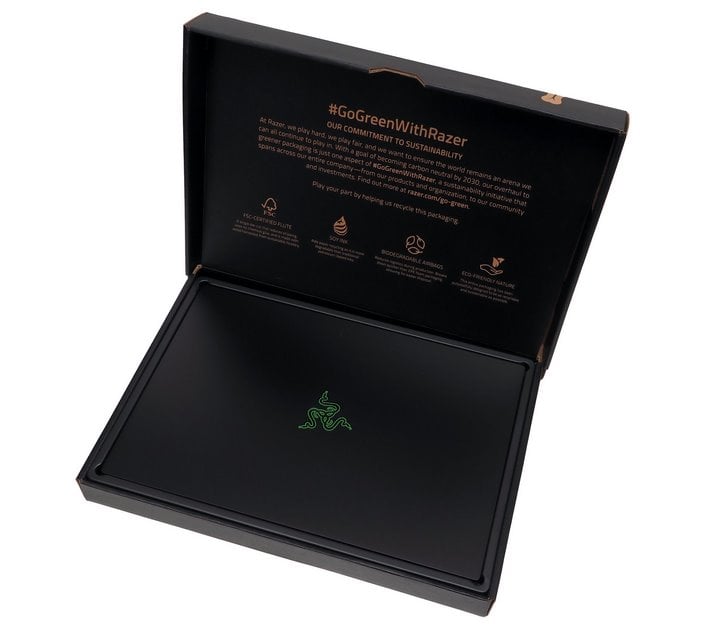 The Razer Blade 16 we'll be featuring here is powered by an Intel Core i9-13950HX processor, paired to NVIDIA's current flagship
GeForce RTX 4090
mobile GPU. The CPU is a 24-core (32-threads) part, which can boost up to an impressive 5.5GHz, and is outfitted with 36MB of L3 cache. The GeForce RTX 4090 in the system targets a stout 175W maximum graphics power, and features a speedy 1,815MHz maximum boost clock, at least according to the driver control panel – Razer's specs state 2,040MHz. The GPU is paired to 16GB of dedicated GDDR6 memory operating at 18Gbps. Note, however, that the mobile GeForce RTX 4090 is based on the AD103 GPU, similar to a
desktop-class RTX 4080
, and packs 9,728 CUDA cores. There's also 32GB of DDR5-5600 memory on board, running in a dual-channel configuration, along with a pair of 1TB SSSTC CA6-8D1024 (formerly Lite-On) PCI Gen 4 NVMe SSDs.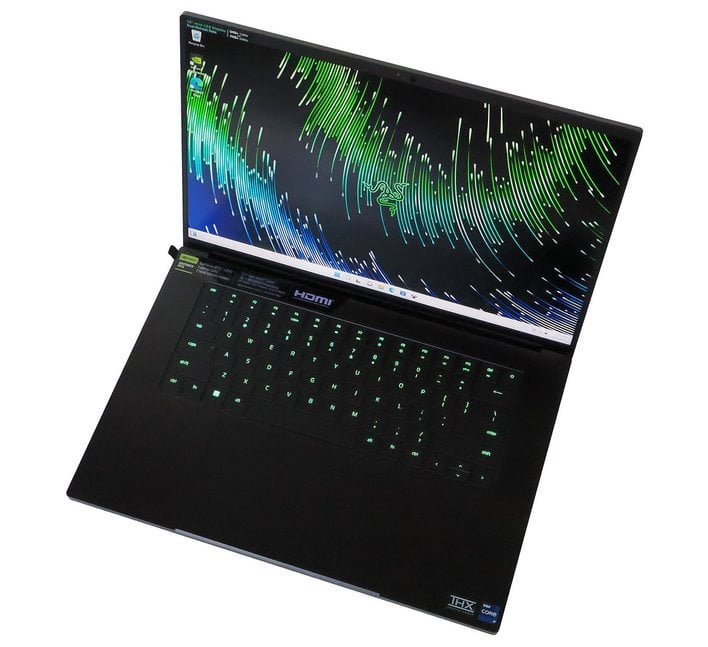 In terms of connectivity, the only thing missing is wired Ethernet. There's an Intel Killer AX211 Wi-Fi 6e wireless network and Bluetooth 5.2 controller, and since this system is based on Intel's latest 13th gen Core mobile platform, all of the IO goodies you'd expect are also present, including PCIe 4, Thunderbolt 4 and USB-C 3.2 Gen 2.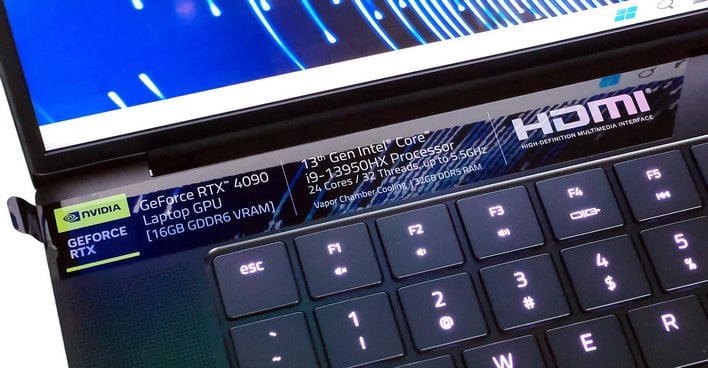 Razer Blade 16 Build Quality & Design
The Razer Blade 16 is a new platform, but it does borrow many design cues from its predecessors. Although it is a high-performance gaming system through-and-through, the Blade 16 has an understated aesthetic, with the green Razer logo in the lid and perhaps the green USB-A ports providing the only external cues that this machine is not an everyday, run-of-the-mill product.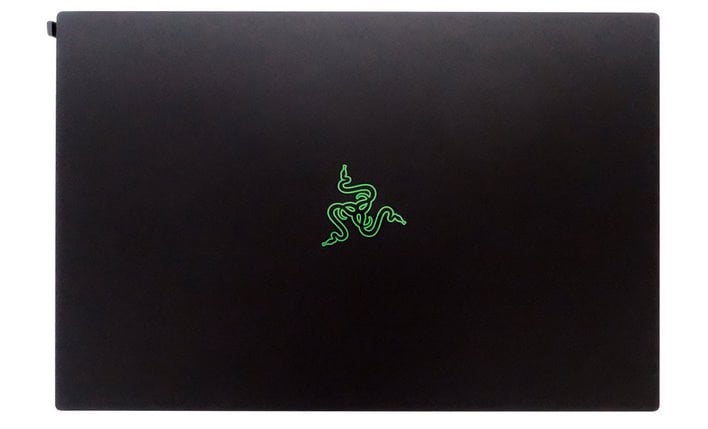 The Razer Blade 16 has a matte-black anodized finish all over its aluminum body that does a decent job of resisting fingerprints, though nothing can repel the ooze from these Italian mitts. The machine is super-clean from almost every angle, with no visible venting anywhere except for the bottom. When resting on a desk or table, the Razer Blade 16 is a black beauty, with crisp lines and subtle green accents.
We think the Razer Blade 16 looks great, but the aluminum unibody construction on the system also feels great. The
Razer
Blade 16 is rigid and exudes a premium feel. The entire chassis measures 21.99 mm x 244 mm x 355 mm (0.87" x 9.61" x 13.98") and weighs in at just over 6lbs. At that weight, the Razer Blade 16 isn't an ultraportable by any means, but it's not particularly large for a powerful gaming notebook either. In fact, it's only about 1.5 inches wider and deeper than the 13" ultrabook I carry around when travelling.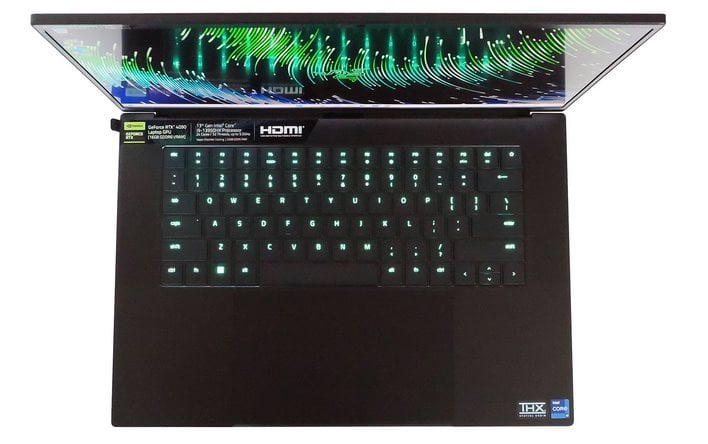 Except for the per-key RBG backlighting, opening the lid doesn't reveal anything garish or over the top like some other gaming notebooks. The keyboard deck is home to a quality, decent-sized keyboard, which is flanked by large speaker grilles on both sides and an extra-large, precision glass touchpad beneath. We found the keyboard to be surprisingly nice to type on and the touch pad feels excellent. It does a great job with palm rejection and gesture input, but we did experience some pointer drift and the virtual left and right mouse button locations need to be wider. We often tried to left-click on something, only to find the system uncooperative – we had to move our finger a bit more to the left to get it to click reliably. The tactile feedback with the touchpad is great, though. We just had to get used to it and position our fingers properly.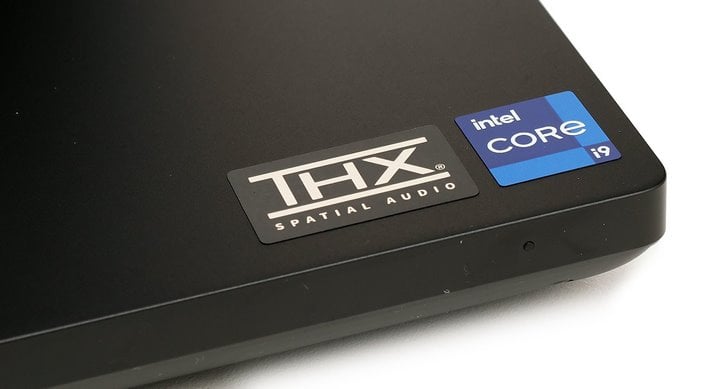 Underneath the speaker grilles on the keyboard deck (and some additional grilles on the bottom), is a quad speaker setup that sounds excellent for a laptop this size. This system is packing 4-speakers – 2 tweeters and 2 subwoofers – with support for THX Spatial Audio, which also works when using headphones. The integrated speaker system isn't going to shake a room, but it outputs high-volume, distortion free audio that sounds great for a machine this size. Continuing on the audio front, there's also a pair a microphones built-in, which complement the integrated 1080p webcam and Windows Hello compliant IR camera.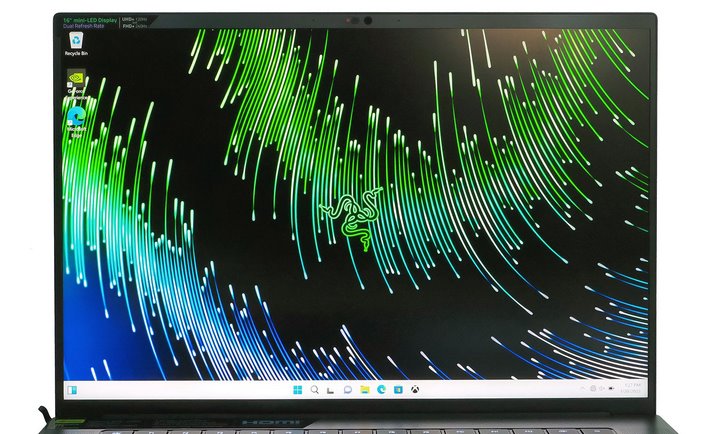 That webcam sits above an absolutely beautiful display. There are multiple display options available from Razer, including a 240Hz QHD+ option. Our review machine, however, features what Razer is calling a "dual-mode" display. This 16:10 panel can operate at 240Hz with an FHD+ (1920x1200) resolution or 120Hz with a UHD+ (3840x2400) resolution, and offers a <3ms response time.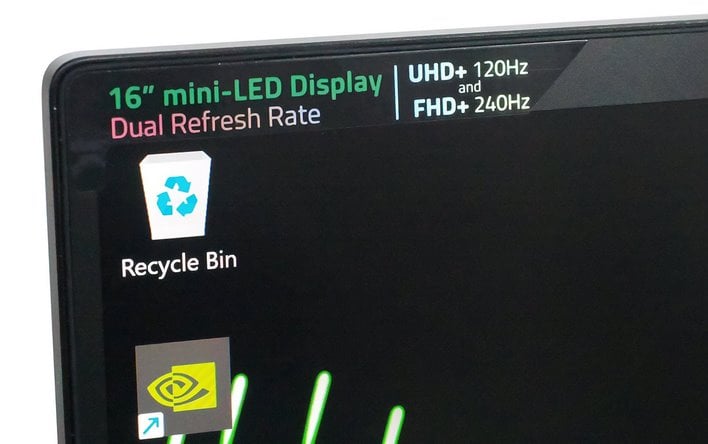 The display is also backlit by mini-LEDs and supports up to 1000 nits of brightness (HDR 1000 supported), with G-Sync variable refresh support, and 100% DCI-P3 color gamut coverage. Uniformity, saturation, contrast, and viewing angles are top-notch, and its relatively high refresh rates (at either resolution), result in smooth animations both on the desktop and while gaming. This display easily stands out from other notebooks – it is excellent.

Ports on the machine include a proprietary power port, dual USB 3.2 Gen 2 Type A ports, a single USB 3.2 Gen 2 Type-C port, and a 3.5mm Headphone / Microphone combo port on the left side, and a UHS-II SD Card Reader, Thunderbolt 4 Port (USB Type C), an HDMI 2.1 Port, and Kensington Security Lock on the right. A tiny power LED adorns the front edge (at the lower, right), and the rear of the machine is devoid of any features.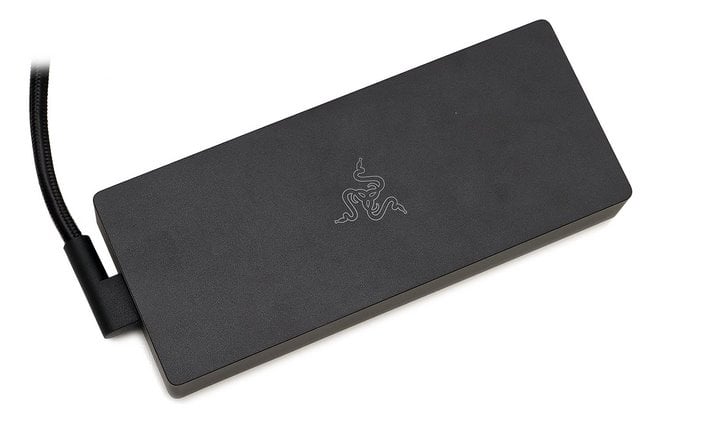 Powering the Blade 16 is a 95.2whr battery. It's not the largest we've seen in a gaming notebook (the MSI GE76 Raider has a 99.9whr battery), but it's plenty stout, especially considering battery life isn't a top priority on high-powered gaming notebooks. To charge that battery and power the Blade 16, Razer includes a 330 watt power brick. The company employs GaN technology in the included adapter though, so it is not excessively large or heavy. The overall design language of the system carries over to the power adapter as well.
Razer Blade 16 Software Experience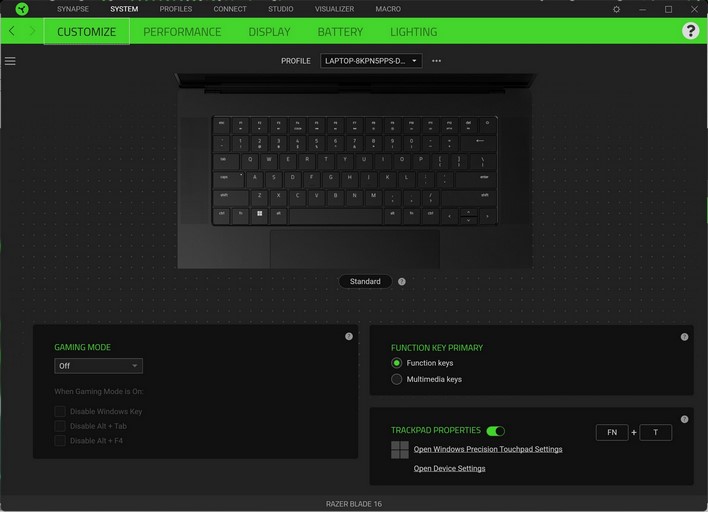 To configure all of the powerful hardware and customizable options in the Blade 16, Razer includes its proprietary Razer Synapse software. Thankfully, the Windows 11 Home OS image wasn't loaded down with any noteworthy excess bloat or nagware.
Razer Synapse is where users can configure the customizable lighting in the system, tweak performance profiles, link social media accounts, and access a number of studio features for streaming and capturing game footage, among a number of other things. Performance profiles while plugged in and on battery can be customized, but Balanced and Silent presets are available out of the box.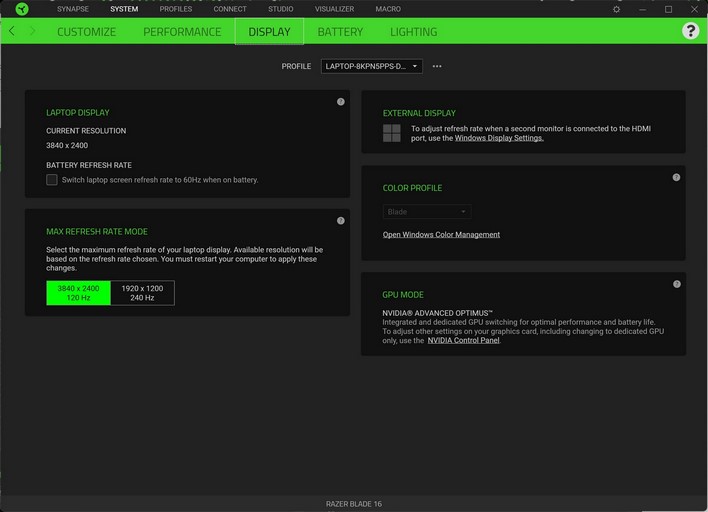 Razer Synapse has an additional trick up its sleeve, too. The app is always running in the system tray, and when you launch a game, it will automatically pause or shut-down unnecessary background tasks to ensure the maximum amount of RAM and CPU resources are available for your games. Normally, we're not too high on apps like this messing with a system, but we didn't encounter any weirdness on the Blade, except for some longer-than-expected load times (for Synapse – not games) and as you'll see in just a bit, performance is stellar...
Related content