Samsung Galaxy Book2 Pro 360 Laptop Review: Svelte Stunner
Samsung Adorns Intel's Alder Lake 12th Gen Core In Stunning AMOLED Thinness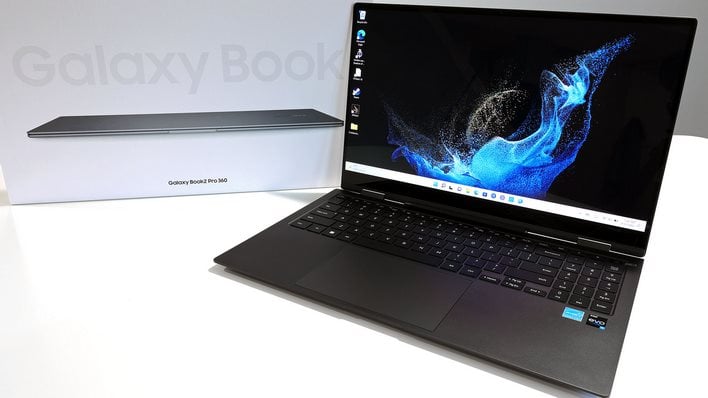 Samsung made a splash recently as one of the first laptop manufacturers with a Spring refresh powered by Intel's new
Alder Lake-P
12th Gen Core processors for mainstream thin and light laptops. Targeted at a class of machines Intel calls the "Performance Thin And Light" category, these 12th Gen Core chips drop into a 28 Watt power envelope, with 12 and 10-core options that sport up to 4 Performance cores and 8 Efficiency cores, and the promise of strong performance-per-watt for a top-shelf experience. In kind, Samsung's
GalaxyBook Pro 360 impressed
the heck out of us last year when it debuted, with its gorgeous Super AMOLED display, super-svelte, wafer-thin 11.9mm Z-height and luxurious Mystic Navy-colored all-aluminum chassis.
So, what happens when you meld Intel's new 12th Gen Core series platform with a proven and highly regarded laptop design like the Samsung Galaxy Book series? Say hello to Samsung's new Galaxy Book2 Pro 360. Think of this machine as physically similar to last year's model, but with a few key upgrades and yes, all of the new platform goodness that Intel Alder Lake brings with it. Weighing in at just a hair over 3 lbs -- which is kind of ridiculous for a laptop with a 15.6-inch display -- the Galaxy Book2 Pro 360 again brings sleek, understated style in its Graphite, Silver and Burgundy finish offerings. However, the question is, is this machine's swank form backed-up by strong function as well?
Let's run down the specs, look at some key features and then we'll take this new Samsung Galaxy laptop for a spin around the HH test track...
Samsung Galaxy Book2 Pro 360 Key Features And Specs
Another notable upgrade here is that this year's model now sports an FHD 1080p webcam versus last year's 720p model. It also has built-in bi-directional AI-powered noise cancelling for its dual array mic setup that's supported over
Zoom
, Facebook Messenger, WeChat and WhatsApp. Finally, the camera also now has something call Studio Mode, with auto framing and face tracking, along with background blur, replacement and other effects for enhancing your video conference production quality.
Beyond these key upgrades, we are also treated to Intel's new 12th Core processor platform, and a 12-core, 16-thread Core i7-1260P CPU that boosts to 4.7GHz. As you'll see in the benchmarks on the following pages, this a major upgrade over last year's model and certainly over any Intel 11th Gen Core powered in this weight class. Also, the platform now brings with it support for LPDDR 5 system memory. And so, in short, Samsung took the opportunity not only to refresh the processing platform of the Galaxy Book2 Pro line, but also some key features that will make a notable difference in user experience and functionality.
Samsung Galaxy Book2 Pro 360 Display, Design, Build Quality And Features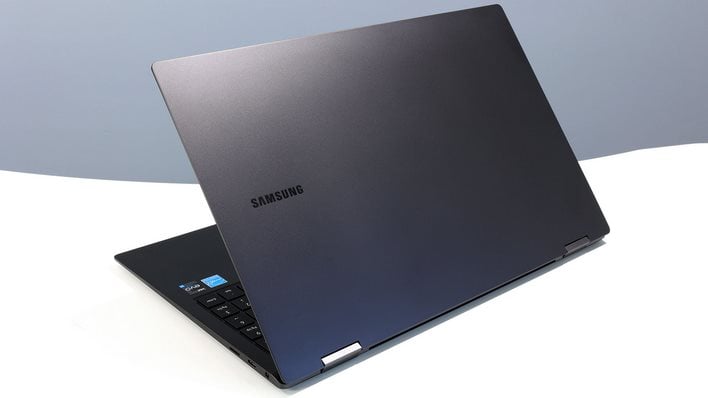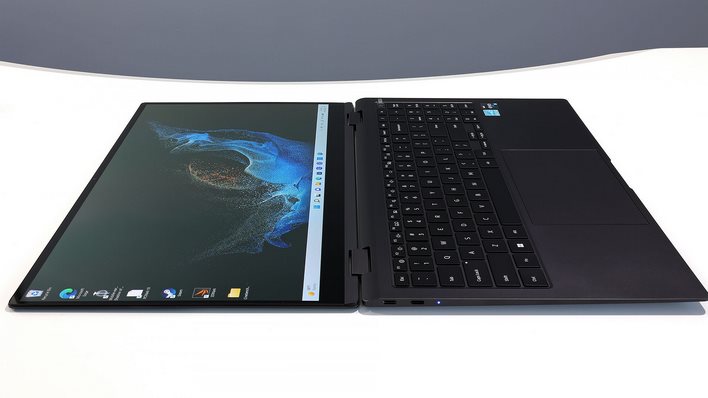 Samsung's Graphite colored aluminum shell doesn't completely resist fingerprints, but it does clean up fairly easily with a micro-fiber cloth. Those 360-degree swing hinges do allow you to use the machine in tablet mode of course, with S-Pen and touch support in the display, but honestly a 16-inch tablet can get kind of unwieldly for most people. Regardless, those hinges are still a valuable feature, as they also allow virtually unlimited positioning options for the display, whether you're standing in the kitchen with it angled up from the countertop, or crammed into tight air travel accommodations. And, as you can see, the display itself can handle some crazy viewing angles with minimal color shift and wash-out.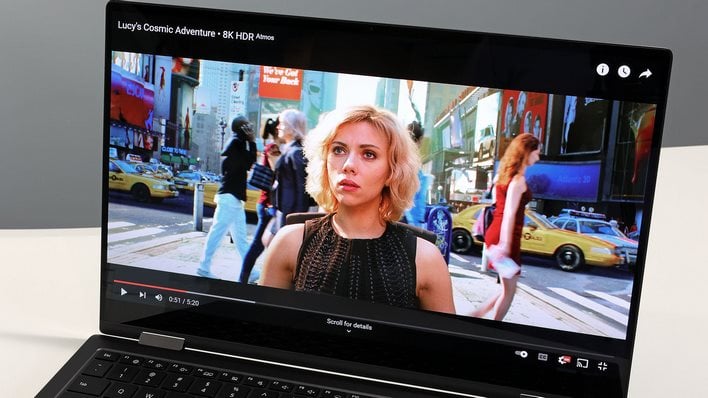 In a word, this laptop panel is simply gorgeous, especially when viewing HDR content. With true blacks reproduced from this
HDR
500 certified display, along with inky color saturation and a 1M:1 contrast ratio it's easily one of the nicest laptop displays we've ever laid eyes on. In addition, with a .2ms response time, anything you're looking at, from fast-moving action movies to gaming, looks silky smooth and bright. Samsung also highlights this display's Eye Care status claiming it outputs 70% less harmful blue light. Regardless, we can't say enough about how good this panel looks. It's not perfect, as it is a glossy display with a bit of reflectivity and glare at times, depending on ambient lighting, but that's about the only downside we noted. In a product like a laptop where the display is something you have to live with for the life of the machine, the Galaxy Book2 Pro 360's display is a delight.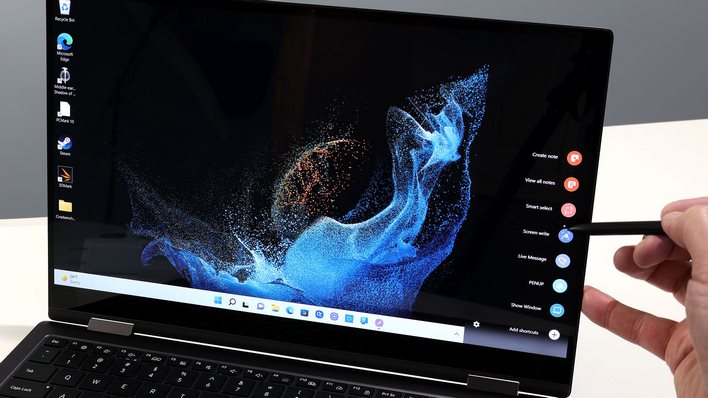 As you can see in the bundle pic above, Samsung also includes an S Pen with the Galaxy Book2 Pro 360 and, in conjunction with its highly refined software and experience honed on years of Galaxy Note and other device pen support, the S Pen is a truly useful tool for those that like working with a stylus in any number of ways. Samsung bundles
Fluid Touch Noteshelf
for free, for searchable handwritten notes with text conversion as well as various mark-up features. There's also a free trial of Clip Studio Paint and Samsung Penup (free) for sketching and coloring. All-in, Samsung's software, tools and utilities for the S Pen offers a truly full-featured stylus experience that goes far beyond just
Windows Ink
. Paired with the Galaxy Book2 Pro 360's touch display the combo adds a ton of additional functionality for content creation, note-taking and more.
Galaxy Book2 Pro 360 Keyboard, Ports And IO Connectivity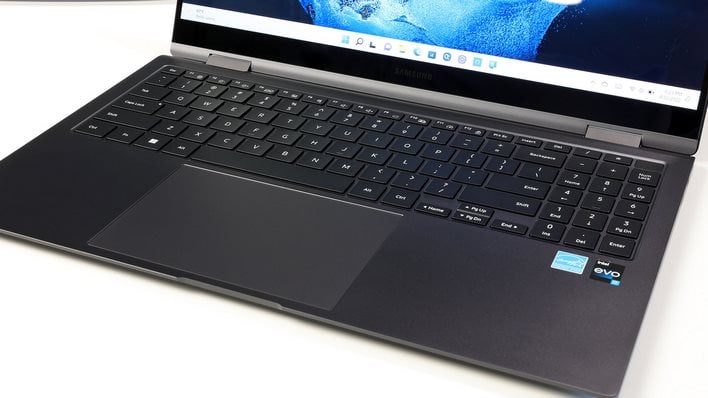 Though the keyboard of the Galaxy Book2 Pro 360 is a standard, backlit chiclet style setup, you do get a full numpad here which is a rarity these days in a thin and light machine like this. The typing deck is spacious and comfortable with virtually no flex, though key travel is a touch on the shallow side. That's not a huge hurdle to overcome, however, and if you're used to working on ultralight machines like this, the learning curve will be minimal. And yes, that touchpad is massive, with good palm touch rejection and responsive, accurate tracking.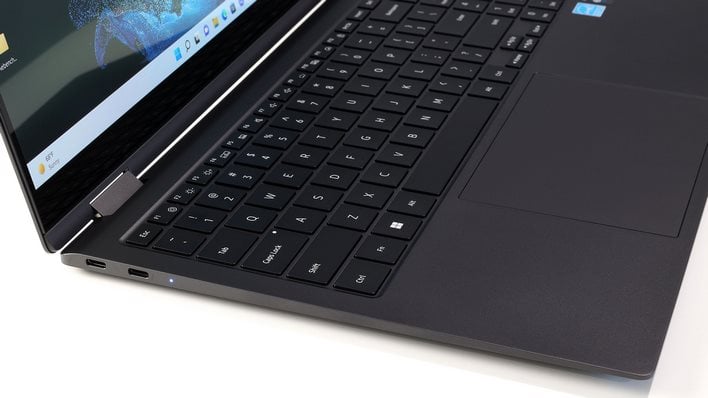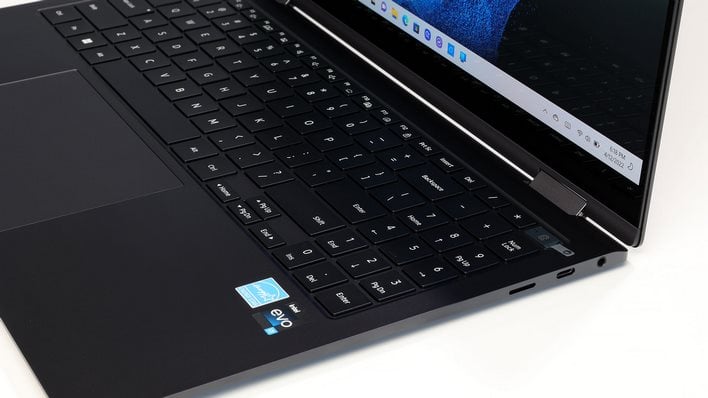 For ports, things are pretty spartan here, with three USB Type-C ports, one of which is enabled with full
Thunderbolt 4
40 Gbps throughput. That should be enough connectivity for most mainstream users, however, even if a couple of dongles are in order for legacy devices. You also get a microSD card slot, thankfully, which seems to be all too rare these days (Lenovo we're looking at you), and a headphone jack. There's also a fingerprint reader (yes we left the sticker on), integrated into the power button on the top right corner of the machine, for biometric secure login. At this point it's obvious why Samsung decided to work with only the thinnest of port profiles for the Galaxy Book2 Pro 360. With only just 11.9mm of thickness to work with, in only the rear of the machine, there just isn't a lot of meat to work with here. Regardless, dial in some Intel 802.11ax Wi-Fi 6E connectivity and Bluetooth 5.1 and no matter what you're trying to connect to, this laptop has enough IO options on both side edges to get the job done.
And yes, you can charge this laptop with its included 65 Watt fast charger (40% charge in 30 minutes) from either side USB-C port as well. Simple pleasures, brothers and sisters, simple pleasures.
Samsung Galaxy Book2 Pro 360 Software Tools And Experience
The last piece of the puzzle here are the integrated Samsung software tools that add to the Windows 11 experience, rather than get in the way. For us, though on Galaxy phones One UI can sometimes do too much, trying to reinvent the wheel, instead of letting stock Android do what it does best. One UI Book 4 features on this laptop, generally speaking, are welcomed software hooks that help optimize Samsung's hardware to its fullest potential. There are basic functionalities, like dialing in power settings and fan speed profiles, to display calibration and Samsung's tighter integration with other mobile devices.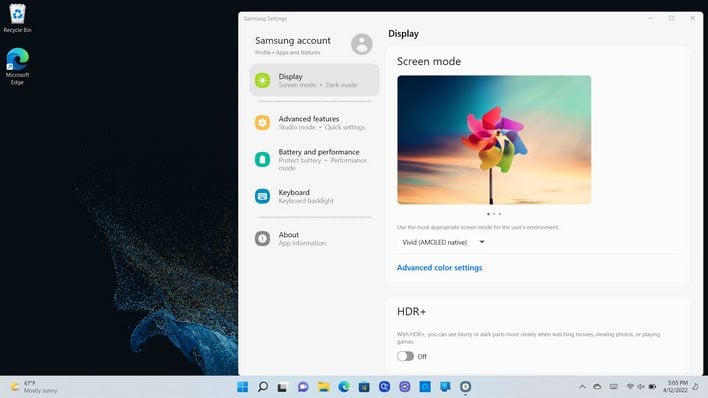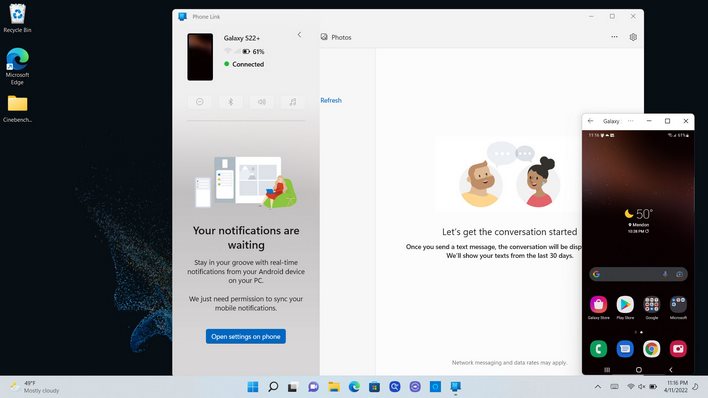 In fact, with the Galaxy Book2 Pro 360's excellent Super AMOLED display, the HDR+ toggle in Samsung Settings doesn't actually hose colors up like Windows can so often do. Instead it adds a touch more brightness and dynamic range to the desktop, but not so much that it's overpowering, meanwhile HDR video and game content really pops with even higher contrast in very bright and dark high contrast scenery.
In addition, with Samsung's baked-in Second Screen functionality, you can tap Samsung tablets like the
Galaxy Tab S8
and S7 for duplication or extended desktop mode, much like a multi-monitor setup, with full pen support as well. Finally, Samsung's Link To Windows feature in concert with Microsoft Windows 11 Your Phone functionality, offers a much more complete feature set than we've seen before with the usual Window Your Phone interface. In fact, in addition to typical text messaging and call answering, Samsung's Link To Windows offers full phone control (select Galaxy devices only) from apps, to copy and past file sharing. As you can see above, our Galaxy S22+ is fully represented here and controllable. This is a case where Samsung's work with Dex is paying dividends in a myriad of use cases, this time in driving full smartphone functionality on the desktop, and it works quite well. Bravo.
So yes, Samsung delivered a comprehensive feature set here with the Galaxy Book2 Pro 360, as well as true software innovations. But how does this new Intel 12th Gen Core-power
Evo
ultralight performance in the benchmarks? Let's have a look...
Related content