How To Play Baldur's Gate 3 And Diablo IV Now On Mac With Crossover 23
How To Play Baldur's Gate 3 Via Codeweavers Crossover 23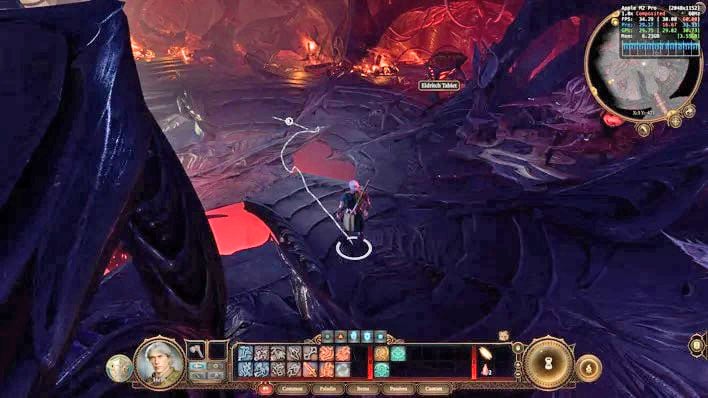 Codeweavers Crossover 23


Baldur's Gate 3 is out for PC already, but the Mac version is late to the party. Fortunately, Codeweavers Crossover 23 is here to save the day.









Play games on Mac that you couldn't otherwise
Doesn't require a Windows license
New DirectX 12 support

Performance isn't always smooth
Compatibility is hit-and-miss





---
Baldur's Gate 3
is
breaking records on Steam
, and it's a tremendous hit on the PC platform as a whole. Larian Studios' RPG hit is coming to other platforms, including PlayStation 5 and the Mac, but it won't be arriving for a bit. The PS5 release is expected in early September, and the macOS release will come sometime after. Mac gamers will be rewarded, though; aside from
Resident Evil Village
that was a part of Apple's big
game development push
in 2022, it's the first truly huge hit to come natively to Apple Silicon Macs like the mighty
MacBook Pro 16 with M2 Max
. It will likely be worth the wait.
But let's say you don't want to wait. Sure, you could play the early access version that's already available on macOS, but your progress won't transfer to the retail release. Or you could find a way to play these games on your Mac today, and transfer your saves via the game's
cross-save functionality
. If that's your decision, you're in luck. It just so happens that Codeweavers, the studio behind the promising Game Porting Toolkit that's part of macOS Sonoma, has brought DirectX 12 gaming to macOS with the release of Crossover 23.
Crossover is available directly from Codeweavers with a two-week free trial. So let's take a spin and see what it can bring.
Codeweavers' Crossover 23 And What Can It Do For macOS Ventura
Essentially, Crossover is built upon the Linux compatibility layer Wine, but it's a whole lot more than that. Like Proton on Linux (another platform for which Codeweavers has contributed a whole lot of code), Crossover brings additional enhancements focused on gaming. In particular, Crossover 23 adds support for DirectX 12 games. At the moment, Codeweavers says that this is done on what is essentially a game-by-game basis, but hopes that as features are implemented and bugs are fixed that more games will just work as intended. Codeweavers specifically calls out
Diablo IV
and
Diablo II
Resurrected
as the first DX12 titles, with support for more games coming soon.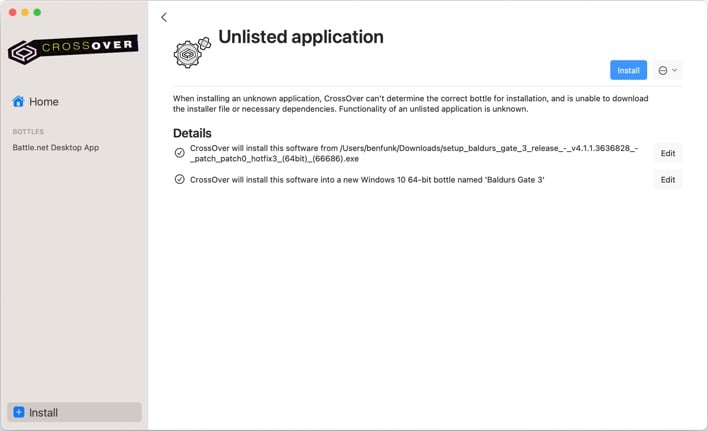 It's not just DirectX 12 that makes its way to the Mac, either. This release also added a bunch of new hardware features, including some preliminary support for geometry shaders and transform feedback on macOS Ventura or later. That fixes a whole slew of other titles that previously had glitchy or missing graphical elements, including
Street Fighter V
,
Tekken 7
, and
MechWarrior 5
.
Along with that, Crossover has a pretty slick front-end for creating bottles, or containers that have the necessary software components for running Windows applications on Linux and Mac. Codeweavers and the Crossover community have created configurations for many popular games or desktop launchers (like Steam and the EA app), downloadable directly through the frontend. Crossover can even grab the installer files from the publisher and start the process on its own. And if a game or app isn't already listed in the repository, manual installation is definitely an option -- this is the case for
Baldur's Gate 3
, for example.
As far as pricing goes, Crossover runs on a subscription model. A one-year subscription is $75, although until August 31 Codeweavers is offering 23% off with
promo code LEVELUP23
. Crossover subscribers do get a discount on upgrades, as well. That same discount does not apply to the lifetime subscription, which will run a cool $495. It's been around for over a decade, though, so dedicated Mac players have no doubt gotten their value out of the lifetime subscription by now.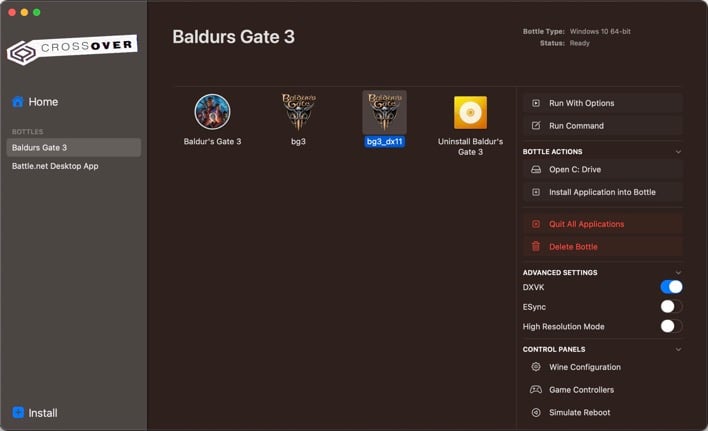 Installing Baldur's Gate 3 On A Mac
I bought my copy of Baldur's Gate 3 from GOG instead of Steam, so my installation process required downloading over 100 GB worth of files weighing in at 4 GB a piece. For gamers that bought the game on Steam, you can just make a Steam bottle, log in, and download like any other title. GOG's individual game downloaders can be downloaded by logging into the GOG service, picking the game, and selecting the manual installers. For games that have a Mac version, be sure to switch the drop-down in the top left to Windows; I downloaded the entire Early Access release in Mac format before noticing that widget.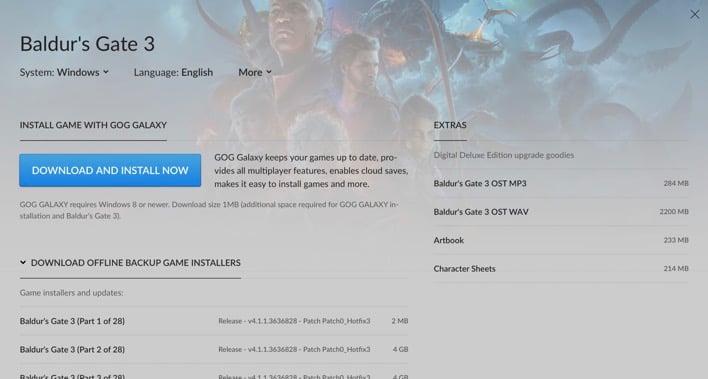 At any rate, we used the manual installation process. Still, it's pretty simple to install manually. Simply create the bottle to simulate your desired OS (We chose Windows 10), give it a name, and point it to your installer files. The bottle will get dropped in ~/Library/Application Support/Crossover/Bottles and fire itself up. From there on out, the installation process is pretty automatic, just like installing any other GOG game. We just accepted the defaults and let it install. Since the whole thing runs in x86 mode, Crossover uses a Rosetta 2 process to translate to the Mac's Arm64 native instruction set, and it takes a while. Copying 100 GB of files took about 45 minutes because the installer apparently only used one core on our MacBook Pro.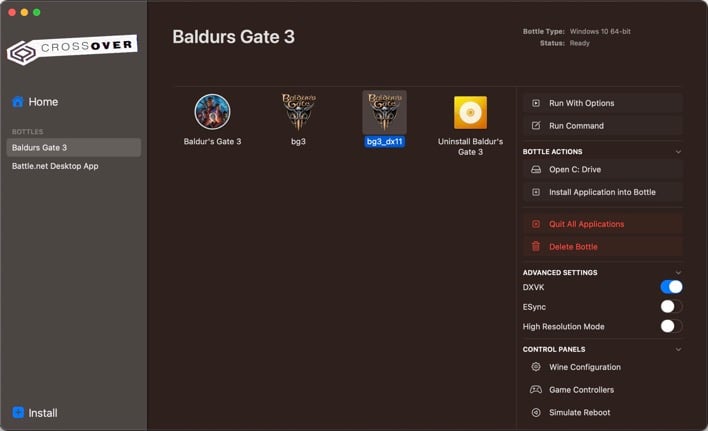 Once the installation is complete, just select the bottle in Crossover, then select the game shortcut, and fire it up. Or at least, you can try to -- remember how we said DX12 support comes on a per-game basis? That basis does not include BG3 since the game's primary renderer uses Vulkan. Unfortunately that version did not want to run, so instead, we have to manually run the DirectX 11 version of the game. It's easy to create a shortcut for this, however, by selecting the Run Command button on the right and then browsing to
C_drive/GOG Games/Baldurs Gate 3/bin/bg3_dx11.exe
. It then fires right up at that point and we can at least play the DirectX 11 version of the game.
A Look At Baldur's Gate 3 Performance Via Crossover 23
Once we're in the game, the obvious question becomes, "How does the game run?" We're going to take a look at performance on the
MacBook Pro 14 with M2 Pro
. Much like our experience running Diablo IV via the Game Porting Toolkit,
Baldur's Gate 3
and Crossover detect the native resolution of our 4K display to be just 2,048 x 1,152 since that's the "effective resolution" we selected for the desktop. Truth be told, we don't think it'd run great at 4K anyway, considering the M2 Pro's decidedly midrange GPU specifications.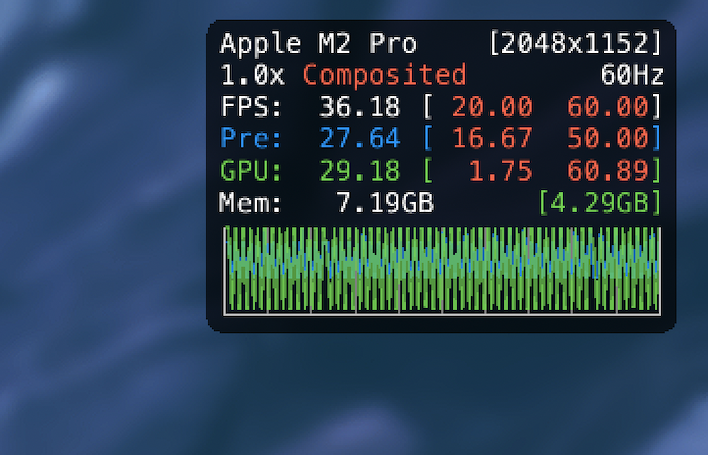 Regardless, we settled on the game's Medium preset at this resolution, and we played through the opening scenes of escaping the Nautiloid. Being my first time through, it took about 45 minutes to complete and get the hang of the controls, which was ample time to observe frame rates and ensure that it wasn't wildly janky. The good news is that the frame rate was pretty consistent throughout our run, averaging around 35 frames per second. It dipped as low as 30, and we never noticed it going lower, and maxed out at around 60 fps when it zoomed up close on a character for conversation.
Because BG3 is a turn-based RPG, hitting 35 fps in combat is adequate for folks who have no other options to enjoy playing the game. But we also need to know how it performs versus the native macOS build. Remember that the Early Access version is all that's available right now on macOS so it might not be fully representative of how the game runs the retail build. However, it was obvious right away that there are trade-offs for playing games via Crossover.
Baldur's Gate 3
just runs better as a native macOS application with Arm64 code.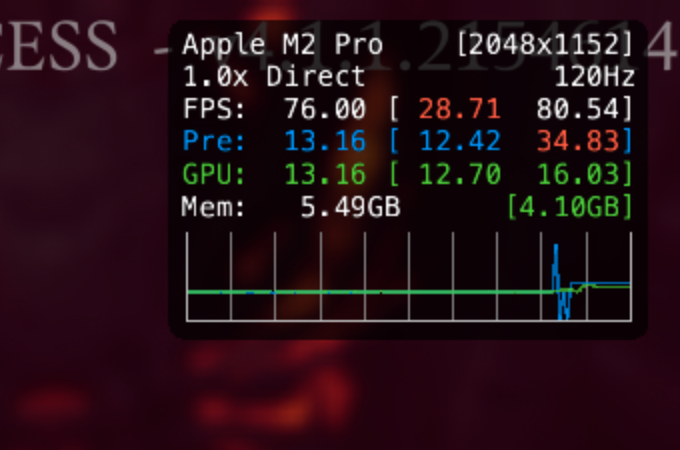 How much better does the Mac version run? When we first loaded the game and got started with the same resolution we the average frame rate in the Nautiloid was just about 45 fps, which itself is a nice jump, but we had expected a bit more. And then we dove into the options and discovered that the game had automatically selected the Ultra graphics preset, so the GPU was working much harder than before. Dropping the preset back down to Medium increased the average frame rate to around 75 fps, which was more than twice as fast. We found High to be a nice middle ground where the frame rate hovered around 60 fps and still looked nicer than it did at Medium.
Incidentally, a Windows 11 PC with a Core i7-12700K and a
Radeon RX 6700 XT
runs the game on the Ultra preset and the same 1152p resolution (which required setting up as a custom option in the AMD graphics control panel) at around 75 fps in the same area. Of course, this PC's processor consumes more power than the entirety of the MacBook Pro with its display and everything. It's not exactly a fair comparison, but it's the handiest comparison I could make on such short notice.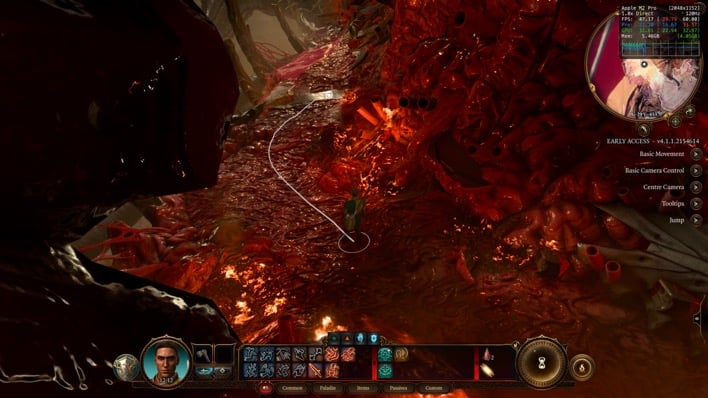 A quick side note: as we've said time and time again in Mac reviews going all the way back to the first M1 Mac mini, the Mac isn't a gaming platform. However, the performance we saw from another native title with impressive graphics, and this time from a title without direct Apple involvement like
RE Village
, was encouraging. Maybe macOS has some latent graphics capabilities that nobody else has managed to tap just yet. Chalk this up to yet another way that Larian Studios' latest title is simultaneously raising the bar for developers everywhere, and is quite an outlier compared to its western peers.
Baldur's Gate 3 Crossover performance is encouraging, even if performance isn't on par with the native application. We're not done testing just yet, though. Next we're going to take a rapid fire look at several other games that should be playable with Mac hardware.
Related content