Razer Hammerhead Pro HyperSpeed Review: Sleek ANC Gaming Earbuds
Razer Hammerhead Pro HyperSpeed Review: Stylish ANC Wireless Earbuds With A Gaming Edge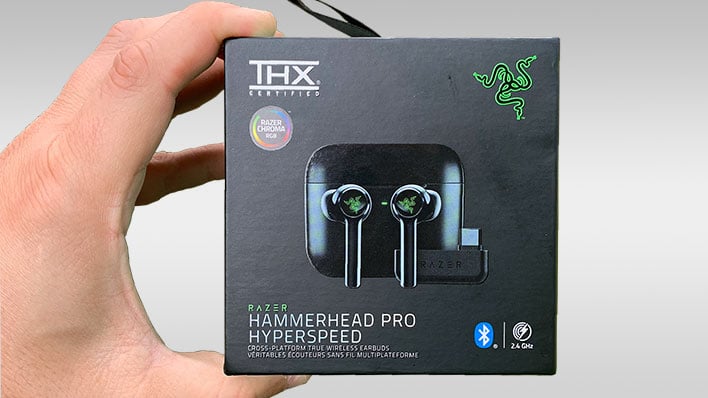 Razer Hammerhead Pro HyperSpeed: $199


Razer's Hammerhead Pro HyperSpeed earbuds not only look fantastic, they sound great, offer strong ANC performance, and come with a 2.4GHz dongle for low latency gaming on PC and console.







Premium Sound
Customizable EQ
Remappable Touch Controls
Adjustable ANC Works Well
Comfortable Fit (Includes 3 Sets Of Ear Tips)
Low Latency Multi-Platform Gaming Via 2.4GHz Dongle
Gaming Mode To Mute Notifications
Stylish Glossy Design With RGB

Middling Battery Life With RGB And ANC Enabled
Finicky Touch Controls
No Xbox Series X|S Support



---
Wireless earbuds with active noise cancellation are one of the hottest product categories in tech these days. Most of the major players in mobile have a vested interest in the category, including companies such as Apple (AirPods), Google (
Pixel Buds
), OnePlus (simply Buds), and Sony (WF-1000XM4/5), to name a few. But what many of the market's most popular earbuds lack is any kind of edge in gaming, unlike their headset counterparts—headsets designed for gamers are abundant. However, earbuds designed for gamers do actually exist, you just need to know where to look.
It should come as no surprise that Razer is one of the companies that offers wireless earbuds for gaming. No longer a newcomer to the space, Razer released its Hammerhead True Wireless earbuds in 2019, followed by a Pro variant in 2020. Then in late 2022, it introduced PlayStation and Xbox versions of its Hammerhead HyperSpeed earbuds. Now we have the
Hammerhead Pro HyperSpeed
, which Razer is pitching as the ultimate cross-platform wireless earbuds for gamers.
There's some overlap between the True Wireless and HyperSpeed product lines. Without taking a deep dive on each one, the takeaway is that the Hammerhead Pro HyperSpeed is the latest addition to Razer's growing wireless earbuds lineup, and also the most advanced for gamers, in terms of features and offering the lowest latency. But are they any good? In a word, yes. In more words, keep reading to find out why these earbuds should be on your short list...
Razer Hammerhead Pro HyperSpeed Contents And Design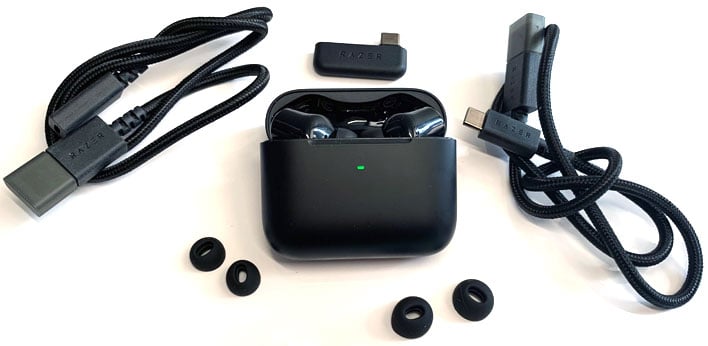 In addition to the earbuds themselves, Razer includes a wireless charging/carrying case, three sets of silicon ear tips (small, medium, and large), a 2.4GHz dongle with a USB-C connector, a braided USB-A to USB-C charging cable, and a braided USB-A to USB-C adapter cable.
The charging case is
Qi compatible
so you can use it with your existing Qi-enabled charging mat, or even a stand-up charger. Alternatively, if you want to stick with the Razer theme, you can purchase Razer's Charge Pad Chroma, a fast 10W wireless charger with an RGB underglow.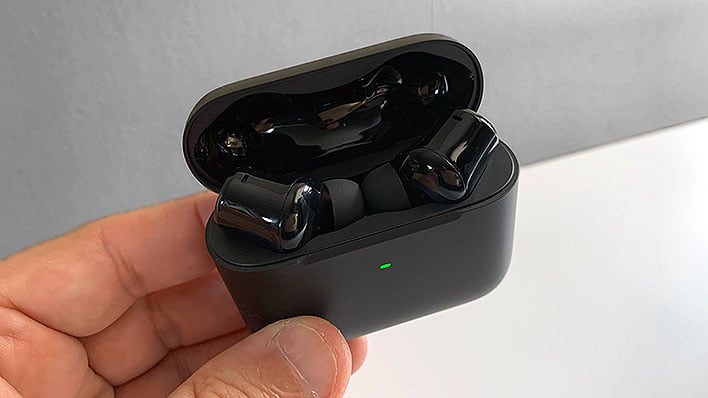 Either way, the included charging case is rated to provide up to 24 hours of additional battery life. It's wireless too, which is a first for Razer in its earbuds lineup. The actual earbuds, meanwhile, are rated to deliver up to 6.5 hours of listening time, for a total 30.5 hours. That's based on Razer's own testing with RGB lighting and ANC disabled, and at 50 percent volume in iOS.
There are a litany of combinations that affect battery life, the shortest being a max of 14 hours (3 hours on the earbuds and 11 hours from the case) with RGB lighting and ANC enabled while using the 2.4GHz dongle, or 16.5 hours (3.5 hours on the earbuds and 13 hours from the case) via Bluetooth under the same conditions.
In practice, your mileage will vary depending on how you use them—we got around 3 hours with the volume cranked up and with both RGB lighting and ANC enabled.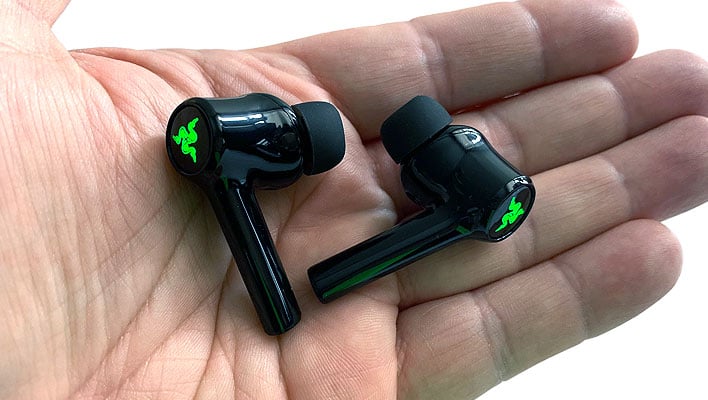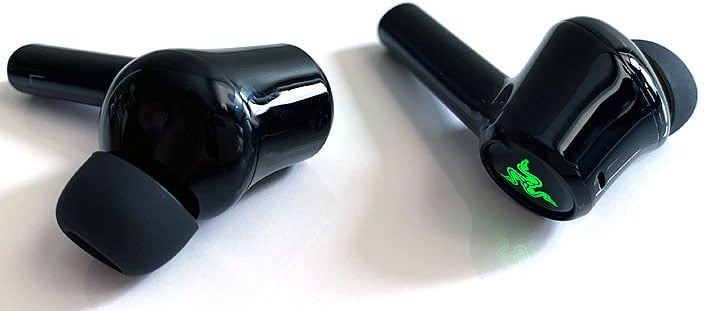 Razer's Hammerhead Pro HyperSpeed wireless earbuds are a rare product that look as good in person as they do in rendered press images. Our own photos may not do them justice, but these earbuds exude a sleek and premium aura with their glossy black casing that comprises the entirety of each package, from the main housing and on down the stem. Razer's logo on the back of each earbud is the finishing touch that helps these further stand out from the sea of AirPods, various copycats, and every other offering. And it looks stylish whether you enable or disable the RGB lighting.
What really makes the Hammerhead Pro HyperSpeed stand out, however, is the inclusion of a 2.4GHz wireless dongle. This is the key to achieving lower latency audio while gaming, so that what you see syncs up with what you hear.
That's traditionally been the Achilles' heel of Bluetooth and why so many wireless gaming peripherals gravitate towards using a 2.4GHz wireless adapter, as is the case here. That said, these earbuds support the Bluetooth 5.3 protocol and can be used simultaneously with the 2.4GHz dongle (more on that in a moment).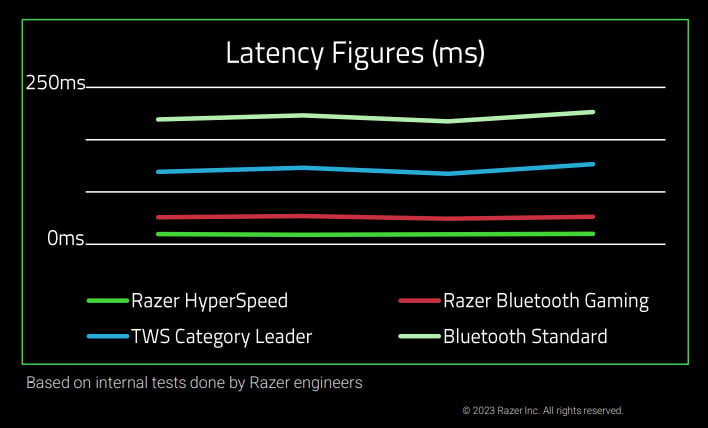 Source: Razer
If you decide to forgo the dongle entirely, Razer claims a special Gaming Mode will deliver a lower latency experience than its competitors via Bluetooth, to the tune of 60ms "on gaming platforms that are purely Bluetooth audio enabled." Gamers will want to make room for the compact dongle if possible, however, which drops the latency to below 40ms.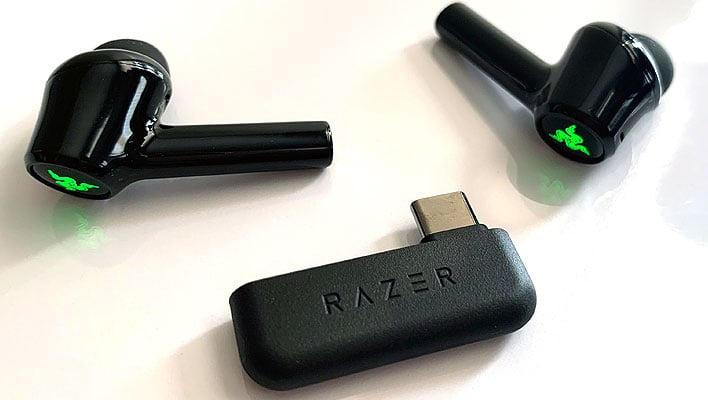 We tested the dongle on a variety of supported platforms including a Windows 11 PC, PlayStation 5 console, and a Nintendo Switch handheld. In each case, we had no issue connecting to the dongle even as we moved from one platform the next. Unfortunately, it's not compatible with the
Xbox Series X|S
nor does Microsoft's latest-generation game console support Bluetooth peripherals. There are ways around this, such as plugging a 3.5mm Bluetooth transmitter into your Xbox's controller, but we can't vouch for this method.
Interestingly, Razer's previous generation Hammerhead Hyperspeed (non-Pro) earbuds came in two flavors—one themed for the PS5 and the other for the Xbox Series X|S. The latter version came with an Xbox toggle on the 2.4GHz wireless dongle so that it would work with both consoles (the PS5 version did not), but Razer evidently decided against that approach with its new Pro earbuds.
That's a bummer for Xbox owners, but a non-factor for everyone else.
Razer Hammerhead Pro HyperSpeed Comfort, Software And Sound Quality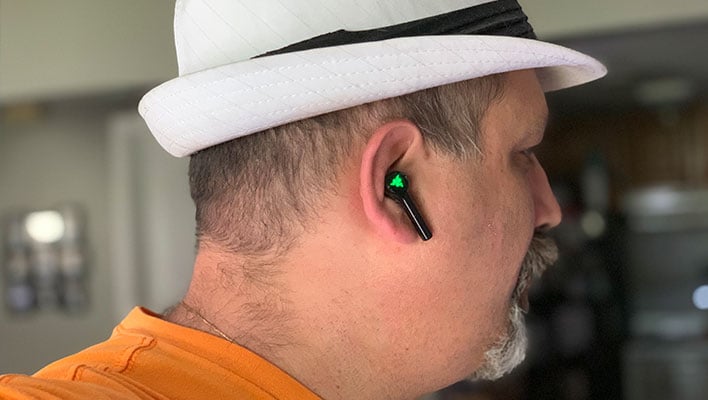 We found the Hammerhead Pro HyperSpeed to be as comfortable as Apple's AirPod Pro earbuds and we had no issue wearing them for extended periods. Razer's earbuds are slightly larger overall, though this isn't a detriment. In fact, the more pronounced angle of the eartip portion allows for a fit that is more snug compared to the AirPods—we never felt Razer's earbuds were at risk of wiggling loose or falling out.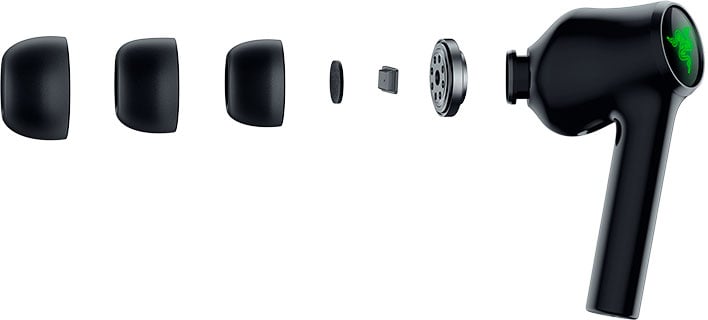 While we didn't disassemble the earbuds, Razer states they're powered by 10mm drivers (one in each earbud) with a frequency response range of 20Hz to 20kHz. They also feature an IPX4 water-resistance rating, which means you can work out and break a sweat with these, and/or take a stroll in light to moderate rain without ruining the earbuds.

We suspect most people will find the included eartips to be sufficient. Should you decide to venture into aftermarket territory, such as memory foam or something else, you'll want to look for ones that have oval-shaped contact points. Regardless of which tips you use, Razer's app includes a fit test designed to detect audio leakage using the built-in microphones. You can use this as a gauge to ensure you're getting the best audio and noise cancelling performance, which is especially handy if you're unsure which size tips to use.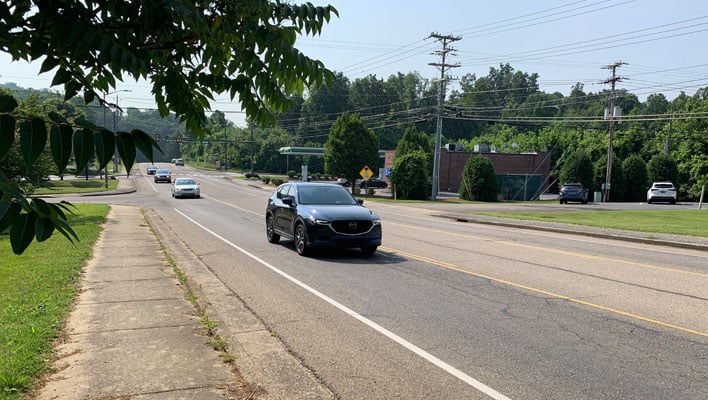 The hybrid active noise cancellation on these earbuds works well. Based on our own testing, we found it on par with Apple's first generation AirPods Pro (we haven't tested the second-gen model yet). These earbuds are effective at muting ambient noise, and can even soften louder environments to an extent. Part of our testing included walking down a street as cars come zooming by. We could still hear a whoosh as vehicles made their pass, but the ANC helped keep the focus on the music. This was true even when motorcycles would rumble down the street. On less busy streets, cars were able to sneak up on us while jamming to our playlist (so be wary of your surroundings when using ANC).

We tested the ANC at its max setting, though you can adjust how aggressive it suppresses outside noise. Likewise, you can have it amplify your surroundings, or turn it off altogether.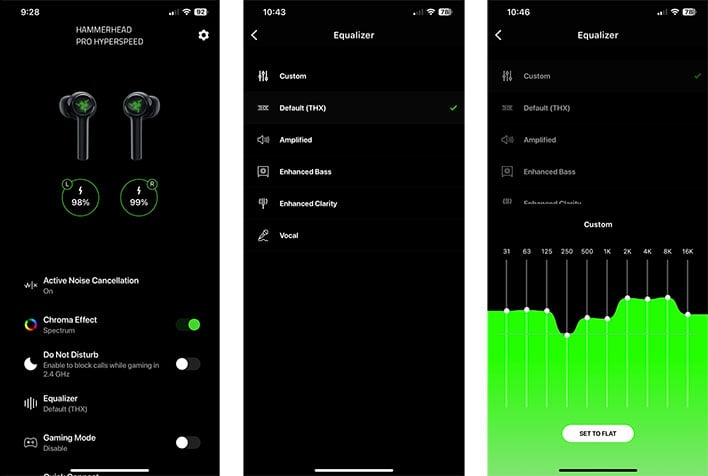 Razer's mobile app is intuitive and easy to navigate. The main menu offers up a quick glimpse of each earbud's battery life, which were always within 1 percent of one another during our testing, and from there you can dive into a spattering of controls and customization options.
The most useful is the equalizer. Razer's out-of-the-box THX preset is the default and handles a range of music genres with aplomb. Whether it's the simulated vinyl noise in Theory of a Deadman's Hell Just Ain't the Same, Kid Rock's raspy notes in Fifty, or the instrumentals underscoring George Jones' smooth and shifting vocals in The Right Left Hand, the Hammerhead Pro HyperSpeed earbuds proved up to the task in our testing.

It's also clear that Razer opted to emphasizes the bass, though we didn't find it overpowering. These earbuds are able to thump when firing up something like Zak Meow's Warlock, and there's an Enhanced Bass preset if you really want to thump your eardrums. Overall, however, we were content to stick with the default THX profile.
For those who have a more experienced ear and are able to navigate EQ controls, you can fine tune the listening experience to whatever suits you best. Our only real complaint is that you're limited to a single custom profile, rather than being able to save multiple ones for different music genres.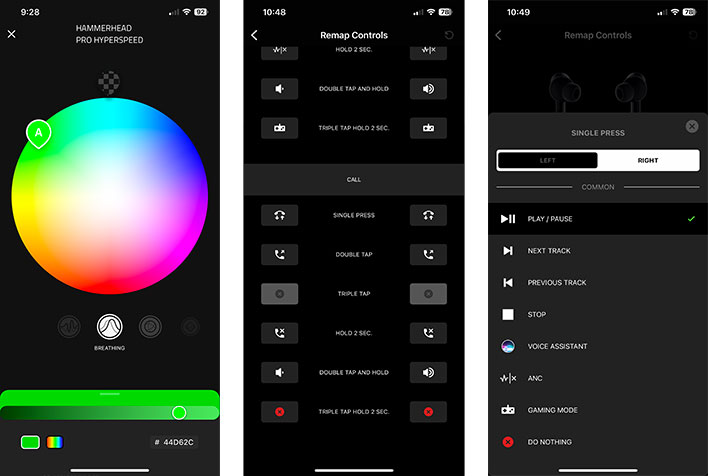 In addition to a customizable EQ, you can configure the RGB lighting (this is Razer, after all) and remap several of the touch controls. Arguably the best part about this is you can configure the touch controls separately from one another on each earbud.
The downside is that it can be a little overwhelming. Your options include tap, tap and hold for two seconds, tap and hold for four seconds, double tap, double tap then hold for two seconds, triple tap, and triple tap and hold for four seconds. Unfortunately, adjusting the volume up and down is permanently tied to the double tap and hold gesture, and it can be finicky until you learn to get the hang of things. Also, this is all tied to the back of each earbud, as opposed to making use of the stems.

Still, we prefer having an abundance options rather than having too few. And being able to remap most of the controls is a potentially big advantage over Apple's AirPods, depending on how you normally use your earbuds.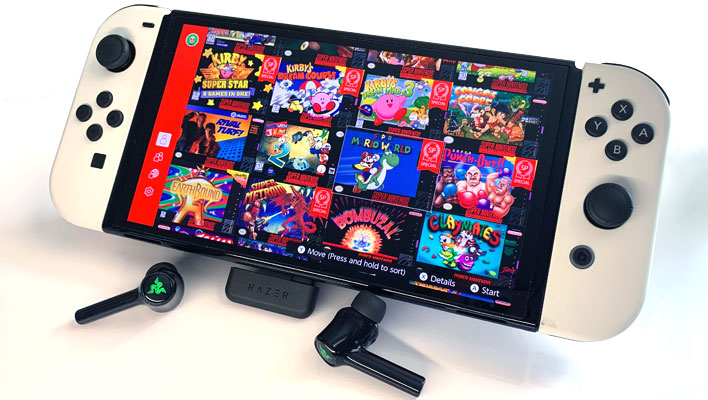 As adept as these earbuds are at playing back music, Razer's real ace in the hole is its 2.4GHz dongle. The best part about this is it's not an either-or affair. That's to say, you can have these earbuds connected to your mobile phone via Bluetooth while still using the 2.4GHz dongle on your PC or compatible console. Utilizing a dual wireless connection means you can still field phone calls and notifications while gaming at a lower latency setting than what Bluetooth can provide, even in Gaming Mode.
That could have also ranked as a drawback, except Razer thoughtfully sidesteps potentially unwanted distractions with a Do Not Disturb toggle. Flipping it on silences incoming phone calls and notifications on the Bluetooth side.
We don't normally use earbuds for gaming, but these are certainly up to the task. Whether it's an exploding grenade or enemy footsteps, or even just ambient sounds, the Hammerhead Pro HyperSpeed do a superb job at handling in-game effects. A high-end headset will still have the edge, but with a snug fit and the ability for these earbuds to hit hard when needed, we didn't feel like we were missing out while using these earbuds.

Razer Hammerhead Pro HyperSpeed: The Verdict
Quite often we'll run into products that are solutions in search of a problem. This isn't one of them. Most wireless earbuds on the market aren't suitable for gaming, as they just can't deliver the kind of low latency needed to be competitive. Razer's Hammerhead Pro HyperSpeed earbuds not only deliver on this front, they're equally capable of being your go-to buds for listening to music and working out.
For gamers, the compact 2.4GHz wireless dongle is a distinct advantage over the majority of earbud options currently available. Rather than present a latency issue for gaming, as is inherent in Bluetooth, it solves the problem while offering seamless connectivity and cross-platform mojo. The exception—and it's a big one—is the Xbox Series X|S. That's not entirely Razer's fault, as
Microsoft
employs a proprietary wireless protocol for its latest generation game consoles, which also lacks Bluetooth support (taking away both connectivity options). Still, it's a rare disappointment on an otherwise outstanding product.
Xbox aside, It's smooth sailing on other platforms, as no such compatibility issues exist on Windows PCs and consoles like the PS5 and Switch. Furthermore, the ability to field simultaneous Bluetooth and 2.4GHz wireless connections is a boon, as is the ability to mute Bluetooth notifications if you need to fully concentrate on that boss battle.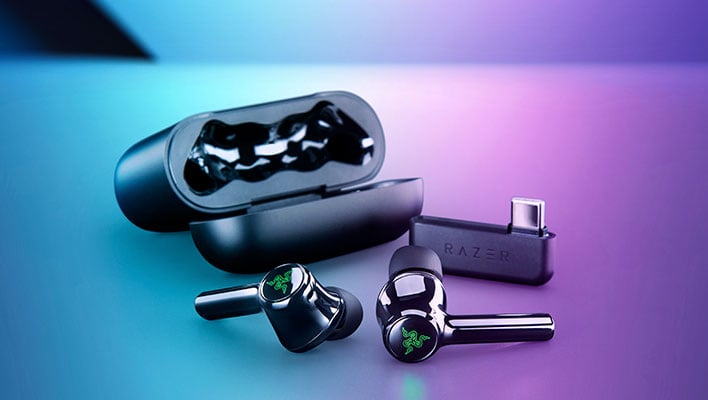 Let us be clear, though, these earbuds aren't limited to just gaming. Razer's Hammerhead Pro HyperSpeed earbuds deliver a premium sound stage with a customizable EQ and several preset audio profiles, including a THX tune. They hit hard without struggling to belt out high notes, and there's plenty of volume on tap (enough to make your ears ring if you don't dial it down on occasion). The active noise cancellation works well, too, and these are some of the most attractive earbuds we've seen (with or without the RGB lighting turned on).

All of this is reflected in the price at
$199.99 MSRP
. That's not cheap, but the Hammerhead Pro HyperSpeed earbuds sound just as good or better than the competition in this price range, while offering a superior fit compared to Apple's AirPod Pro earbuds (1st Gen—we haven't tested the 2nd Gen ones yet) and a gaming edge that few earbuds can deliver.
Simply put, Razer's Hammerhead Pro HyperSpeed are the earbuds to get if you're gamer, and are still worthy of consideration even if you're not.
Related content