Apple MacBook Pro 14 With M2 Pro Review: Fast And Efficient
Apple MacBook Pro 14 Inch 2023: Extreme Power And Portability With The M2 Pro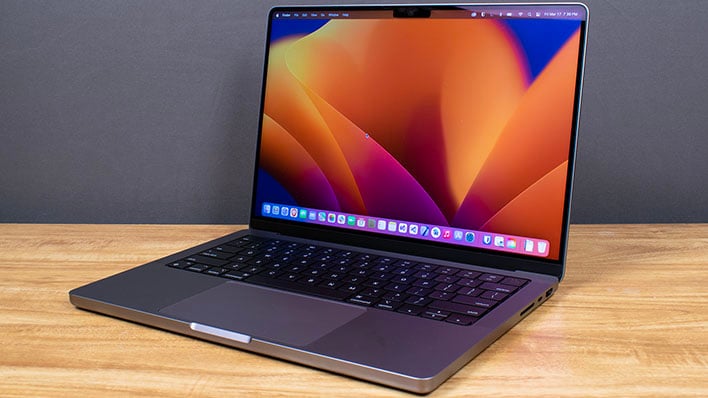 Apple MacBook Pro 14" (2023) with M2 Pro - Starting at $1,999


The latest MacBook Pro doesn't blow the 2021 model out of the water, but for those clinging to legacy x86 Apple hardware, it's a compelling upgrade.









Excellent performance
Unrivaled battery life
Premium materials and design
Beautiful 120Hz display with mini LED brightness
Solid keyboard with biometric authentication
Seamless integration with other Apple devices

macOS is not for everyone - especially gamers
No x86 means no native Windows installs (VM only)
Soldered storage and RAM
Otherwise gorgeous display marred by notch






---
We'll just come right out and say it: the 2023 14" MacBook Pro isn't revolutionary, but that's not necessarily a bad thing. Apple rocked the computing world when it announced its transition away from x86 processors and to its own Arm64-based designs at the virtual WWDC in the summer of 2020. But that was almost three years ago, and today we're getting around to reviewing the second iteration on this particular design.
While the external design might be familiar, that's a good sign. After all, we'd be hard pressed to tell apart the
first generation
of Lenovo's ThinkPad X1 Carbon from
the 10th generation
because the design works. And that's true here, too -- Apple's design works. So let's hope that the internals are worth the time, effort, and money. Apple didn't provide review units, so we're paying for this out of pocket. As such we get the full retail experience, with no chance of any funny business. That said, let's dig in and meet the 2023 MacBook Pro...
Apple MacBook Pro 14" (2023) Specifications
We were suitably impressed by the M1 Pro found in the late 2021 MacBook Pro, and the
recently-released M2 Pro
amps things up considerably -- more cores, more clock speed, and more GPU. Built on the second generation of TSMC's 5-nanometer fabrication process, the M2 Pro has a dozen CPU cores split between eight performance and a quartet of efficiency cores. That's two of each more than the last 14" MacBook Pro that we looked at. The GPU has seen a sizable bump too, as this model has 19 of Apple's GPU cores, compared to 14 last time around.
To be fair in our comparison to the M1 Pro, we need to remember that last year's review unit sported a trimmed-down version of the chip. That model is missing two performance cores and two GPU cores from the full-fat version (also found in the base 16" model from 2021, which we'll use in comparisons later), so the number of performance CPU cores really hasn't changed. Because of this, and because of the relatively small bump in single-threaded performance, this is not something you'd buy to replace an M1 Pro machine. Performance will be close enough, but we do expect that the late-2019 MacBook Pro with a now ancient 9th-generation Core processor would trail this model by a huge margin. If you're clinging to an x86 Mac notebook it might be time to upgrade.
If we'd gone with the base model of the MacBook Pro M2 Pro, we'd have the same six performance cores, and all the gains would come by way of two efficiency cores. The only way to get a full complement of CPU cores on the 14" MacBook Pro is to spend $500 extra, but that includes a $200 upcharge to get to 1 TB of storage. As a result, getting 33% more performance cores over the base model is more like a $300 premium.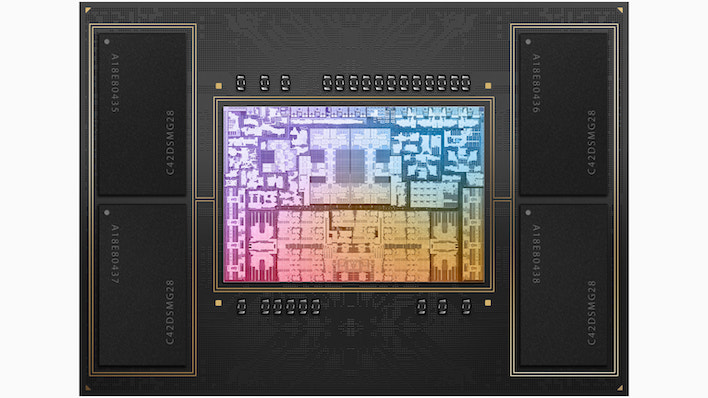 What that doesn't account for is the improved per-thread performance that Apple has achieved with the M2. According to the info section in Geekbench 5, the M2 Pro's performance cores are clocked at 3.47 GHz, compared to 3.2 GHz in the M1 and M1 Pro. That's a modest 8.4% bump from the M1 Pro's reported 3.2 GHz. The rest of whatever performance differences we see likely come down to optimizations that Apple was able to achieve from generation to generation, along with a larger L2 cache. According to the
sysctl
utility built into macOS, all M1 Pro models have 12 MB L2 cache for its CPU cores, whereas the M2 Pro reports 16 MB available. Both M1 Pro and M2 Pro give the efficiency cores 4 MB of L2 of their own to split, as well, for a total of 20 MB. This gets doubled on M2 Max processors, so rather than the 24 MB L2 cache of the M1 Max, the new version gets 32 MB. That 4 MB L2 for the efficiency cores remains unchanged.

Update June 19, 2023
: Apple has confirmed to
HotHardware
that, despite what the macOS built-in tools say, M2 Pro and M2 Max both in fact have 32 MB of L2 cache. The readings from
sysctl
are a bit of a mystery.
Anyway, enough about the CPU until we get into performance. The rest of the M2 Pro's parts got a face lift as well, as Apple promises that 18% increase in GPU core count over its fully-enabled predecessor will give the latest GPU a 30% graphics performance uptick. And all that is without a single change in the memory spec, which is still 16 GB of LPDDR5 with a total bandwidth of 200 GB per second. That memory is soldered, just like all the LPDDR5 memory in most ultra portable systems available today. Unfortunately, the same is true of the 1 TB SSD; there's no upgrading since the flash chips are soldered directly to the motherboard. In a more mainstream consumer system like the Dell XPS 13 9315 we can accept that; in a supposedly pro system like this it's a recurring disappointment. The base model has a 512 GB SSD, which is probably fine for most folks. As we mentioned above, upgrading that model to 1 TB is a $200 venture, with the rest of the upgrade cost to our review unit going to the additional CPU and GPU resources.
Network connectivity is provided by Broadcom, as it has been in Macs for the past two decades or more. The BCM4388 powers Bluetooth 5.3 and 802.11ax Wi-Fi 6E, both of which are updated revisions from the previous generation. In practice, the Wi-Fi capabilities of the MacBook Pro can push large files across my local network at around 850 megabits per second, which may or may not be a limitation of the gigabit Ethernet on the receiving end.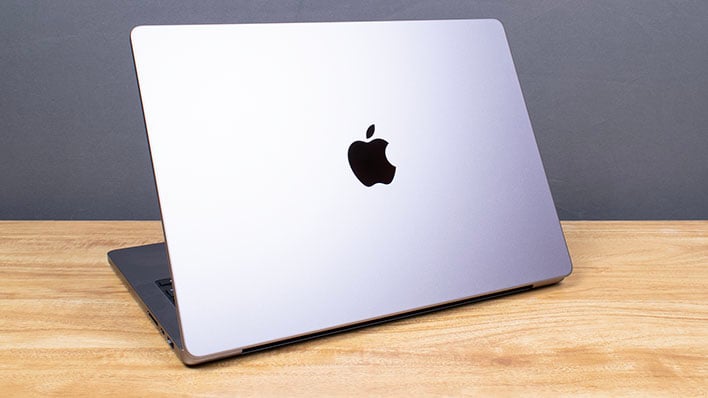 MacBook Pro 14" Design and Features
On the outside, the 2023 version of the 14" MacBook Pro looks just like the
previous late 2021 model
, aside from the darker Space Gray finish. It's also available in Silver, if you prefer the lighter look. Fun colors like Midnight and Starlight are unavailable on these high-end models and are reserved for the bite-sized M2 MacBook Air. The finish is just like every other Space Gray device that Apple has ever produced, where it's quite neutral, but takes on the characteristics of whatever light it's reflecting. In a room with warm lighting, the Space Gray is almost bronze, where under harsh and cooler lighting conditions it's almost a steely blue. There's a perfectly smooth Apple logo stamped into the lid which is upside-down when sitting before you closed, but upright when the lid is open. Like all recent Macs, there's no backlighting on the logo like there was a decade ago, but that's just how we like it. Better to not draw any attention.
Although this model has the exact same display as the previous generation, there are some finer points to consider. First of all, achieving a sustained 1,000 nits from a laptop display is an extremely rare feat, but Apple delivered. That's provided by a mini LED array with more than 8,000 lighting zones. Unfortunately, the sheer number is quite a step down from the iPad Pro 12.9, which has more than 10,000 zones, but HDR video still looks pretty snazzy on this device. Color reproduction is top-notch, as it covers 100% of the DCI-P3 gamut and features an ambient light sensor that can adjust the white point on the fly to match lighting in the room. It also supports a variable refresh rate that tops out at 120 Hz, which Apple calls ProMotion. Fixed refresh rates are capped at 60 Hz for reasons that only Apple can answer; if you want to lock in 120 Hz you're out of luck.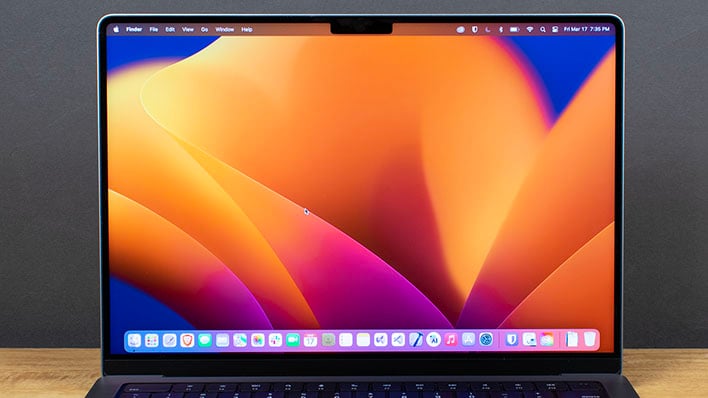 Once we open up the MacBook Pro, we're greeted by the same 14.2-inch display from its predecessor. The 3,024 x 1,964 resolution doesn't take into account the rounded top corners or the obnoxious notch that Apple insists on cutting into these screens. The notch is fine, really, and doesn't often cause a problem, but after living with different variations on the same screen for over a year, I'm kind of over it, personally. We'd much rather have just a tiny bit more bezel and a webcam above the display, but the notch only really intrudes on extra-wide menus. Like the Gnome desktop on included in many Linux distributions, macOS has a system-wide menu bar and Apple made the menu a little taller on these devices so that the notch only covers up the center of the bar itself, and not part of the desktop. Full-screen apps can be trimmed down to fit a 3,024 x 1,900 display below the notch. But really, this is a computer not an iPhone, Apple, so why don't you give us back the missing pixels?
That notch does go to somewhat good use, however, as the webcam embedded in it has a resolution of 1080p. Plenty of notebooks these days still ship with 720p webcams, and that's unfortunate. We're glad to not have to live with one in a $2500 notebook, that's for sure. The image quality is pretty decent for an integrated camera, and there's a pair of noise-canceling microphones that flank the webcam. Folks with iPhones can do even better with
Continuity Camera
baked into macOS 13 Ventura if they want, and use the
iPhone 14 Pro Max
's rear 48-megapixel sensor for video calls. The feature works well enough, though it's not exactly portable unless you get a MagSafe mount.
Now that we're done complaining about the display's notch, we can turn our attention downward to the keyboard. Like the display, the input interfaces on the MacBook Pro are unchanged from last time. Gone are the bad old days of butterfly switches and
class action lawsuits
, and what's been left in its place is comfortable for typing and backlit to use easily in the dark. Just like every other time I write a laptop review, the text of this article was produced on the device itself, so we've had plenty of time to use this thing. It'd be nice if the keys had a touch more travel, but they're quite responsive and we had no problems with missed strokes or doubled input. There's a Touch ID fingerprint sensor at the top right of the keyboard, which is handy for unlocking.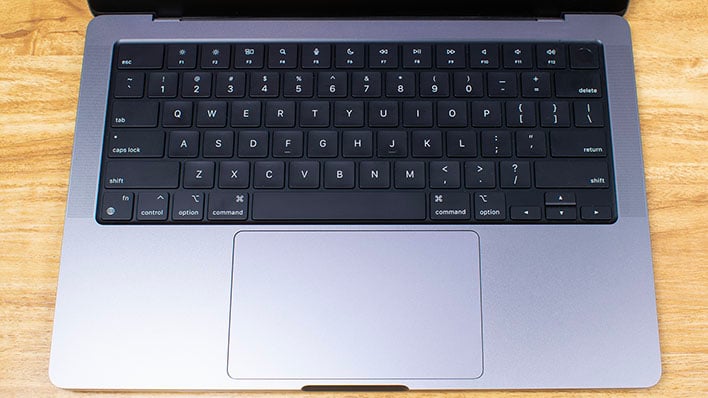 The keyboard is flanked on either side by a pair of speaker grilles, and a total of six speakers including force-canceling woofers are scattered throughout the chassis. They carry Dolby Atmos certification and can produce spatial audio for music listening. Compared to most compact notebooks, the speakers in the MacBook Pro are a step above, and a lot of that likely has to do with some sculpted EQ settings. They're no replacement for a nice pair of headphones or decent desktop speakers, and nobody will be fooled into believing otherwise, but it's not half bad.
Below the keyboard is the generous trackpad. It's a fully integrated unit with no buttons, but haptic feedback will make the pad vibrate as if we clicked it when pressing down. It's surprisingly convincing when clicking down. Haptic feedback in all Apple devices is always top-notch, and the pad here is no exception. There are a ton of swipe and drag gestures built into macOS Ventura, including three- and four-finger pinches and swipes to access open app windows, Launchpad, browser history, and a whole lot more.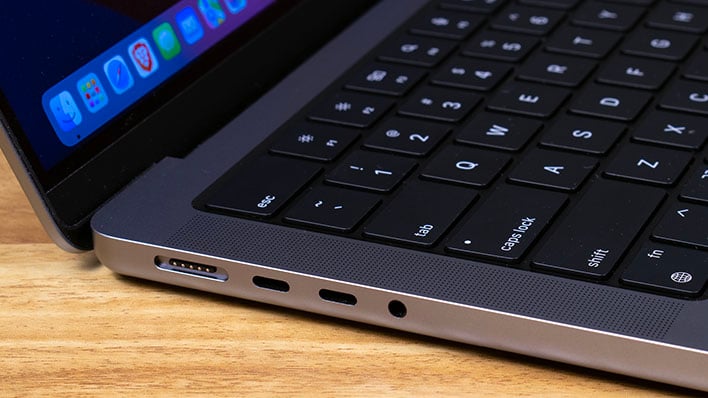 Around the side, we have the same ports as last time, and in one way in particular, that's a bit of an annoyance. We definitely appreciate a total of three Thunderbolt 4 ports with USB Type-C connectors, two on the left and one on the right. We also like the MagSafe charger connector and the SD card reader on the right, and the inclusion of a headphone jack is also appreciated. Incidentally, that SD card reader is fast enough to max out the read speeds of the Sandisk Extreme SD card we used for the photos in this article, so we don't think anybody will have any problems there. It doesn't accept micro SD cards, however, so you'll need an adapter.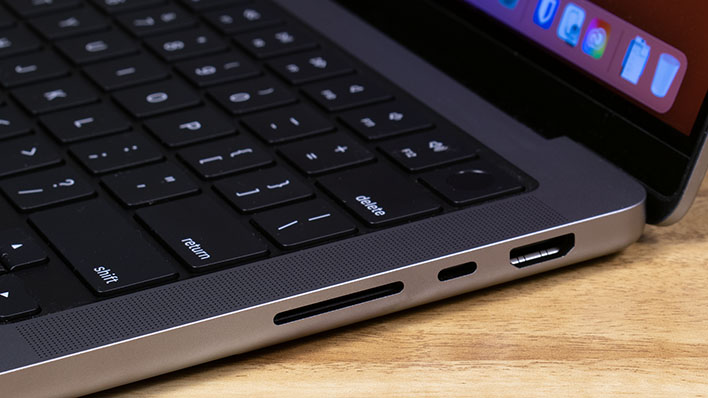 The M2 Pro and M2 Max support HDMI 2.1 output, which is a step up from the 2021 model. However, with our LG QNED90 TV and Gigabyte M28U, we could not get 4K at 120 Hz to work. It could be a cable issue, though we tried several including one that works great at 120 Hz with my home theater PC. It could also just be bad luck with the equipment we have on hand. 4K at 60 Hz worked very well. We were able to get the monitor going at 4K 144 Hz via the Thunderbolt 4 ports and the USB-C port on the monitor, same as the M1 Pro MacBook Pro, so all was not lost.
Beyond that, we didn't have any other compatibility problems. We've plugged just about everything we can think of into this notebook with excellent results. If it's got drivers for macOS it will likely work, and just about everything worked without any added software. While this notebook comes with a 97 Watt charger and a MagSafe connector, it spends most of its desk time plugged into a Sonnet Technologies Thunderbolt 4 dock which is then connected to a keyboard, mouse, and the aforementioned monitor's USB-C port.
macOS Ventura Experience
The M2 Pro version of the MacBook Pro 14" ships with the latest operating system from Cupertino, macOS 13 Ventura. There's not a whole lot of choice in OS right now, as Microsoft and Apple have not put their heads together to bring Windows 11 to the Mac, and the fledgling Asahi Linux is an experimental release only
available in alpha form
right now. That said, most folks buy Macs for the software and ecosystem, and they won't be disappointed in that regard.
The latest macOS brings a whole bunch of new features, many of which have existed in other applications or platforms for a long time (scheduled email and undo email sending in Mail, or a clone of Firefox's tab groups in Safari, for example). Others require further investments in the Apple platform, like having a recent iPhone for Continuity Camera -- which uses the phone's camera instead of the built-in webcam for video chats -- or iMessage-gated features for collaboration.
Apologies if that sounds like a bad thing; for someone like me and my family who are all hip-deep in the Apple ecosystem it's a great reminder of what draws people to it in the first place. Using my 12.9" iPad Pro as a second screen on the go without any wires is extremely convenient, and the iPhone 14 Pro's 48-megapixel camera is a far sight better than the 1080p FaceTime HD camera in the laptop. The things that Apple has added are all very useful features, but if you don't have the other iDevices, you're going to miss out on them. That said, it does seem like some of this could have been done in an app-agnostic way; who would only want real-time closed captions on FaceTime calls but not regular phone conversations?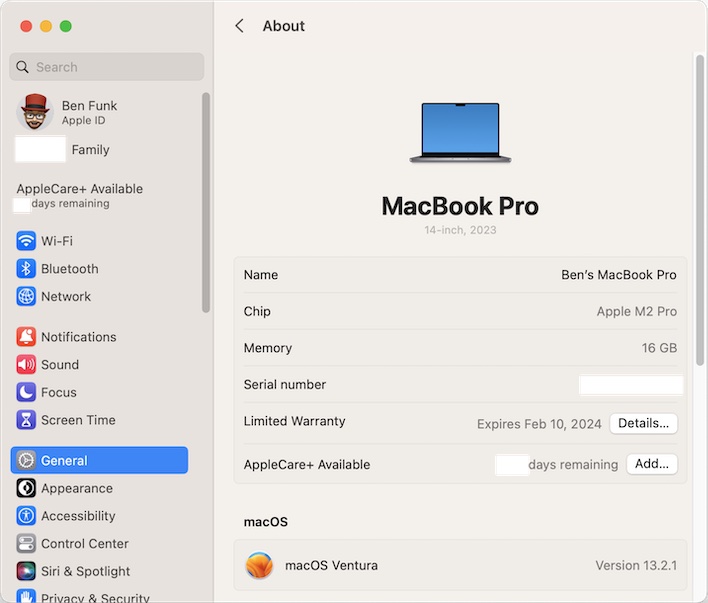 At any rate, macOS 13 Ventura is the latest macOS, and it works like macOS for the most part. System Preferences has been rearranged and renamed System Settings, and there are so many system settings you'll need that search box to find them. That's really the only thing that's made a huge impact on my day-to-day life since upgrading from macOS 12 Monterey. Stage Manager is a new window grouping tool for multi-tasking that seems more suited to iPadOS and less like an important feature for Macs.
There's some "bloat ware" in the strictest sense of the word, since Apple bundles its apps with each new Mac. You get Keynote, Pages, and Numbers for office-like productivity, a slick and functional digital audio workstation in the form of GarageBand, and a streamlined and intuitive video editor in iMovie. If you're buying a Mac, it's very likely that you bought it for one of these very applications, or the step-up versions like Final Cut Pro X and Logic Pro X. We're not sure that really qualifies as bloat, but they're included so it's worth mentioning.
Now that we've met the MacBook Pro, it's time to dive into benchmarks...
Related content