Corsair TC100 Gaming Chair Review: Affordable Champion's Throne
Corsair TC100 RELAXED Review: A Comfortable, Durable And Affordable Gaming Chair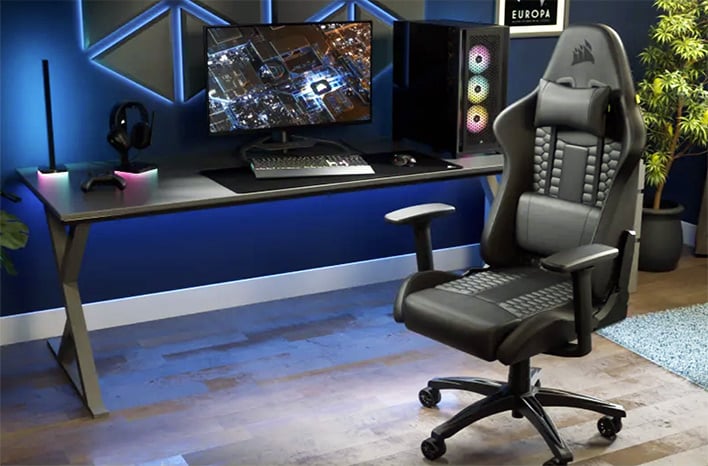 Corsair TC100 Relaxed Gaming Chair: MSRP $249, Currently $211


The Corsair TC100 Relaxed gaming chair offers comfort and durability at a reasonable price, but has one possible shortcoming for taller gamers.







Comfortable And Durable
Affordable Price
Headrest And Lumbar Support Included
Ample Height Adjustment
Adjustable Armrests
Seat Cushion Remains Comfortable And Cool
Lumbar Pillow Can Be Repositioned

Headrest Pillow Position Not Ideal Tall Gamers
No Assembly Instructions Included



---
Gamers will tell you that one of the most important pieces of hardware in their
battle stations
is a comfortable chair for all those long marathon gaming sessions. The Corsair TC100 Relaxed gaming chair delivers both comfort and stability at a cost that won't break the bank, but does fall short in one area.
One of the first things that will draw a gamer to a particular gaming chair is its design. The Corsair TC100 Relaxed gaming chair features a racing-inspired design with ergonomic full-body support. It comes with either a fabric or leatherette material with two color options, which are black on black, or black on grey.
Corsair TC100 Design And Build Quality
The soft fabric material or plush leatherette upholstery options include perforated sections for higher breathability that Corsair claims will keep you cool during long gaming sessions, while retaining its fresh feel and comfort. The model that we evaluated was the fabric version in black on grey.
The base of the chair is made of a hard composite material and is solid in construction. The caster wheels, while not particularly large, are sufficient enough to make rolling on both hardwood floors and carpeted areas smooth and easy.
At 6' tall, when I sit in the chair without the lumbar pillow attached, I can place three fingers between the front edge of the seat and the back of my knee, which is quite comfortable. If the lumbar pillow is attached, however, it pushes me out closer to the edge of the seat, to the point where I wish I had a but more leg support.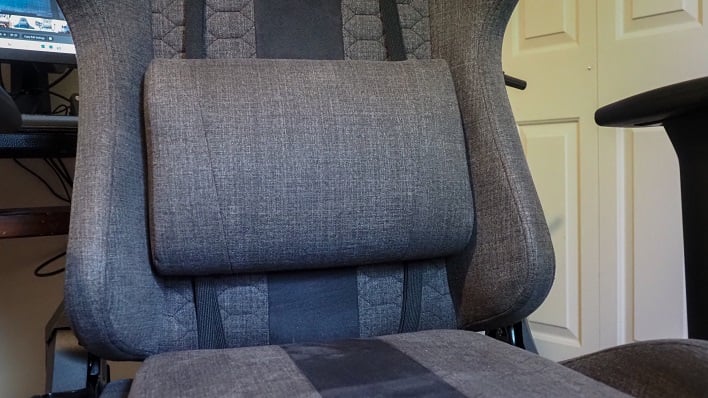 The neck pillow's positioning, however, is not quite as flexible, and may not be ideal for gamers 6-foot or taller. When placed at its highest point, it came only to the top of my shoulder blades while in the fully upright position. For those who like to lean back while either playing games or working, this can be a bit uncomfortable. The pillow could be used without fastening it to the chair and nestled perfectly behind the neck, but this isn't ideal for those on the taller side that want continual neck support at all times and don't want to have repeatedly place the pillow on their own.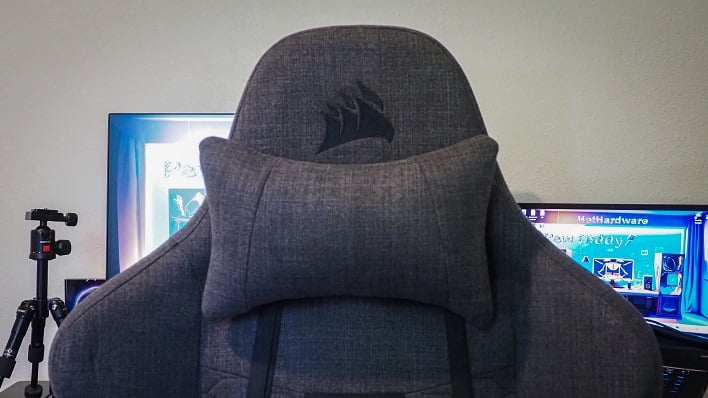 Leaning back in the
Corsair
TC100 Relaxed gaming chair offers a steep 90-160° of recline. This should satisfy almost all gamers who want to lean back in between matches to catch their breath and relax.
Corsair TC100 Relaxed Gaming Chair:The Verdict
Corsair's TC100 Relaxed gaming chair is a very good option for cost conscious gamers. It delivers comfort and durability at a price point that won't break the bank and is up to 50% less than competing Secret Labs or Razer gaming chairs. The fabric is nice to the touch and has held up nicely during about a month of testing. The seat's soft cushioning has not seemed to deplete, even after hours of using the chair for both work and play on a daily basis.
The Corsair TC100 also provides plenty of height adjustment and the armrests can be adjusted out far enough for larger-sized gamers. The base is sturdy and the casters provide a smooth rolling experience on both hardwood floors and carpet.
Assembly instructions
can be found on the Corsair website, for those who may need help.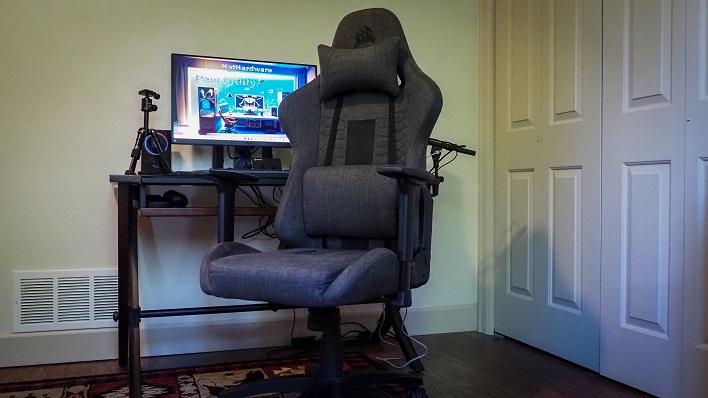 The inclusion of both headrest and lumbar support pillows gives the Corsair TC100 Relaxed a one-up on higher-priced competitors like the Secret Labs Titan, which only offers a neck pillow. The limited height adjustability of the neck pillow, however, may not suit taller gamers. If this is something you consider vital to a gaming chair,
Corsair offers the T3 Rush
, which has a backrest that is 4-inches higher, a seat base that is 3-inches wider. It also includes 4D armrests for just $70 more than the TC100 Relaxed, which can currently be found
for about $211
(MSRP $249.99) for both the fabric and leatherette options.
Related content