AMD Radeon RX 6700 XT Review: Impressive 1440p PC Gaming
AMD Radeon RX 6700 XT: Navi 22 Is A Scaled Down 'Big Navi'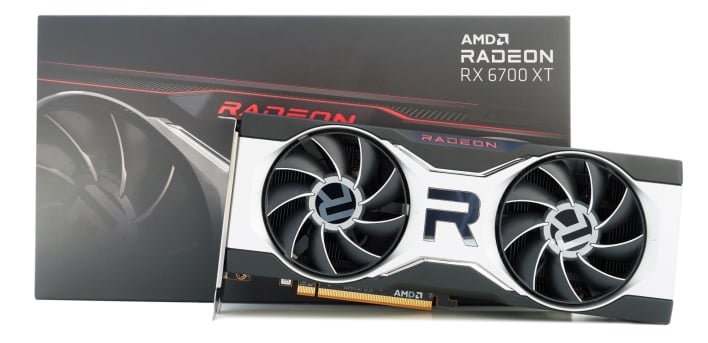 Earlier this month, AMD took the wraps off the latest addition to its RDNA 2-based family of Radeons, the Radeon RX 6700 XT. During the livestreamed event, AMD disclosed that it was targeting high-framerate 1440p gaming with the
Radeon RX 6700 XT
, and that it would employ a new release strategy in an effort to get as many cards into gamers' hands as possible at launch. Instead of releasing AMD-built reference cards first and following up sometime later with custom partner boards, AMD and its partners will be launching all flavors of Radeon RX 6700 XT
today
, across an array of on-line retailers and on AMD's own website as well.
The current supply chain issues and insatiable demand for GPUs by gamers and crypto-miners are well known by now, so we won't belabor the point. We're sure the interwebs will be rife with unfortunate stories of disappointed gamers, annoying bots and scalpers, and braggadocios miners in the days following this release, but it is what it is. We're going to forge ahead anyway and tell you what we can about the new Radeon RX 6700 XT, and hope market conditions get more consumer-friendly soon, because the Radeon RX 6700 XT is another attractive, competitive gaming GPU offering from AMD. Let's do this...
---
The Radeon RX 6700 XT is built around the
Navi
22, RDNA-2 based GPU. In terms of core counts, Navi 22 is effectively a Navi 21 – the "Big" GPU used on the powerful Radeon RX 6900 XT – lopped in half. AMD's Navi 22 has 50% fewer CUs and Ray Accelerators (40 vs. 80) and 50% of the total number of Stream Processors (2,560 vs. 5,120).
Other parts of the GPU, however, aren't scaled back quite as much. For example, the Radeon RX 6700 XT has 96MB of Infinity Cache, down from 128MB of on the 6900 XT. And the 6700 XT's memory interface is 192-bits wide versus 256-bits on
Radeon RX 6800 / 6900 series
cards. The 6700 XT also features 12GB of GDD6 memory (versus 16GB) and it has a similar overall design language, if we focus solely on AMD's reference cards at least. Partner boards are as varied as you would expect for gaming-oriented product.
The Radeon RX 6700 XT is going after the same market segment as the previous-gen
Radeon RX 5700 XT
. In comparison to the Radeon RX 5700 XT, the new 6700 XT doesn't
seem
to be all that much more powerful, but AMD's newer RDNA 2 architecture and technology at play here does result in a significantly more powerful graphics card. The 5700XT and 6700 XT have the same number of stream processors (2,560) and the same number of ROPs (64). Their GPUs are both built using a 7nm process and typical board power is within 5w of each other – 230W for the 6700 XT and 225W for the 5700 XT.
Memory bandwidth for the Radeon RX 6700 XT is a full 100GB/s
below
the Radeon RX 5700 XT, however, and the former has a narrower memory interface too. That may seem a little counterintuitive, considering how important memory bandwidth is to maintain high performance, but the 6700 XT's 96MB of Infinity Cache effectively negates the raw bandwidth disadvantage, especially at resolutions of 1440p and below.
The new tech in the Radeon RX 6700 XT does require many more transistors, though. The Navi 22 GPU is comprised of 17.2B transistors versus 10.3B for the Radeon RX 5700 XT. The increase in transistor count results in a much bigger, but still mid-sized 336mm
2
die size, since both chips are being manufactured at 7nm.
Due to the Radeon RX 6700 XT's higher frequencies and more advanced architecture, compute performance is significantly higher than the
Radeon
RX 5700 XT, though. Typical game clocks for the Radeon RX 6700 XT often hover in the 2,424MHz+ range, and the default boost clock is up to 2,581MHz. In its stock configuration though, we often saw boost clocks exceed 2,600MHz. At its reference frequencies, the Radeon RX 6700 XT offers up to 26.4 TFLOPS of peak half precision compute performance and peak pixel and texture fillrates of 165.2 GP/s and 413 GT/s, respectively, which are much higher than the Radeon RX 5700 XT.
In terms of feature support, the RDNA 2-based Navi 22 is identical to its higher-performance counterparts in the
Radeon RX 6000 series
. The GPU features Smart Access Memory, AMD's Infinity Cache technology and DirectX 12 Ultimate support with hardware accelerated ray tracing and variable rate shading. We have covered the features inherent to RDNA 2 in previous articles, however, so we won't do so again here. If you'd like to take a more technical deep dive into what AMD's RDNA 2 GPU architecture is all about, we suggest reading our review of the Radeon RX 6800 and RX 6800 XT –
we cover all of the particulars there
.
We should mention that coinciding with this release, AMD has made a number of updates to its software and overall platform as well.
Smart Access Memory
(the branding AMD gives to the Resizable BAR feature) has been enabled on the Ryzen 3000 series and the Radeon Software Suite has been updated to support Radeon Anti-Lag and Radeon Boost technologies in DirectX 12 titles. Radeon Anti-Lag is AMD's latency reduction technology and Radeon Boost is a motion adaptive resolution (DX11) and VRS technology (DX12), designed to increase overall performance when gamers are making rapid mouse movements.
AMD's reference Radeon RX 6700 XT has a similar industrial design to the higher-end Radeon RX 6800 and 6900 series cards. It features a black and silver fan shroud, with dual axial fans, all emblazoned with prominent 'R' branding. The heatsink, which covers the entire front side of the PCB, has a dense array of fins, with heat pipes that snake directly over the GPU. AMD uses a graphite-based phase-change thermal interface material between the GPU and heatsink to facilitate heat transfer and the PCB features 10-layers, with dual 2 oz. layers of cooper, which AMD claims aids in optimal power delivery to the 11 power phases on the board -- 9 (7+2) high efficiency DrMOS power phases for the ASIC and two for the memory.
Ports on the Radeon RX 6700 XT include a single HDMI 2.1 output with Fixed Rate Link (FRL) support and triple, full-sized DisplayPorts (v1.4). FRL is part of the HDMI 2.1 spec and enables uncompressed resolutions above 4K60, in addition to peak bandwidth of up to 48Gbps.
And now it's time to get to some numbers...
Related content