MSI RadiX AXE6600 Gaming Router Review: Speedy Wi-Fi 6E Networking
MSI RadiX AXE6600 Wi-Fi 6E Router: High Performance Wireless Networking For Gamers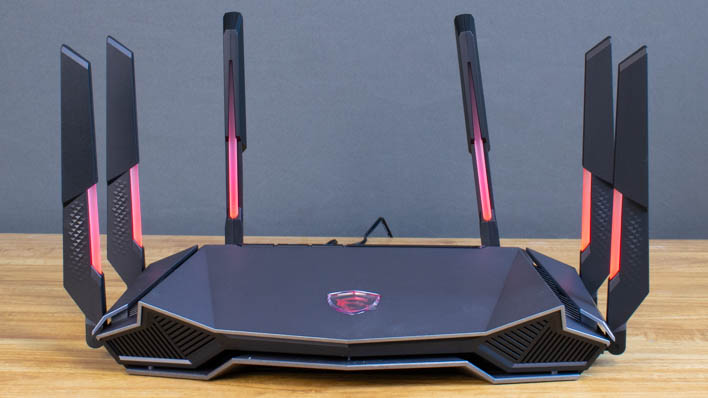 MSI RadiX AXE6600 Wi-Fi 6E Router - MSRP $349 (Currently $285)


MSI's flagship router offers more than enough wireless performance and capacity for gamers and to keep up with a modern many-device home.









Whole-house Wireless Coverage
Configurable LED lighting (including an off switch)
Easy-to-use software experience
Parental content filter by MAC address

Only one 2.5 Gigabit Ethernet port
No Wi-Fi Mesh features
Minimal Security Features






---
MSI is a relative newcomer to the home Wi-Fi router business, with just a pair of offerings available at the high end. This is a pretty competitive market these days, with the likes of Netgear, Links's,
ASUS
, D-Link, and a host of other entrants, so it's tough to design something that stands out. That said, the most important and easiest way to differentiate is with great performance and features, and a software UI and experience that is easy to use and intuitive. Today we're looking at MSI's flagship gaming router, the RadiX AXE6600, which features tri-band Wi-Fi 6E coverage, colored LED lighting, and a straightforward UI that should make setup a breeze. Does its performance stand up? We'll get to that shortly. First up, let's meet the RadiX AXE6600...
MSI RadiX AXE6600 Specifications
Upon first glance, the MSI RadiX AXE6600 looks like it has the potential to compete with some of the better wireless routers currently on the market. The most important features is, of course, the
Wi-Fi 6E support
. Back in 2020, the Federal Communications Commission opened up 1,200 MHz of unlicensed radio spectrum to be used as the 6 GHz band, and the Wi-Fi 6E specification was born. That's what makes the RadiX AXE6600 stand out from its lower-priced sibling, the
RadiX AX6600, which can be found
on Amazon for about $70 less than the router we're looking at today.
The RadiX AXE6600's support for 6 GHz Wi-Fi should open up faster speeds thanks to its broader 160 MHz channels. When we test performance, and look at 6 GHz connectivity, we'll be able to see if it makes a difference. In theory, 6 GHz Wi-Fi will likely have a somewhat smaller range than 5 GHz or 2.4 GHz connections, so there is a little bit of a tradeoff with these speeds. The upside, however, is that Wi-Fi 6E traffic is all that's allowed on this band, where 5 GHz networking has to contend with slower 802.11n and 802.11ac clients (Wi-Fi 4 and Wi-Fi 5, respectively). With less competition and broader channels, there's potential for speedy performance. The addition of 6 GHz bandwidth should put it head and shoulders above previous-generation routers like the
Netgear Nighthawk AX8
.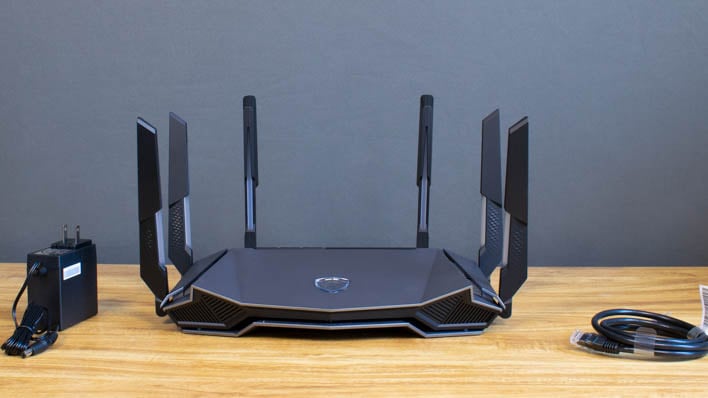 The MSI RadiX AXE6600 Wi-Fi 6E Router
Externally, the RadiX AXE6600 is a bit intimidating. Its footprint is quite large compared to most home routers we've used over the last 20+ years, but
MSI
says that is in part due to its cooling design. The company designed these routers to stay cool and stable under the heaviest of loads, and to that point it does a good job. I've owned my fair share of routers over the years and have had a couple that would get progressively slower over time or stop responding altogether, and externally feel quite hot. The cooling is important, since the router's included power supply can drive up to 42 Watts, or 3.5 amps at 12 volts. That could be a lot of heat to dissipate, but the cooler does a good job, as the RadiX AXE6600 never felt more than slightly warm.
On top of the device we find several buttons, including LED lighting control, a Wi-Fi toggle button, and an easy-to-find WPS connect button. The LED toggle switch is for status lights only, not the RGB lighting in the antenna. The large dragon button on the top of the device is a simple way to toggle through the various Quality-of-Service (QoS) features of the router, which the lighting all indicate. Holding the dragon button will turn off the RGB LED lighting entirely, too. The Wi-Fi button turns on and off all wireless functionality, so if you want to use the router without wireless features, you can. Finally, the WPS button is to quickly attach devices that support WPS to the network.
All of this is powered by a four-core Arm64 processor that speeds along at 1.8 GHz with 512 MB of RAM and 256 MB of flash storage, used primarily for firmware and storing settings. There's a six-piece MU-MIMO antenna array that supports beamforming and OFDMA, which are part of the Wi-Fi 6 specification. Those features allow the RadiX AXE6600 to support up to 60 simultaneous Wi-Fi connected devices. That might seem like overkill, but these days everything is connected to Wi-Fi: PCs, smartphones and tablets, wearables, game consoles, smart TVs, streaming boxes, security cameras, and even large appliances.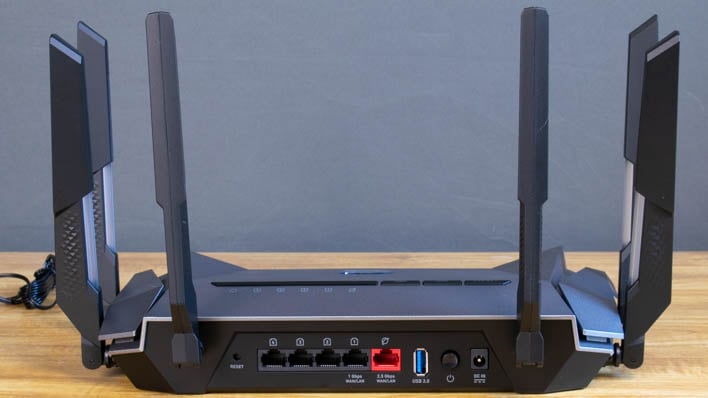 The wired Ethernet array of the RadiX AXE6600 is a little puzzling, though. By default, it has four Gigabit Ethernet LAN ports for use with an internal network, and a single, configurable 2.5 Gigabit WAN / LAN port. While there are some providers experimenting with 2.5 Gigabit Internet speeds, it seems more likely that most consumers would want to use this port internally. This way, wireless clients can talk to a PC with a 2.5 Gbit Ethernet controller as fast as possible. That's actually an option on the MSI RadiX AXE6600, in which case the first Gigabit Ethernet port can be configured as a WAN port to connect to your ISP's hardware.
It's a little frustrating to need even more hardware to get the most out of a router's wired connections, but that's the current state of affairs in the consumer router space. It seems that multiple 2.5 Gigabit connections are few and far between on competing routers, so it's hard to fault MSI. If you need multiple clients with 2.5 Gigabit Ethernet to talk to each other as fast as possible, there is no shortage of unmanaged switch options in the $100 range. It does seem likely that most consumers won't need all that bandwidth, though.
MSI RadiX AXE6600 Software Experience
The setup experience is pretty straightforward and can be accomplished by connecting with the MSI Router app from an iOS or Android smartphone, or by connecting to the network (either wired or wireless) and browsing to
http://msirouter.login
. The router has a sticker on the bottom with a QR code that the app can link to, so smartphone users don't even need to find the wireless network. There are some configuration defaults and the default password is in the manual. From there, a simple wizard will walk you through renaming the wireless network's SSID, setting up encryption, and connecting to your ISP. Then it's off to the races, as devices can join the network and get going online.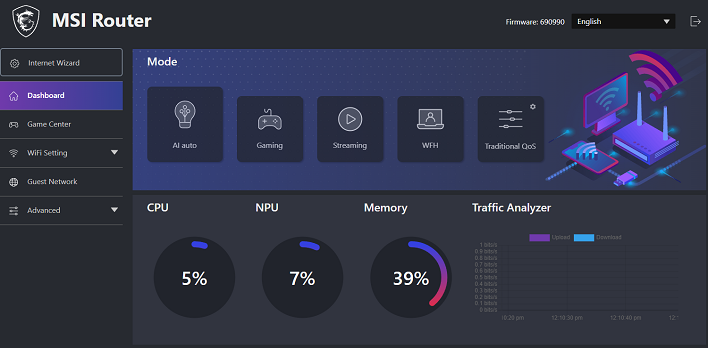 Once the basics are configured, the MSI Router app and that easy-to-remember redirect URL mentioned above then open up a whole portal of configuration options. The options that MSI puts front and center are the QoS settings which can prioritize certain types of traffic over others to give the best possible performance during use. The presets include high-priority access for Gaming, Streaming applications, and Work-from-home apps like Teams or Zoom.
Unfortunately, these settings didn't seem to do much for performance for us, but that might have more to do with a symmetrical Gigabit Internet connection that routinely provides over 900 megabits both upload and download. If bandwidth is at more of a premium, these options
should
impact performance a bit more. The default setting is AI Auto, which tries to understand what you're doing based on where traffic goes or originates, but this can be disabled entirely with a press of the dragon button on the lid of the router as well.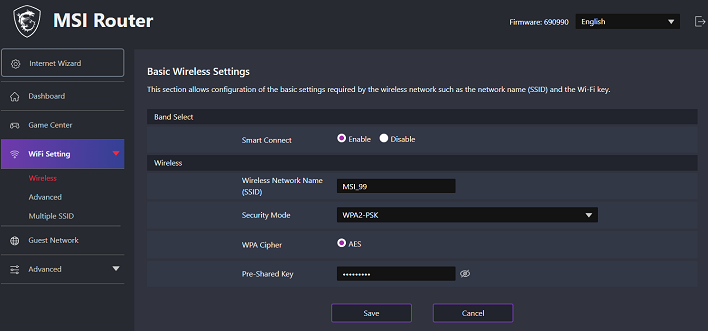 The Game Boost page is an interesting concept for buyers that are whole-hog into MSI's ecosystem. Not only can the router's lighting be controlled by MSI Center's Mystic Light, but Game Boost can give priority to MSI devices above others. Since MSI focuses heavily on the gaming sector, this would mean that PCs with MSI motherboards, or MSI gaming laptops, could have first dibs on limited bandwidth. That would be a simple and consistent way to give a gaming machine first dibs above anything else, but since it's limited to MSI devices. In theory this router should pair nicely with something fast and powerful from MSI, like its
GT77 Titan gaming laptop
.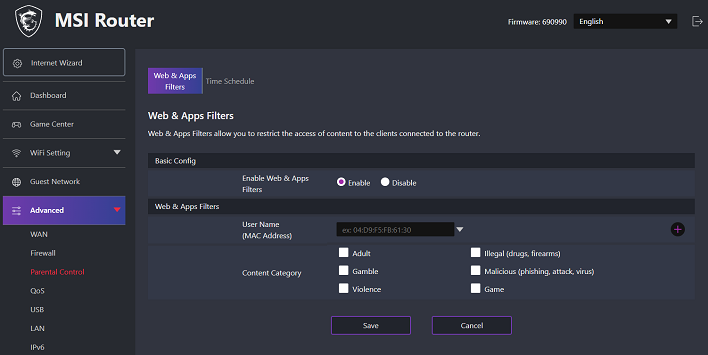 Content filtering is also a prominent feature of the RadiX AXE6600. This would make the router somewhat suitable for keeping kids' devices away from websites or services where they shouldn't be. There's also a timer filter that can be applied to keep devices off of Wi-Fi when their users should be sleeping. These are configured by MAC address of the client and then selecting what filters should be applied. We were able to get around the content filter
with a VPN
, although the time filters worked as they should due to the MAC-level nature of the filter.
Lastly, the RadiX AXE6600 has a USB 3.1 Gen 1 port with a Type-A connector ripe for plugging in network-attached storage. We plugged a bus-powered 2.5" SATA enclosure with a Samsung SSD 870 QVO 1 TB drive into the port, and it pulled enough power to run itself without any external power. Write performance is somewhat limited by this slower drive, but read performance was very solid, considering the limitations of SATA. We slapped some movie files onto that drive, and could pull a full 200 MB per second from the drive when we read the contents over our 2.5 Gigabit connection. That's not quite the full 2.5 Gigabits, and quite a ways off the 5 Gigabit limitation of USB 3.1 Gen 1, but it's plenty for using this device as a simple file server in a pinch.
Next up it's time to see how this puppy performs in a real-world household networking scenario.
Related content