ASUS ROG Ally Review: Ryzen-Powered Handheld Gaming Powerhouse
ASUS ROG Ally: Premium PC Gaming In The Palm Of Your Hand Is Here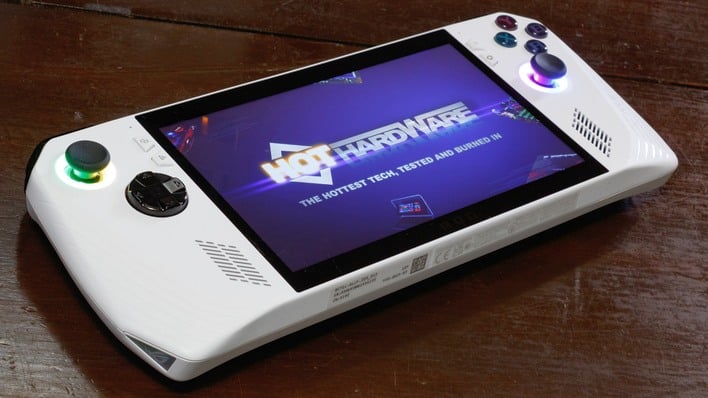 ASUS ROG Ally: Starting At $599.99


The ASUS ROG Ally gaming PC handheld brings premium features to a market awash in me-too gadgets and compromises. It offers high performance in a small form factor at a competitive price.







Incredible Handheld Performance
Excellent Display And Great Sound
Virtually Silent Operation
Slim Design, Feels Great
Rapid USB-C Charging

Underwhelming Battery Life
Mediocre Gamepad Build Quality
Limited External Connectivity
Not User Serviceable Or Upgradeable



---
Here's the pitch: $600 - 700 for a premium, portable PC gaming experience that you can throw in a backpack or a shoulder bag and play on the train, in a plane, or really wherever you want. It sounds too good to be true, right? Well, the Asus ROG Ally comes closer to this lofty goal than anything else we've ever tested.
So what actually is this thing? Fundamentally, the ROG Ally is a handheld gaming PC not unlike the myriad machines produced by
AyaNeo
, GPD, or of course, Valve's Steam Deck. However, where the Steam Deck is blessed with a bespoke processor and customized operating system, this machine is more of a slick-looking and particularly-petite Windows 11 gaming laptop than anything else.
The ROG Ally Handheld Gaming Experience, Specs And How We Tested
By now, you've probably already seen
the ASUS ROG Ally
, not least of which because we've reported on it a few times on our news feed. The review embargo lifted some three weeks ago, and some media outlets have already published reviews of the system. However, we've taken a different tack in this review evaluation. We've tested over 60 games in all three of the ROG Ally's standard power profiles, to find playable settings that offer a good experience in those titles. As such, we think we've completed the most comprehensive testing with this system. We'll get to all that data over the next few pages, but for now, let's look at the specifications of ASUS' little Ryzen-powered beastie:
At the heart of the Asus ROG Ally is the
Ryzen Z1 Extreme
processor. This is an eight-core APU based on AMD's Zen 4 CPU design and its RDNA 3 GPU architecture. If you thought that sounds a lot like one of the new Ryzen 7040HS "Phoenix" APUs, well, you'd be right; it's essentially a slightly-customized version of those chips. AMD says it can scale from 9 to 30 watts, but we've seen power values ranging from 6W all the way up to 54W from this chip.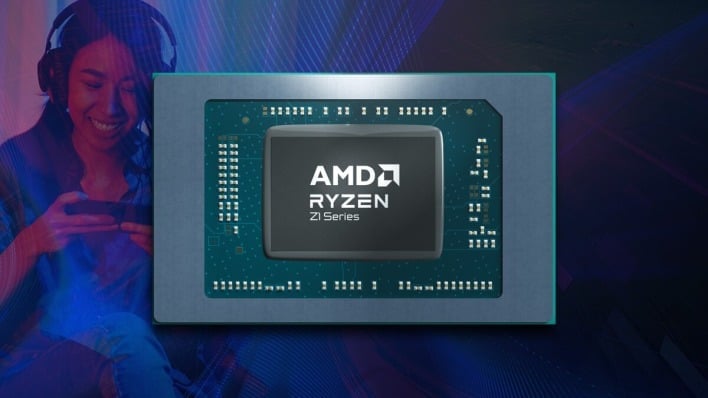 The integrated GPU in this machine is worthy of specific discussion. It's got six workgroup processors, or twelve compute units, which is the same as previous AMD high-end IGPs. The difference is that RDNA 3 is twice as compute-dense as previous RDNA and Vega architectures. That means we're talking about one seriously beefy GPU for an integrated solution, and it's really held back by the system memory—even though that RAM is running at a speedy 6400 MT/s.
Asus is going to offer the ROG Ally with the non-"Extreme" version of this APU, and as we understand, the price differential is only going to be $100 but at the expense of significant graphics horsepower that's available to this system. Whether or not this is worth the cost savings remains to be seen but regardless, our testing was performed on the top-of-the-line model.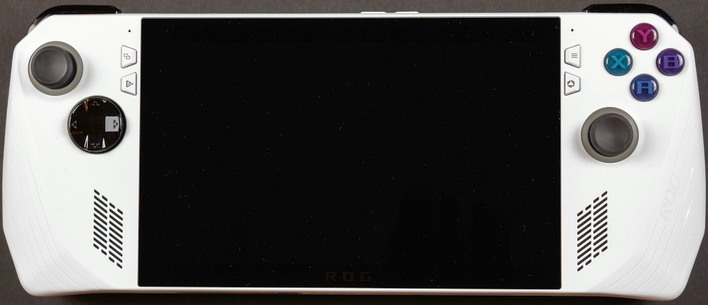 Dominating the front of the ROG Ally is a 7" touchscreen. This thing's a beaut: full 1920×1080 resolution (giving a high 315 PPI), rich IPS-like colors, a 120-Hz refresh rate, and best of all, AMD FreeSync Premium support, including Low Framerate Compensation below 48 FPS. It's the pièce de résistance of this device, and certainly the finest screen on any handheld gaming system, including the Nintendo Switch OLED. It outputs up to 375 cd/m², which is absurdly bright—meaning it works just fine in open daylight.
For A Gaming Handheld, Quality Controls Are Critical
As befits a handheld gaming system, most of the surface area that isn't screen is occupied by gaming controls. The gamepad inputs on this system will feel immediately familiar to anyone who's ever fondled an Xbox controller, although to tell the truth, they're not quite as premium.
Here, we have some minor complaints: the sticks' centering force is pretty weak, the D-pad is reminiscent of early-Xbox-360 pads, and the face buttons are a little mushy. More pressing is the matter that the right trigger requires a bit too much force to register a 100% input. This is an obvious problem in games like
GTA V
and
Forza Horizon
, where your acceleration is slower as you're not fully depressing the trigger, but it can also be an issue in games like
Elden Ring
, where it can be difficult to get heavy attacks to go off.
To its credit, ASUS informed us that it was already aware of the issues with the face buttons and the right trigger, and that it expects to have them resolved for the final released version of the product that went on sale yesterday, 6/13/23. We think the trigger issue could probably be resolved by a handy repairman and a paper shim. The other two buttons on the face we'll talk about on the next page, but they're for summoning ASUS software.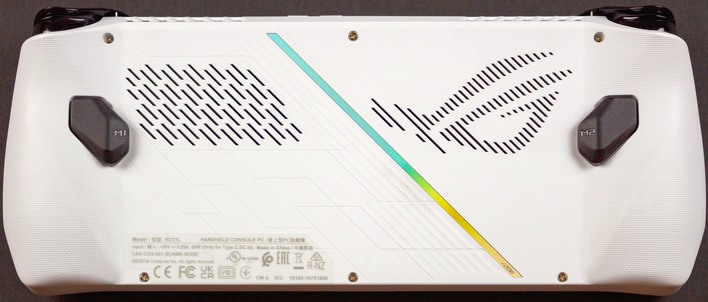 Around the back of the system, you have a nifty metallic strip that isn't RGB LED or even lit at all; it's just reflective. Intake vents for CPU and GPU are back here, as are the "M1" and "M2" paddles. By default, these work as "shift" keys for the rest of the gamepad controls, so you can bind an entire second layer of functions on those if you want. Of course, everything is re-bind-able, so you can make them (and the rest of the buttons) do whatever you want.
While we didn't have one available for extensive testing, we have a fair bit of experience with a Steam Deck historically. Compared to Valve's handheld, the ROG Ally is both smaller and slightly lighter—although you're not likely to notice the latter, and the reduced size of ASUS' machine makes it feel very dense. The main difference in size is in the thickness; where the Steam Deck fills your hands, the ROG Ally is a little thinner. That does make it easier to transport, though, and it's actually more comfortable for shorter, stubby fingers.
The paper "ROG" stand is included with the system.

Finally, up on the top edge, you can see all of the rest of the controls and external features of the ROG Ally. Besides the bumpers and triggers, there's also a power button, a power LED with charging LED nearby, volume controls, vents for cooling, a microSD slot with UHS-II support, and a 3.5mm combo audio jack. Finally, there a huge black XG Mobile connector that shares space with the singular USB Type-C connector on the ROG Ally.
That one connector is used for any external connectivity, including displays, additional input devices, extra storage, add-on networking, and charging. Unfortunately, this connection is only USB 3.2 Gen 1 enabled, with a maximum aggregate transfer rate of 5 Gbps. Don't get us wrong; this all works well enough. We were able to use the ROG Ally very easily as a desktop PC using a
UGREEN USB dock.
It would really have been nice to have a faster USB port or even better, a second one, though.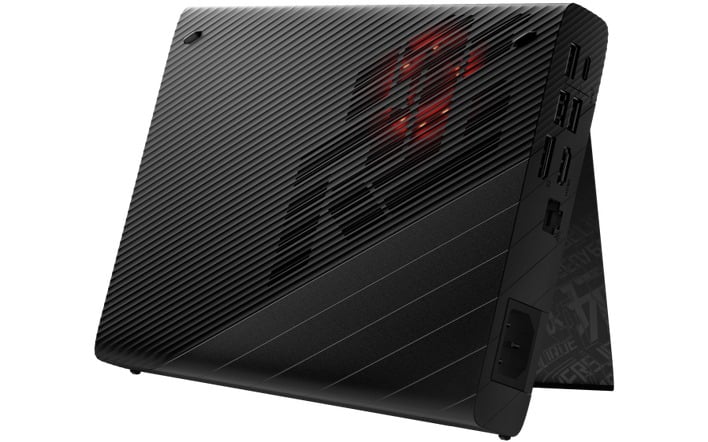 The large digital connector next to the USB Type-C port is for the ROG XG Mobile dock. Basically, it's a box with extra connectivity and a big honking laptop GPU inside, and it's meant not only for the ROG Ally but also for some of ASUS' thin and light laptops with the port as well. The company plans to sell models with (mobile) GeForce RTX 4090 GPUs. as well as Radeon RX 6850M processors. We didn't get an XG Mobile unit to test with our ROG Ally, but it's a fascinating idea, especially with the proprietary plug for proper PCIe connectivity.
Well, that's enough gawping at the device, don't you think? Let's fire it up and have some fun, next...
Related content