ASUS TUF Gaming X3 Radeon RX 5700 Series Review: Great Coolers, Solid Value
ASUS TUF Gaming X3 Radeon RX 5700 EVO & 5700 XT EVO Real-World Game Tests
Navi is a pretty powerful GPU architecture, and the Radeon RX 5700 series represents the fastest cards that
AMD
currently offers. For that reason we targeted our gaming tests at two resolutions: 1920x1080 (FHD) and 2560x1440 (QHD). At 1080p with the settings maxed, we can see how close we might come to driving a very fast 144 Hz gaming display to its fullest potential, yielding good-looking graphics at stratospheric frame rates. Meanwhile, 1440p is 78% more pixels so the performance will be lower, but the higher resolution should result in more visible detail while still hopefully maintaining fast, smooth frame rates.
Middle Earth: Shadow of War

Glorious Orc-Slaying Action
Monolith's
Middle Earth
series is surprisingly fun, and
Middle Earth: Shadow of War
delivers tons of highly-detailed scenes and character models. To drive that point home, we used the game's Ultra preset to turn up the details as far as they can go, including Temporal Anti-Aliasing and Camera Blur. If you're not familiar with the game, definitely
check out our review
.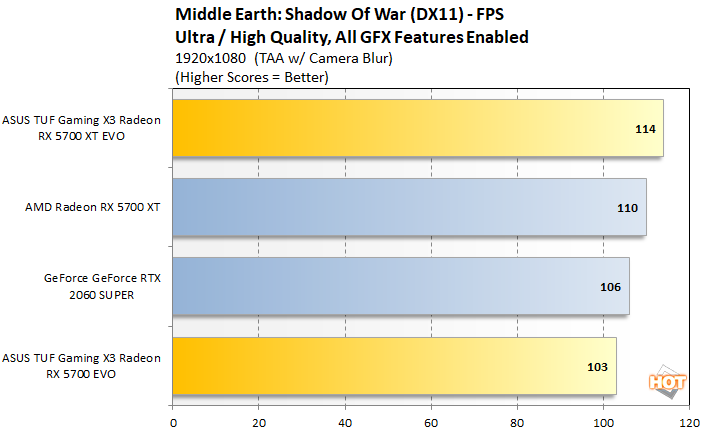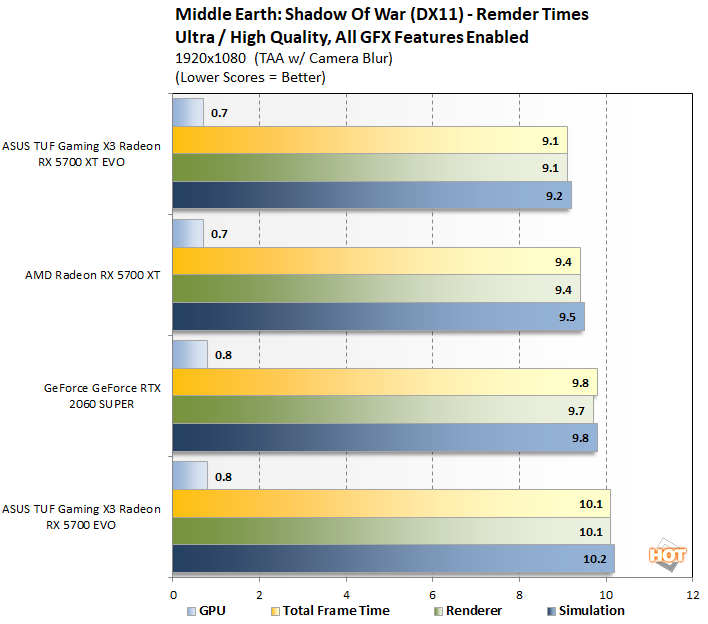 At 1080p, all of the cards can do well over 100 fps on our
Ryzen 7 3700X
testbed. The TUF cards on review bookend our group, and once again that $30 saved buy buying the Radeon RX 5700 instead of the 5700 XT doesn't really make a ton of sense; the performance difference is a hair short of 11% while saving less than 8% of the cost. Meanwhile, the equivalently-priced RX 5700 XT trounces the GeForce competition, too.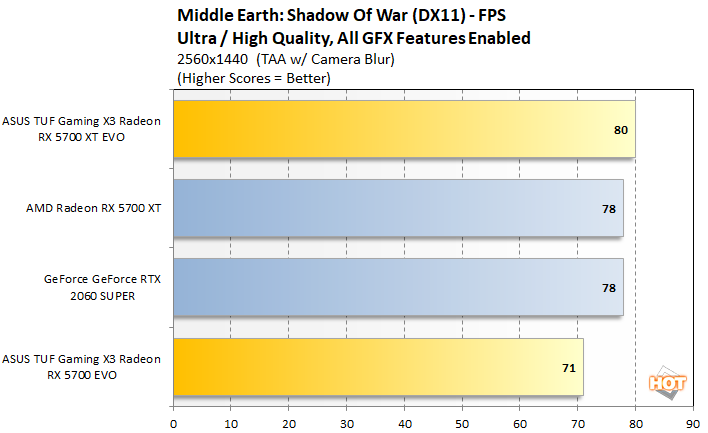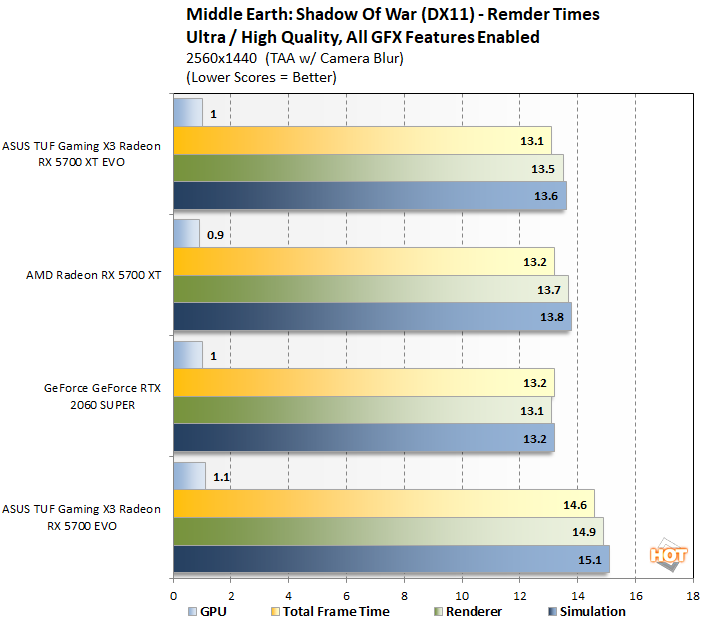 At 1440p, the performance between the
Radeon
RX 5700 XT and GeForce RTX 2060 SUPER tightens a bit, but the ASUS TUF Gaming X3 card is still the fastest option at around $400. Meanwhile, the slightly cheaper RX 5700 variant falls even farther behind the pack, as the faster ASUS sibling is a whopping 13% faster. At higher resolutions, the slower card seems to be at a real disadvantage.
Render times give us an idea of both smoothness and how long various stages of the game's pipeline take to present a finished image. Our
ASUS
TUF Gaming X3 Radeon RX 5700 EVO cards (as well as their competition) can all do the work very smoothly.
Shadow of the Tomb Raider

DirectX 12 Gaming
The finale of the rebooted
Tomb Raider
franchise takes Lara Croft to a variety of Tombs to Raid, something we suppose you figured out from the title. While the first two installments were (in my humble opinion) better games with better stories and a more sympathetic version of the series protagonist,
Shadow of the Tomb Raider
pushes graphics cards to a whole new level with tons of visual fidelity. We ran the built-in benchmark, which covers a variety of terrain, and found the average and minimum frame rates.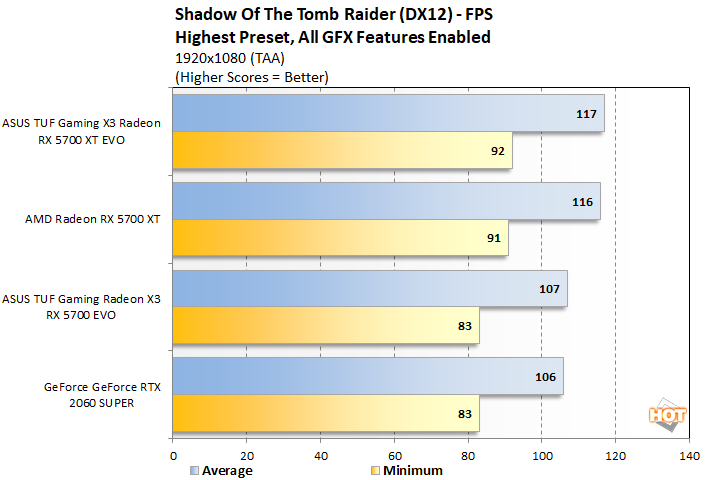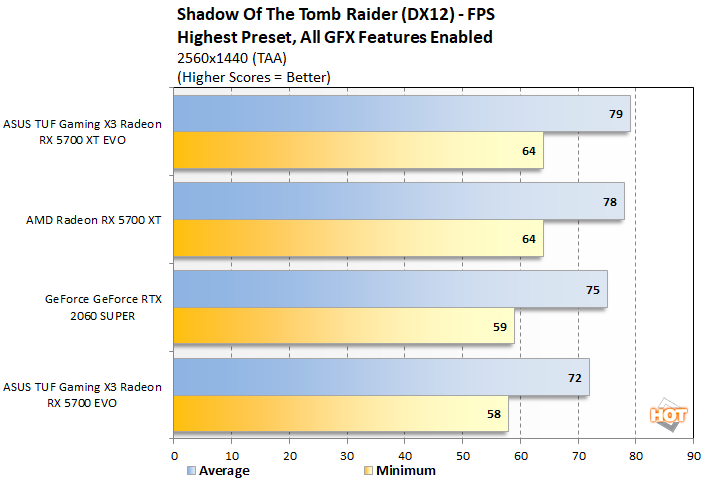 At the bottom of our charts, the
GeForce
RTX 2060 SUPER and ASUS TUF RX 5700 EVO slug it out for third place. The two cards perform quite similarly overall but there's a clear performance stairstep effect between them and the faster 5700 XT cards. At the top, the hot-clocked ASUS card edges out the reference design, and again the performance difference outstrips the price difference between the two ASUS cards. Overall, the faster card looks like a great value so far, while the slower one performs well enough, but isn't quite the same value.
Strange Brigade

DirectX 12 (or Vulkan!) Benchmarks
Strange Brigade
is kind of a wild third-person action game set in 1930s Egypt. One part
Indiana Jones
and one part
Left 4 Dead
, this game takes the cooperative party shooter on an adventure of exploring ruins, solving puzzles, and uncovering treasures while fighting off zombies. This game has both DirectX 12 and
Vulkan
rendering engines that use Asynchronous Compute. We tested with DX12 with the Ultra preset.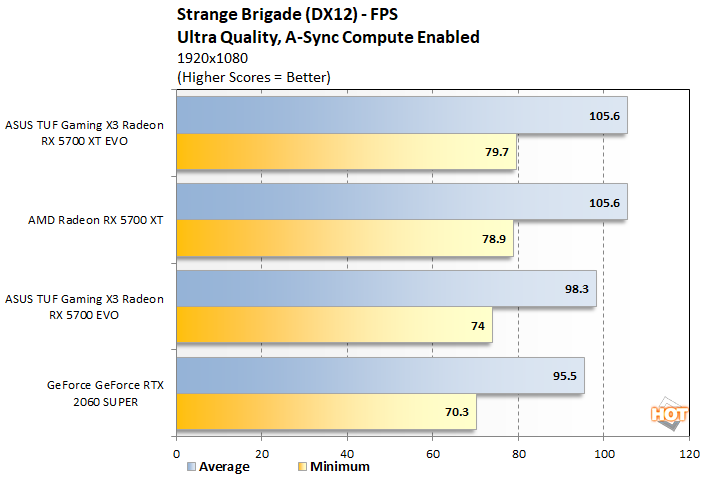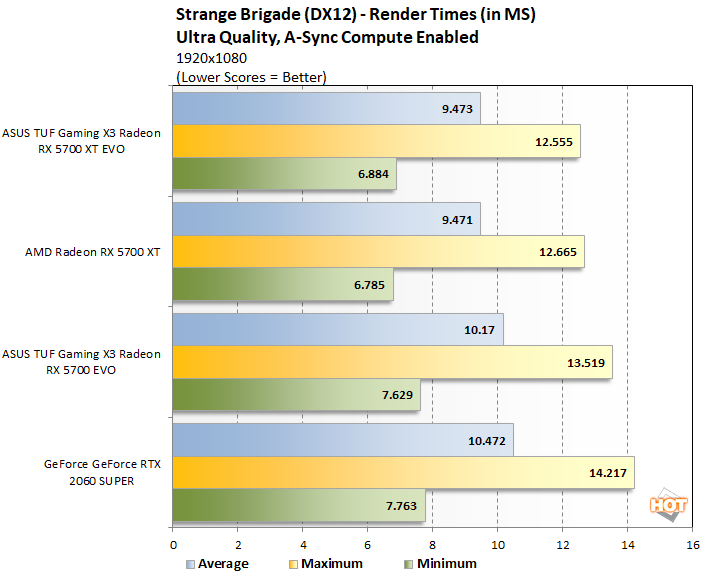 In
Strange Brigade
, none of our cards ever drop below 60 fps for even a single frame at 1080p. The way the high frame times are reported in this game's benchmark is that the absolute worst frame time is the Maximum while the absolute fastest frame is the Minimum. So from a smoothness standpoint, all of our cards do a great job. Some do a better job than others, though, and the fastest card is once again the ASUS
Radeon RX 5700 XT
, but it's awfully tight. It seems we might be somewhat CPU limited in this title once we hit that 105 fps wall. Despite a difference in clock speeds, the two fastest cards are in a dead heat.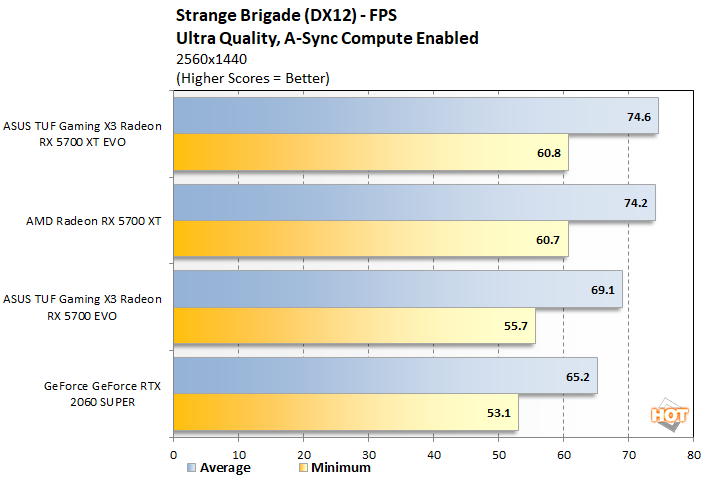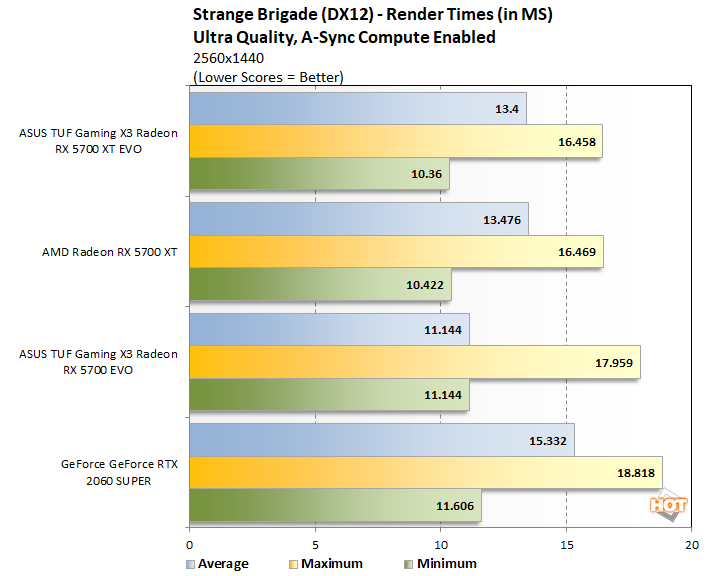 Once we crank up the resolution, we can start to make our cards sweat a bit more. The
GeForce RTX 2060 SUPER
still brings up the rear, losing to the ASUS TUF Radeon RX 5700 EVO by a noticeable margin, while the faster ASUS card takes the top spot by a nose and still never once drops below 60 fps. That's dominance.
Far Cry 5

Welcome To Americana
Far Cry 6
is right around the corner, but for now
Far Cry 5
is the latest installment of the storied first-person shooter franchise. FC5 takes place in a fictionalized county in Montana where a cult has taken over. The game takes place in a open world with lush scenery and plenty of exploring to do. We tested the game with the Ultra quality preset.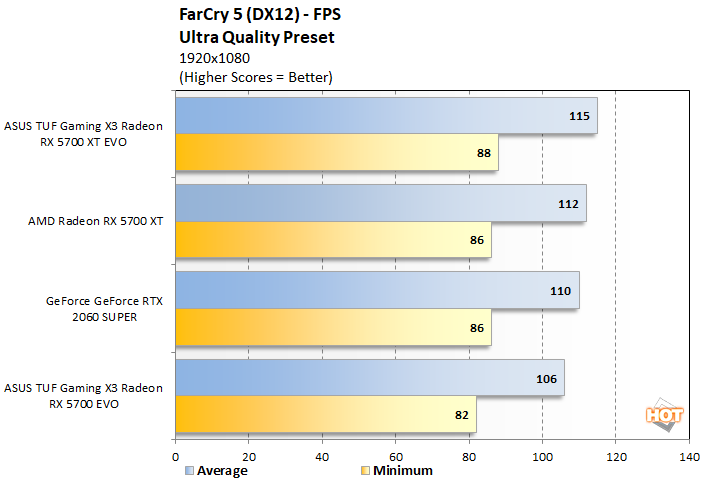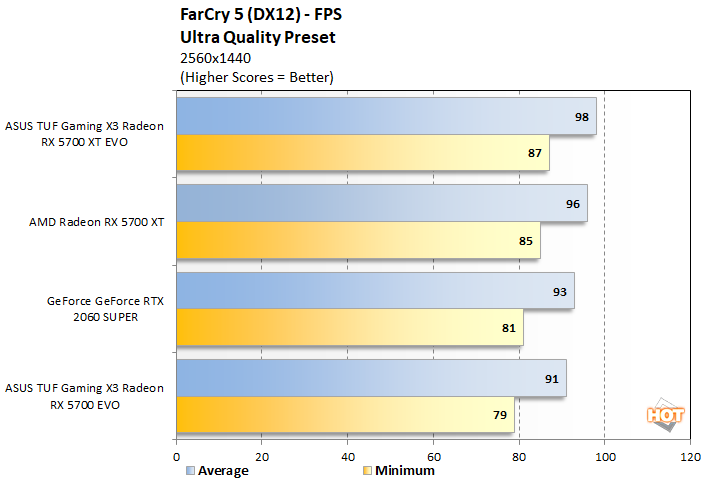 Every card has power to spare to 1080p on the highest settings, and the difference between the absolute fastest card and absolute slowest one is less than 10%. This time around that slowest card is the ASUS TUF Gaming X3
Radeon RX 5700 EVO
, but it's right on the GeForce's heels. Even at 1440p, our setup could hit some extraordinary frame rates that pushed our 95 Hz FreeSync monitor to its fullest potential most of the time.
Gears 5

Open-World Skiff Sailing Performance
The newest
Gears
game has a big open world up its sleeve once you get through the first act. There's a ton to see, explore, and (of course!) kill with a chainsaw gun. This title uses the latest Unreal Engine 4 and produces some beautiful visuals with excellent performance. We tested this game on the Ultra settings, though as
we found in our review
, High might look just as good with a performance uplift.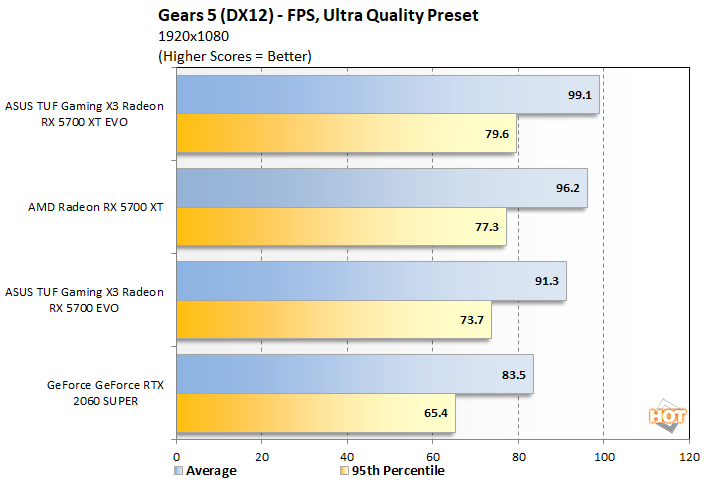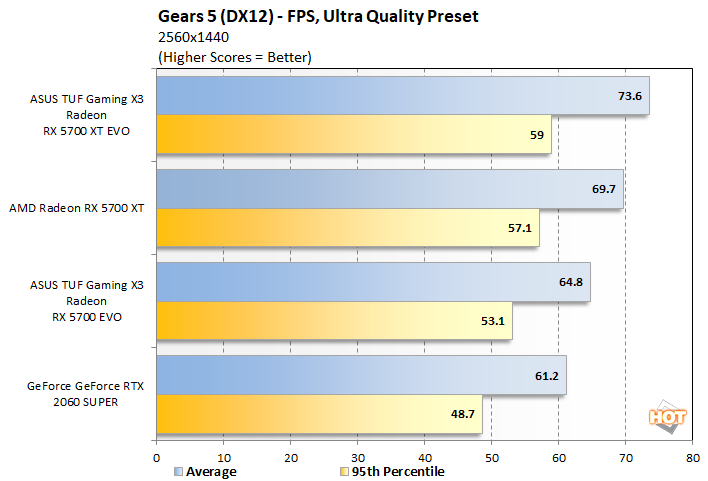 There's a reasonably large difference between a Radeon RX 5700 XT and a Radeon RX 5700 in
Gears 5
, but there's just as big a difference between our ASUS RX 5700 and the GeForce RTX 2060 SUPER. While none of our cards ever fall below 60 fps at 1080p, the slower (and cheaper!) Radeon wins out on the 95th percentile framerate by more than 10%. It seems the latest
Unreal Engine
title—which liberally employs Asynchronous Compute—just runs faster on AMD hardware. Since this is an Xbox port, that might not be as big of a shock as it seems at first blush.
When we push our cards harder at the much tougher QHD resolution, the GeForce falls a hair below 50 fps at the most strenuous parts of the test while all of the Radeons maintain speeds around 10% faster. Once again (and for the final time) our ASUS TUF
Gaming
X3 Radeon RX 5700 XT EVO is the fastest card, edging out the reference design and thoroughly trouncing the other two contestants.
Next up it's time to see how these cards handle an heat, power consumption, and a dash of overclocking.
Related content
Comments