ASUS TUF Gaming X3 Radeon RX 5700 Series Review: Great Coolers, Solid Value
ASUS TUF Gaming X3 Radeon RX 5700 EVO & 5700 XT EVO Graphics Benchmarks
How we configured our test system:
We tested these graphics cards with a
Ryzen 7 3700X
in an ASUS TUF Gaming X570-Plus Wi-Fi motherboard, with 32 GB of Corsair DDR4-3200C16 memory and a
Sabrent Rocket 4.0
NVMe SSD. We configured the system to use ASUS's DOCP in the BIOS interface, which enables the XMP profile. All tests used Windows 10 Pro with the 1909 update and the latest drivers and updates for the OS at the time. We tested the ASUS TUF Gaming X3 graphics cards with their default "Gaming" profile.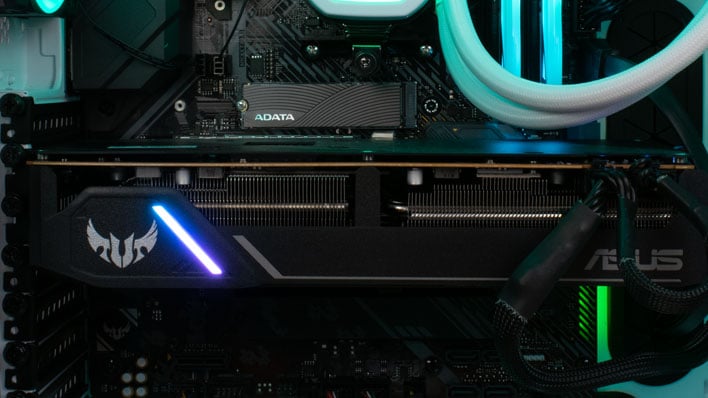 HotHardware's Test System

Intel Core i9 Powered
Hardware Used:
AMD Ryzen 7 3700X
(3.6 - 4.4GHz, 8-Core)

ASUS TUF Gaming X570-Plus Wi-Fi
(AMD X570 chipset)

ASUS TUF Gaming X3 Radeon RX 5700

(8 GB)


ASUS TUF Gaming X3 Radeon RX 5700 XT

(8 GB)


AMD Radeon RX 5700 XT (8GB)


NVIDIA GeForce RTX 2060 SUPER (8 GB)



32GB Corsair DDR4-3200
Sabrent Rocket 4.0 NVMe SSD
Integrated Audio & Network
Relevant Software:
Windows 10 Pro x64

NVIDIA Drivers: v451.67
AMD Drivers: Adrenalin v20.5.1



Benchmarks Used:


Unigine Superposition
VRMark
3DMark "Fire Strike"
3DMark "Time Spy"
Middle-Earth: Shadow Of War
Shadow Of The Tomb Raider
Strange Brigade
Gears 5
FarCry 5
Unigine Superposition

Pseudo OpenGL / DirectX 12 Gaming
Superposition is a
benchmark from Unigine
built on the UNIGINE 2 3D graphics engine. It has an array of tests focused on both gaming and VR workloads using both DirectX and OpenGL code paths, along with an extreme hardware stability test. All of Superposition's rendering uses Unigine's SSRTGI (Screen-Space Ray-Traced Global Illumination) dynamic lighting technology and high-quality textures and models, and as a result it puts out some stunning visuals. We ran Superposition's 1080p Extreme and VR Extreme tests to compare the cards on display.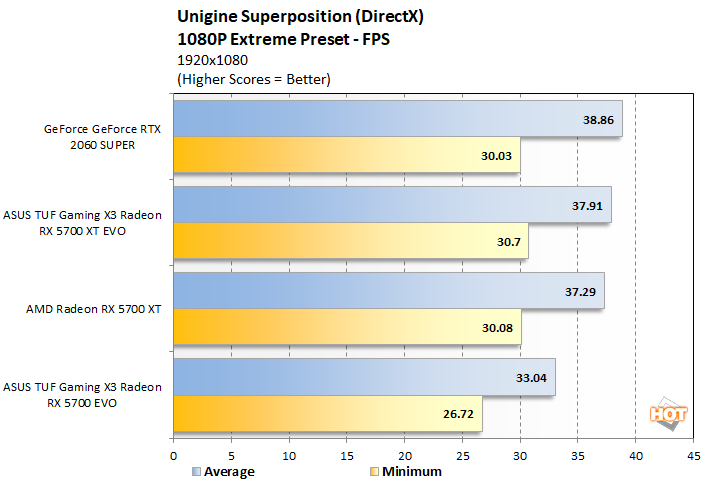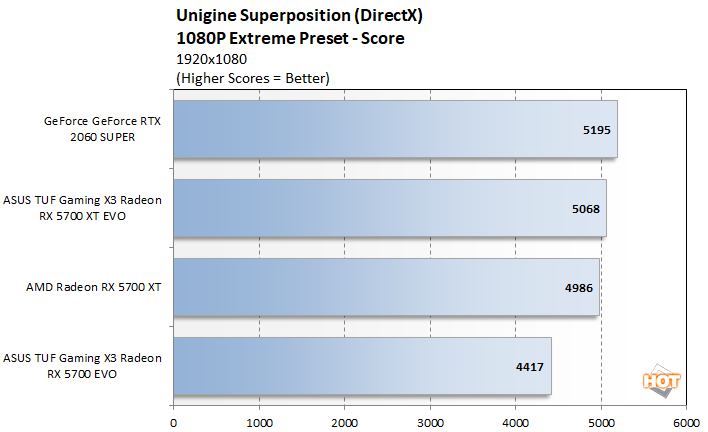 The 1080p Extreme test in Superposition sees our Radeon heroes fall behind the
GeForce RTX 2060 SUPER
competition. However, the ASUS TUF Gaming X3 Radeon RX 5700 XT EVO does outclass the AMD reference card as expected by a slight margin. The TUF Gaming X3 RX 5700 EVO trails by a considerable margin in the computed score, and the frame rates bear that out. The slower RX 5700 card trails the faster one by greater than 10%.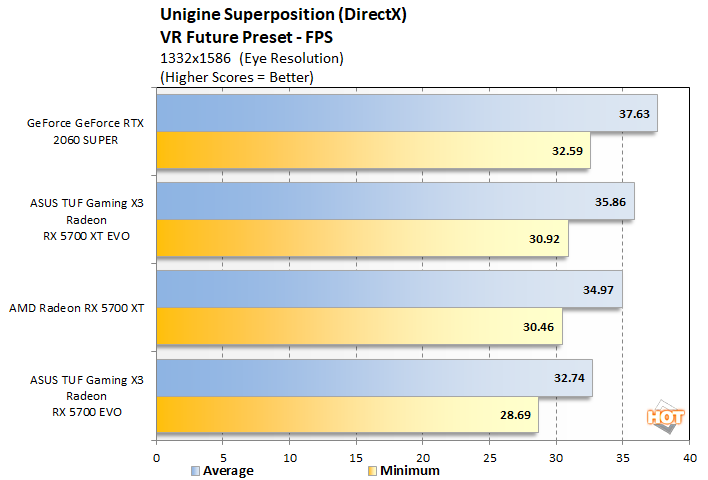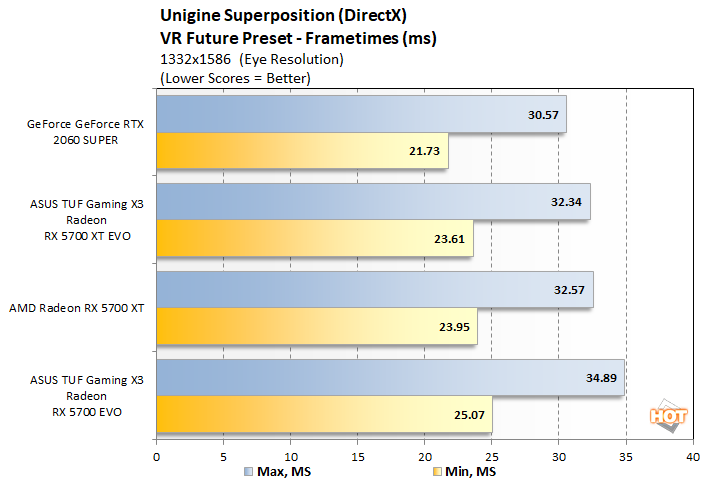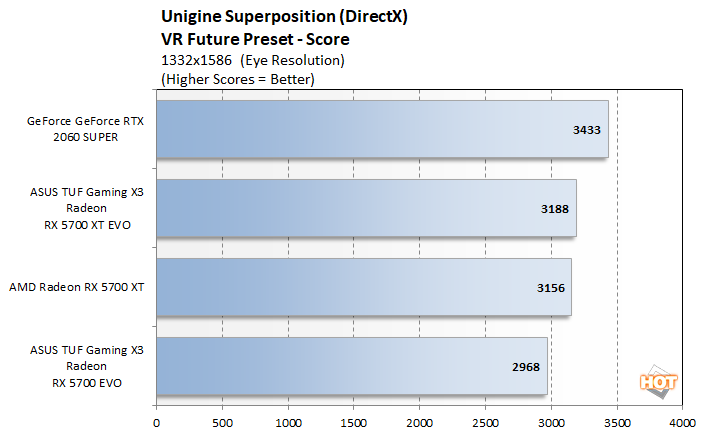 In the VR Extreme test, we see that again the cards fall in line roughly based on their cost and performance class. That $30 saved on the TUF Gaming X3
Radeon RX 5700
EVO does not look like it was worth it, however. The price/performance curve hasn't really peaked out yet in this price class, and that little extra cash goes a long way towards overall performance.
UL VRMark

Testing Rift and Vive Readiness
UL's (formerly Futuremark) VRMark tests a PC's readiness for common VR head-mounted displays including the
HTC Vive
and
Oculus Rift
. The benchmark doesn't need a headset to test the PC, though; it uses an alternate rendering method that creates a pair of images that would form a stereoscopic view, but places them side-by-side on the monitor. We ran the Blue Room test, which is the most taxing workload of VRMark's suite.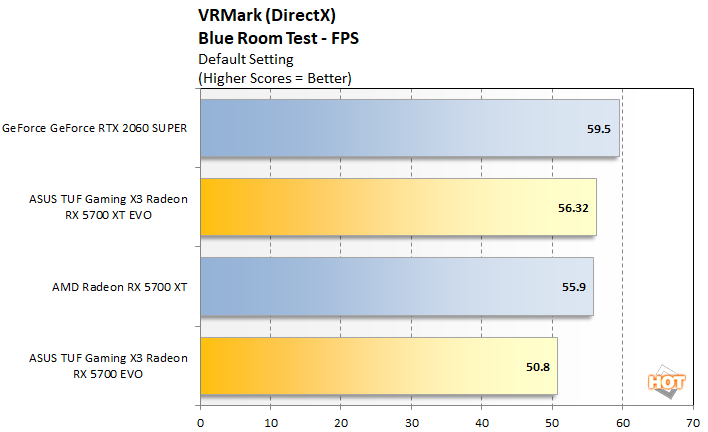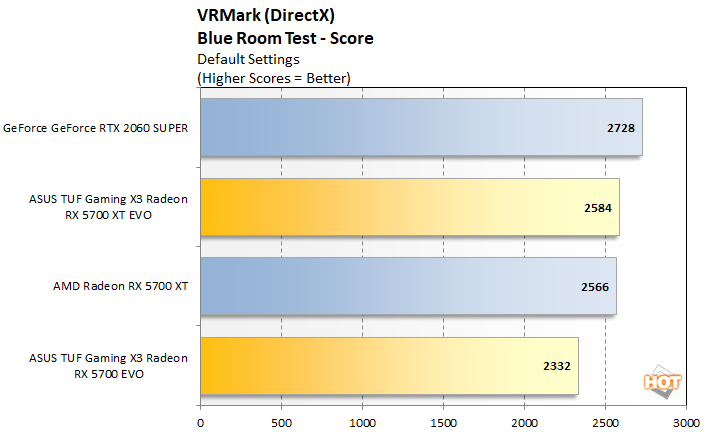 In VRMark, again the Radeons fall behind the lone GeForce competition, but otherwise everything seems to be in order. The difference between the faster TUF
Radeon RX 5700 XT
and slower TUF RX 5700 outstrips the price difference and as a result the more expensive card is once again the better value. The reference design is just a hair behind our custom card but as we'll see later on, there are other benefits to partner cards than
just
performance (ooh, foreshadowing).
3DMark Time Spy

DirecetX 12 Performance
3DMark
Time Spy is a synthetic DirectX benchmark from UL that features a ground-up
DirectX 12
rendering engine that features bleeding-edge features like asynchronous compute, explicit multi-adapter modes, and hefty multithreading. Time Spy runs a series of tests to bring even the fastest graphics cards to its knees. We used the default test settings which include a 1440p rendering target resolution.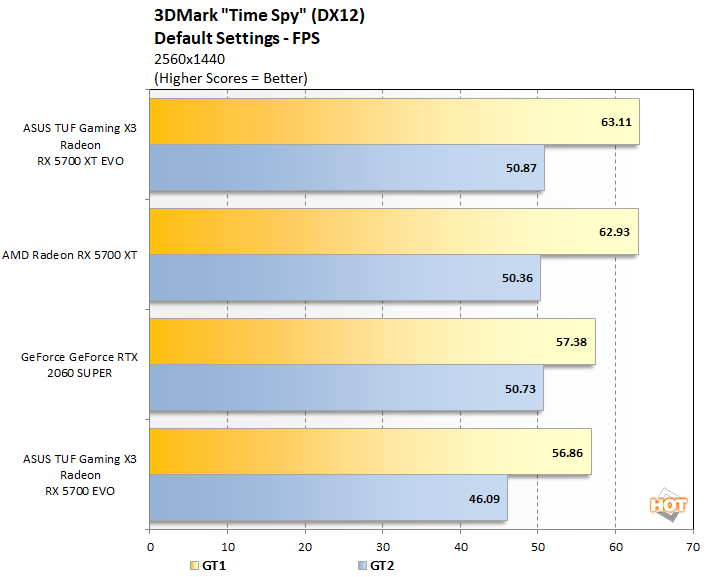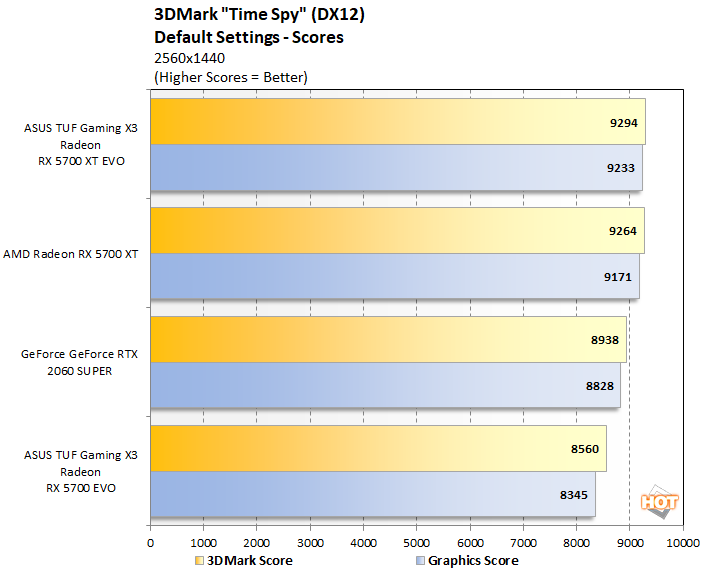 In the DX12-based Time Spy suite, the Radeon RX 5700 XT cards, especially the TUF X3 version, beat out the
GeForce
. The overall 3DMark score considers the physics test, which we're not exactly interested in here because our graphics cards are the stars of the show. On the other hand, the graphics score shows a larger margin of victory for the ASUS RX 5700 XT card, though once again the slower RX 5700 brings up the rear.
3DMark Fire Strike Ultra

Synthetic DirectX Gaming
3DMark Fire Strike is a little longer in the tooth, but thanks to the Ultra preset we can still suss out differences among graphics cards. This test runs through its series of scenes at a whopping UHD 4K 3820x2160 resolution. The first graphics tests targets large geometry loads and illumination, with over 100 shadow-casting spotlights and 3.9 million vertices. Graphics test 2 emphasizes particle effects and
GPU
simualtions.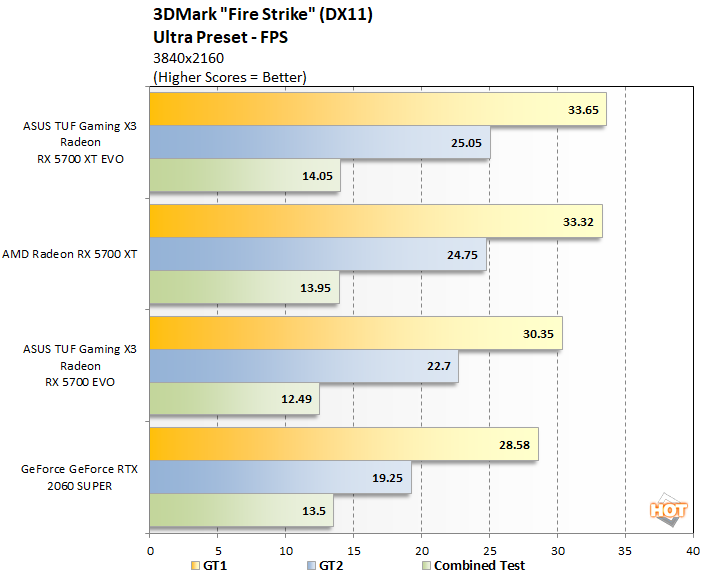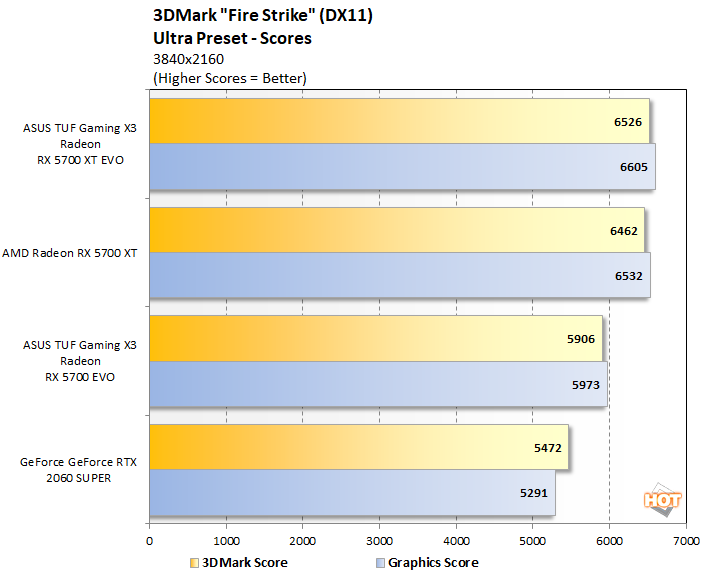 In Fire Strike Ultra, the Radeons pick up a huge win on the GeForce, though once again the margin between the two RX 5700 XTs is pretty slim. As the frame rates show, the animation is
much
smoother at the 4K UHD resolution on all of our Radeon cards compared to the GeForce. Both
Radeon
models just have a ton of rendering resources that get stretched to their limits at this punishing setting. Out of each of the individual tests, it's Graphics Test 2 which focuses on particle effects and simulation that shows the biggest difference. The slower TUF RX 5700 wins out by around 15% over the GeForce, where the faster TUF RX 5700 XT puts up a 30% margarine of victory.
Now that we've got the more synthetic workloads under control, it's time to move on to a suite of gaming tests.
Related content
Comments