ASUS TUF Gaming X3 Radeon RX 5700 Series Review: Great Coolers, Solid Value
ASUS TUF Gaming X3 Radeon RX 5700 EVO & 5700 XT EVO Overclocking, Power, and Conclusions
First let's take a look at overclocking performance. For that, we turned to AMD's
Radeon Software
and configured the maximum speeds manually. Unfortunately, we couldn't really
do
a whole lot in the driver's control panel, because our maximum frequency increase was limited to a paltry 2% on the TUF Gaming X3 Radeon RX 5700 XT EVO. If you've already done the math at home, you know that the OC profile in ASUS GPU Tweak II exposed a 5% bump in clock speeds for that card. We could get a bit more out of Radeon Software for the slower RX 5700 variant, though.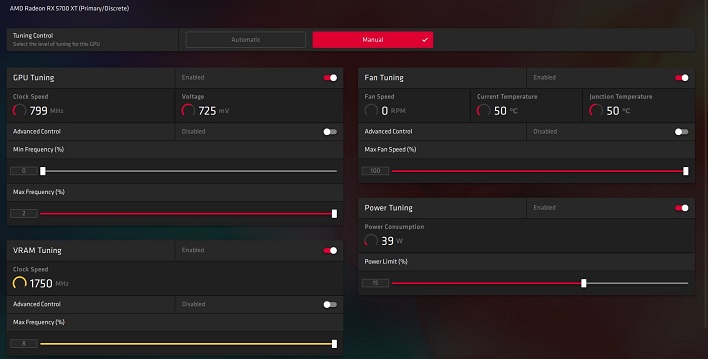 So instead of relying entirely on Radeon settings, we enabled the OC profile on both cards and then returned to AMD's software for further tweaking. Before we go any farther, it's worth mentioning that both ASUS Radeon cards were 100% stable with the OC profile enabled. Although the slower RX 5700 didn't get much of a boost from the maximum clock, the profile does open up the power limit to 111% of its max instead of 100%. When we came back to
Radeon
Settings, we were still limited on the slider, but it didn't matter. Even a 1% boost over the OC settings locked up our Radeon RX 5700 XT in the
Shadow of The Tomb Raider
benchmark.
Because the OC profile doesn't give us much on the slower card, the Radeon RX 5700 still had more to give. We could max out the frequency slider at 5% in the Radeon Adrenaline control panel. According to GPU-Z built into GPU Tweak II, the card hit and sustained 1,815 MHz that way. After some more manual tweaking, inside GPU Tweak II we got the card up to 1,875 MHz, which is a 150 MHz overclock that's over 8% higher than the stock settings.
Unfortunately, the 14 GT/s
GDDR6
memory on our cards couldn't handle much tweaking. Radeon Software exposed a percentage slider and GPU Tweak II let us set absolute transfer rates, but no amount of tweaking was stable on the slower RX 5700 card. The RX 5700 XT had more to give, however, and the memory was stable at the max 8% boost, which works out to 15.12 GT/s. Let's see how we did...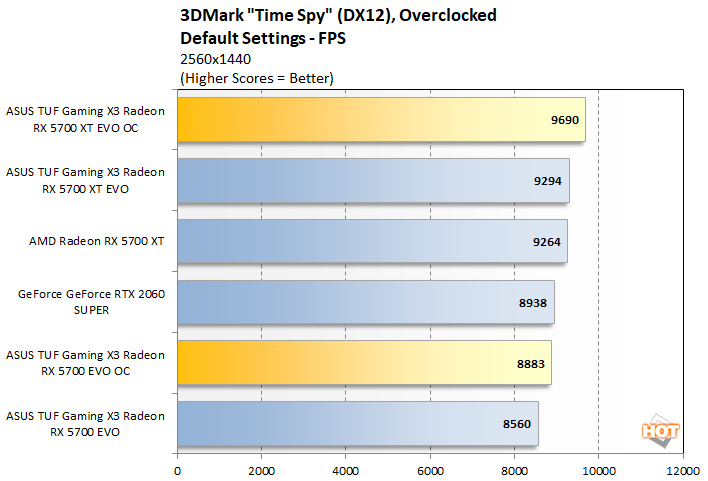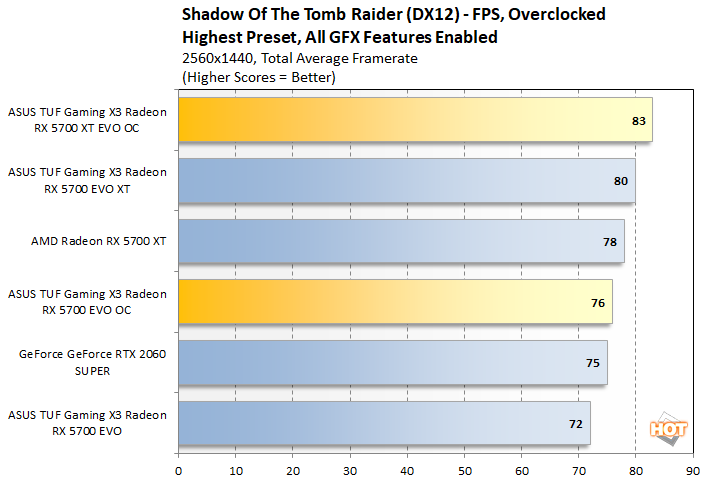 Both cards saw noticeable gains in both of our tests. Unfortunately, since both cards were basically limited to overclocking just one of the GPU or the memory, neither of them got any really impressive bumps. However, the cheaper
Radeon RX 5700
was able to basically tie the GeForce RTX 2060 SUPER in both tests, and even barely leapfrogged the GeForce in
Tomb Raider
. The TUF Gaming X3 RX 5700 XT EVO further extended its lead on both. So what's the cost? Power consumption and fan noise. Let's see just how much.
ASUS TUF Gaming X3 Radeon Power Consumption
Before we get into power consumption, we need to point out one potential caveat: at idle, all of our Radeons consumed around 1/3 more power than the
GeForce RTX 2060 SUPER
. That problem seemed to resolve itself when the display went to sleep or if I picked a different input on my KVM switch, but as long as the monitor was awake and displaying the test machine, our Kill-A-Watt showed higher consumption. As it turns out, our Pixio PX275h, which is a 95 Hz Freesync display, triggers a known behavior with Navi cards.
According to AMD it's normal for the cards to keep memory running at higher speeds at higher refresh rates for the "optimal experience", according to a company representative
on AMD's forums
. That's why in our charts below, you'll see "60 Hz" and "95 Hz" power consumption values, and why 95 Hz consumes more power at idle but not at load. If you have a 60 Hz display, first of all, you're missing out, but secondly Radeons have higher power consumption.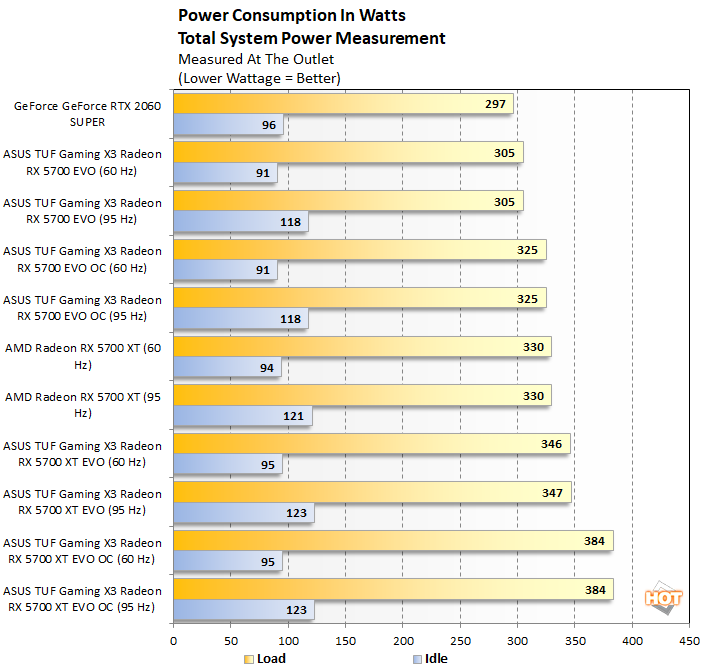 At idle, we see the difference between high refresh rates and standard 60 Hz is around 30 Watts. Over the course of a 24-hour day, that works out to be less than one kWh, so over the course of a month it *might* cost an extra dollar if the monitor is left on at all times and the system never plays a game that day. However, when the display goes to sleep memory frequencies and power usage drop. In short, your high refresh rate monitor probably takes just as much power as the difference in the Radeon's power consumption. Just let your monitor go to sleep (which is the default in
Windows 10
) and it's nothing to get worked up over.
At load, we see that the TUF Gaming RX 5700 EVO roughly ties with the GeForce RTX 2060 SUPER on power consumption, and on the previous pages we saw that the two cards traded positions on our charts fairly frequently. The ASUS card and our NVIDIA competitor are roughly equivalent from a power consumption standpoint. The ASUS TUF Gaming X3
Radeon RX 5700 XT
takes a bit more power than the stock card, but it also has higher clocks by default and a bit better performance.
Thermal Performance and Fan Noise
Next up we checked temperatures and fan noise under the same
Shadow of the Tomb Raider
benchmark. To measure noise we turned to our trusty MLM02 sound level meter, which runs about $20 on Amazon. We opened the side of our case, a Corsair Crystal 680X, and held the sound meter around 12" from the side of the card. With the case fans running by themselves, the meter measures a sound floor of 38 to 39 decibels (A-weighted).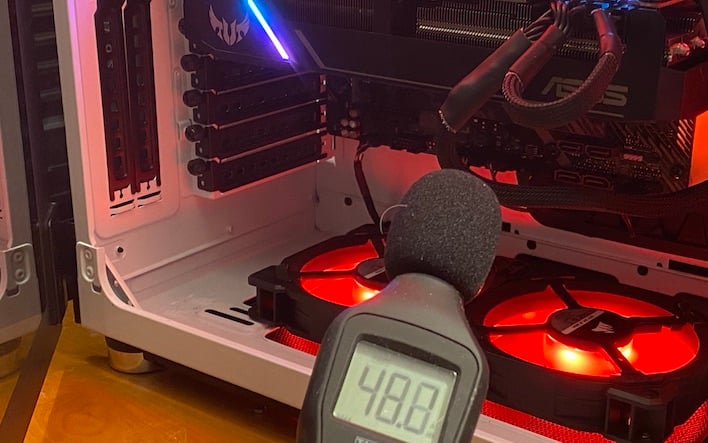 At stock settings, the TUF Gaming X3 Radeon RX 5700 was
almost
inaudible over the case fans. It measured 41 dbA on our meter. Overclocked, it was a touch louder but not all that bad at 43 dBA. The faster
Radeon RX 5700 XT
at stock settings also registered that same 43 dBA, but when overclocked it was much louder, and it obviously stuck out over the case and CPU fans, hitting a peak loudness level of 51 dBA. All things considered, that's still pretty dang good. For comparison, the blower on our reference-design Radeon RX 5700 XT's cooler got up to 63 dBA under that same heavy load.
ASUS obviously built the TUF cards' fan profiles to maintain steady performance under load. It doesn't matter if the card was at stock settings or overclocked, it always did its best to hold steady at 85 degrees Celsius, according to GPU-Z. Our testbed
gaming
PC was built with convection cooling in mind—a pair of 120-millimeter case fans draw cool air in from the bottom and blow up towards the graphics card and eventually exits the top through the CPU radiator. Don't worry about the processor, though, as a trio of fans draw air in from the front, too. Needless to say our case has a lot of air flow, and it results in steady temps and low fan noise in most cases. But that wasn't enough to stop the reference cooler from getting kind of whiny.

The important value is a spot in time, where the @ sign is. The GPU temps peaked at 85 degrees C
ASUS TUF Gaming X3 Radeon RX 5700 Series Conclusions
The ASUS TUF Gaming X3 Radeon RX 5700 cards are excellent examples of their respective GPUs. Their coolers keep temperatures under control while working hard, and manage to stay quiet during that process. They're also priced quite competitively, offering everything gamers need, while not piling on extra features like huge RGB LED arrays. If you want that, it's available in a higher tier of cards under ASUS's
ROG Strix
banner.
The heart of this TUF line-up is the improved cooler. We've already recounted how ASUS took it on the chin when it came to thermal and acoustic performance early this year, but the improved heat sink surface area and Axial Cooling fans worked very well together to keep temperatures in check, while not producing much noise. In fact, if we had never overclocked our cards, even the faster
Radeon RX 5700 XT
would have been just barely audible above the case and CPU fans.
The downside to picking any Radeon RX 5700 card is that equivalently-priced GeForces have
DXR
ray tracing. In certain games, that makes the scenery just gorgeous. All one has to do is take a look back at our review of Remedy's Control and see how the game looks with and without ray tracing to see that DXR is here to stay. Even the next generation of consoles will have hardware-accelerated ray tracing, so it's a real shame that Navi isn't capable of that eye candy. That's not a mark against these particular cards, however.
In the end, the one issue we have is in the pricing of the slower TUF Gaming X3 Radeon RX 5700 EVO. It retails for
around $389
, while the faster 5700 XT clocks in at $419. That $30 difference translates to the faster card being just 7.7% more expensive than the slower card, but the performance difference was much greater, sometimes pushing up to 12 or 13%. When it comes to Ye Olde FPS Per Dollar scale, the faster card is just a better value. On the other hand, if you just can't swing the extra cash in the budget, this card is on roughly equal footing with a GeForce RTX 2060 SUPER (DXR aside) so it's still a solid performer. And if you're using a 1080p display (even a
FreeSync
one with a high refresh rate), the extra power of the 5700 XT might go to waste. Ultimately, we think you'll get more mileage out of the higher end model in the long run, though.
Overall ASUS engineered a pair of really nice graphics cards here. They hit just the right mix of price, performance, power consumption, thermals, and noise to be winners in our book. The company has made big strides in thermal management, and the three-year warranty backs that claim up. The nice value proposition is especially true of the TUF Gaming X3
Radeon RX 5700 XT
EVO. Radeon shoppers in the market for an upgrade would do very well to give this ASUS card a look.
ASUS TUF Gaming X3 Radeon RX 5700 XT





Hot-clocked Radeon performance
Excellent cooling performance
Relatively quiet fan noise character
Good power consumption for the performance
RX 5700 XT has great mix of price and performance

RX 5700 model not as good a value
"2.7" slots means they need a full 3 slots in your case
No DXR Raytracing
Related content
Comments