Maingear Vybe Gaming PC Review: A Ryzen And Radeon Hot Rod
Benchmarking The Maingear Vybe With Ryzen 7 5800X3D And Radeon RX 6950 XT Firerpower
Benchmarking a system like this particular Maingear configuration is relatively easy, because the tests and workloads go so fast. That said, when you're considering dropping down $4800 or so for a ultra-high-end pre-built gaming PC like this, you expect absolute top-shelf performance. So let's dig in and see if this
Maingear Vybe
puts up numbers in line with its price point.
ATTO Disk Benchmark
The boot drive (and singular storage device) in the Maingear Vybe that we received is a
2TB Samsung SSD 980 Pro
PCIe 4.0 NVMe SSD nestled snugly into an M.2 socket. This won't surprise anyone who pays attention to PC hardware, but it's pretty stinkin' fast. We knew that too, of course, because we've
already reviewed
the SSD 980 Pro. We still wanted to check out those speeds and feed though of course...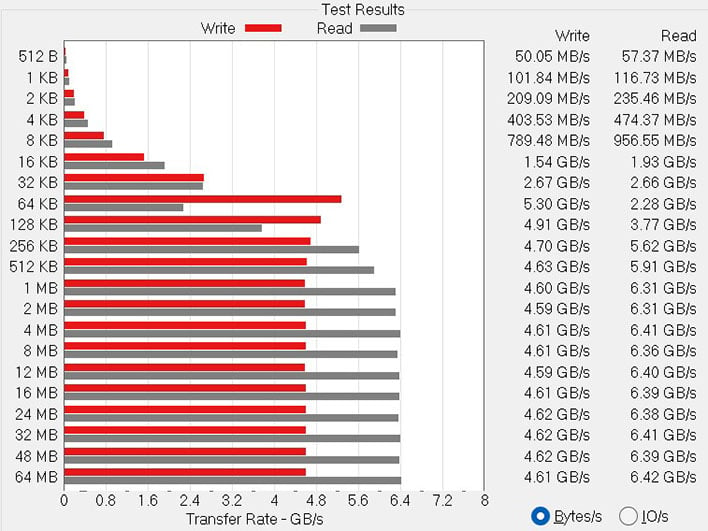 Versus our review of the 1TB model of this SSD, we saw slightly better performance, north of 6GB/s for reads but about the same performance with this 2TB model in write throughput. Either way you slice it, this is nice and snappy for an OS drive, and a capacious one at that.
Cinebench Rendering Benchmarks
Cinebench
actually isn't a purely synthetic benchmark; it's based on a real application, Maxon's Cinema 4D modeling software, and measures rendering performance under that workload. Here we recently cut over to the R23 version of the app, moving from R20 for our desktop review category. As such we didn't have other desktop reference numbers in our database to pull from for R23, though we did have plenty of data from our recent CPU reviews, and that's what we've laid out for you here...
Our Vybe's Ryzen 7 5800X3D dropped in right where we expected, with essentially identical performance to our HH CPU test bed with the same CPU plugged in. You'll also note that yes, in terms of raw CPU throughput, AMD's Ryzen 7 5800X3D is slightly slower than a standard 5800X in this benchmark, due to the X3D's lower clock speeds. However, when it comes to gaming, you'll see AMD's new 3D V-Cache enabled
chip is in another league
altogether.
Speedometer 2.0 Web-App Benchmarks
Speedometer is a test of web application performance -- you know all those apps that run in a browser tab, like Slack, Discord, Google Docs, and even YouTube. Speedometer gives you a decent gauge of how those apps will run on a given system in a given browser. Indeed, results vary tremendously between browsers, and even between different browser versions. All of our tests here were done on the latest version of Microsoft Edge.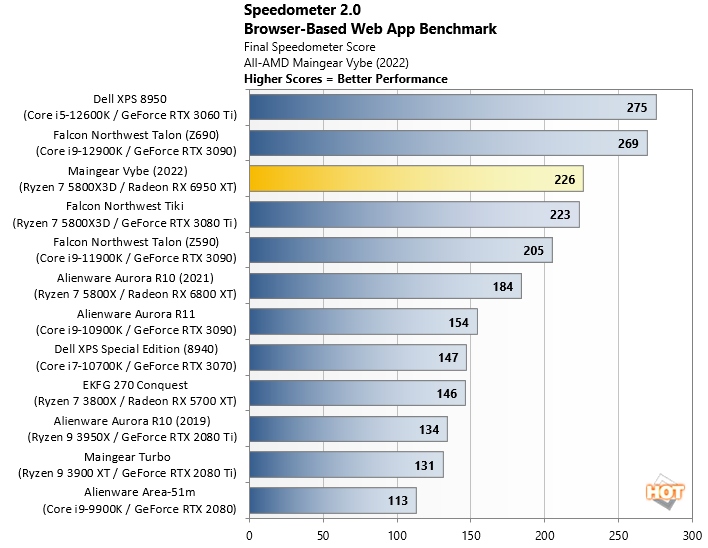 Though it can't quite keep up with Intel's 12th Gen Core CPUs in this light duty workload, the Vybe's Ryzen 7 5800X3D CPU puts up a very strong score and just clipped past the Falcon Northwest Tiki system with the same CPU on board.
PCMark 10 System Benchmarks
Even after all these years, we've found that PCMark still gives a decent idea of what kind of performance you can expect in productivity and content creation apps. The latest version includes quite a few tests surrounding tele-conferencing functions—important metrics to be sure in the new post-pandemic world of
Zoom
meetings. As with the rest of our benchmarks, we ran PCMark 10 three times, and took the mean of its results.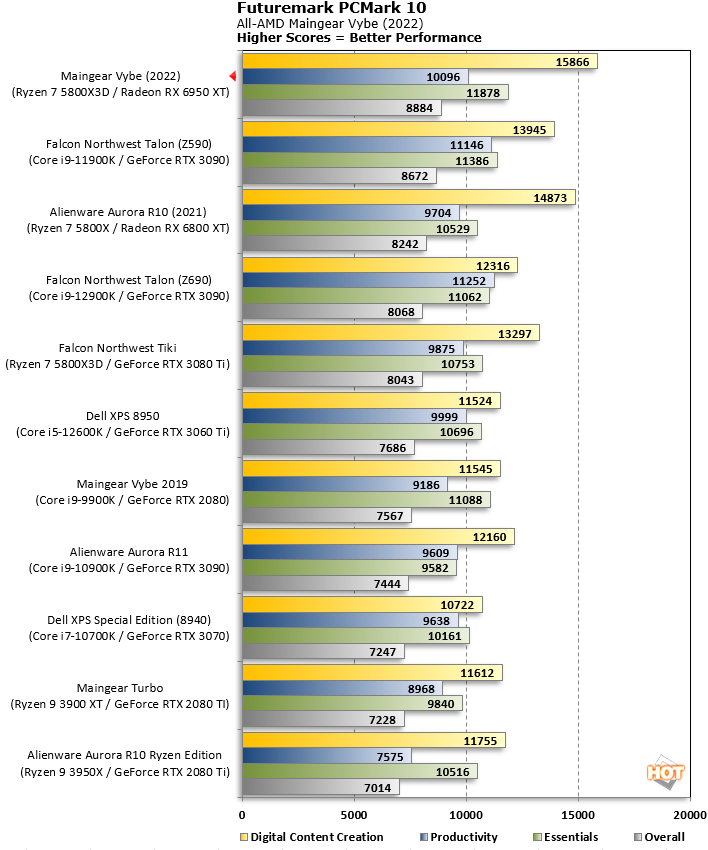 Here the Maingear Vybe's component selection and cooling solution allow it to take the top rung amongst all the gaming desktop configurations we've tested to date in PCMark 10, with especially strong content creation chops.
3DMark Time Spy DX12 Benchmarks
As usual, we'll start our game benchmarking off with 3DMark. If you're somehow unfamiliar, 3DMark is a synthetic game-like benchmark for assessing gaming graphics (GPU) and physics (CPU) performance. This tool has a wide variety of tests and demos that target various types of graphics workloads, to give a better picture of how a system will handle real games. We used the Time Spy benchmark, 3DMark's
DirectX 12
test. This test has multiple presets, but the standard Time Spy test is plenty taxing.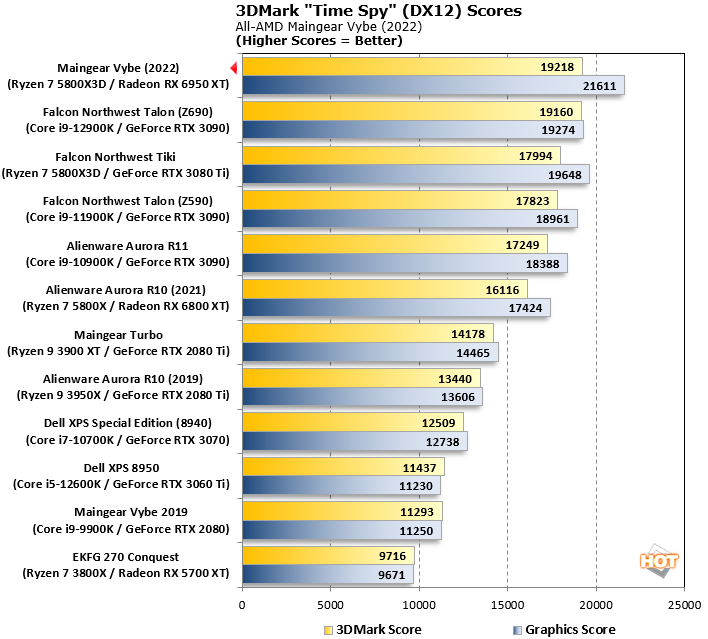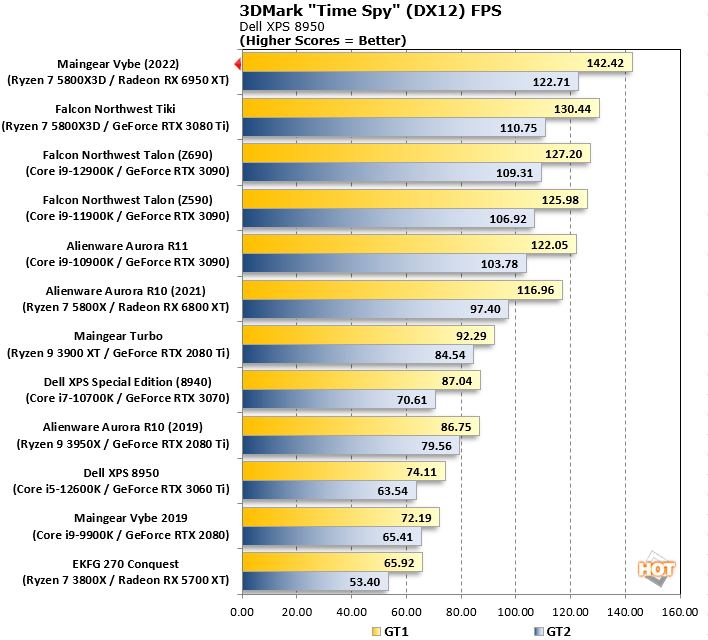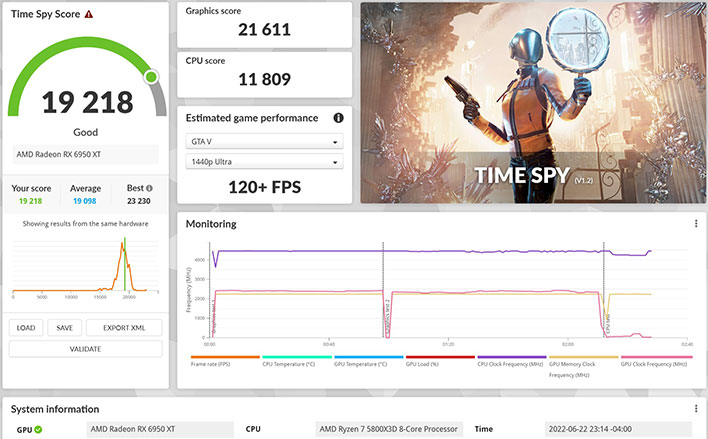 Once again we've chalked-up another first place score with the new 2022 Maingear Vybe powered by AMD Ryzen and Radeon technologies, and the combination of that monster Radeon RX 6950 XT GPU and Ryzen 7 5800X3D CPU are the primary reasons why. However, let's fire-up some real triple-A game titles, shall we?
F1 2021 And F1 2022: 1080p Through 4K Gaming Benchmark Results
F1 2021 is Codemaster's very popular Formula One racing simulation game, and like previous versions, it sports impressive visuals. This latest addition to the franchise supports DirectX 11 or
DirectX 12
, and it incorporates support for a number of AMD's FidelityFX and NVIDIA technologies (like
DLSS
), though we didn't enable any of them to keep the playing field level here. We tested the game with its Ultra High graphics preset, but with Ray Tracing disabled and TAA enabled at a few resolutions to see what this machine could do. Then we enabled
ray tracing
to see what additional stress that put on the system in exchange for its noticeably improved visuals.
Finally, we fired up the just-released F1 2022, Codemaster's follow-on in the series with improved visuals, new tracks and cars to experience as well. Let's take a look...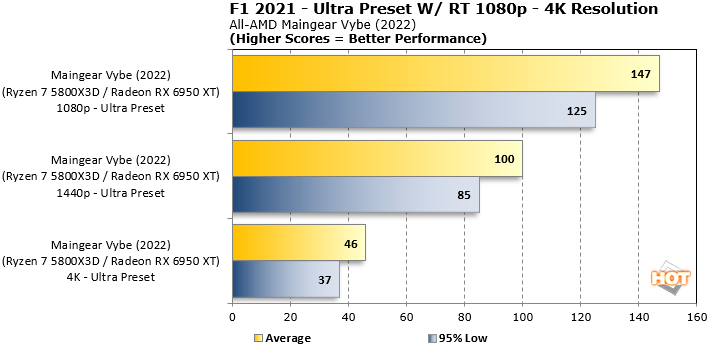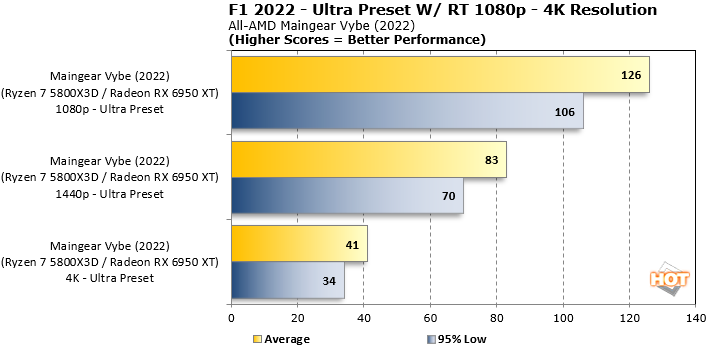 We apologize for the lack of test system reference data here, but we're incorporating F1 2022 into our desktop system review benchmark suite moving forward. Regardless, even with the Ultra preset and ray tracing effects enabled, the Maingear Vybe and its
Radeon RX 6950 XT
are able to maintain playable frame rates all the way up to 4K resolution. F1 2022 is a bit more taxing with its improved visuals but at 1440p we're still maintaining 70 FPS mins and at 1080p performance breaks out well above 100 frames per second.
Shadow Of The Tomb Raider Performance
Shadow of the Tomb Raider
is currently the final entry in the
Tomb Raider
reboot trilogy, although another entry, this time running on Epic's Unreal Engine 5, was just announced last month. We'll start looking at that TR version when it releases soon, but for now we have a plethora of comparison data with the previous title.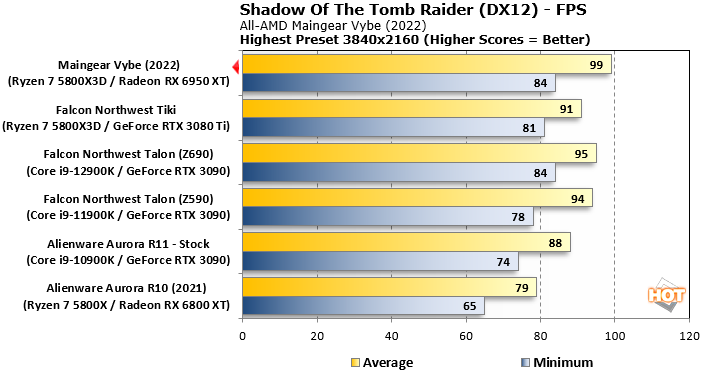 We kept the graph tight here, showing you only top-line system configurations, but as you can see, versus the likes of beast systems from Alienware and Falcon Northwest, this Maingear Vybe once again grabbed a first place victory, kissing nearly 100 FPS at 4K in this game title at its Highest quality preset.
Gears 5 Benchmarks
Gears of War
was a graphical tour de force when it released on the Xbox 360 in 2006. As the showpiece title for Epic's third full-number revision for
Unreal Engine
3, it flaunts stellar visual effects. Now, 16 years later,
Gears 5
may not be the showpiece its ancestor was, but it's still a gorgeous game. Given the potency of this PC, we skipped the "High" preset testing this time around and went for straight for Ultra again.
Gears 5
is a game that makes us of multiple CPU cores, loves fast single-threaded performance, and as a result of this efficient programming, will use every ounce of GPU horsepower available. Here it's a virtual dead-heat between the Maingear Vybe and its Radeon RX 6950 XT firepower versus the GeForce RTX 3090-equipped
Alienware Aurora R11
. At north of 70 FPS mins, the game is also buttery smooth and a blast to play.
Metro Exodus Benchmarks
Metro Exodus
is based on author Dmitry Glukhovsky's series of
Metro
novels that started with
Metro 2033
back in 2005. It's become something of a tradition for the
Metro
games to receive updated re-releases shortly after the original release, and that's the case for
Exodus
, too.
We're testing with the original release here, though, simply because that's the data we have to compare against. If you were actually going to play
Metro Exodus
in 2022, we'd definitely recommend the Enhanced Edition, as long as you have the requisite
DXR
-capable hardware—it both runs and looks better than the original recipe.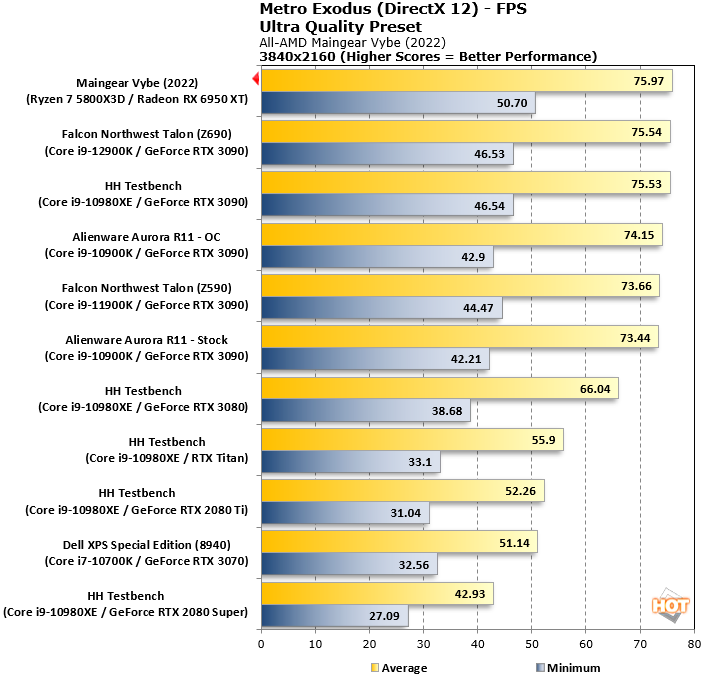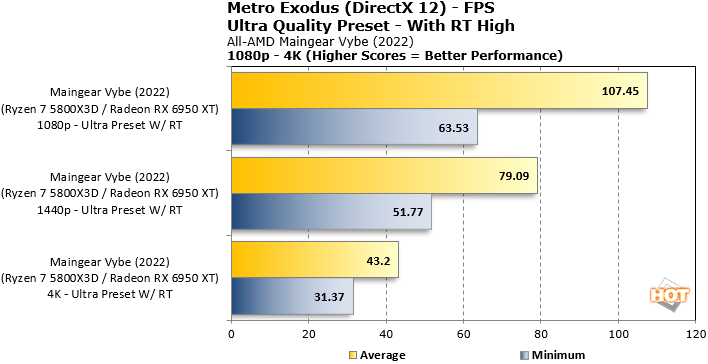 With Metro Exodus the performance picture is basically the same for the all-AMD infused 2022 Maingear Vybe -- which is to say it kicked
much
backside and once again took the top rung in our benchmark database, along with 10% higher min frame rates versus the fastest machine we've tested to date, when using the Ultra preset.
With ray tracing enabled, however, performance is going to take a hit, in exchange for a nice visual boost. We're also migrating in this game benchmark methodology, to testing systems without
DLSS
enabled (the title doesn't currently support AMD
FSR
) so that the playing field is level in terms of workload. As such again, we've only tested the Maingear Vybe here over various resolutions up to 4K. Regardless, performance is still strong though playability wanes at 4K resolution with 31 FPS mins.
Related content
Comments