Galaxy Note 20 Ultra 5G Review: Samsung's Most Powerful Phone Yet
Samsung Galaxy Note 20 Ultra: Battery Life And The Verdict
Futuremark's
PCMark
for Android Work 2.0 Battery test takes workloads from the benchmark itself (image and video editing, email and web browsing) and scripts them in a loop that runs until battery levels drop below 20 percent. This test is more real-world in terms of its setup, because we calibrate display brightness on all devices to 200 Lux
with meters
, and the test then locks that display brightness in for the duration. In these tests, Bluetooth connectivity and Location services are disabled, though Wi-Fi and mobile data is left enabled as part of a traditional use case workload. In the case of the Note 20 Ultra, it maintained a 5G connection to T-Mobile's network in our lab for the entire duration of this test.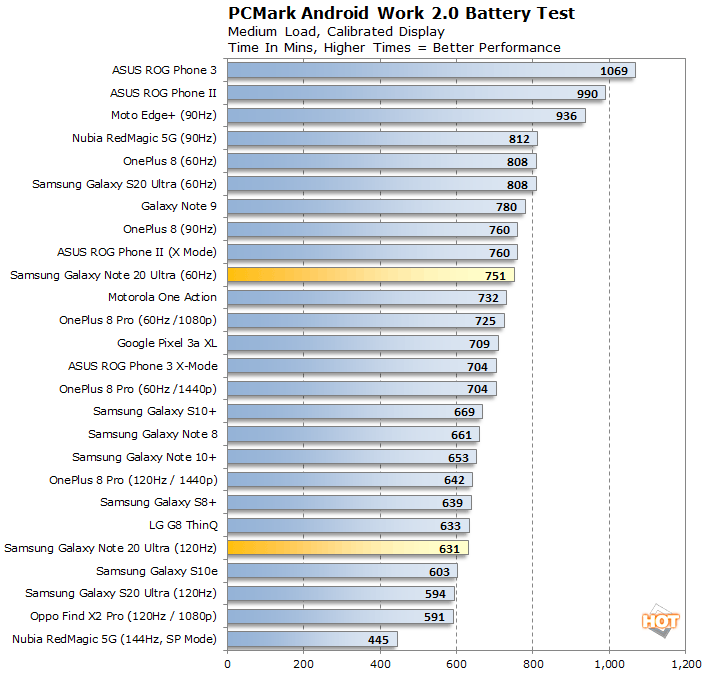 We tested the Note 20 Ultra in two modes here: with the lower screen resolution and 120Hz adaptive refresh rate option enabled and again at the device's higher, native screen resolution, which operates at 60Hz. With the adaptive refresh rate enabled, the Note 20 Ultra lasted for just over 10.5 hours, which put it toward the bottom of the stack. 10.5 hours of constant activity with the screen lit up is still an excellent result though, and will easily allow for more than entire day of typical use. At full resolution, but with a lower 60Hz refresh rate, the Note 20 Ultra's 4,500mAh battery lasted for over 12.5 hours, which put it in the upper third of our results.
During real-world use, we have absolutely no complaints regarding the Note 20 Ultra's battery life. It may not offer the longest uptime relative to some competing flagships, but considering the device's strong performance and large display, battery life is very good and should be a non-issue for the overwhelming majority of users.
Although we don't put much stock in the mediocre results seen here, we figured you'd like to see some 5G bandwidth testing nonetheless. Throughout our time with the Note 20 Ultra, it maintained a 5G connection to
T-Mobile's
low-band, sub-6 network in our Southern Connecticut location. Whether we tested inside, outside, or different parts of town, upload and download speeds remained essentially constant (in-line with the results above), which likely points to an artificial bandwidth limitation while T-Mo continues to build out its 5G network. Regardless, with speeds like this, browsing the web, answering email, etc. is plenty fast on the Note 20 Ultra.
Samsung Galaxy Note 20 Ultra Review Summary
The Samsung Galaxy Note series has been at the forefront of the larger form factor smartphones market since its inception. Over the years, Samsung has tweaked, tuned, and refined the Galaxy Note to be one of the most capable and feature-rich Android phone offerings around, and the Galaxy Note 20 Ultra carries on that tradition. From its build quality, to its display, to its camera and expansive array of proprietary features -- like DeX, Knox, and the S-Pen -- the Note 20 Ultra delivers. This device feels premium throughout and offers leading edge features on multiple fronts.

Though its overall performance wasn't quite as high as some other devices featuring the same Snapdragon 865+ processing platform, it is still excellent, especially when it comes to gaming and graphics. The Note 20 Ultra's camera performance isn't perfect at the far ends of its wide-angle and Super Zoom ranges, but overall image quality is in the upper echelon with the best smartphones currently available and the number of modes and pro-photo an video options available are second to none. Battery life is also quite good and the overall user experience is top-notch.


The camera bump-out on the back of the Note 20 Ultra is relatively large, but that can be mitigated by using a bumper or case, which is what we expect most users would do to protect a premium device like this one anyway. The Samsung Galaxy Note 20 and Note 20 Ultra will be available from numerous carriers in a couple of days (August 21), with prices
starting at $999
for the 6.7" Note 20 and $1,200 for the larger, 6.9" Note 20 Ultra. The Note 20 will be available in three colors -- Mystic Gray, Mystic Green, Mystic Bronze. The Note 20 Ultra featured will also be available in three color options -- Mystic Bronze, Mystic Black, and Mystic White.
Whichever option you may choose, we suspect you'll be happy with the Samsung Galaxy Note 20 Ultra. It's not perfect, but overall it is one of our favorites, and should please any user looking for high-performance, leading-edge, large-format
Android
device.
Gorgeous Display

Adaptive Refresh Rate Technology

Good Battery Life

Quality User Experience

Premium Feel, Through And Through

Decent Camera Performance

Strong Graphics Performance

Only 60Hz At Display's Full Resolution

Color Fringing With Wide Angle Camera
CPU Performance Not As High As Expected
Price Premium
Large Camera Bump-Out
Related content
Comments