Samsung Galaxy Book S Shoot-Out: Intel Lakefield Vs. Snapdragon 8cx
Samsung Galaxy Book S Wi-Fi: Evaluating The User Experience On Lakefield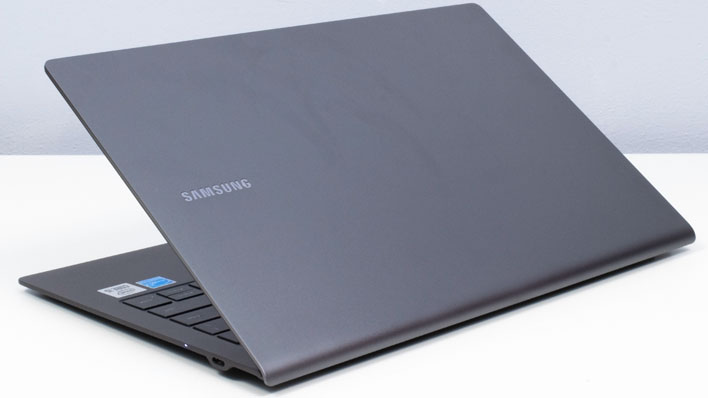 While we've focused on CPU performance up to this point, this is still a whole notebook and we have spent a lot of time fiddling with a Core i5-L16G7 Galaxy Book S just to get a feel for how it would work as a daily driver. One part of that is the disk subsystem, so before we go much farther, let's evaluate its performance.
ATTO Disk Benchmark

Primary Storage Performance
The
ATTO disk benchmark
is a fairly quick and simple test which measures read/write bandwidth and IOPS across a range of different data sizes. While we don't typically compare these results across multiple machines, it's useful to gauge whether a particular notebook's storage subsystem can handle being put under pressure.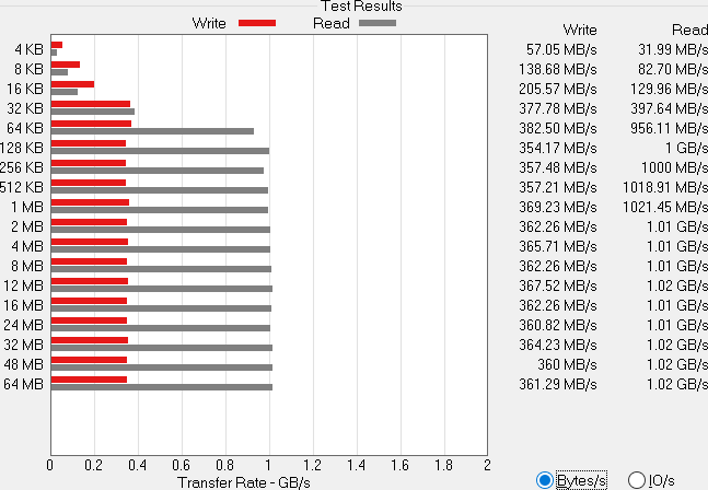 The
SSD
, such as it is, in the Galaxy Book S is the awkwardly-named KLUEG8UHDB-C2D1 from Samsung itself. This is the same UFS 3.0 flash memory found in a host of Samsung smartphones, including the Galaxy S 10 and 20 series. Performance here is acceptable, as read speeds still outstrip a SATA SSD, but write speeds are pretty lackluster. I/O speeds are also nothing to write home about, as many drives score in the neighborhood of 10 times higher on this test.
While we didn't run many quantitative tests on the Snapdragon 8cx version before, the same storage device sits in both notebooks. As a result, the storage bandwidth and IOPs performance is roughly equal between the two. We chalk this one up as a tie. So, let's take a closer look at the Intel-powered Galaxy Book S itself.
Industrial Design and Features
We won't belabor this part of the review, since the Intel version of the
Galaxy Book S
looks identical to its Snapdragon-powered sibling. We'd be hard pressed to tell the differences between our 8cx and x86 models if not for the traditional Intel Core badge branding on the palm rest. For those who didn't catch that review, however, we'll sum up. The shell is comprised of the same silvery aluminum lid and frame with a charcoal gray polycarbonate body. The Galaxy Book S is an almost unbelievably light 2.18 pounds and still makes room for a generous 50 Wh battery which should contribute to a long runtime in our battery tests.
The
Intel
-based Galaxy Book S's 1080p touch-enabled IPS display is very similar to the Snapdragon-powered unit. However there must be a slight difference in the backlight as the Windows brightness slider behaves differently between the two machines. Above that display is a 720p webcam with no infrared capabilities, however, Samsung included a fingerprint reader built into the power button for those who want to log in biometrically. The image from the camera is not super high-fidelity, but it doesn't have to be to fit our smiling faces in a small Skype window. The built-in speakers and microphone array do a nice job on web calls, as we can easily hear everyone, and our callers could hear us just fine.
For non-touch input options,
Samsung
endowed the Galaxy Book S with a chicklet-style backlit keyboard and a track pad. The keyboard is good enough for typing, but not the sort of thing we'd want to be saddled with for very long. Key travel is very shallow, which mirrors the Snapdragon 8cx version exactly. The track pad is big enough to use, but not as large as we'd like, such as the one on the XPS 13, for example. Both will get you through your work, but on a thin system some sacrifices have to be made.
The port array is fairly sparse in the Galaxy Book S. There's just a single USB Type-C port on each side. Fortunately, both of those work with not only the included 25 W phone-style charger, but also the included USB-C to HDMI adapter, which can display a UHD
4K
60Hz signal as we mentioned earlier. There's also the combination headset jack from the Snapdragon version for those who demand more than basic laptop audio.
There is one fairly big difference (aside from the processor) between our two Samsung notebooks. The Snapdragon 8cx is the only one that has a built-in 4G LTE cellular modem. The Core i5-L16G7 model still has a pull-out SD card tray on the bottom of the chassis, but the Qualcomm model's tray had a second slot for a SIM card that is absent on the Intel model. There's no 4G LTE option without the Snapdragon; the Intel model is listed as the "Galaxy Book S Wifi" on
Samsung's store
. Qualcomm's Wi-Fi controller was also swapped out for Intel's.
The SD card slot is still a great way to expand internal storage on the cheap, however, and we like seeing these squirreled away for that purpose. While a micro SD card would never compete with an
SSD
in terms of performance, there are very few cheaper ways to add "fast enough" storage to hang onto media files and documents. The SD card could read from our 128 GB Sandisk Ultra micro SD card at around 90-95 MB per second on both units, and wrote files at around 50 MB per second. That's definitely fine for hanging onto locally-downloaded videos or Office documents, and a prime candidate for cloud-based storage mirroring.
Galaxy Book S WiFi Software Experience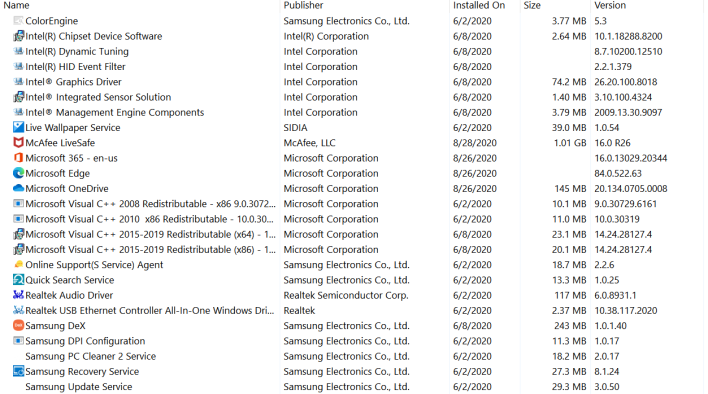 Everything installed on the Intel version of the Samsung Galaxy Book S
Our Intel-powered Galaxy Book S came out of the box running
Windows 10
Home with the 1909 fall update installed. There were plenty of Windows Updates, but the 2004 update has not yet made itself available. There were, however, three different BIOS updates available for download. For some reason, the system had to apply them in succession instead of just updating directly to the latest, which was kind of annoying. Samsung's included Update utility could do all of this just about automatically, outside of logging into Windows each time.
The Intel version of the Galaxy Book S has a handful of additional software perks that the Snapdragon 8cx model doesn't. Samsung's Settings app is a quick way to handle a wide variety of system settings in a single app. We could make adjustments to network settings, display brightness, the power plan and a lot more here. The most interesting part is that there's a "Performance Plus" mode which Samsung warns will drain the battery. We didn't use this for testing in part because of that, and also because it doesn't persist across reboots. Samsung intends it to be a "when you need it" kind of performance boost, not something that's set and then forgotten.
More interesting is
Samsung
Quick Search, which might very well be the best desktop search experience I've personally had on a PC that's not running macOS ever, and that's not an exaggeration. Quick Search has some fairly powerful tools for finding all files or specific file types across multiple drives, key word search chaining using boolean operators like AND, OR, and NOT, and date ranges for modified and created files.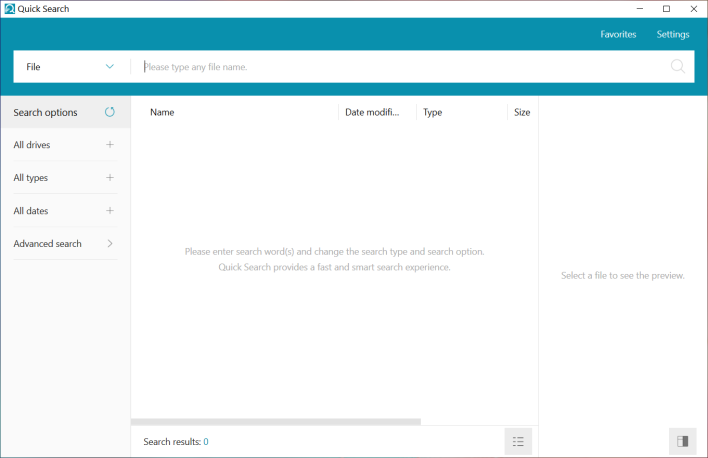 No matter where we hid a file, Quick Search did a good job of finding it, so long as it wasn't locked away in another user's home folder. The only irony is that Quick Search takes a couple seconds to load, but the power it has makes up for that.
Living With The Galaxy Book S Wi-Fi
Benchmarks tell us how fast a machine is, but it doesn't necessarily give us a feel for how a system runs in day to day use. Overall, the Intel Core i5-L16G7 trailed the Snapdragon 8cx more often than not, especially in multi-threaded and graphics-intensive tasks. Still, we wanted to take time to live with this laptop and see if it was something we felt, or if this machine is a reasonable daily driver for lighter productivity and consumption workloads
In our previous Galaxy Book S review, the Snapdragon version let us accomplish the vast majority of our work duties. Anything short of full-stack web app development was possible thanks to an Arm native browser. The same holds true here, in fact. The same version of Office and Edge that helped us get tasks done works just as well (and in some cases better) on the Core i5-L16G7 version. Web apps run very well across the board. OneDrive and
Skype
are x86-native apps that just work. There was nothing to worry about.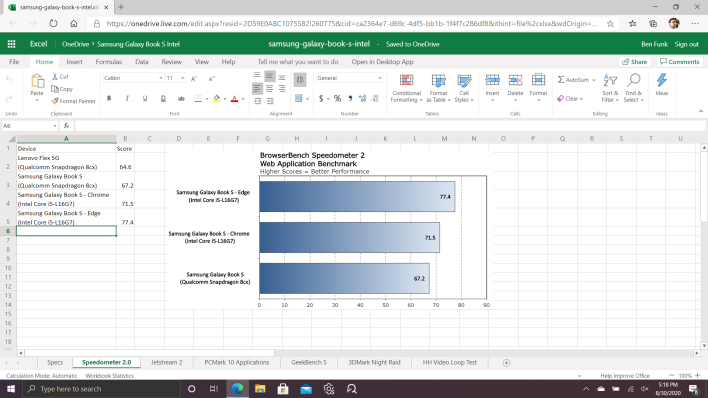 Web and office apps worked great on the Galaxy Book S powered by an Intel Core i5-L16G7
We ran into trouble with
Microsoft
Visual Studio Code and Node.js on the Snapdragon not because they wouldn't run, but because they were pretty sluggish when they did run. The same is true here. We wouldn't recommend writing .NET Core MVC web services with a React front end on either version of the Galaxy Book S. It was just too slow to use, and compile times were through the roof. What good does compatibility do us when the system can't handle those heavy loads?
As it turns out, it's not all the processor's fault. Now that we've run the ATTO disk benchmark, it's become much more obvious that it's the primary storage at the root of some of our troubles. 1 GB per second of reads is fine, but the IOPS transaction rate here is abysmal compared to even a SATA SSD like the
Samsung SSD 870 QVO
. So when it comes to compilation tasks, assuming you have well-organized code, reading tons of tiny files just a few kilobytes in size each. Task Manager made it apparent that the internal storage was pegged at 100% while the CPU usage was much lower, hanging around 45%. Even with just one fast core, the storage couldn't keep up. That's unusual, because normally the C# compiler will use as many threads as it can get.
This shouldn't come as a surprise, however. This is not a notebook built for developers. Samsung targets the Galaxy Book S at traveling business folks who need to give the occasional sales presentation, check email and stream Netflix on the road. For that sort of thing, this
Core i5-L16G7
powered platform does the job fine. Just don't expect much more than that.
Streaming With the Galaxy Book S
Thanks to the Intel processor in the Galaxy Book S, some of the issues we ran into with the
Snapdragon
platform are entirely resolved. For instance, we had issues with the Plex app on the Arm version, but it works like it's supposed to here. As a result we could stream content locally without falling back to a web interface using Microsoft Edge. Not having to worry about whether an app will open or run is kind of a relief, when app developers aren't porting their apps to Arm as quickly as we (or Microsoft) would like. Of course, anything you can run in a browser, like Netflix, Amazon Prime Video or YouTubeTV will run just fine on either version of this machine.
There are a ton of media apps in the Windows Store, and they all run great. We grabbed Netflix, which ran quite nicely on the Snapdragon version, to see what CPU utilization was like. With any luck, Netflix shows would rely on the QuickSync-capable integrated GPU. The
Snapdragon 8cx
model showed, for the most part, a very low CPU utilization in the sub-5% range. Let's see what we get on Lakefield.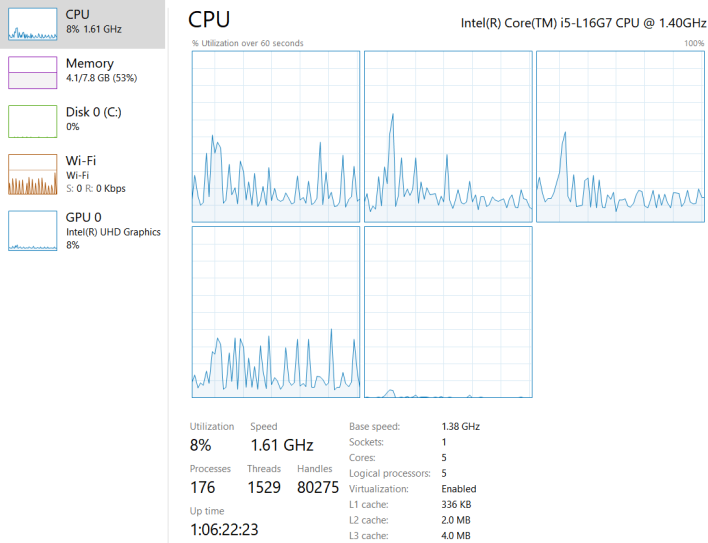 CPU usage is a bit higher than we expected, actually. It bottoms out at 10% and occasionally spikes as high as 20-25% utilization. This seems a little excessive. The Core i5-L16G7 has five cores, and four of them are energy-efficient
Tremont
Atom-style cores, and one big
Sunny Cove
core. Note that GPU 0 does show a bit of activity, too.
Let's see how the individual cores are working. In the Logical Processors view we used above, we can see that four cores are oscillating pretty hard, and the CPU speed bounces around. That fifth core, which we suspect is the Sunny Cove high-performance core, is resting comfortably. We wondered, though, how hard could we push it?
To test 4K playback, we plugged the Core i5-L16G7 version of the Galaxy Book S into our
4K
TV and fired up an episode of
Nailed It
on
Netflix
. 4K video is certainly more intensive than the 1080p that we'd started with, and it does seem that the GPU took the biggest toll. However, it seems we've stressed the system enough that the big core woke up and is contributing a fair amount of activity to playback.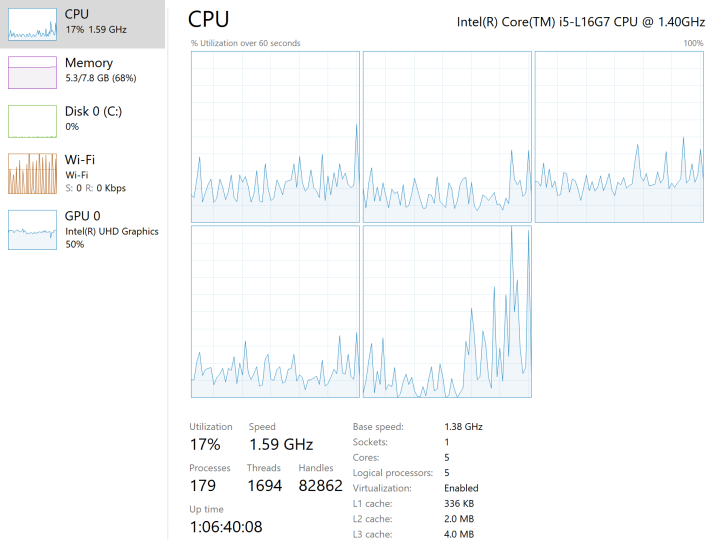 Overall, CPU usage doubled, but
GPU
utilization increased four times. And having an extra display connected isn't what causes this, as the GPU idles down to 1% utilization when idle on the desktop while powering both displays. 4K video is a semi-strenuous activity but the system is up to the task, and we don't think buyers have anything to worry about when streaming or watching video locally.
Can You Play Games On The Galaxy Book S Wi-Fi?
Lastly, we wanted to check out a few games. When we tested the Snapdragon 8cx version, we found a handful of games on Steam and the Microsoft Store that ran well on that platform, but since this is an x86 machine with integrated graphics, we figure that it should handle those games more gracefully than the Arm version. We also expected a big win for Intel in
3DMark
Night Raid, though the Snapdragon spoiled that grudge match. At any rate, we grabbed the same games for this test as before.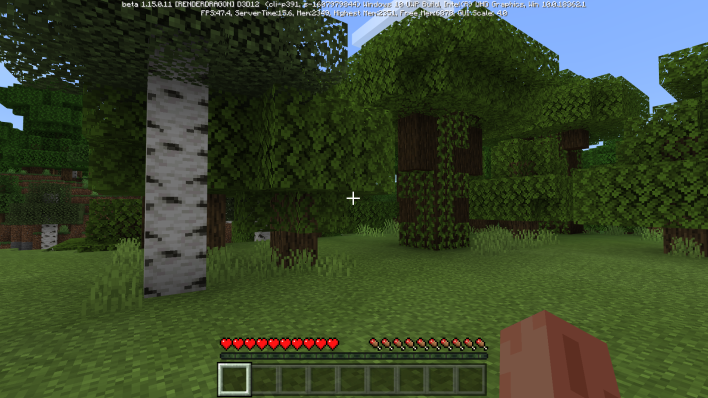 First up was
Minecraft
, which comes as both an x86 and Arm native game from Microsoft's marketplace. This might be the single most-successful title in the planet, and nine years after release it's still seeing big content updates. It's also one of the lighter graphics loads around (at least, when we're not playing the
NVIDIA RTX beta
) so it should run on anything short of a potato.
For the most part,
Minecraft
runs well on the Intel version of the Galaxy Book S, just as it did on the
Arm
version. The only time our Intel system ever dropped below 60 fps is when we were looking at a lot of trees, which have transparencies in the textures and show additional landscape behind them. Underwater, climbing mountains, and digging holes, we were rock-solid 60 fps all the way at the system's default 1080p resolution, though. When the frame rate did drop, it still settled in the upper 40s and lower 50s, so it was still pretty smooth throughout.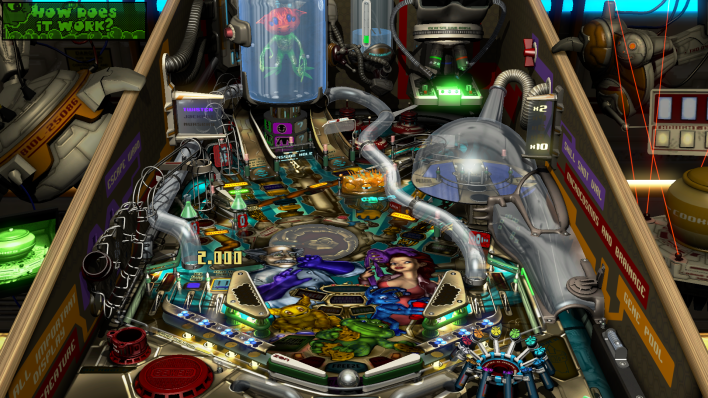 Next up we went for
Pinball FX 3
, which was too rich for the Snapdragon 8cx's blood. This is an x86-native game with some fairly snazzy graphics, but it's also meant to run on lower-end systems so we figured we'd give it a try. The game itself is more of a shell for
DLC
pinball tables, though if you pay for the full version there are four tables included. We tested Biolab from the base pack and Tesla from the Classics Pack, which is unlocked automatically if you're upgrading from a previous version.
Both tables were playable, but kind of sluggish at the default settings, which include 4x MSAA and V-sync. Each time we pressed one of the Shift keys to flip the ball, there was a very obvious hesitation. We turned the anti-aliasing off and dropped the shadow detail to Low, and the situation was much improved. The controls were much more responsive and the frame rate was a bit smoother. With V-sync off, there was obvious tearing but the game was even smoother. We never hit a glassy smooth 60 fps, but it was definitely something we could enjoy.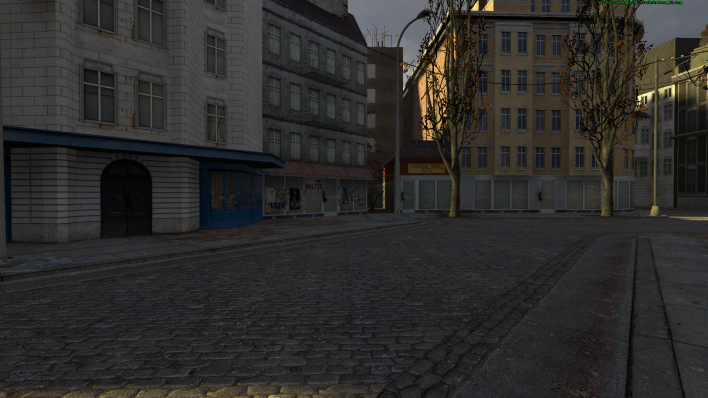 Last up, we took Valve's
Half Life 2
for a spin on
Steam
. The game hasn't been updated in years, but it still runs quite well on integrated graphics these days. We found it to be
very playable with High settings on the Snapdragon
machine previously, and hoped for more of the same here. Performance, as it turns out, was excellent. We played on the highest settings without anti-aliasing at the Galaxy Book S's native 1920x1080 resolution, and averaged nearly 70 frames per second. With V-sync enabled, we never experienced any sort of hitching or felt even a dip below 60 fps, which would have dropped all the way to 30 fps had it happened. The game was buttery smooth, which we should expect considering it launched in 2004.
Related content
Comments