Motorola One Action Review: A Deal Of An Android One Phone
Motorola One Action: Gaming Performance and Battery Life
Before we get into the graphics benchmarks, we wanted to look at some real-world gaming on the Motorola One Action. Generally, games ran pretty well, all things considered. We played some of the more popular titles on Google Play:
CSR Racing 2
,
Pokémon Go
,
Asphalt 9: Legends
, and
Mario Kart Tour
. For us to say they ran
well
could mean lots of different things to many different people, so instead of talking about how they ran, we recorded gameplay directly from the One Action at 60 frames per second and put it up for the world to see.
As you can see in the video above, the only game that presented much of a challenge was
CSR2
. This drag racing title from Natural Motion has some pretty high-end graphics, and even though the frame rate wasn't completely fluid, it was still completely playable with the fastest cars in the game.
Pokémon Go
,
Asphalt 9 Legends
, and
Mario Kart Tour
all had rock-solid, smooth frame rates, and great playability, too. Overall, this isn't a gaming phone like the
ASUS ROG Phone II
we looked at recently, but if you're not a hardcore gamer who's just looking to pass some time with your phone on occasion, the Motorola One Action seems up to the task.
Next up we'll focus on 3D performance using GFXBench and UL's 3DMark Sling Shot
benchmarks
. Since modern Android phones come with displays of all shapes and sizes, we level the playing field by looking at off-screen rendering performance. While that doesn't draw full-sized images to the screen and makes the benchmarks a little less fun to watch in the process, this does ensure that every phone gets the exact same task. These tests are a bit more challenging than most 3D games on Google Play, since most developers want their games to be playable for the vast majority of phones.
GFX Bench

Pushing Pixels to the Panel
GFXBench
has several scenes built in. The most well-known batteries are the T-Rex test and Manhattan. These are good choices for our lower-end phone, since it doesn't have big, beefy graphics built in.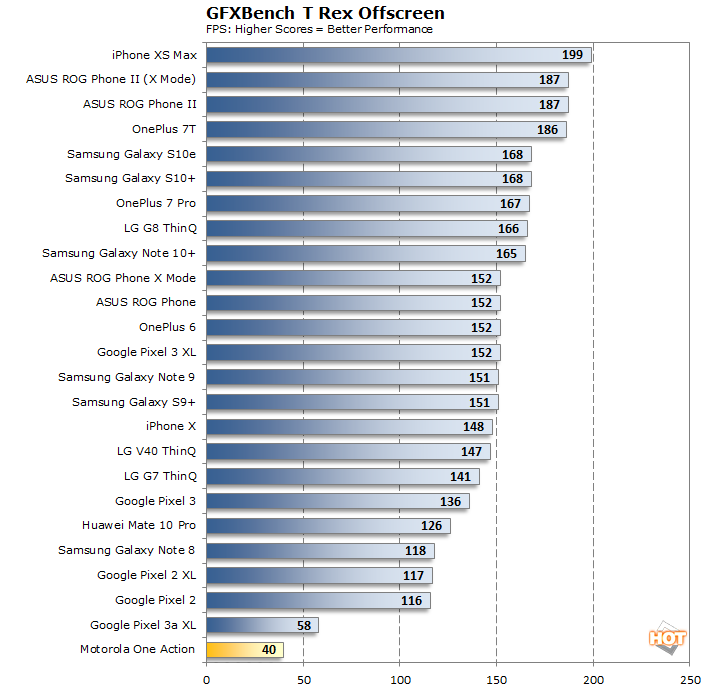 Well, we knew that the Motorola One Action would be closer to the bottom of our chart, but we didn't anticipate that the
Google
Pixel 3a XL would be nearly 50% faster. Let's see how the more complex Manhattan scene plays out.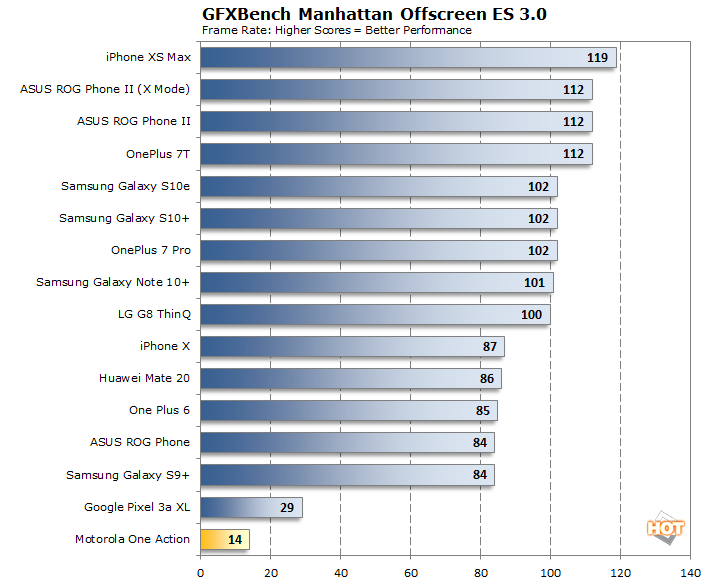 This time the
Motorola
One Action is only half as fast as the Pixel 3a XL. The Mali G72 MP3 just doesn't seem to be nearly as capable as the Adreno 615 in the Google phone's Snapdragon 670 SoC. There's not much else to say; this is just not a great result.
Let's see if 3DMark fares any better.
3DMark

UL graphics test performance
UL's 3DMark
has been a staple 3D graphics benchmark at HotHardware across all mobile and desktop platforms alike. It seems that UL has retired Ice Storm, as that benchmark no longer appears in the application. However, we still have results for Sling Shot Extreme, which uses 1920x1080 off-screen rendering to test performance in its scene.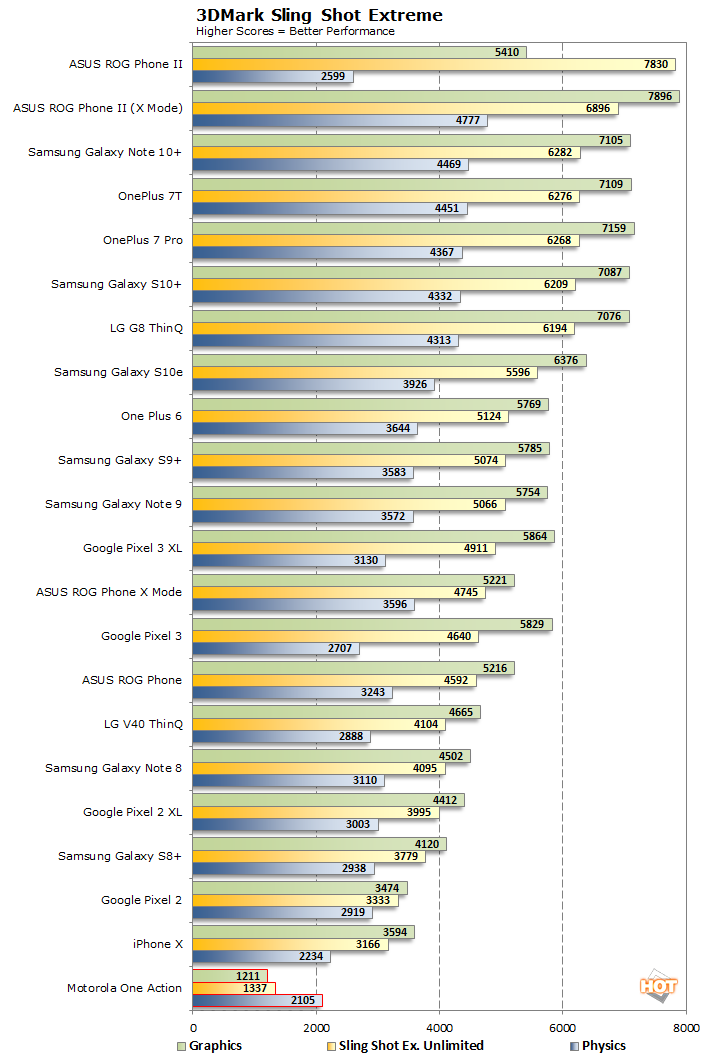 The overall results look kind of backwards, as most phones post a better graphics score than the physics result, but that's just a reflection of mightily the Motorola One Action struggles rendering 3D scenes. We don't have the Pixel 3a XL here to bail out the One Action and make it look more respectable. In this case, the graphics score is just one third of the next-fastest Android device, the
Pixel 2
. That's a flagship device, for sure, but it's a full two years old at this point and it's still a huge performance upgrade over a $350 phone. On the other hand, the physics score is fairly respectable, within spitting distance of the iPhone X and "only" around 40% behind the Pixel 2.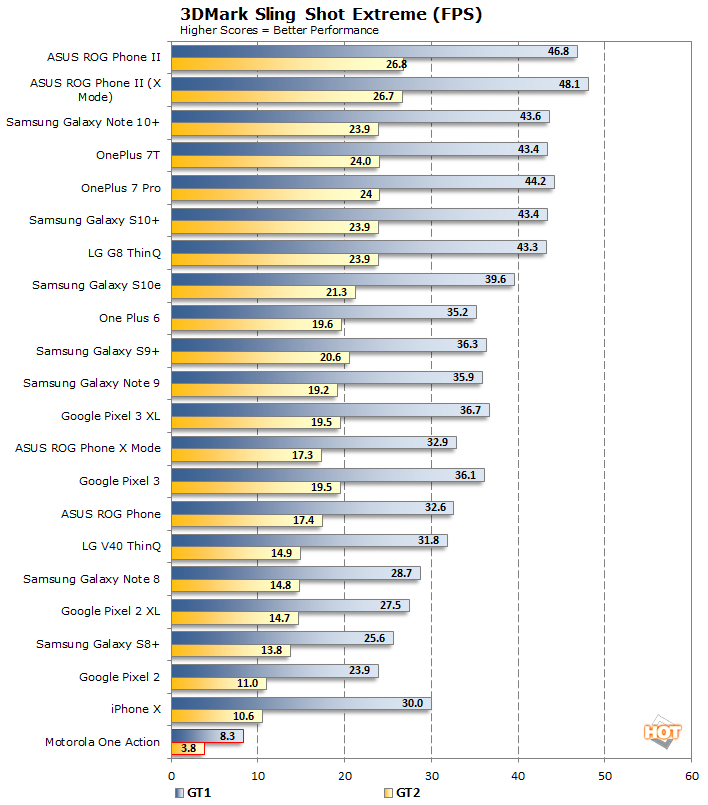 Frame rates in both tests leave the
One Action
at the bottom of the pile. Graphics Test 1 ran at just a touch over one third as fast on the One Action as it did on the Pixel 2. 3.8 frames per second on Graphics Test 2 took an agonizingly long time to complete, since the test draws a fixed number of frames, rather than running in real time. It's worth remembering that the Pixel 3a XL isn't on these charts. The Google phone did far better than the One Action in GFX Bench so we don't think it would have done the Motorola phone any favors anyway.
The Motorola One Action isn't a hardcore gaming phone, but it does have respectable CPU performance. Still, as our video above shows, the One Action is perfectly capable of playing mainstream games with decent frame rates. We wouldn't let the poor Sling Shot showing scare you off, because that's a test with its eyes on the future. For non-gamers, the One Action also looks like it'll hold up just fine, but only if the battery life can hold up as well. Let's check that out next.
Motorola One Action Battery Life Testing
UL's
PCMark for Android
Work 2.0 Battery test takes workloads from the benchmark itself (image and video editing, email and web browsing) and runs them in a loop until the battery level drops below 20 percent. We calibrate display brightness on all devices to 200 Lux and turn off adaptive brightness in the settings to lock in that brightness. In these tests, Bluetooth connectivity and Location services are disabled, though Wi-Fi and mobile data is left enabled as part of a traditional use case workload.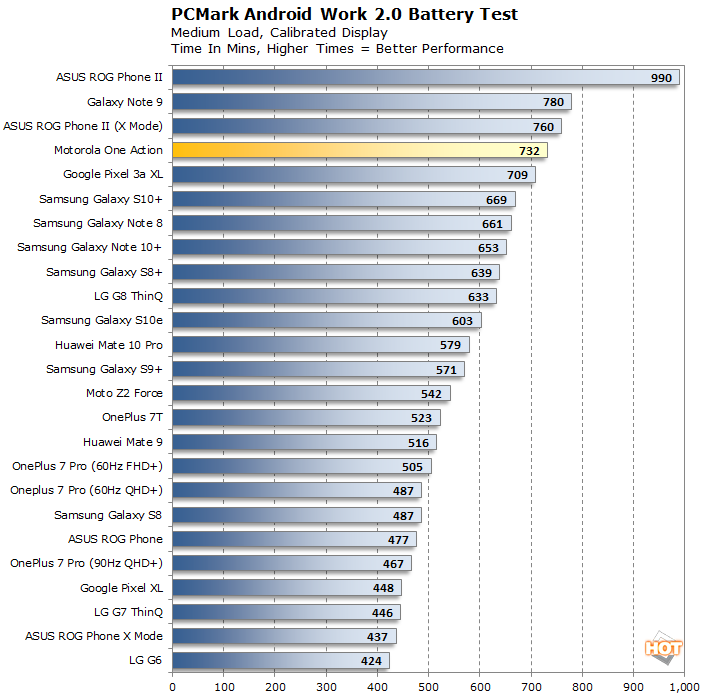 As it turns out, the One Action's battery life very strong. We got over 12 hours of fairly intensive operation out of the Motorola phone, and that beat the budget Pixel by nearly 20 minutes. Despite its name, the Pixel 3a XL has a smaller 6" display with a lower resolution while also having a slightly larger battery, and the One Action still won the battery race. The similarly-priced vanilla
Pixel 3a
has just a 3,000 mAh battery, so it seems like a pretty reasonable assumption that the battery wouldn't last as long.
We also used the One Action as our primary mobile device for a couple of days, and battery life was solid throughout. I'm not personally a big phone user, but we still made the One Action play around 90 minutes of music and had the screen on for a couple of hours a day over a weekend (I'm trying to finish Lunar: Silver Star Story Complete and needed something to look up boss strategies). Between web surfing, email, Words with Friends,
Twitter
, and Instagram, the One Action held up throughout. Each night when it was bedtime, the battery still had between 55 and 60 percent remaining each day. We were around Wi-Fi most of the time, though. Heavier users or folks without as good of coverage might see less.
Time to sum up everything we've learned and render our final verdict...
Related content
Comments