Intel 12th Gen Core Alder Lake Performance Review: Chipzilla Is Back
Intel Core i9-12900K & i5-12600K: Alder Lake Is A Serious Show Of Force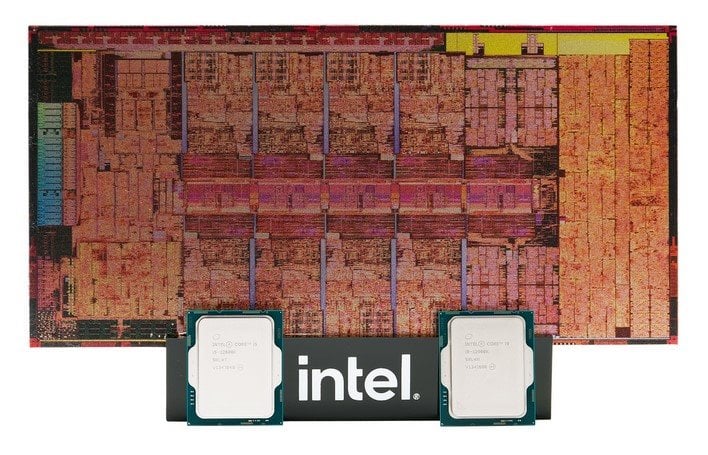 After many months of speculation, an early glimpse into the hybrid
Alder Lake
architecture in August, and an official line-up and feature reveal last week, Intel's 12th Gen Core processors are finally ready for prime time. The time for innuendo and speculation is over – for the most part. We've had the flagship 12th Gen Core i9-12900K and mainstream Core i5-12600K processors in hand for testing for a couple of weeks now, and have all of our findings laid-out for you on the pages ahead.
Needless to say, after years of aggressive competition from rival AMD, this particular platform launch has great significance for
Intel
. Alder Lake is based on a totally new hybrid architecture, which leverages "big" Performance cores paired to "little" Efficiency cores, and the supporting platform is rife with bleeding-edge I/O technologies. After years of incremental updates, the launch of 12th Gen Core processors is meant to be a major leap forward for Intel. Today we find out if the company actually pulled it off.
We've covered the Alder Lake architecture and the initial 12th Gen Core processor line-up in detail previously, so we won't be going in-depth again here. Today's embargo lift is all about benchmarks and performance. If you want to understand all of the plumbing and what else Intel has baked into its 12th Gen Core platform, you'll want to check out our
Architecture Day 2021
coverage and
last week's news
at the very least. We will summarize things a bit here, however, if you're not up for navigating a few browser tabs. And we also have an interesting discussion for you, with Intel's GM of its Gaming Division, Client Computing Group that took place last night to share as well...
Intel 12th Gen Core Processors Go On Sale Today
At a high-level, 12th Gen Core processors based on
Alder Lake
are Intel's latest multi-core mainstream CPUs, which leverage a completely new hybrid architecture. Although we'll be focused solely on desktop chips here, Alder Lake will also scale down to low-power mobile devices and eventually up to higher-end enthusiast desktops as well.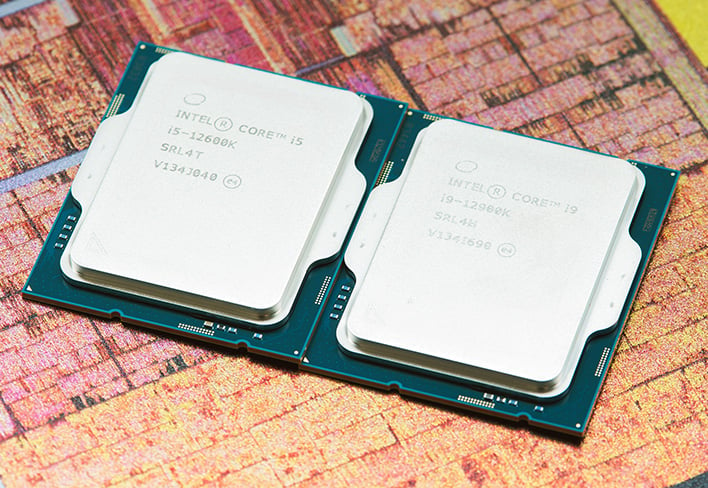 12th Gen Core processors incorporate two new CPU core designs, dubbed Efficiency (E-core) and Performance (P-core) cores. The chips are built on
Intel 7 process technology
, formerly known as 10nm Enhanced SuperFIN. So, thankfully the days of Intel refining and pushing 14nm+++ to the ragged edge are over.
In addition to the new hybrid core architecture, 12th Gen Core processors also feature support for the latest memory and IO technologies, including PCI Express Gen 5,
DDR5
(though DDR4 is also supported), Thunderbolt 4, and Wi-Fi 6E. Some of the processors will also feature integrated Intel Xe-based graphics engines, and 12th Gen Core processors have support for Deep Learning Boost, and Intel GNA 3.0 as well, to accelerate
AI
and machine learning workloads.
To accommodate all of the new plumbing necessary to implement the latest I/O and power gating tech in Alder Lake, Intel's 12th Gen Core processors will use a brand new socket, LGA 1700, with many more pins that the previous-gen. With that new socket also comes a new series of chipsets, i.e. the Intel 600 series, which is spearheaded by the flagship
Z690
.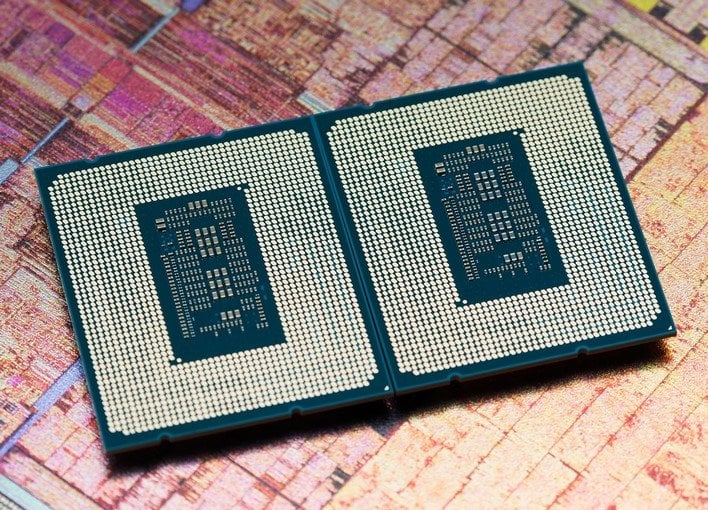 When a 12th Gen Core processor is paired to a Z690-based motherboard, the platform will offer 16 lanes of PCIe Gen 5 connectivity, hanging right off of the CPU, which doubles the bandwidth of PCIe Gen 4 (per lane). Motherboards will also feature support for leading-edge DDR5 or DDR4 memory technologies. Note, however, that DDR5 memory slots are not compatible with DDR4. When we say 12th Gen Core processors support DDR4 or DDR5, it just means the processors can work with both memory types. Motherboards will feature either DDR4 or DDR5 memory slots though, not both (at least for the most part).
Official DDR4 memory speeds top-out at 3,200MT/s, while the base
DDR5
JEDEC spec is a much higher 4,800MT/s. Keep in mind though, that these are the default top memory specs and much higher memory frequencies will be possible when overclocking.
Like the last few generations, the new Z690 chipset is essentially an I/O hub, because all of the traditional functionality previously found in legacy Northbridge chips has been integrated into the processor itself. The chipset features all of the additional I/O not incorporated into the processor die, including additional PCI Gen 4 lanes, USB, Thunderbolt 4, etc. We should also note that with this generation, the chipset connects to the CPU over a new X8 DMI 4.0 interface, which doubles the bandwidth over the previous-gen, so achieving optimal performance from fast SSDs hanging off the chipset instead shouldn't be a problem with most configurations.
A Closer Look At Intel's 12th Gen Core Processor Vitals
In terms of their external features, 12th Gen Intel Core series processors look much like their previous-gen counterparts, but there have been some significant changes made. In addition to the specific branding and model number information. 12th Gen Core processors are slightly larger than
11th Gen chips
, which translates to a bigger integrated heat-spreader, and because of the new socket design, there are many more pin pads on its underside.
Underneath that IHS, the Core i9-12900K features a monolithic, 16-core (24-thread) die, featuring 8 Performance cores and 8 Efficiency cores, that's being manufactured on Intel 7 process tech (the Core i5-12600K has 10 cores / 16-threads, comprised of 6 P-cores and 4 E-cores). Why the asymmetric thread counts? Because the E-cores do not support HyperThreading. P-cores can process two threads simultaneously, while E-cores can manage only one.
Defining the clock speeds with these processors is also a bit more difficult, due all of the various boost modes available -- at least with the Core i9. The Core i9-12900K has a base clock of 2.4GHz on its E-cores and 3.2GHz on its P-cores, with an all-P-core Turbo frequency of up to 5.1GHz. With Turbo Boost 3.0, the P-cores can boost up to 5.2GHz, however.
Things are bit clearer with the 12th Gen Core i5. The Core i5-12600K has a base clock of 2.8GHz on its E-cores and 3.6GHz on its P-cores, with and all-P-core Turbo of 4.90GHz. Turbo Boost 3.0 is not enabled on the Core i5 and lower-end processors. We have tables posted on the last page of this article detailing all of the Turbo / Boost modes available with all 12th Gen Core processors.
The Intel Core i9-12900K's and Core i5-12600K's CPU-Z details are outlined in the images above. Both processors are based on the same stepping / revision, and have the same 125W TDP rating (though at PL2, power can peak up to 241W), but they differ in terms of their clocks and core counts (and cache). There's 176K (48K + 32K / 32K + 64K) of total L1 cache per core, 1.25MB of total L2 cache per P-core, 2MB of L2 cache per 4-core E-core complex, and up to 30MB of L3 shared across all of the cores (the Core i5 has 20MB of L3).
With its new hybrid architecture and
Thread Director
intelligently dispatching threads to the ideal core depending on the workload and utilization at the time, how frequencies and voltages scale on 12th Gen Core processors is obviously different than previous-gen products. The two sets of screenshots above show all of the cores on both the Core i9-12900K and Core i5-12600K turbo'ing up, based on a single-threaded workload (left) and a multi-thread workload at 100% utilizing all cores. As you can see, the P-cores boost much higher than the E-cores.
MSI's MPG Z690 Carbon Wi-Fi: The Foundation Of Our Alder Lake Test Platform
MSI (like many of Intel's partners) has a diverse array of
motherboards
on the way for 12th Gen Core processors. For the purposes of this review, we got our hands on one of MSI's
MPG Z690 Carbon Wi-Fi boards
, which is one of the company's higher-end offerings.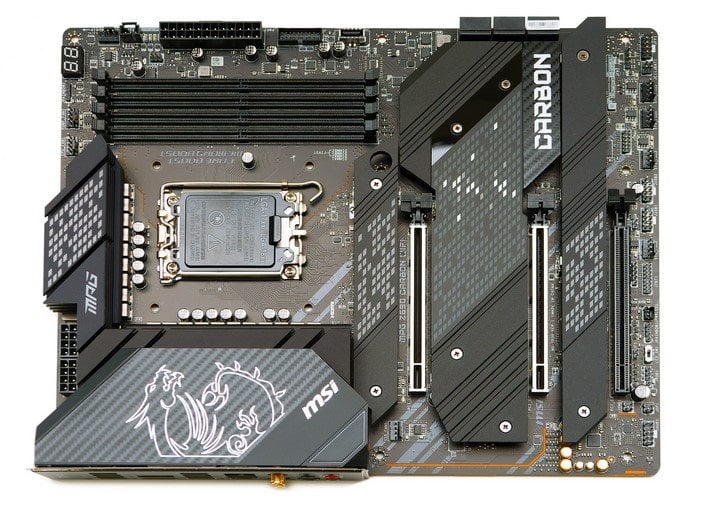 As you would expect from an enthusiast-class mobo from
MSI
, the MPG Z690 Carbon Wi-Fi exploits all of the features inherent to the Intel
Z690
chipset, and adds quite a few more through third-party controller's and MSI's own design mojo.
The MPG Z690 Carbon Wi-Fi has an accent lighting, metal reinforcements on is x16 expansion slots to add rigidity, an elaborate cooling solutions for its multiple M.2 slots, chipset and VRM and a 18+1+1 phase 75A digital power solution backed by dual, 8-pin power feeds.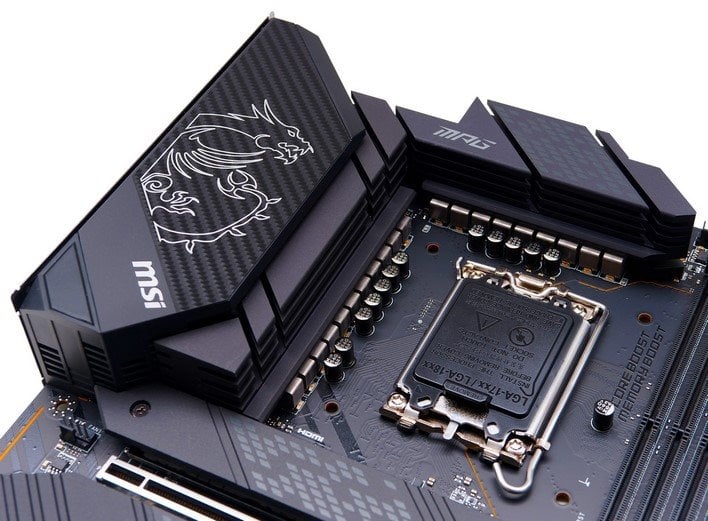 The MSI MPG Z690 Carbon Wi-Fi also features a mouse-friendly BIOS / UEFI that's easy to navigate and offers an extensive array of overclocking and performance-related options. MSI calls it their Click BIOS 5, and it sports everything from illustrated menus to the latest version of MSI's hardware monitor functionality. The MPG Z690 Carbon Wi-Fi features an array of durable Titanium chokes as well, in addition to high-conductivity polymer and / or solid capacitors throughout, to improve reliability, longevity and overall power and thermal efficiency.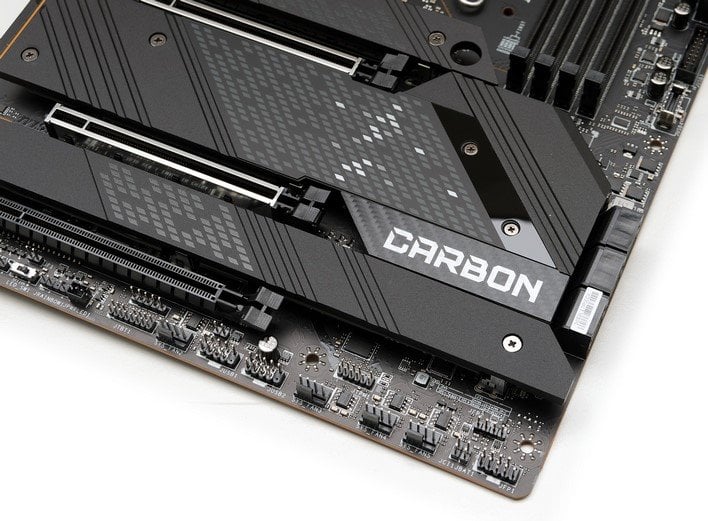 The MSI MPG Z690 Carbon Wi-Fi also offers easy overclocking by way of its Game Boost feature, available within the MSI Center application, but the UEFI sports all of the overclocker-friendly tools we've come to expect from MSI for manual tweaking as well. The fan controls on the board are very robust and MSI has put in additional effort to isolate the memory circuitry to ensure maximum compatibility, clean signaling and the highest possible overclocks.
Other features of the MPG Z690 Carbon Wi-Fi include a whopping five M.2 slots (with coolers), a USB 3.2 Gen2x2 type-C port, multiple USB 3.2 Gen 2 and Gen 1 type-A ports, built in Intel 802.11ax
Wi-Fi 6E
, and Intel i225V 2.5G Ethernet, an on-board POST-code error reporter, CrossFire support, and a myriad of other goodies.
In addition to the aforementioned items, we should point out that the MSI MPG Z690 Carbon Wi-Fi offers 7.1-channel audio, with EMI shielding, and high-quality audio filtering caps designed to maximize the quality of the ALC4080 audio codec's output.
ADATA XPG Lancer DDR5 Memory Kit
To fill the DDR5 memory slots on the
MSI MPG Z690 Carbon Wi-Fi
, we acquired a 32GB dual-channel ADATA XPG Lancer DDR5-5200 memory kit (16GB x 2).
ADATA
XPG Lancer
DDR5
memory has the necessary built-in Power Management IC (PMIC) to properly support XMP 3.0 for easy, and although the sticks remain relatively cool, they include stylized heat-spreaders as well. The particular Lancer kit we got has basic, black heat-spreaders, but Lancer RGB modules with built-it lighting will be available too.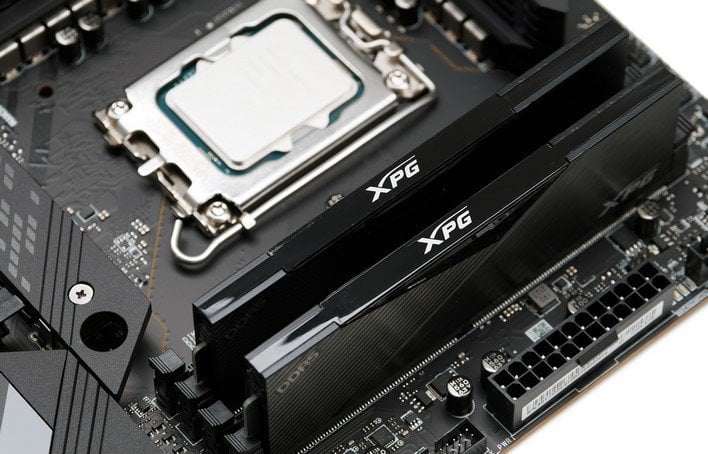 This kit (model AX5U5200C3816G-B) has an operating voltage of 1.25V, with a CAS Latency rating of 38 (38-38-38). All of the benchmarks we'll be presenting to you next were produced with this memory kit installed in the MSI MPG Z690 Carbon Wi-Fi.
And with all that out digested, let's take a deep-dive look at the Alder Lake performance numbers you've all been waiting for. Just hit that next page button...
Related content