Intel Core i7-1195G7 Performance: MSI's Prestige 14 EVO Flies
The MSI Prestige 14 EVO With Core i7-1195G7 Is A Speed Demon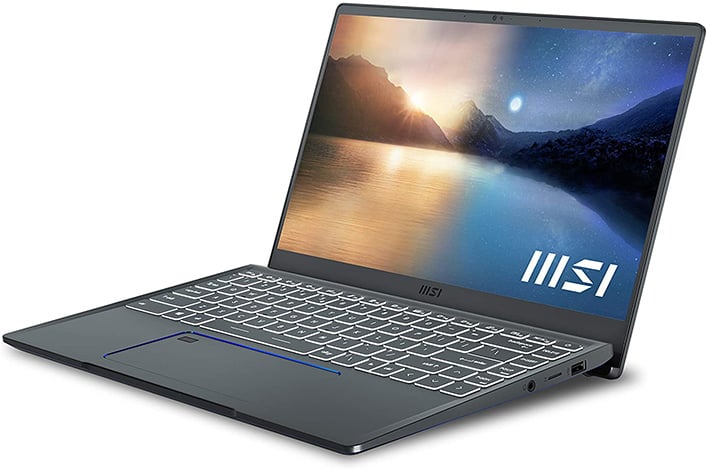 Earlier this year, we took a look at the MSI Prestige 14 EVO, a high-performance thin and light ultrabook, which was packing Intel's latest
Tiger Lake
-based mobile processing platform at the time. In our
deep-dive evaluation of the machine
, we found it to offer strong CPU and integrated graphics performance, with speedy PCIe Gen 4 NVMe storage, and a host of handy features, all in a competitively priced, attractive package.
When all was said and done, we gave the MSI Prestige 14 EVO a 'Recommended' award and thought users looking for a machine with a similar form factor would be well-served by the system. That's not always a given, but considering the MSI Prestige 14 carries an Intel EVO badge, there is an expectation that the overall experience would be a notch above me-too, also-ran systems.
A few months later,
Intel refreshed its Tiger Lake
mobile line-up with a new top-end chip, the Core i7-1195G7. The Core i7-1195G7 is fundamentally similar to the Core i7-1185G7 it supplanted at the top of Intel's mainstream mobile processor line-up, but the 1195G7 features higher CPU and GPU Turbo frequencies that its predecessor, with a slightly lower base frequency. MSI has since update the MSI Prestige 14 EVO with Intel's latest and greatest, so when presented with the opportunity to take the newly refreshed machine for a spin, we took it.
First up some specs...
MSI Prestige EVO 14 Specifications And Features
Processor

Intel Core i7-1195G7 (4 Cores / 8 Threads, 3 GHz base, 5GHz maximum turbo)

Display

14" FHD (1920x1080) IPS, 400 nits brightness, 100% NTSC

Graphics

Intel Iris Xe Graphics (96 execution units, 1.35 GHz max dynamic frequency)

Storage

512GB NVMe SSD PCI Express 4.0 x4

Memory

16 GB LPDDR4X (soldered)

Audio

2 x 2 W speaker system tuned with MSI Nahimic 3

Camera

720p HD webcam

Networking

Intel Wi-Fi 6 (802.11ax) 2x2 + Bluetooth 5.0

Ports: Left

2x USB-C (Thunderbolt 4)

Ports: Right

1x USB 3.2 Gen 2 Type-A
1x Four-pole combination headset jack
1x Micro SD card reader

Keyboard

Backlit, multimedia Fn keys

Touchpad

Precision 10-point multi-touch

Battery

52 Wh

Weight

2.8 lb (1.27 kg)

Dimensions

12.55 x 8.46 x 0.63 inches (319 x 215 x 16 millimeters)

Warranty

1-year

Operating System

Windows 10 Home 64-bit

Price

Starts at $899, As Tested $1,999 - Find It @ Amazon
---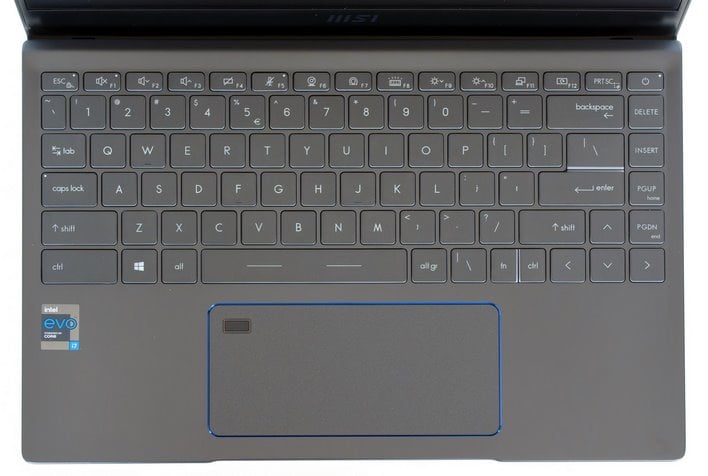 The refreshed MSI Prestige 14 EVO we'll be showing you here today is essentially identical to the machine we previously reviewed, so we're not going to dive in too deeply on its design, software and overall feature set. If you dig the system, we strongly suggest checking out our
full review, linked here
.
The only real change made to this new system is the CPU at its core, the aforementioned Core i7-1195G7...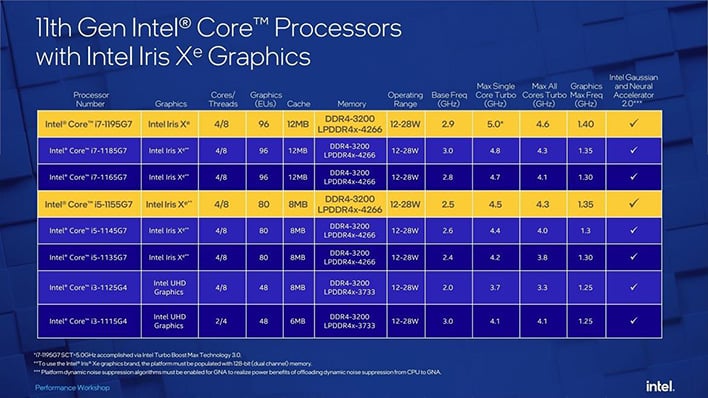 The Core i7-1195G7 is a 4-core / 8-thread chip, with a configurable TDP range of 12-28 watts. In this system it is able to operate at peak TDP, though the thin and light design means keeping the chip cool when under sustained load requires a somewhat aggressive fan profile. The table above shows exactly how the
Intel
Core i7-1195G7 differs from the Core i7-1185G7 powering the previous version of this machine we tested. As you can see, the CPU base clock drops by 100MHz, but the max single-core turbo gets a 200MHz boost, all-core boost gets another 300MHz. The integrated Iris Xe graphics also gets a 50MHz. The 16GB of LPDDR4X memory and 512GB NVMe are similar to the first system we evaluated.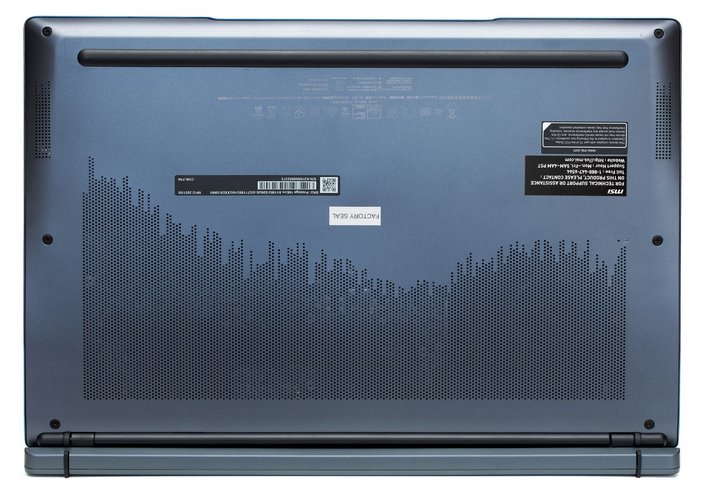 As for the rest of the machine, all of the accoutrements of a high-end ultra book are here – premium build materials, a bright IPS screen, plenty of IO, quality input devices, and an understated, attractive overall design are all present.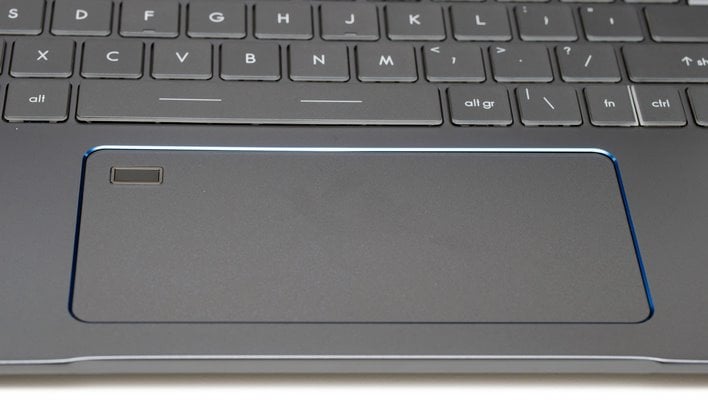 The keyboard is fully backlit and offers good tactility. And the trackpad is spacious and responsive. There's even a fingerprint reader built right into the upper-left corner, which was fast and reliable.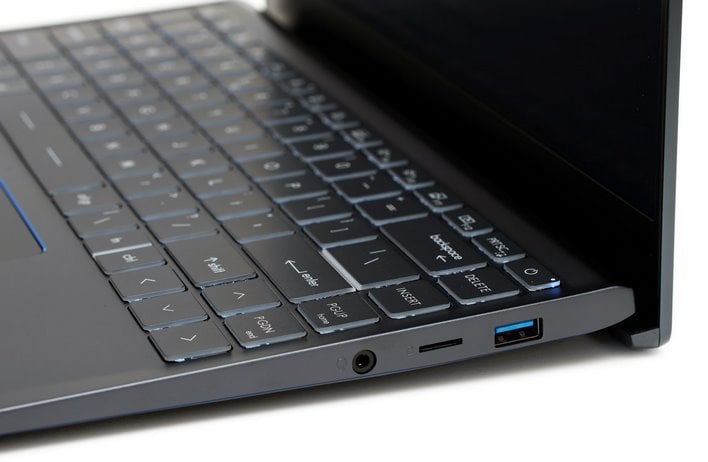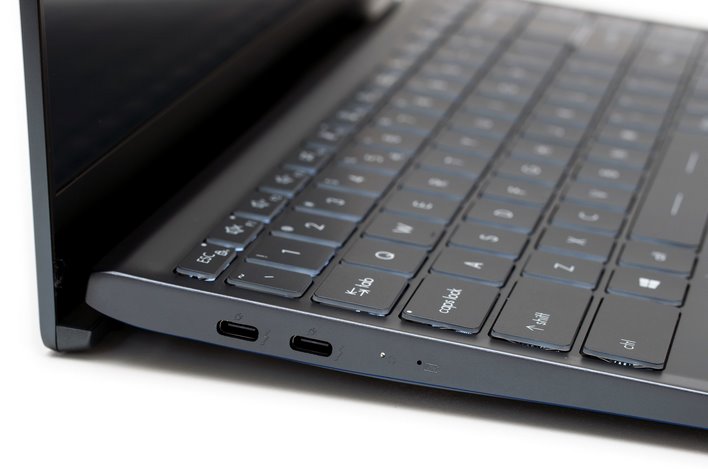 There's a flexible port configuration on the machine too. The left side of the system is home to a couple of Thunderbolt / USB-C port, either of which can be used for charging. On the right is a 3.5mm audio jack, microSD card reader and a full-sized USB-A port. In terms of wireless connectivity, the system is packing 802.11ax Wi-Fi (2x2) with Bluetooth 5.0.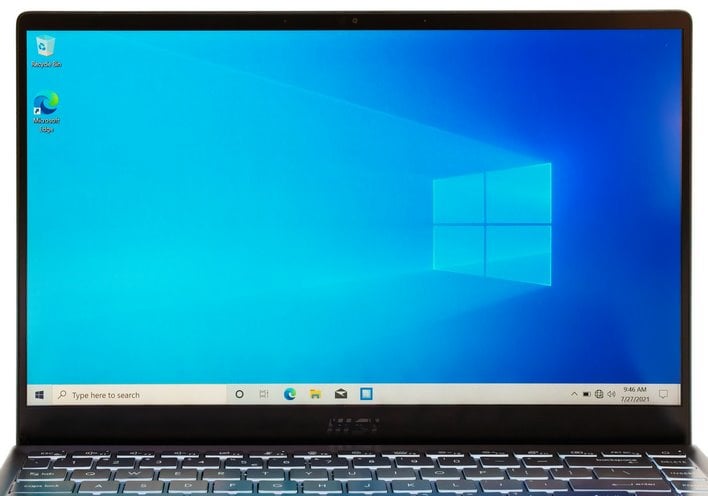 The display in the system is comprised of a 14" FHD (1920x1080) IPS panel, offering 400 nits of brightness and 100% coverage of the NTSC color gamut. The screen has a matte finish to minimize glare and overall, is very good. Colors are vivid and well saturated and viewing angles are as good as any other IPS display. The bezels on the left and right are nice and thin, but the top and bottom are somewhat thicker to accommodate the built-in webcam and mic (top), and branding and hinge at the bottom.
If you'd like a more detailed look at the system itself, definitely check out our full review. This piece is more about that speedy
Core i7-1195G7 update
, so what do you say we get to some benchmarks?
Speedometer Web Application Benchmark
Speedometer is a real-world application of web application performance in the browser. This test automatically loads and runs several sample webapps from ToDoMVC.com using the most popular web development frameworks around, including React, Angular, Ember.js, and even vanilla JavaScript. This test is a better example of how systems cope with real web applications, as opposed to a pure JavaScript compute test like JetStream. All tests were performed using the latest version of Chrome.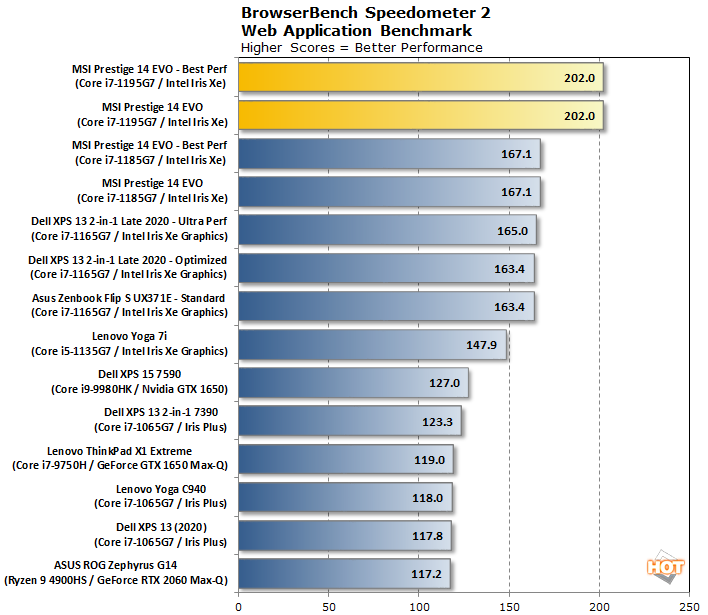 We've got two sets of numbers throughout out benchmarks here, utilizing the MSI Prestige 14 EVO's balanced and high-performance profiles. In our initial review, Ben tested both modes on the Core i7-1185G7-based version as well, so we did the same this time around to show exactly how performance differs between the two systems.
In Speedometer, the Core i7-1195G7 powered
MSI
Prestige 14 EVO jumps out to a significant lead, outpacing all of the other systems we tested. The Core i7-1195G7's higher boost clocks give it a nice kicker in lightly threaded workloads, though software updates (to both Windows and Chrome) come into play here as well.
Cinebench R23 Rendering Performance
Cinebench R23 burst onto the rendering scene, boasting new features like a sustained test and support for Apple's M1 SoC found in the 2020 Mac mini, MacBook Air, and MacBook Pro. The score scaling has changed versus previous versions, so these scores are not at all comparable to the last iteration.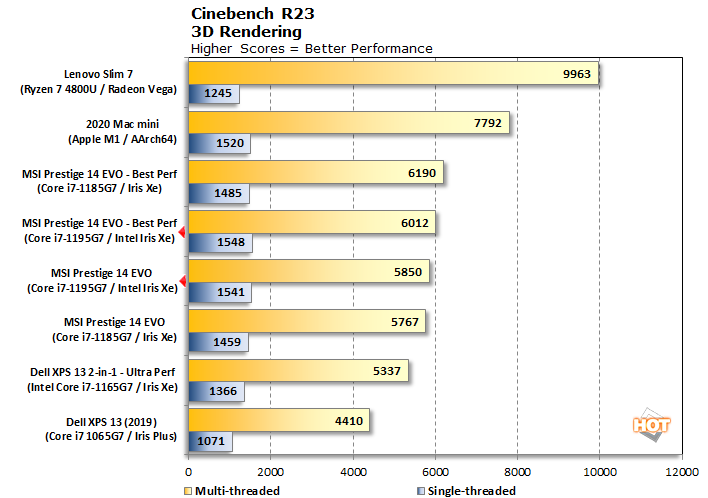 Cinebench R23 reported some surprising, but repeatable results. The Core i7-1195G7 inside the MSI Prestige 14 EVO puts up the best single-threaded performance, by a sizable margin. But despite what should be a higher all-core boost, its multi-threaded performance came in somewhat behind the 1185G7, at least when using high-performance mode -- in balanced mode the 1195G7 was faster. We suspect the higher-clocked Core i7-1195G7 throttled more quickly than the 1185G7, which resulted in a slightly lower average all-core frequency over the duration of this benchmark.
Geekbench 5
Geekbench is a cross-platform benchmark that simulates real world processing workloads in image processing and particle physics scenarios, among many others. We tested the notebooks featured here in Geekbench's single and multi-core workloads.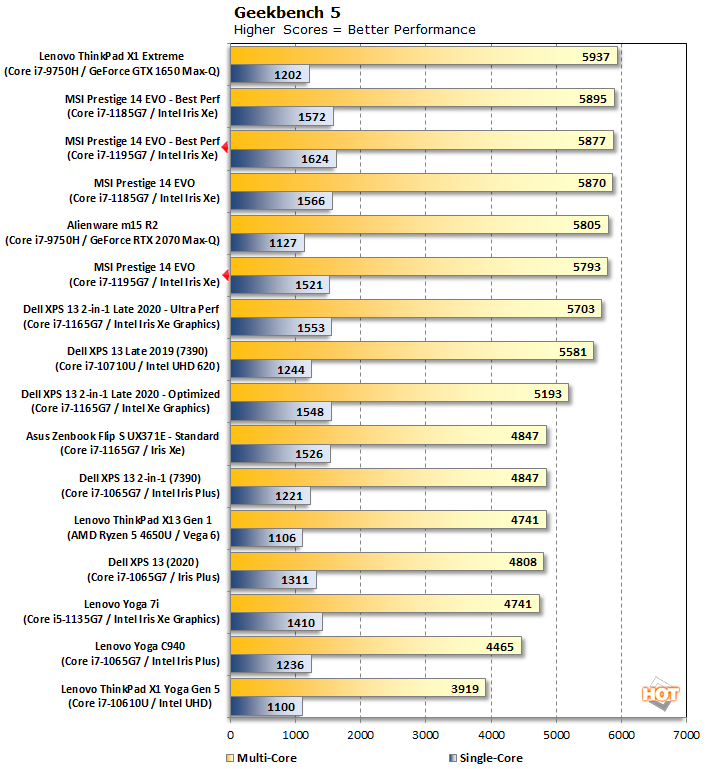 Once gain we see strong single-thread performance from the Core i7-1195G7, which leads the pack. Multi-threaded performance is right about on par with the Core i7-1185G7, however.
PCMark 10
PCMark 10 uses a mix of real-world applications and simulated workloads to establish how well a given system performs productivity tasks, including image and video editing, web browsing, and OpenOffice document editing. While these scores appear to be all over the place, the systems are sorted by their overall PCMark score, which is the third (gray) bar in each cluster.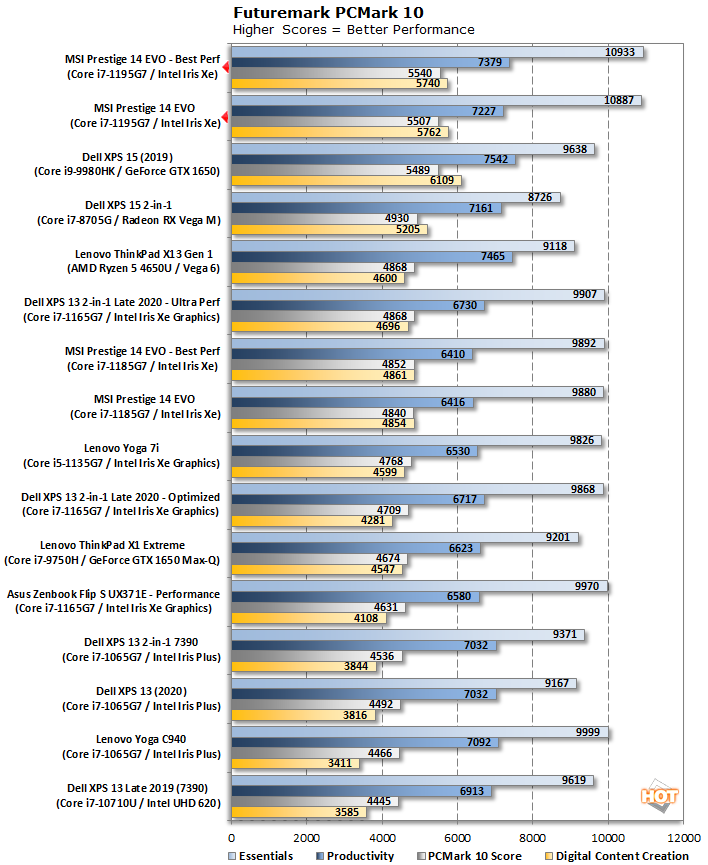 The Core i7-1195G7-powered MSI Prestige 14 EVO clearly outran its Core i7-1185G7-based counterpart in PCMark 10. The various tests that comprise this suite are a mix of single-thread, multi-thread and storage-bound benchmarks, which play to the strengths of the system.
3DMark Benchmarks
3DMark has several different graphics tests which focus on different types of systems. UL has discontinued support for Cloud Gate, which was a light-duty test well suited for integrated graphics solutions, but fortunately there are a couple of tests remaining that run well on integrated graphics. We've got Fire Strike, Night Raid and the
newest Wildlife test
represented here...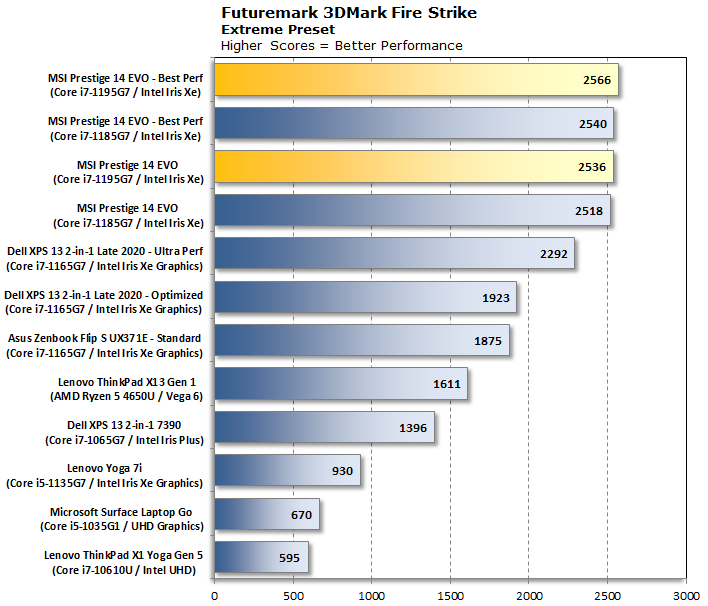 In Fire Strike and Night Raid, the Core i7-1195G7-powered MSI slightly outpaced the Core i7-1185G7-based version, which is what you would expect considering the newer platforms higher CPU and GPU clocks (but similar memory speed). We don't have Wildlife comparison data for the MSI Prestige 14 EVO systems, but it clearly stacks up well to some other members of the Tiger Lake mobile line-up.
Gears Tactics
Gears Tactics is a much more recent title that runs on the Unreal 4 Engine. It's a pretty fun tactical real-time strategy game, and has a wide array of graphics options that can look pretty great if the system is up to the challenge. We turned off all the automatic frame rate adjustments, turned the resolution up to 1080p, and then tested at Low, Medium and High details settings.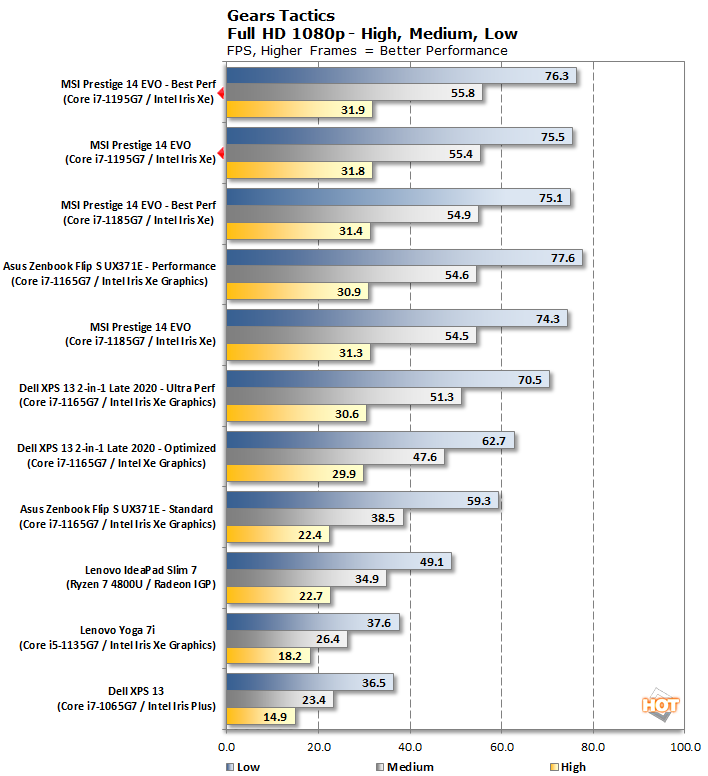 We saw more of the same in the gears tactics benchmark. Here, the Core i7-1195G7-based system was just a notch ahead of the Core i7-1185G7-based version of the machine we originally evaluated.
HotHardware Custom Battery Life Test
We run a custom 1080p HD video loop test developed in-house, to prove out battery life with our test group of machines. In all tests, Windows 10 Quiet Hours has been enabled and the displays are calibrated with lux meters on pure white screens to as close to 115 lux as possible. For the average laptop this is somewhere between a 40-60 percent brightness setting. In the case of the
MSI Prestige 14 EVO
, this required lowering the brightness to about 1/2 wat on the slider in the Windows 10 sidebar...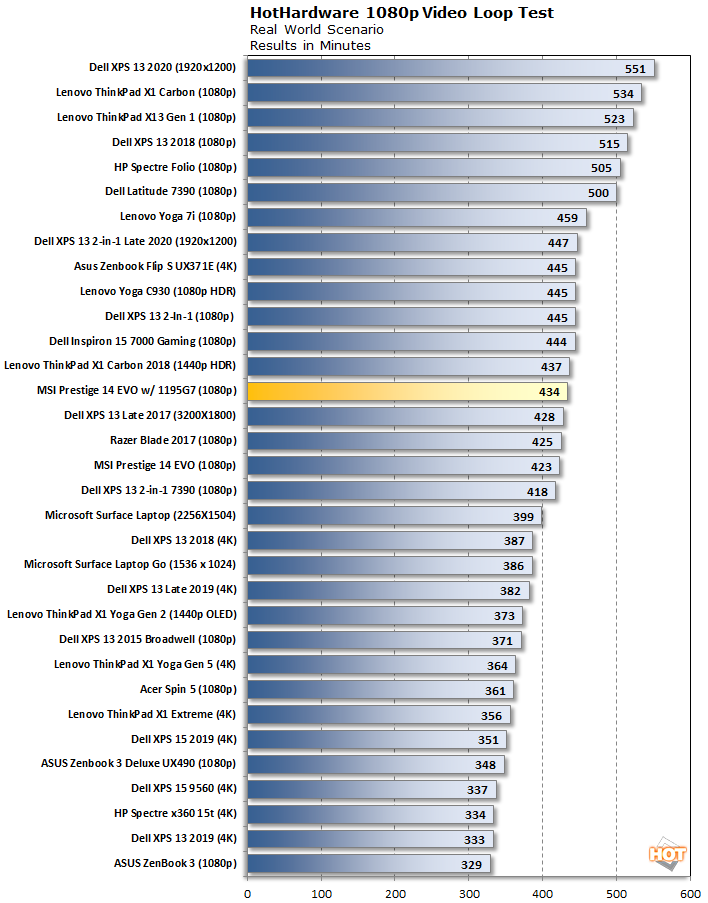 Battery life was somewhat of a surprise on the Core i7-1195G7-powered MSI Prestige 14 EVO. The machine put up slightly better numbers than the Core i7-1185G7, which seems counterintuitive -- higher-clocked processors typically consumer more power, all other things being equal. This type of video playback test, however, doesn't whack the CPU cores like a rendering test would, for example. Refinements to the BIOS and software on the system, and using the somewhat newer / more mature Core i7-1195G7 with different power profile resulted in a slight increase in battery life here.
MSI Prestige 14 EVO With Core i7-1195G7: The Verdict
We really liked the MSI Prestige 14 EVO when we first took a look at the system earlier this year. It has an attractive, clean design, good battery life, a mid-sized form factor that would likely appeal to current users of both 13.3" to 15" machines, and its powered by a leading-edge platform which requires minimal compromise for the vast majority of consumers. Refreshing the MSI Prestige EVO with the Core i7-1195G7 takes what was already a nice machine, and gives the overall experience a bit of a boost.





Strong CPU Performance

Excellent IGP Performance

Speedy, Upgradeable PCIe 4.0 SSD

Integrated Biometric Authentication

Thunderbolt 4 And USB Type-A
Solid Battery Life
Quality, Lightweight Construction

Fan Often Audible With Default Profile
Pre-Installed Norton Software Constantly Nags
Multi-Threaded Perf Not Much Better Than 1185G7.
Related content