Intel Core i9-11900K And i5-11600K Review: Rocket Lake-S Liftoff
Intel Core i9-11900K And i5-11600K Review: 14nm Rocket Lake-S Arrives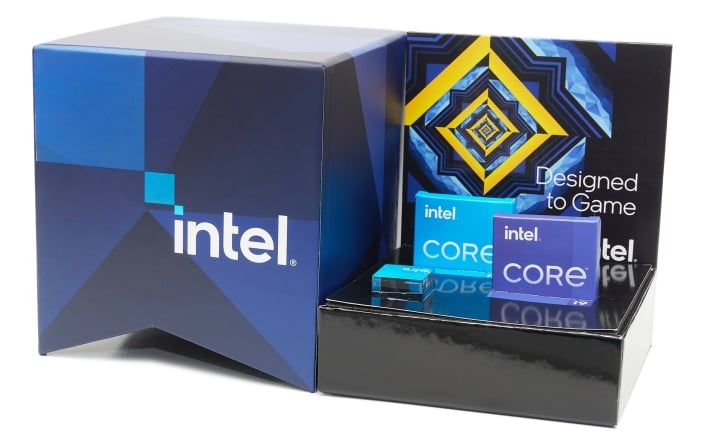 After disclosing some architecture details a few months back, and revealing the initial line-up of Rocket Lake-S based 11th Gen processors a few weeks ago, Intel is officially launching its latest family of mainstream desktop CPUs today, along with some new chipsets to enable all of their features in motherboard platforms.
As most of you probably know by now,
11th Gen Intel Core processors
based on Rocket Lake-S are manufactured using Intel's mature 14nm process, but they feature the company's latest microarchitecture and technology, which was backported from 10nm. We've got the flagship CPU in the new line-up on hand today, the Core i9-11900K, along with its more mainstream counterpart, the Core i5-11600K, and will hopefully paint a complete picture of performance and their competitive position in the pages ahead. We've got a lot to cover though, so let's get to it...
Intel Rocket Lake-S Architecture And Platform Feature Recap
Willow Cove
, offers significant IPC uplift over previous-gen architecture. These new processors also receive Xe-based graphics engines along with integration of Intel's Deep Learning Boost AI acceleration.
In addition to the new core microarchitecture, 11th Gen Core S-series processors have also been upgraded with support for PCI Express 4.0, and the CPUs have up to 20 integrated lanes of connectivity. That means Intel's mainstream desktop CPU line-up can dedicate 16 lanes to today's fastest GPU and four to fast SSDs and have it all hanging right off the processor. DDR4 memory frequencies of 3200MHz are officially supported, though much higher memory clocks are possible with overclocking. Intel's latest media engine with support for 10-bit AV1, 12-bit HEVC, and E2E compression is also present, along with an updated display engine, and support for
Resizable BAR
and a handful of new overclocking tools, which we'll cover a little later.
On the highest-end processors in the line-up, Intel is also introducing a new performance enhancing feature dubbed
Adaptive Boost
. With Intel 11th Gen Core i9 K and KF series processors, Adaptive Boost will use any additional power and thermal headroom available to push multi-core frequencies higher, and for longer periods of time. The temperature ceiling is a toasty 100°C for Adaptive Boost, and you'll need a robust motherboard and power supply to take full advantage, but if you're OK with the increased power consumption and heat generation, Adaptive Boost will increase performance and it is not considered overclocking by Intel -- simply flip a setting in the motherboard's BIOS and the feature is enabled.
To support 11th Gen Core series processors, Intel is also launching some new 500-series chipsets today for
a new crop of motherboards
. The 500 series chipsets enabled native USB 3.2 Gen 2x2 20Gbs connectivity, and feature a double-wide x8 DMI connection versus 400-series chipsets, which doubles the bandwidth between the CPU and chipset / IO hub. With the new 500 series, memory overclocking comes to some of the more mid-range models, like the H570 and B560, and isn't reserved solely for the top-end Z590. Support for the latest Wi-Fi 6e and Thunderbolt 4 is also present. We should also note, that the 500 series chipset is compatible with
10th Gen processors
as well, though they won't benefit from the wider DMI connection.
Intel
Core series processors look much like their previous-gen counterparts -- they fit into the same sockets, and work with all of the same coolers. From the top, there's not much to see that's all that different from the previous-gen, save for the specific branding and model number information.
Under The Hood Of Intel Rocket Lake-S
Underneath that heat-spreader, the Core i9-11900K features a monolithic, 8-core (16-thread) die that's being manufactured on Intel's 14nm++ process (the Core i5-11600K has only 6 cores / 12-threads). Defining the clock speeds with these processors is much more difficult, however, due all of the various boost modes available -- at least with the Core i9s. The Core i9-11900K has a base clock of 3.5GHz, with an all-core Turbo frequency of 4.7GHz. With Turbo Boost 2.0, the CPU can boost up to 5.1GHz, Turbo Boost 3.0 up to 5.2GHz, and with Thermal Velocity Boost, single cores can boost up to 5.3GHz, with an all-core boost of 4.8GHz. Factor in Adaptive Boost as well -- which is available on Core i9 K and KF processors -- and multi-core boosts may creep higher, temperature and power permitting.
Things are bit clearer with the 11th Gen Core i5. The Core i5-11600K has a base clock of 3.9GHz with and all-core Turbo of 4.6GHz and Turbo Boost 2.0 frequency of 4.9GHz. Turbo Boost 3.0 and Thermal Velocity Boost are not enabled on the Core i5 and lower-end processors. (We have tables posted on the last page of this article detailing all of the Turbo / Boost modes available with all 11th Gen Core processors).
With intel Adaptive Boost enabled (in a system with a Corsair RM1000 PSU and
Corsair H80i v2 AIO cooler
), we monitored frequencies on the Core i5-11600K and Core i9-11900K under various conditions (idle, 1-core loaded, and all-cores loaded). The Core i5 idled at only ~800MHz, with a single-core boost to ~4.9GHz and all-core boost to ~4.6GHz. The Core i9-11900K idled at a similar frequency, but single-core boost typically hit ~5.1GHz and all-core boost about ~5GHz. CPU-Z was also able to identify and label the fastest two cores of the Core i9-11900K (highlighted in red), but no such feature was enabled on the Core i5.
We'll have more on frequencies (and temps and power) a little later...
The ASUS ROG Maximus XIII Hero Motherboard
To test the new Intel 11th Gen Core processors, we got our hands on the Z590-based ASUS ROG Maximus XIII Hero motherboard. This ASUS board targets hardcore-enthusiasts, and has a ton of features, over and above what's offered by the Intel Z590 chipset itself. The ASUS ROG Maximus XIII Hero includes things like a pre-mounted IO shield, addressable LED / Lighting headers, M.2 heatsinks, digital power circuitry, high-end audio, and customizable RGB lighting, to name but a few.
ASUS
ROG Maximus XIII Hero has built-in support for AURA SYNC LED lighting, which can be extended with additional lighting strips -- out of the box, this mobo has some lighting underneath the large "ROG" shield, mounted above the VRM, near the back panel. The board also has metal reinforcements on its expansion slots, and heavy-duty metal heat spreaders and heatsinks on the chipset, VRM, and M.2 slots. Additional shielding covers the back panel I/O and the front-end of the PCB as well.
Just above the top PEG slot, there is a heatsink hiding the top-most M.2 slot. This slot hangs directly off of an 11th Gen CPU and features a x4 PCIe 4.0 connection. This slot offers maximum bandwidth and theoretically the lowest latency, before it connects directly to the processor, however, it only works with 11th Gen chips. Pop a 10th Gen CPU into one of these boards – which have fewer integrated PCIe lanes – and this slot stops working.
The
ASUS ROG Maximus XIII Hero
is compatible with the Intel XTU performance tuning utility, but the UEFI is outfitted with all of the overclocker-friendly tools ASUS is known for, should you want to tinker the old-fashioned way. The fan controls on the board are quite robust and ASUS has put in additional effort to ease configuration, by offering an array of auto-tuning options and presets that can be saved to individual profiles. Tweaking multiplier, voltages, and timings for virtually everything is supported, and there are AI-enabled auto-overclocking modes available too, though we had limited success with the Core i9-11900K.
As you would expect, the ASUS ROG Maximus XIII Hero has a modern, mouse-friendly BIOS / UEFI interface that's labeled well and easy to navigate. The BIOS on this board sports everything from high resolution fonts to the latest version of ASUS's hardware monitoring and fan control functionality. Commonly used features are also available with a single-click in a "quick-launch" row along the top, as soon as you log into the BIOS.
Wi-Fi 6e
with MU-MIMO, BT 5.0, on-board power and reset switches, a POST code error reporter,
SLI
support, and triple M.2 slots (though, as mentioned, only two work with 10th gen processors). In addition to the aforementioned items, we should also mention that the ASUS ROG Maximus XIII Hero offers 8-channel audio by way of a ROG SupremeFX ALC4082 with ESS ES9018Q2C DAC. The design also incorporates audio shielding, discrete power delivery, and high-end Japanese capacitors for optimal sound from an integrated solution.
Over and above what's actually built into the board or available through the chipset, ASUS throws in a wide array of accessories as well, including multi-GPU bridges and a boatload of decals, documentation, cables, connectors, etc.
We found the layout of the
ASUS
ROG Maximus XIII Hero to be very good and also really like the overall aesthetic. This is the motherboard we used for all of our testing with both 10th Gen and 11th Gen processors and it was nothing but rock-solid and stable when using default settings.
With all of that out of the way, what do you say we get to some benchmarks?
Related content