Intel 12th Gen Core Debut: Alder Lake CPUs Are Ready For Battle
Intel Launches 12th Gen Core Processors Codenamed Alder Lake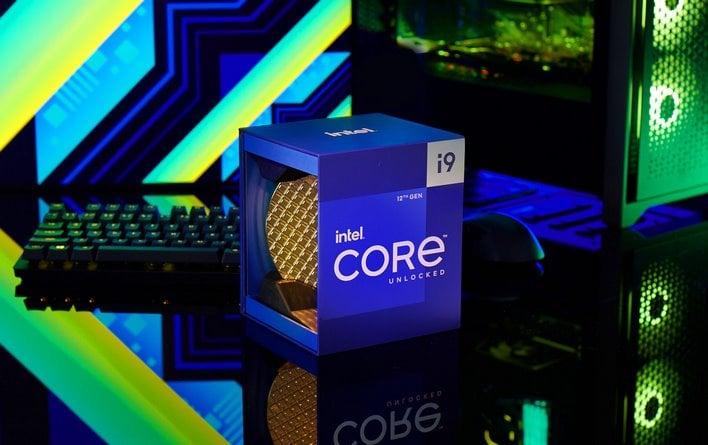 At its inaugural InnovatiON event, which kicked off this morning, Intel revealed a number of additional details regarding its upcoming 12th Gen Core processors, codenamed Alder Lake. We've been covering leaks, rumors and whatever else emerged regarding Alder Lake for ages. And after Intel's recent Architecture Day a few weeks back, we were able to dive into the Alder Lake architecture and disclose many of the underlying technologies that enable its hybrid design, including its Performance and Efficiency CPU cores. Today, however, Intel disclosed some additional feature and platform details, along with the initial 12th Gen Core processor lineup – complete with pricing.
Before we dive into today's disclosures though, we'd suggest checking out our coverage from
Intel Architecture Day 2021
. In that article, we go in-depth regarding Alder Lake's hybrid architecture, and cover the new Thread Director, core and cache configurations, I/O technologies, scalability, and much more. If you're interested in the nuts and bolts of the upcoming 12th Gen Core lineup, you'll definitely want to read that piece. There's a lot more to learn after today's news, but we've already covered the underlying tech, so we won't be doing so again here.
At a high-level, 12th Gen Core and
Alder Lake
are Intel's latest multi-core processors and new hybrid architecture, designed to address a wide variety of use cases. Although today's news will mostly relate to desktop systems, Alder Lake will eventually scale down to low-power mobile devices and up to high-end enthusiast desktops.
The processors leverage two new CPU core designs simultaneously, dubbed Efficiency (E-core) and Performance (P-core), and are built on
Intel 7 process
technology. In addition to the new hybrid core architecture, 12th Gen Core processors also feature support for the latest memory technologies and I/O, including PCI Express Gen 5, DDR5 (or DDR4) memory, and Wi-Fi 6E. Some of the processors will also feature Intel Xe-based graphics engines, have support for Deep Learning Boost, and Intel GNA 3.0 to accelerate AI and machine learning workloads.
Platform Updates And The Intel Z690 Chipset
Intel's 12th Gen Core processors will also use a brand new socket – LGA 1700 – and with that comes a new series of chipsets. 12th Gen Core processors will require an Intel 600 series chipset, which is spearheaded by the flagship Z690.
When a 12th Gen Core processor is paired to a Z690-based motherboard, the platform will offer 16 lanes of PCIe Gen 5 connectivity, hanging right off of the CPU, which doubles the bandwidth of PCIe Gen 4 (per lane). Motherboards will also feature support for leading-edge DDR5 or DDR4 memory technologies. Since there has been some confusion, however, we should note that DDR5 memory slots are
not
compatible with DDR4. When we say 12th Gen Core processors support DDR4 or DDR5 memory, it just means the processors are compatible with both memory types. Motherboards will feature either DDR4 or DDR5 memory slots, not both.
Official DDR4 memory speeds top-out at 3,200MT/s, while DDR5 can hit a much higher 4,800MT/s. Keep in mind, however, these are the default top-end memory specs – much higher memory clocks will be possible when overclocking.
The high-level block diagram above gives a good visual representation of the Z690 chipset's main features. Like the Z590 (and a few generations to come before it), the new Z690 chipset is essentially an I/O hub, because all of the traditional functionality previously found in legacy Northbridge chips has been integrated into the processor itself.
The Z690 adds support for up to 12 additional PCIe Gen 4 lanes, 16 additional PCIe Gen 3 lanes, 8 SATA ports, and a whole bunch of USB ports. There's also a multi-gig Ethernet MAC/PHY, Wi-Fi 6E, and support for a laundry list of Intel Storage technologies. The chipset itself also links to the CPU through a fatter X8 DMI 4.0 pipe, which doubles the bandwidth over previous-gen designs.
XMP Memory Technology Gets An Overhaul
In addition to support for DDR5 memory on the platform,
Intel
is using this launch as an opportunity to introduce XMP 3.0 as well. XMP, or eXtreme Memory Profiles, allows for relatively quick and easy memory tuning, but short of making it simple to select a specific profile or two, XMP isn't particularly user friendly.
With XMP 3.0, the ability to support additional profiles is being introduced, along with some more intuitive features and additional tuning hooks, which in turn will allow partners to introduce new tools for more precise, flexible (and easier) memory tuning.
The features and capabilities being introduced with XMP 3.0 will enable partners to introduce new tools, like the Corsair application you see pictured here, which gives users the ability to set and define their own profiles that can be stored directly on the memory modules.
While we're talking about memory, we should also mention that Intel's 12th Gen Core processors will add support for a new feature called Dynamic Memory Boost. The easiest way to understand Dynamic Memory Boost is to think of it as turbo boost, but for memory. DMB essentially gives the platform the ability to dynamically switch between the base JEDEC standard memory spec and the higher-performing XMP memory profile, depending on the workload being executed at the time.
Dynamic Memory Boost will be configurable via the system BIOS and requires a compatible motherboard and XMP-enabled RAM.
Overclocking Intel 12th Gen Alder Lake Processors
Intel also disclosed some new details regarding the 12th Gen Core processor packaging optimizations and overclocking-related features.
Versus 9th and 10th Gen Core processors, upcoming 12th Gen Core chips will feature a thinner die, which necessitates the use of a thicker integrated heat spreader to maintain Z-height compatibility with existing cooling solutions. And that heat spreader is attached using a more efficient and thinner solder thermal interface material. The additional mass of the thicker IHS in conjunction with the more efficient STIM, should help wick heat away from the die faster than previous-gen processors.
There will also be some additional knobs for users to tweak, should they want to manually overclock a 12th Gen Core processor. All of the usual tools we've come to expect from an enthusiast platform are present, and like other Intel processors, all "K" branded 12th Gen Core chips are unlocked.
12th Gen Core processors will allow for independent Efficient and Performance core overclocking, along with all of the aforementioned memory-related tools, and offer a new synthetic internal BCLK control option. The Synthetic Internal BCLK will allow some parts of the processor to be overclocked using fine-grained frequency controls, without throwing other parts of the chip out of whack.
To aid with tweaking all of the overclocking related options in 12th Gen Core processors via Windows -- without having to delve into the BIOS -- Intel is also introducing a revamped
Extreme Tuning Utility, or XTU
. XTU v7.5 will offer support for the aforementioned CPU and memory-related controls, along with Intel Speed Optimizer one-click overclocking and HWBOT integration for the built-in 2.0 benchmark.
Intel 12th Gen Alder Lake Power And Performance
New power definition updates are arriving with Intel's Alder Lake-based 12th Gen Core processors as well.
PL1 designates the processor's base power spec, while PL2 is the maximum turbo power. PL1 is rated for up to 125 watts on 12th Gen Core processors and PL2 can jump all the way up to 241 watts. This is actually somewhat lower than previous-gen Core processors, some of which have a PL2 as high as 260 watts.
Due to the 12th Gen's hybrid architecture, and the mix of Performance and Efficiency cores, the processors' power states can have a more varied effect on performance. Intel is actually claiming that the Core i9-12900K will perform
on par with a Core i9-11900K
in multi-threaded workloads, when consuming only 65W – versus the full 250W of the previous-gen CPU. That's just slightly more than 1/4 of the power for those keeping track. At 125W the 12th Gen chip is over 30% faster and at peak power over 50% faster, at least with the Blender workload represented in the chart.
Single-thread performance is significantly faster according to Intel as well. The Efficiency cores in 12th Gen processors are slightly faster than a 10th Gen Comet Lake processor, but fall-in somewhat behind the 11th Gen Rocket Lake-S. The 12th Gen's Performance cores, however, are up to 28% faster with single-threaded workloads than 10th Gen chips and significantly faster than 11th Gen processors.
What does all of that mean for complex multi-threaded, content creation workloads?
Intel
is claiming huge gen-on-gen performance gains, not only due to the higher performing architecture at play in Alder Lake, but because of the increased core counts as well. According to Intel, some workloads may execute twice as fast on a 12th Gen Core i9-12900K versus the
Core i9-11900K
, like the After Effects test shown here.
Intel is also calling the Core i9-12900K the "world's best gaming processor". Save for a single title, the Core i9-12900K outran a Core i9-11900K across a broad array of games, some of which ran upwards of 20-40% faster on the 12th Gen processor.
Intel also revealed a handful of gaming comparisons that pit the Core i9-12900K against
AMD's Ryzen 9 5950X
, and with the sole exceptions being Shadow Of The Tomb Raider (-3%) and Crysis: Remastered (flat), the 12th Gen Core processor came out on top.
Of course, these numbers were provided by Intel, and haven't been independently verified just yet, so stay tuned for our full review before drawing any definitive conclusions -- it won't be much longer now, we promise.
The Intel 12th Gen Core Processor Line-Up And Pricing
There will initially be six processors in the Intel 12th Gen Core processor line-up, ranging from the 10-core (6P + 4E) / 16-thread Core i5-12600K/F on up to the flagship 16-core (8P + 8E) / 24-thread Core i9-12900K. If you're wondering why the thread counts for the chips aren't double the core count, it's because the new Efficiency cores don't support HyperThreading.
As is typically the case, cache configurations and clocks vary from model to model depending on the core count, and only the top-end Core i7 and Core i9 processors support Turbo Boost Max 3.0. Due to the hybrid architecture and mix of CPU cores, every processor supports a wide range of frequencies, from a base E-core clock of 2.4GHz on up to 5.2GHz max P-core turbo on the Core i9-12900K. KF models eschew the Xe-based UHD 770 series graphics, and all of the processors listed here support two memory channels and are unlocked to facilitate overclocking.
A quick look at pricing reveals an interesting strategy. The flagship Core i9-12900K will arrive at $589, and the Core i5-12600KF at $264 – with the rest of the line-up falling in between. At these prices, Intel is undercutting AMD's similar-core count Ryzen 5000 series processors. The Core i9-12900K is priced more in-line with the 12-core Ryzen 9 5900X, but much lower than the
16-core Ryzen 9 5950X
, for example.
What those prices mean in relation to competitive AMD offerings remains to be seen. If Intel's 12 Gen Core processors offer competitive performance, with bleeding-edge platform technologies, at lower per-core prices, things may get really interesting in the desktop CPU market, real quick. We'll know more – and be able to tell you about it – soon enough.
Related content