Google Pixel 4a Review: Great Camera, Killer Android Value
Google Pixel 4a: Audio Quality, Performance, and Battery Life
Google Pixel 4a Audio, Data, and Call Reception
The Pixel 4a is unlocked, and we used it primarily on Verizon in San Francisco. Obviously, with 24 LTE bands listed in the specs, it's compatible with every carrier in the US. It even supports Verizon's legacy CDMA / EVDO technologies. Calls sounded loud and clear in our tests, and data speeds matched other devices on Verizon under the same conditions. In addition to taking standard nano-SIMs, the Pixel 4a also includes an eSIM.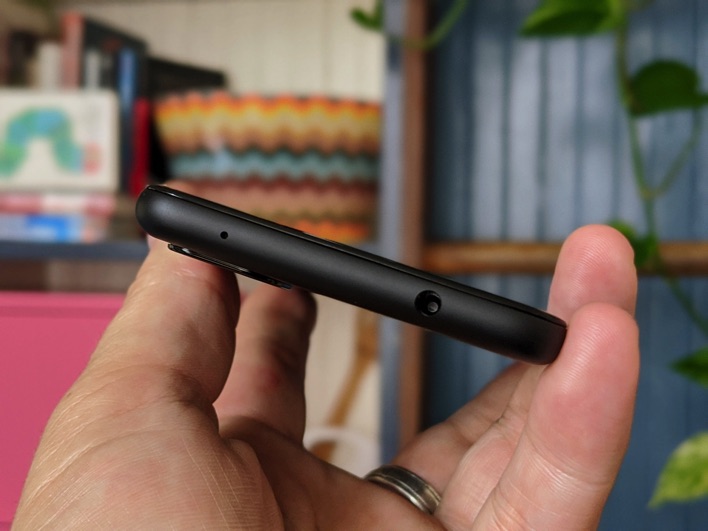 Audio is definitely one of the Pixel 4a's strengths. The stereo speakers sound great, especially when the phone is resting on a flat surface. We only wish they were a little louder and fuller. And did we mention there's a headphone jack? It sounds pretty good, too, and handles high-impedance wired headphones and earbuds much better than expected. Basically, in terms of audio, the Pixel 4a easily rivals more expensive flagships like the
Moto Edge+
.
Google Pixel 4a Performance
On paper the Pixel 4a's specs are nothing to write home about:
Qualcomm Snapdragon 730G
mid-range SoC, 6GB of RAM, and 128GB of UFS 2.1 storage without microSD support. Some of Google's literature lists a Snapdragon 730 chip, but Qualcomm
confirmed
this handset is using the gaming focused G variant. Regardless, don't let these specs fool you -- the Pixel 4a is surprisingly quick no matter what you throw at it.
With 6GB widely considered to be the minimum amount of RAM for a decent Android user experience, it's a welcome improvement over the 4GB found in the entire Pixel 3-series lineup. Also, 128GB is more than the
Pixel 4 and 4 XL
's 64GB base storage, and UFS 2.1 is faster than the
Pixel 3a
's eMMC. This all adds up, and makes the Pixel 4a nimbler than its predecessor, or even Google's 2018 flagships.
Speaking of which, the Pixel 4a almost matched the
Pixel 3 XL
in our PCMark benchmark (see below). For day-to-day tasks, like multitasking between our usual set of productivity apps, the Pixel 4a never skipped a beat. It felt almost as speedy as the
OnePlus Nord
, minus that smooth 90Hz scrolling. Gaming performance was slightly worse than the OnePlus Nord's, but still much quicker than Snapdragon 6xx-equipped phones like
TCL's 10-series
.
Futuremark PCMark For Android

General Purpose Pocket Computing Performance Metrics
Futuremark's PCMark for Android is an excellent suite of tests if you want to benchmark a wide range of tasks on any handset -- things like image and video editing, as well as lighter-duty, everyday workloads such as email and web browsing. When you see the test running live, it's clear the scripted application tests are carefully selected and tuned to make use of the each mobile platform in a very controlled way...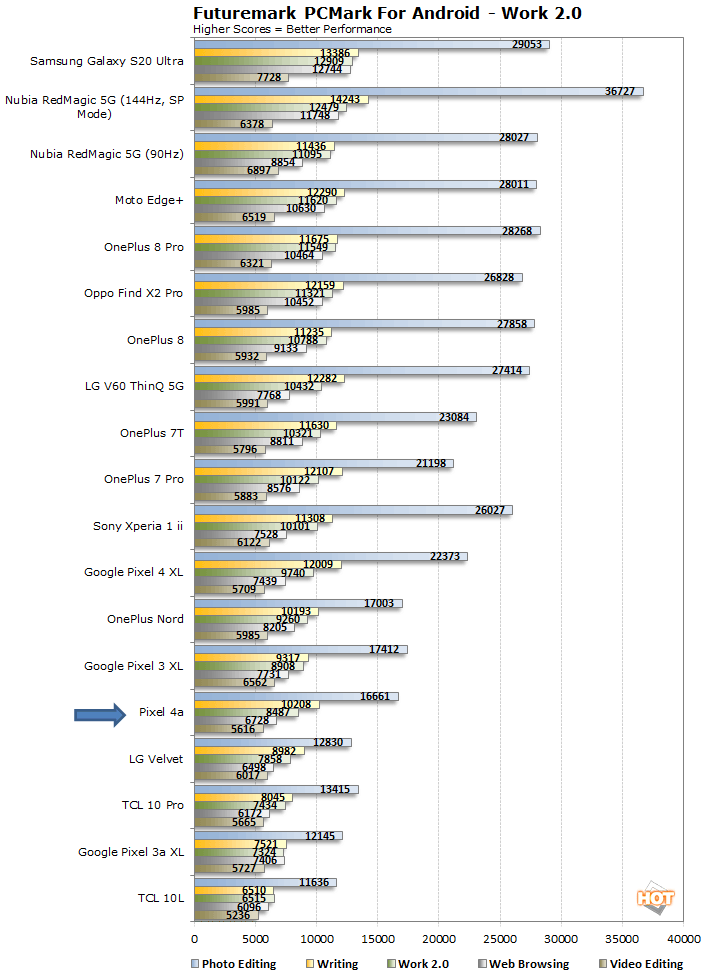 In PCMark, the Pixel 4a almost matches Google's Snapdragon 845-equipped Pixel 3 XL flagship from 2018. While the Snapdragon 730G powering the Pixel 4a clearly doesn't match the performance of current flagships for the workloads used in PCMark for Android, these results are still respectable.
AnTuTu 8 And AITuTu

Platform Benchmarks
AnTuTu's latest benchmark returns a number of metrics ranked with somewhat nebulous scores, rather than frame rates or time to complete. Here we're running the latest version of AnTuTu across an multiple Android devices. AnTuTu returns four top level performance results which are all included here: CPU, RAM, 3D, UX (or User Experience), along with a total score...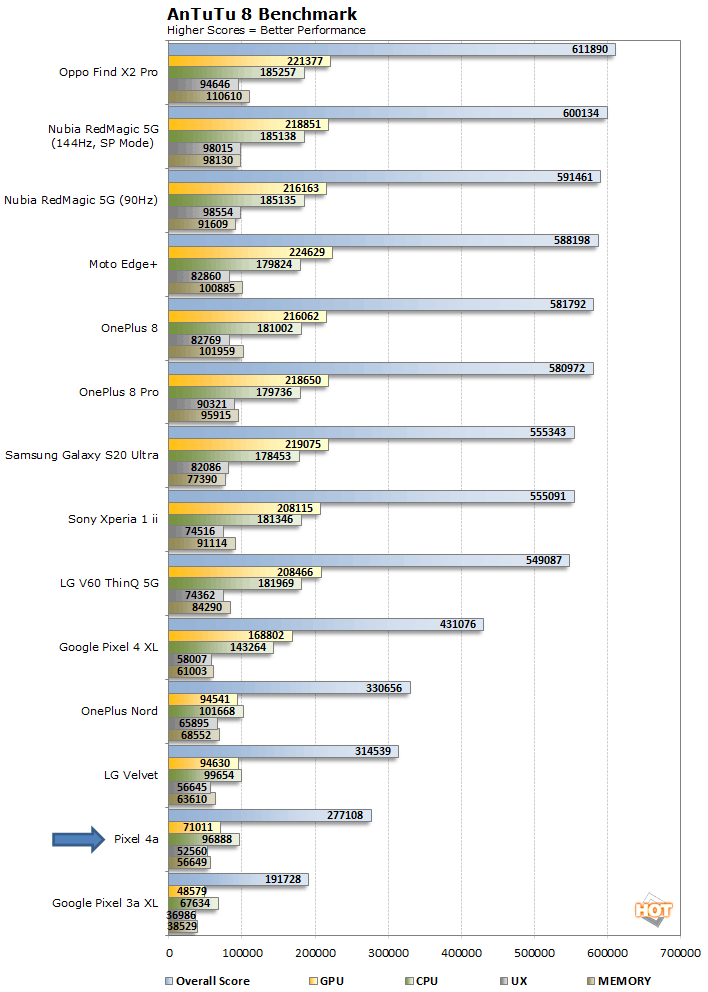 We saw more of the same in the AnTuTu benchmark. Here, the Google Pixel 4a comes in right between the Snapdragon 670-equipped Pixel 3a XL and the Snapdragon 765G-equipped OnePlus Nord.
AITuTu evaluates the AI performance of a device by leveraging two mainstream neural network models for machine learning and
AI
--
Inception v3
for Image Classification and
MobileNet-SSD
for Object Detection. The benchmark determines the device's accuracy and speed when inferring data from each workload...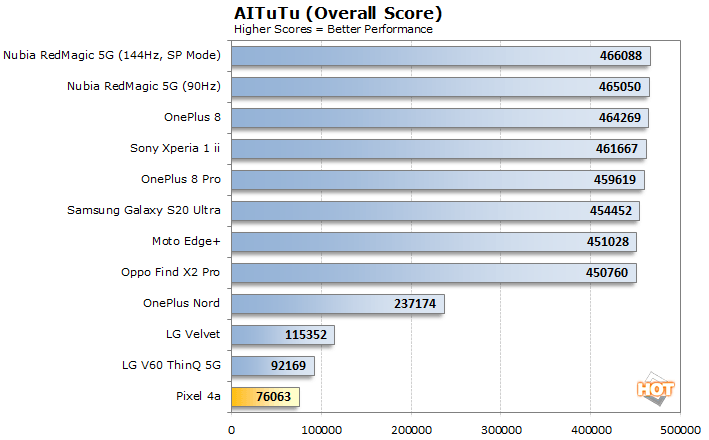 AI workloads aren't one of the Snapdragon 730G's strengths. In AiTuTu, the Pixel 4a scores just below the Snapdragon 865-equipped
LG V60 ThinQ 5G
, which didn't perform particularly well in this test.
3D Graphics Benchmarks: 3DMark And GFX Bench

Pushing The Pixels
Next we're checking how the Google Pixel 4a compares in GFXBench, which has been one of the standard mobile graphics/gaming performance benchmarks for years. To ensure that display refresh (v-sync) and resolution aren't limiting factors, we're comparing off-screen test results here. GFXBench tests OpenGL ES graphics workloads and we're specifically testing OpenGL ES 2...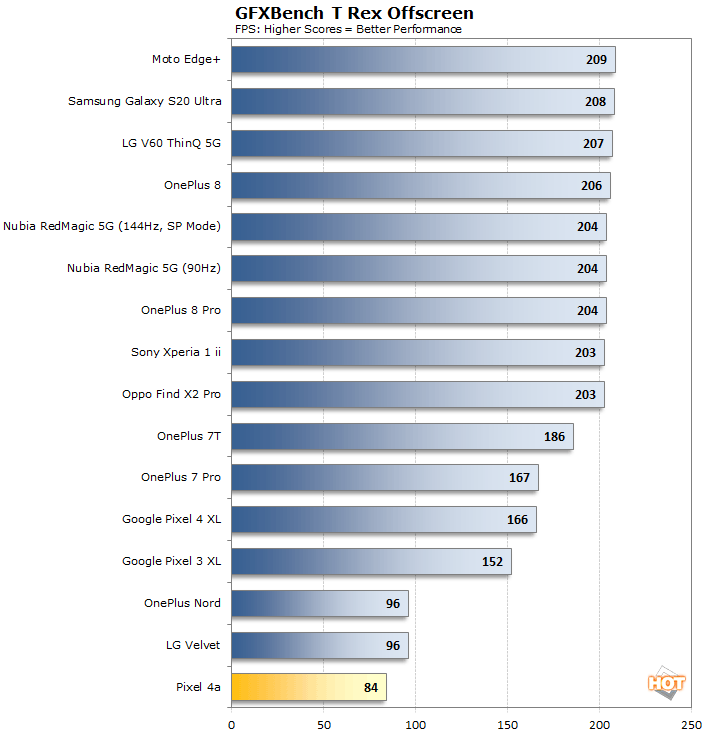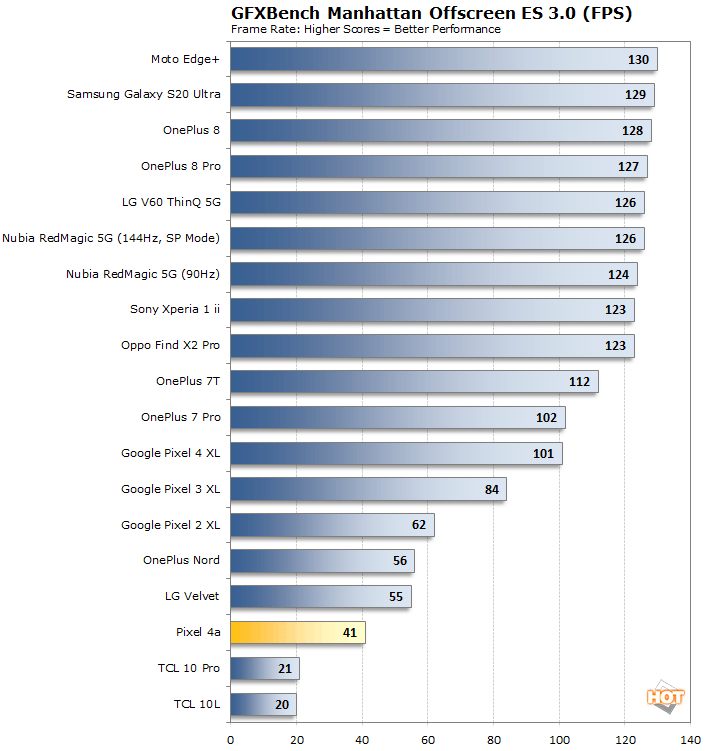 Graphics performance clearly isn't the Snapdragon 730G's strongest suit. Here, the Google Pixel 4a's scores are consistently less than half of current Snapdragon 865-equipped flagships, but not very far behind the Snapdragon 765G-equipped OnePlus Nord.
Futuremark's 3DMark Sling Shot is a newer benchmark module that's been added to the
3DMark
mobile suite. Unlike previous gen 3DMark mobile tests, Sling Shot is a much more advanced OpenGL ES 3.1 and Metal API-based benchmark that employs more advanced rendering techniques, like volumetric lighting, particle illumination, multiple render targets, instanced rendering, uniform buffers and transform feedback.
Futuremark 3DMark Sling Shot Extreme Benchmark

We're running this test in off-screen mode once again to remove display resolution differences from the equation. This lets us compare cross-platform results more reliably...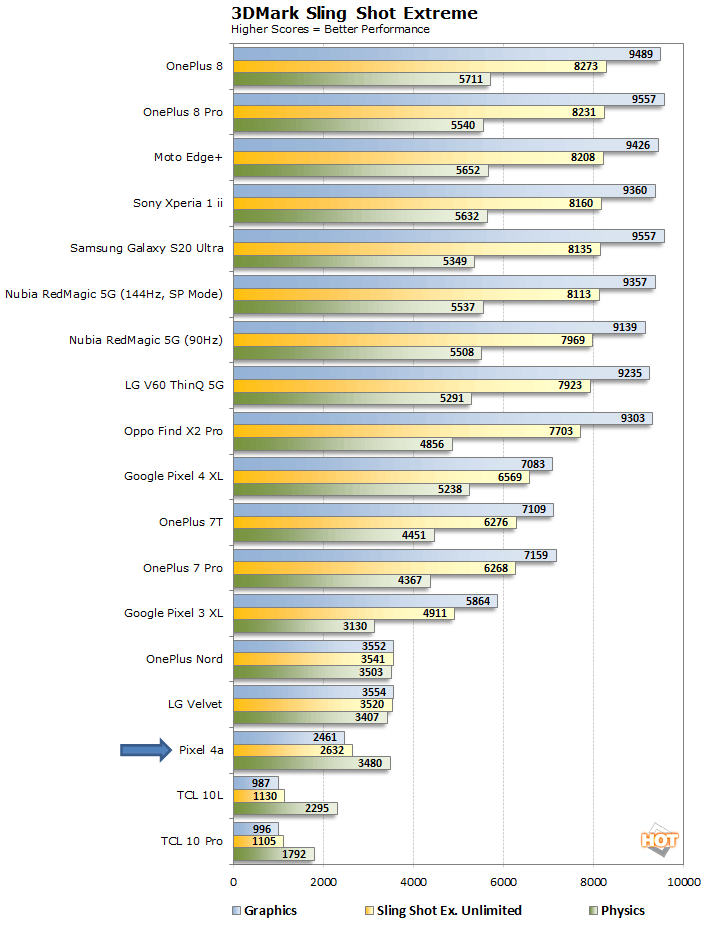 The Google Pixel 4a also performed worse than current flagships in these 3DMark tests. It scored about 50% worse than what the Snapdragon 765G-equipped OnePlus Nord scored, but still 2.5x better than the Snapdragon 665- and 675-equipped TCL 10-series.

Google Pixel 4a Other Features and Battery Life
The rest of the Pixel 4a's spec list is pretty much standard fare. On the radio front, there's CAT 12 LTE (2x2 MIMO), WiFi 5 (802.11ac, 2x2 MIMO), Bluetooth 5.1 (with aptX HD), NFC, and A-GPS / GLONASS / Galileo / QZSS positioning. Sensors include proximity, ambient light, an accelerometer, gyroscope, compass, and barometer. The capacitive fingerprint sensor is fast and accurate, and haptics feel as nice as other recent
Pixels
.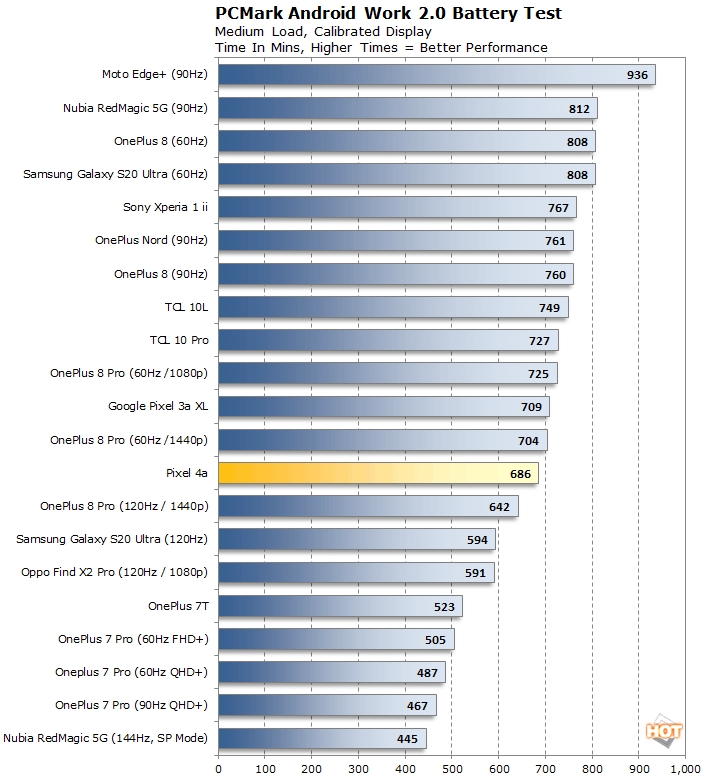 Battery life is a lot better than we initially expected considering that smallish 3140mAh cell. The Pixel 4a ran for a very solid 11 hours and 26 minutes in our PCMark battery test. As such, most people won't have any problems using this handset for an entire day, or even longer. When it's time for a refill, the Pixel 4a supports 18W wired fast charging (USB PD), with an 18W brick in the box. There's no wireless charging, and that's a bummer.
Another hardware feature that's missing from the Pixel 4a (but is available on last year's
Pixel 3a
) is Active Edge, which lets you squeeze the phone to launch the Google Assistant or silence calls and notifications. We don't care much for this feature, but you might.
Next up: the software, pricing, and the verdict...

Related content