Dell G5 15 SE Laptop Review: All-AMD Gaming With SmartShift
Dell G5 15 SE: Teardown, Thermals, Acoustics And Review Summary
Before we get into the cooling capabilities of the
Dell
G5 15 SE, we need to see what's under the hood. To that end, let's do a little teardown and a tour of the system's underbelly. Getting into the G5 requires removing ten small Phillips head screws, and then just a bit of gentle prying. The entirety of the bottom and sides of the unit are a single piece of polycarbonate, so take care in prying it off. Once it's away we can get a look at the cooling, user-friendliness and upgrade options inside the new Dell G5 15.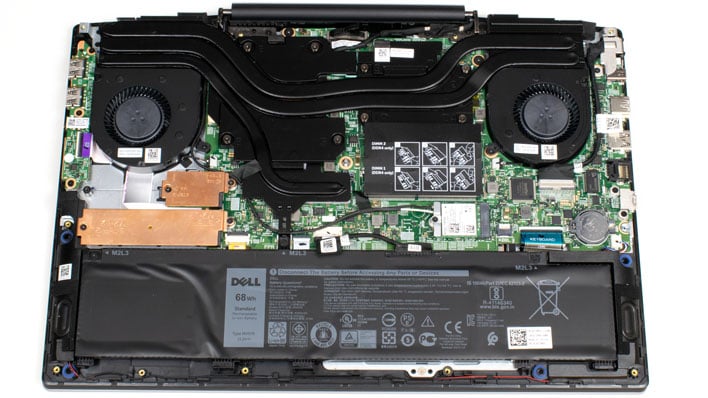 First off, there's an absolutely mammoth cooler connected to the
Ryzen
CPU and Radeon GPU. Two rather large heat pipes and a third smaller pipe, wick heat away to a pair of fin heat sink arrays that measure around 2.25" wide. Both have blower-style active cooling to push hot air out the rear of the unit. When we placed our hands behind the G5 while gaming, we could definitely feel the hot air rushing out.
The cooling system doesn't stop there, though. Once inside the bottom of the chassis, we can find several copper heat spreaders. These metal plates touch the smaller heat pipe covering the notebook's chipset and the
DDR4
SO-DIMM cover to dissipate additional heat through the bottom of the machine. It appears that the wider, thinner strip also covers the Wi-Fi module and pre-installed M.2 2242 SSD.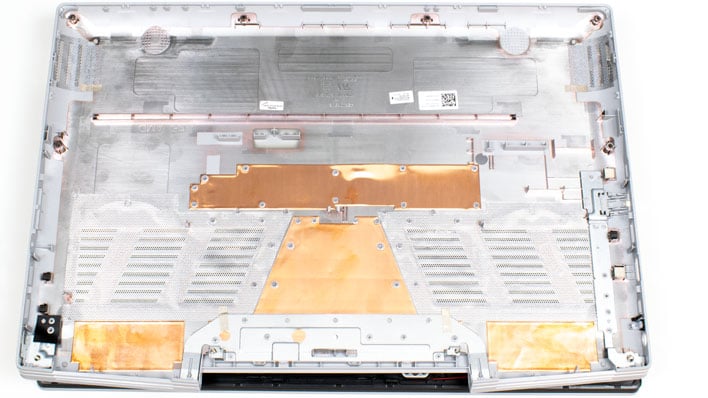 Below the heat sink on the left is the shorter M.2 2242 SK Hynix
SSD
under a copper heat spreader. Alongside that is another spreader for the longer 80-millimeter standard, which is convenient for buyers who want to add a second SSD later. The longer M.2 2280 size is the most common aftermarket SSD form factor, so it's nice that Dell didn't fill that one first. Right above the battery, we can see the
Killer
1650x Wi-Fi and Bluetooth module is very easy to replace.
Finally, to the right of the SSD is a pair of honest-to-goodness DDR4 SO-DIMM slots. Peeling back the plastic protection and popping one out, we can see that they're made by Micron and a quick Google of the model number indicates they run at 3,200 MHz. Buyers who want to upgrade later without tanking memory bandwidth are pretty limited in options right now, and this new SO-DIMM speed is
kind of pricey
. Over time there will be more available, though, and it's nice that Dell didn't just solder RAM to the motherboard. This is
proper
configuration for a gaming laptop especially.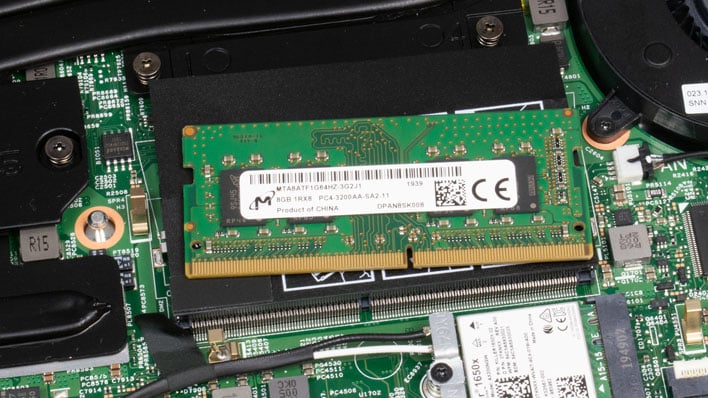 At the bottom of the unit we can see the the relatively large 68 Whr battery, which appears to be user replaceable down the road, should it lose its endurance over time. On the left and the right of the battery are a pair of stereo speakers.
Dell
tuned these with Nahimic 3D Audio, and they get plenty loud, but due to their size they lack in the bass department. One note on reassembly is that we found the G5 15 SE went back together easily, as long as we started at the rear of the unit, hooking the back of the bottom panel over the fins of the coolers first.
Dell G5 15 SE Thermals And Noise
To test out the thermal capacity of the G5 15 SE, we turned to the built in benchmark test of Shadow of the
Tomb Raider
. This test takes around four minutes to complete and gets the system working pretty hard, so we could monitor temperatures and performance over the course of multiple runs. To monitor temperatures, we turned to TechPowerup's GPU-Z utility. Unfortunately, our old stand-by HWMonitor didn't see any of the temperature data in this brand-new machine.
To monitor noise, we busted out our sound meter and held it around 15" from the front of the G5's display and elevated about 6" above the key board. That position is roughly where your chin would be, if you were playing a game and hunched over the built-in display. As far as sound measurements go, this is about a worst-case scenario, and putting additional distance between our heads and the machine would impact the noise downward slightly. For reference, our trusty sound meter registered a low of 30.2 dBA in total silence.
Without Game Shift enabled, the fans ramp up as thermal demands increase. Under a steady, heavy load, the fans crank up and get fairly loud. According to our sound meter, the G5 15 SE pumped out 48-49 dBA of noise. That's loud enough to notice without headphones in, but not so loud that the built-in speakers couldn't easily drown it out with game sounds in louder scenes. With even a cheap pair of earbuds, we couldn't hear the fans at all over the game. Remember, gaming notebooks on the whole have a lot of hardware to keep cool, and this kind of noise floor isn't unusual.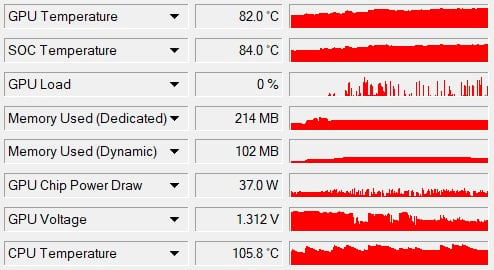 Regardless of settings, the G5 15 SE's temps stayed consistent under load.
As for the CPU and GPU temperatures, they stayed in lock step, maxing out at 84 degrees Celsius and hovering in the 82-83 range most of the time. That's warm but well within the maximum spec for each component. It seems the
Dell G5
15 SE does a nice job cooling on its own.
As for the external hot spots, obviously the underbelly of the G5 gets pretty warm, since it has that copper built into the bottom of machine. However, the keyboard also gets pretty warm, directly above where the CPU and
GPU
sit. It was never uncomfortably hot to the touch, but our hands got a bit sweaty. Again, this typically just comes with the territory for a powerful gaming laptop.
After that we turned on Game Shift and the fans immediately shifted up to 100%. That was a bit of a surprise, because we'd assumed that the system would get up there anyway without Game Shift, but that turned out to not be the case. This gave the system all the thermal and power headroom available to run as fast as possible. Right away our sound meter registered 55-56 decibels. That's again fairly loud, but nothing a pair of headphones couldn't easily fix. We were, again, duly impressed with the performance afforded by Game Shift, and noise is just the price you'd have to pay for it.
With Game Shift enabled, and despite the elevated performance, both the CPU and GPU temperatures were basically the same as before. Once again they maxed out around 83 to 84 degrees Celsius It seems that the G5 15 SE will pump out as much performance as possible without getting past this Dell-specified target temperature, or thereabouts.
Dell G5 15 SE Review Wrap-Up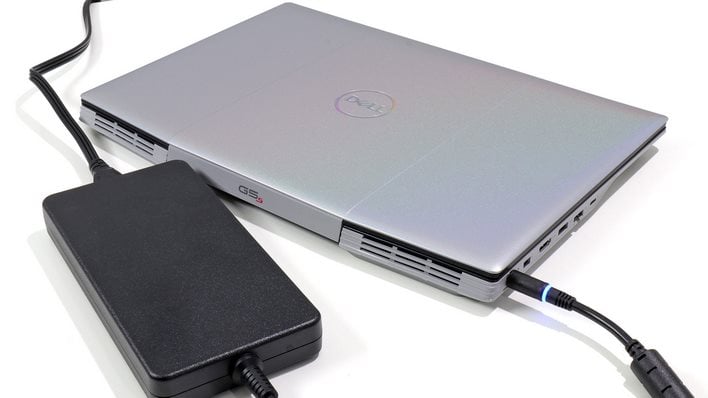 We went into this review curious to see how the
Radeon
RX 5600M would perform, especially when coupled to a new Ryzen 4000 series mobile processor in an all-AMD platform solution. We already knew that the Ryzen 7 4800H would be a CPU, considering how the faster Ryzen 9 4900H knocked our socks off in our
ASUS ROG Zephyrus G14 review
. This is the first notebook we've tested with something that approaches AMD's top-end mobile graphics solution, though NVIDIA presents a pretty hefty challenger with its GeForce RTX mobile GPUs.
First of all, the
AMD
CPU lived up to expectations. In test after test, its eight cores and 16 hardware threads leapt up near the top of our test charts. Web browsing, office apps, and even content creation tests presented little challenge as the Ryzen 7 4800H tore through
benchmarks
. The G5 15 SE was off to a great start and it continually challenged much more expensive laptops, some much more expensive.
Once we got to the 3D applications though, this machine really showed off its value. The Radeon RX 5600M doesn't go toe-to-toe with a high-end
GeForce RTX 2080
Max-Q, but because of the G5 15 SE's price point, it doesn't have to. That kind of GPU horsepower typically going to show up in an different class of notebook. On the other hand, the
Radeon RX
5600M had no problem matching the GeForce RTX 2060 and sometimes even a 2070 Max-Q. Of all the machines in our test, the Dell G5 15 SE is the lowest cost, and yet it consistently turned in great gaming performance.
That only improved when we turned on Dell Game Shift. The system performed CPU-focused tests on average 10 to 15% faster than when the setting was off. Gaming tests universally showed improvement, but it wasn't quite as pronounced. Still, a free performance boost of 5 - 10% or so is very welcome. The cost to Game Shift is added noise and heat generated. The fans hit 100% and stay there with Game Shift enabled, and the system does get fairly loud. Gamers who play with headphones on aren't going to notice, but they could certainly notice the extra boost in frames per second in more challenging titles.
We've already alluded to it, but the Dell G5 15 SE is priced pretty aggressively. Our system is a middle-of-the-road configuration on Dell's list, and it rings in at $1,199. Our test unit has the eight-core Ryzen 7 4800H, Radeon RX 5600M with 6 GB of GDDR6 VRAM, 16 GB of memory, a 512 GB SSD, and Dell's larger 68 Watt-hour battery option. The base configuration of the G5 15 SE starts with a six-core
Ryzen 5
4600H, 8 GB of memory, a 256 GB SSD, and the standard 51 Watt-hour battery for $879, which is killer value. The highest-level configuration has 1 TB of SSD space, keeps the
Ryzen 7 4800H
, and rings in just $100 more than our review unit, at $1,299, which is also a very solid bang for the buck ratio.
Our review unit's configuration represents a pretty fantastic level of value. ASUS's ROG Zephyrus G14 was the next-lowest priced contender, and it rings in at $250 - $300 more than that for very similar CPU and graphics performance in a smaller form factor. If portability is paramount, ASUS might have a better option, but it's not like the G5 15 SE weighs 20 pounds, either. Our review unit with the bigger 68 Whr battery still weighs under six pounds, according to our scale, although the power adapter adds a bit more heft when tossing it in a bag, of course.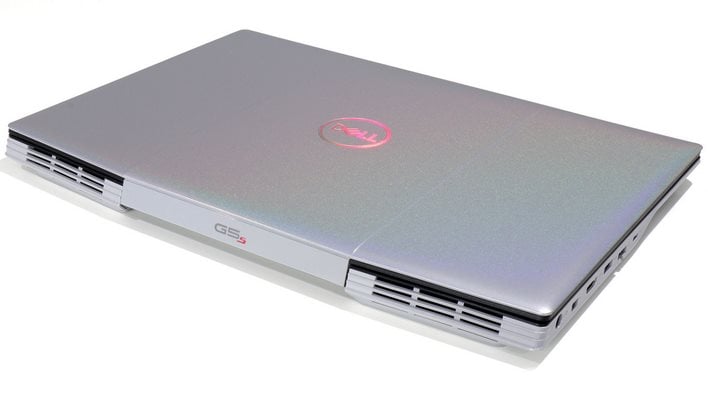 One downside to this all-AMD setup is that Radeons don't have real-time ray tracing capabilities yet, however. With
Minecraft RTX
right around the corner, this might be a stumbling block for Minecraft players. For most gamers, however, it's hard to complain about lack of RT support considering the G5 15 SE's overall value proposition. The odd port choices left us scratching our heads a bit, too. The G5 15 SE's USB Type-C port is not nearly as useful as it could be, since it only carries DisplayPort signals, too. This system is really missing out when it comes to USB 3.0 docks with Type-C plugs—not for power delivery, since that's limited to 100W, but for the IO port expansion.
Overall, we think Dell hit it out of the park with the new G5 15 SE. This all-AMD budget blockbuster has all of the gaming essentials: a fast processor, a powerful GPU, and a 144 Hz display. Extra features like the RGB backlit keyboard and eye-catching glittery lid give it a bit of a gamer motif that might look a little out of place in a business meeting, but it's subdued enough that we would personally have no issues toting this thing around. Gamers on a budget who want class-leading mobile CPU performance with plenty of graphics and gaming chops should put the Dell G5 15 SE on their short list.





Great value-oriented pricing

Ryzen 4000 mobile CPU performance

Ultra-fast 144 Hz VA panel is crisp & vibrant
Radeon RX GPU has plenty of gaming chops

Game Shift adds performance when needed

User-serviceable SSD and SO-DIMM memory

Good variety of IO ports, HDMI and mini DP

No Ray Tracing support
USB Type-C port doesn't carry data, unsuitable as a dock
Hefty 230W charger adds extra pounds to a travel bag
Related content
Comments