ASUS TUF Gaming A15 Review: Ryzen Power With GeForce RTX Pop
ASUS TUF Gaming A15: Teardown, Thermals, Acoustics, and Review Summary
Before we get into the cooling capabilities of the
ASUS
TUF Gaming 15, we popped off the bottom to see what was under that tough exterior and want to give you all a peek inside. Getting into the system requires removing 10 screws in total. Those screws are of three different lengths, so take it from me and pay attention when disassembling this machine or you'll be hunting around for the right spot to return each screw upon reassembly. The bottom lid is snapped on pretty tightly as well, so we also had to use a plastic separator tool around the edges of the laptop. Once we did though, the bottom came right off. Let's take a look...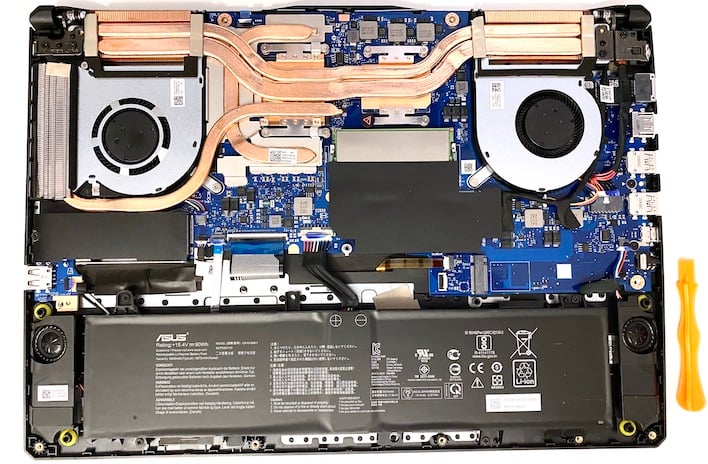 Our eyes were immediately drawn to the large cooler with a veritable super-highway of heat pipes going to two fans and a total of three vents. Two of the vents exhaust out the rear of the TUF Gaming A15, while the third one (on the left in the photo above) exhausts out the right side of the unit. Under a heavy load, that made gaming with an external mouse attached a little warm. It doesn't take much for my meaty paws to start overheating, and the side vent blowing hot air on my hand didn't really help matters. All told there's a lot of copper under the hood, which does a pretty splendid job of wicking heat away from the
CPU
and GPU.
Along the bottom sits the large 90 Watt-hour battery that delivered those excellent run times earlier. It's a four-cell unit with just a handful of screws holding it in place and a single plug, which should make user-serviceability a cinch if it goes bad after the warranty expires. On either side of the battery we can see those
DTS
X-certified speakers that fire downward to bounce sound off the table. These drivers get pretty loud, even if they're lacking in bass. It's impressive how much sound is emitted without distortion from such tiny units.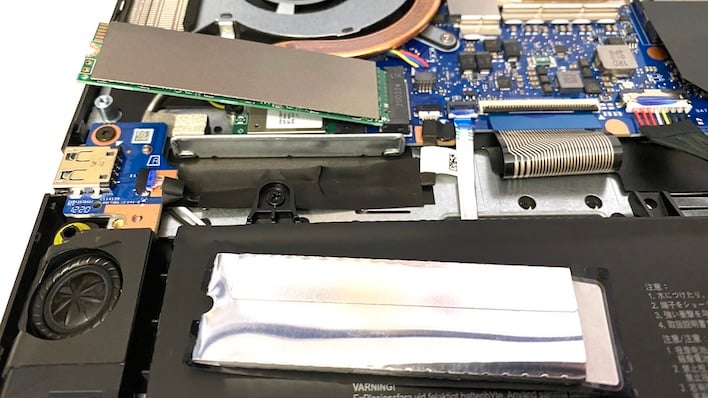 Just about everything on the motherboard has its own heat spreader, too. When we lifted up the black plastic sheet over the RAM, we found a metal plate attached to the memory modules. The same is true of the Intel SSD in our unit, which has not only a metal plate installed but it's wrapped in an additional foil shield as well (seen at the bottom of the above photo). The
Realtek
Wi-Fi module can be seen hiding underneath the SSD, and pops out after removing a single screw.
In the middle of the system is a pair of DDR4 SO-DIMM slots. Once again, the SO-DIMMs have that small metal heat spreader attached. In this case, that prevents us from seeing the manufacturer, but we know it's rated to run at DDR4-3200 speeds thanks to
CPU-Z
. In the bottom-right corner we can see the second open M.2 slot. In the lower-tier models, ASUS replaces this with SATA mounting hardware and a SATA cable (labeled HDD in the photo below) to drive a 5400-RPM drive. As long as the M.2 slot is available on the left, however, we'd recommend popping an SSD into those systems to beef up performance.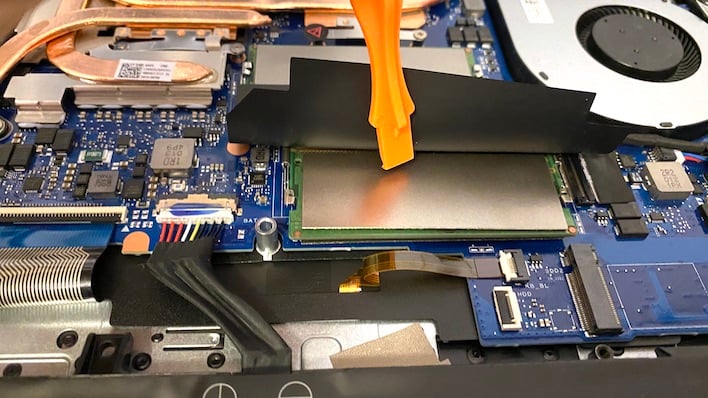 Overall, the system is very user serviceable. The RAM, SSD, battery, and Wi-Fi card all pop out and take standard-sized components as replacements. Having a pair of M.2 slots on the higher-end configurations means there could potentially be no shortage of fast NAND storage in the TUF Gaming A15.
ASUS TUF Gaming A15 Thermals And Noise
To test out the thermal capacity of the TUF Gaming A15, we turned to the built in benchmark test of Gears 5. This test takes around four minutes to complete and gets the system working pretty hard, so we could monitor temperatures and performance over the course of multiple runs. To monitor temperatures, we turned to the GPU-Z utility. Unfortunately, our old stand-by HWMonitor didn't see any of the temperature data reported by this brand-new machine.
To monitor noise, we busted out our sound meter and held it around 15" from the front of the G5's display and elevated about 6" above the keyboard. That position is roughly where your chin would be (depending on desk height) if you were playing a game and hunched over the built-in display. As far as sound measurements go, this is somewhat of a worst-case scenario, and putting additional distance between our heads and the machine would obviously impact the perceived noise level slightly. For reference, our trusty sound meter registered a low of 30.2 dBA in total silence.
Using the default Performance power profile, the fans did not really come close to spinning up all the way. The system was plenty audible, but not overly loud—our sound meter only registered around 44-45 dB at that fairly close distance. Once we turned up the Turbo profile, the fans spun up considerably, and our meter registered 53 dB or so, which is a pretty significant increase. It's not all bad, though, because in some cases that does buy some extra performance. Whether that is worth the noise penalty is up to the buyer.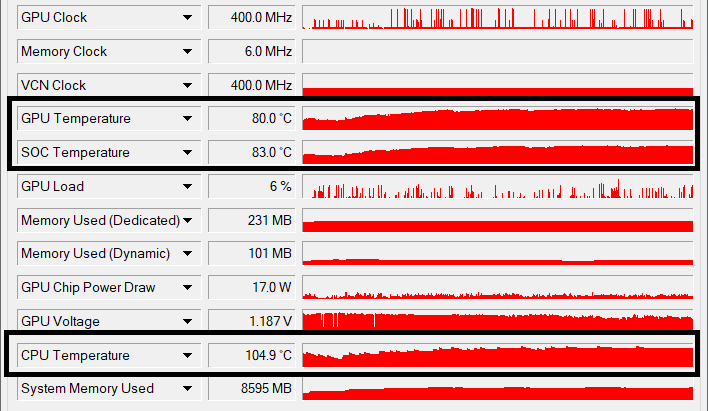 Both the Performance and Turbo temps stayed consistent under load.
As for the CPU and GPU temperatures, they held pretty steady together. Both the GPU and SOC temperatures in GPU-Z hung in the low 80s Celsius. Just like the
Dell G5 15 SE
, there's a separate CPU reading which said 104 degrees Celsius, which is butting right up against the thermal limit of the Ryzen 7 4800H. Unsurprisingly, the TUF Gaming A15 runs the CPU and GPU as hard as it can without crossing any critical temperature thresholds.
The Performance profile held frames per second fairly steady. Our first test run was 82 fps just like our benchmark chart reports, but on the second run it dipped down to 79.3 and held steady across multiple additional runs. After a cool-down period of around a minute, performance was back to the same levels as before. The Turbo mode suffered no such setback, as it hit 83 fps and stayed there across five total runs. It's louder, to be sure, but the benefit is higher, more consistent sustained performance.
Gears
ran pretty smoothly without all the fan noise, but it's up to each buyer what's more important—right where the choice belongs.
The A15's underbelly gets pretty warm, since it has all that copper built into the bottom of machine. Unfortunately, that right-side vent is tough on the skin. Fortunately the keyboard doesn't get all that warm. Heat on the top is limited to the right and left sides where the fin arrays push all that hot air out the back of the system. None of that ever gets too hot to handle, though.
ASUS TUF Gaming A15 Review Wrap-Up
In some respects, we felt like we had a pretty good idea of how ASUS's TUF Gaming A15 would perform. At this point, AMD's excellent
Ryzen 4000
mobile CPUs are a known quantity -- they're fast and a great value. NVIDIA's GeForce RTX 2060 is no stranger to our labs, either. Since we just recently looked at Dell's G5 15 SE the stage was set for a showdown of gaming notebooks.
As expected, AMD's
Ryzen 7
4800H was an excellent performer throughout. The TUF Gaming A15 went toe-to-toe with the Dell machine and both systems eked out victories of the slimmest margins. The real winner is consumers, however, because in our testing these two $1,200 gaming notebooks turned out to be some of the fastest all-around. It doesn't matter if we're looking at CPU-focused tests like Cinebench, where all those extra threads came in handy, or whole-system benchmarks like PCMark. We always found the A15 up near the top.
This ASUS-built notebook performed exceptionally well in our gaming tests, too. The GeForce RTX 2060 isn't the fastest Turing-based GPU around, but every game in our test suite was completely smooth on the system with high average frame rates. Thanks to the GeForce's dedicated ray tracing hardware, DXR games like
Minecraft
and
Control
run well, too. While there aren't a ton of titles with ray tracing enabled yet, the games that are out there look great. These games all ran well on the variable-rate display, too, so there was no tearing when the action fell below the native fps.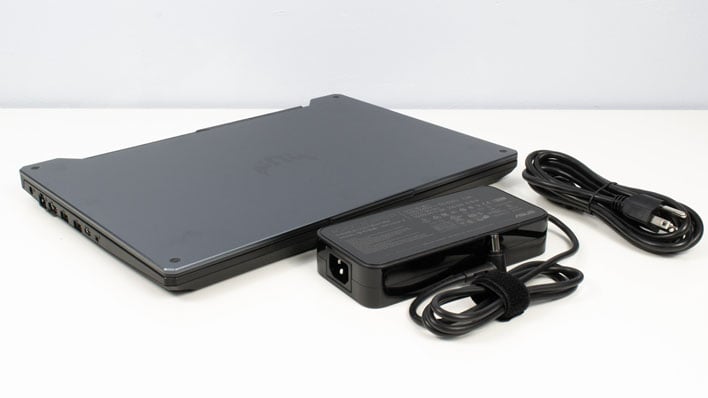 There are a couple of down sides, though. The right-side vent is a big problem for me, personally, but it may not bother others. It's easily rectified by using a stand like the
Rain Design mStand
and an external keyboard, though. The USB 2.0 port is a little perplexing, too. Fortunately there's only one of them, and it's the least-likely to be used by righties. In fact, if you're using a stand, two wrongs can make a right by plugging a mouse into that right port.
While the Dell G5 15 SE represented a pretty substantial value, ASUS's TUF Gaming A15 swoops in right alongside it. At the same $1,199 price point, ASUS adds double the solid-state storage, a better port configuration including USB 3.2 Gen 2, and access to DXR ray tracing. Gamers who are entrenched in
Corsair
's gaming hardware can even run the RGB lighting with the same software they use for their headsets, mice, and mechanical keyboards, which is an tangible plus if you're into RGB like I am.
Things aren't quite so rosy at the lower price levels, however. For $699, the entry-level model starts with a six-core Ryzen 5 4600H,
GeForce GTX 1650
(no rayt racing support), 8GB of memory, a 60Hz display, and a 1TB 5400-RPM hard drive. We would absolutely recommend an SSD to replace that spinning drive in a gaming notebook, but at $700 it's hard to complain too much. For $999, buyers can upgrade to a
Ryzen 7 4800H
, GeForce GTX 1650 Ti graphics, 16GB of RAM, a 512GB SSD, and a 144Hz display, which is a really nice system for a thousand bucks.
Overall,
ASUS
delivered a superb system for the price. At $1200 or less for a machine this kind of horsepower, there are always cost-cutting measures that have to be considered, and ASUS mostly made the right decisions. All of the gaming essentials are still here: a wicked-fast CPU, plenty of graphical horsepower, a fast VRR display, and enough cooling to keep it from throttling. The RGB-backlit keyboard is a fun eye catcher, but overall the system wouldn't look out of place doing serious work either—especially with the light show turned off. Anybody who needs great gaming performance without breaking the bank should absolutely look into the ASUS TUF Gaming A15.





Great value for the dollar as tested
Excellent gaming performance
AMD's Ryzen 7 4800H is incredibly fast
144Hz variable-rate display
GeForce RTX GPU can handle DXR games comfortably
User-serviceable
Good port variety

The right side vent is inconvenient for right-handed mousers
A USB 2.0 port where there could be USB 3.2
Big power brick adds weight when traveling
Related content
Comments