ASUS ROG Strix Hero III Review: A Svelte RTX Gaming Laptop
ASUS ROG Strix Hero III: Software And User Experience
It's been a long time since we encountered a laptop (or desktop) that was bogged down with trial software and other cruft, and fortunately
ASUS
did not break that tradition with the ROG Strix Hero III. It arrived with clean desktop and
Windows 10
Home 64-bit. According to the company's website, Windows 10 Pro is also an option.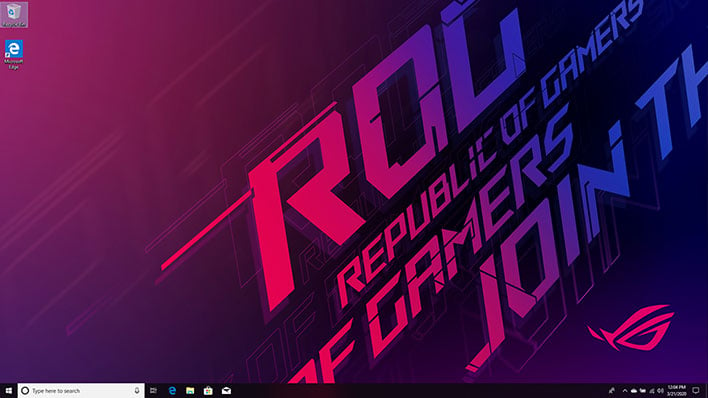 The first boot took us through a short setup routine, and then booted to a desktop with custom ROG wallpaper configured. What you see above is how the system arrived—just two icons on the desktop, one for the Recycle Bin and the other for
Microsoft Edge
.
That said, ASUS did bundle a copy of
McAfee
LiveSafe, which is an antivirus and Internet security suite. And we promptly uninstalled it, as we imagine most gamers will as well.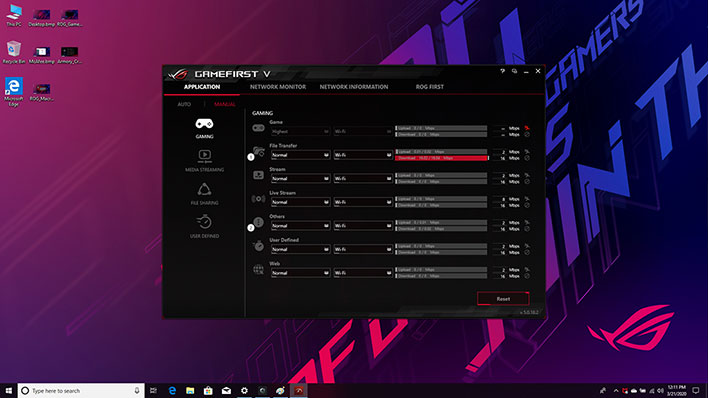 ASUS also includes a few utilities. Shown above is its GameFirst V software. This is essentially a network traffic manager. The intention is to prioritize packets for certain types of programs and activities, like playing games and streaming. There's also a section titled ROG First that will the software to interact with compatible ROG routers, presumably for finger grain quality of service (QoS) optimization.
In our experience, a good Internet connection combined with a high-end router is a recipe for success, versus mucking around with these kinds of utilities.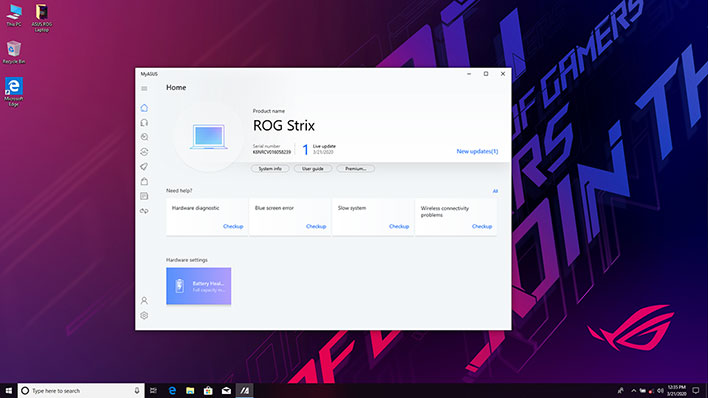 The MyASUS utility is a dashboard offering easy access to a handful of functions, such as diagnosing hardware problems, looking into blue screen errors or slow performance, checking out the health of the battery, and so forth. This is also where you can look up driver and firmware updates, and keep tabs on the status of your system warranty.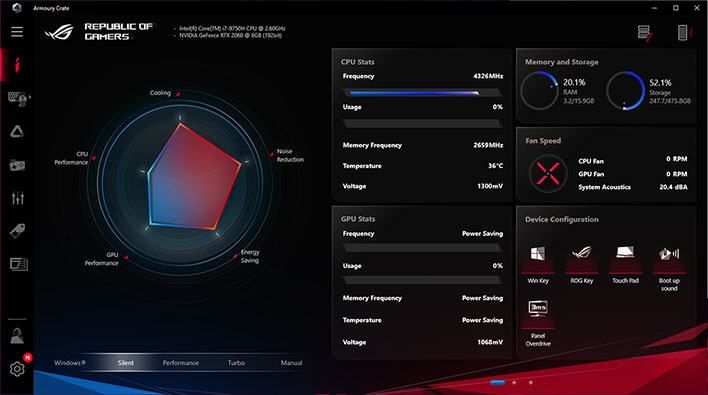 One of the more potentially useful utilities is the Armory Crate software. ASUS even includes a dedicated button on the ROG Strix Hero III to load this puppy up, which gives you an overview of fans speeds, CPU and GPU frequencies, memory usage, and some other stuff.
This is also where you control the RGB lighting. Unfortunately, this is not exactly a user friendly utility. It seems straight forward enough at first glance, but if you want to adjust the lighting on the keyboard, you have to...well, dig a little. This should be something that is front and center, but it's not.
Clicking on the Aura icon and selecting the Aura effects tab brings up some different lighting effects, but they change both the keyboard and under carriage lighting. We could not find a place to customize the keyboard lighting by itself, let alone individual keys or zones (if either of those are options).
Even something as seemingly simple as disabling the keyboard or under carriage backlighting is a little bit convoluted. To disable one or the other (or both), you need to click on the Device icon, select System, navigate to the Lighting tab, then ignore all those lighting effect options and click on the Settings button in the upper right corner. At that point, you'll find two checkboxes—one for the keyboard, and one for the undercarriage lighting.
Making matters more frustrating, the utility indicates there is a firmware update available, but no matter what we did, it would not install. A peek around the web shows we are not the only ones to run into this quirk.

Given the focus ASUS is putting on lighting effects and the unique under glow, this is something that should be a lot easier and more intuitive to customize.
Let's move on to the benchmarks...

Related content
Comments