ASUS ROG Strix Hero III Review: A Svelte RTX Gaming Laptop
ASUS ROG Strix Hero III: Battery Life And Final Thoughts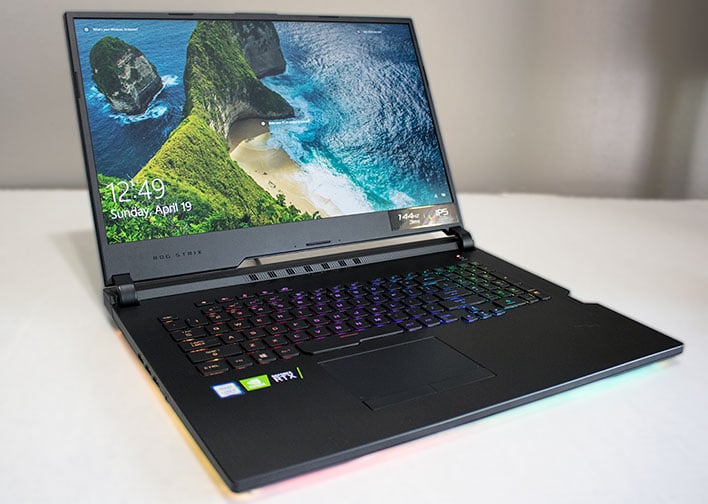 Our Battery Life testing is performed using a custom 1080p HD video loop test we developed here at HotHardware. We conduct the tests with
Windows 10
Quiet Hours enabled and the display's brightness calibrated as close to 115 lux on
our meters
as possible. Brightness calibration is vital to ensure a fair comparison with other notebooks in our group, since it greatly affects battery life.
However, every notebook has different brightness ranges, so it's critical to rely on a light meter, instead of a Windows brightness setting percentage, in order to level the playing field on brightness output. The
ASUS
ROG Strix Hero III was set at 54 percent brightness to achieve 115 lux (max lightness level yielded around 195 lux).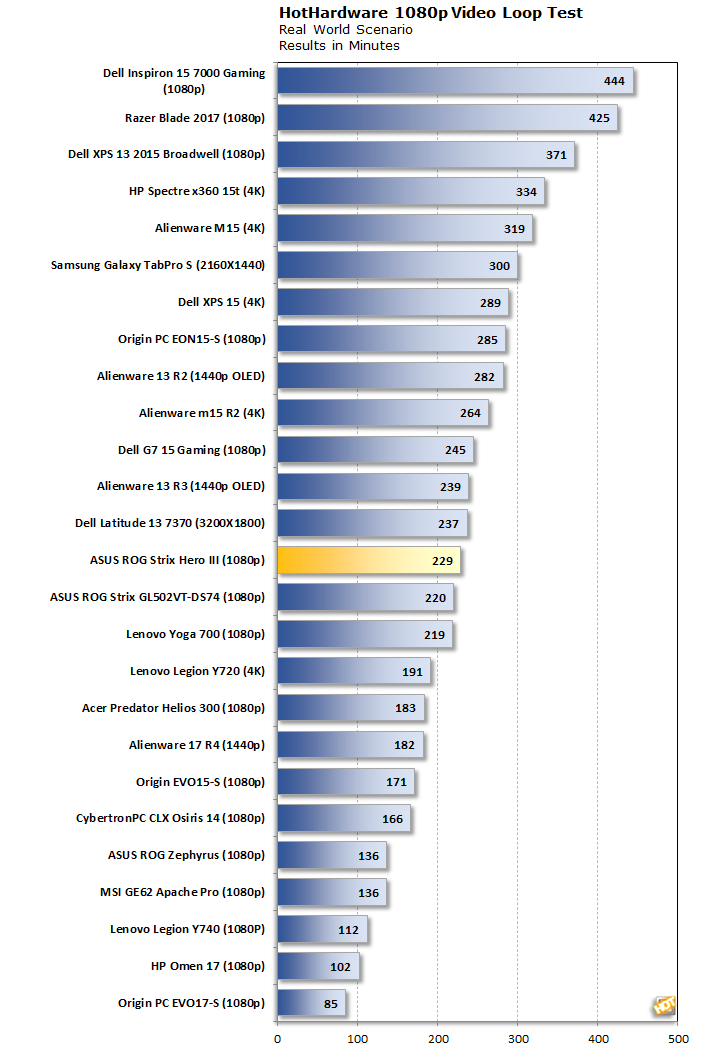 The battery life on the ROG Strix Hero III is pretty decent for a powerful system with a high-refresh rate 17.3-inch display, with our home brewed benchmark running for 3 hours and 49 minutes before the laptop ran out of juice and shut itself down. You can expect longer run times when with lighter duty workloads, such as browsing the web and hammering out TPS reports, and shorter battery life when playing games.
This is consistent with what we observed with the last Strix-branded laptop we reviewed, the
ROG Strix GL502VT-DS74
back in 2016. The hardware on the ROG Strix Hero III is significantly improved across the board, so it's nice to see that we are able to get a big bump in performance without a hit to battery life (the ROG Strix Hero III actually last a little longer than the older Strix system).
Cooling And Acoustics
The ROG Strix Hero III offers three fan profiles to cycle through: Silent, Performance, and Turbo. These perform about as you would expect—the Silent profile runs virtually silent, the Turbo profile runs the fans more aggressively to keep the temps as low as possible, and the Performance profile strikes a balance between the two.
Most users will likely stick with the Performance profile. It's a relatively quiet laptop, and though you can squeeze a bit of extra performance from the system with the Turbo profile, it's a negligible difference, even just when running benchmarks.
At idle, there's barely a peep coming from the laptop in Performance mode—we registered around 30 decibels. The Turbo setting is definitely audible, though still not obnoxiously loud, at around 42 decibels at only a few inches above the keyboard deck.

Final Thoughts On The ASUS ROG Strix Hero III
There is still a contingent of gamers who prefer larger laptops with a 17.3-inch display, even though smaller form factors are more popular. For those that do, the ROG Strix Hero III is an excellent option. It wields a bigger display without the overall bulkiness of a larger laptop, and also without compromising on hardware or features. The combination of a 9th generation
Intel
Core i7-9750H processor and
NVIDIA GeForce RTX 2060
GPU (regular, not Max-Q) is a potent one.
We also like that the display offers a fast 144Hz refresh rate. Even the burliest GPU will have trouble taking full advantage of such a high refresh rate in demanding games, but for certain esports titles and other games that are less taxing, it's a nice perk. Whether it will make you a better, more competitive gamer is a different topic (it certainly won't hurt).
ASUS also did a good job with the cooling scheme. We found that the Performance fan profile is the best one to roll with, in terms of balancing noise with cooling. But even with the Turbo profile selected, this laptop doesn't sound like a freight train barreling down the track. It's definitely audible (read: no longer quiet), but we have heard louder systems.

Our only reservation in wholeheartedly recommending this laptop is the timing. The particular machine we looked at is a 2019 model, and newer configurations are on the horizon. Laptop makers are starting to ship systems built around Intel's 10th generation
Comet Lake-H
series CPUs, as well as
AMD's Ryzen 4000H
series based on Zen 2, at attractive price points.
Those newer options do not take away from the overall package offered here, however. The ROG Strix Hero III is fast, sleek, and well rounded, with decent battery life to boot. It's also easy to upgrade the core components. But whether it's worth buying or not depends on what kinds of deals you might find on this system, compared to what newer models are available. At the very least, though, the ROG Strix Hero III is worth considering.






Strong overall performance

Relatively thin and light for a 17.3-inch gaming laptop

144Hz refresh rate

Acceptable noise levels

Unique ROG Keystone feature


Customizing the lighting is a chore

Lacks a webcam

Last gen Wi-Fi connectivity (Wi-Fi 5)

Related content
Comments