ASUS ROG Strix Hero III Review: A Svelte RTX Gaming Laptop
ASUS ROG Strix Hero III: PCMark And 3DMark Performance
Futuremark benchmarks have been popular go-to system level tests since the late '90s. We ran the
ASUS
ROG Strix Hero III through PCMark 10, which is designed to gauge the system's performance in everyday use case scenarios with GPU acceleration-enabled, while the 3DMark tests further down the page assess its gaming chops.
PCMark 10




Productivity and System-Level Benchmarking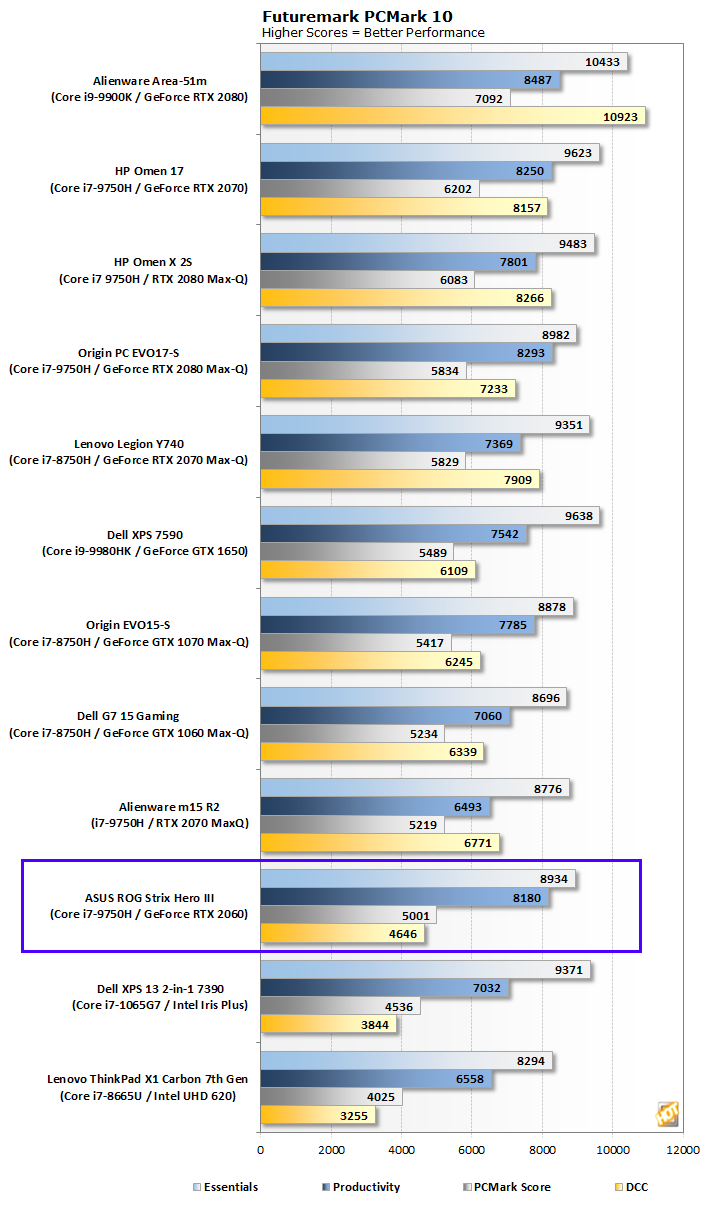 After performing so well in the CPU-bound benchmarks, the ROG Strix Hero III took a step back in PCMark 10, though bear in mind these are all relatively strong scores from top to bottom. Why the discrepancy, though? PCMark 10 relies heavily on the storage subsystem, which could help explain things. For example, the
Alienware Area-51m
at the top of the chart is running a pair of SSDs in RAID 0 with double the throughput as the
Intel 660p SSD
inside the ROG Strix Hero III.
The other reason is the GPU. If we look at the individual scores, the ROG Strix Hero III was competitive in each category except for the Digital Content Creation assessment, which evaluates photo editing, video editing, and rendering and visualization performance. The
GeForce RTX 2060
inside the ROG Strix Hero just isn't as powerful as several of the GPUs in some of the systems that scored higher.



3DMark Benchmarks




3D Benchmarking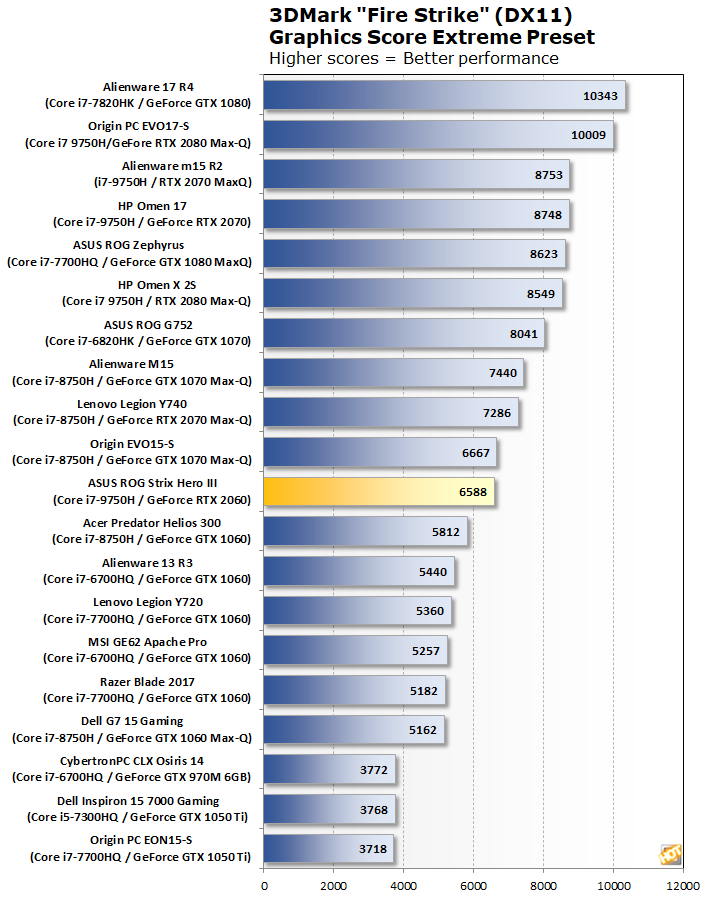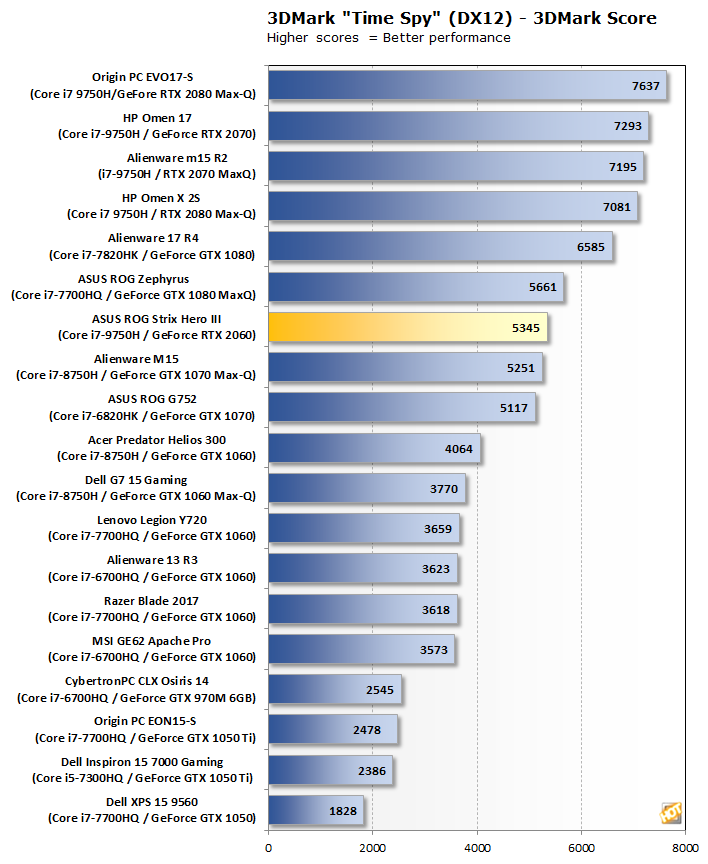 Switching our attention over to graphics reveals the same thing. This is the only laptop we have tested with a GeForce RTX 2060 GPU, so in that a respect, these graphs can be misleading at a passing glance. Looking closer, however, we see the ROG Strix Hero III positioning itself right where we would expect.
In the Fire Strike Extreme benchmark, the ROG Strix Hero III comes out ahead of every laptop with a previous generation
GeForce GTX 1060
GPU, and predictably trails current generation
GeForce RTX 2070
and
GeForce RTX 2080
laptops. Same goes for the Time Spy benchmark.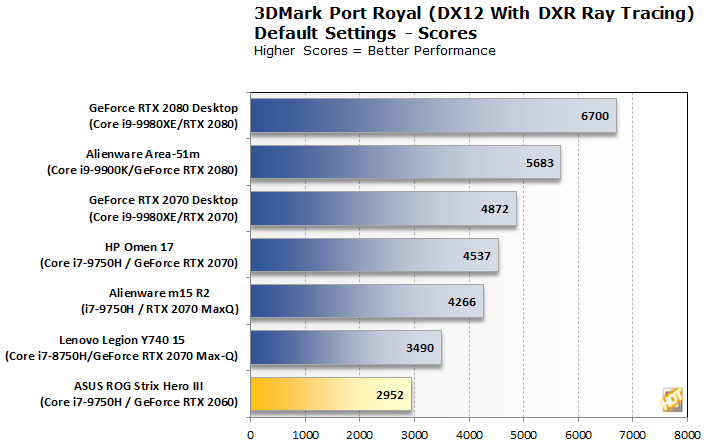 We continue to add scores to our collection of Port Royal benchmark runs, though at the moment, it's not as fleshed out as some of the other benchmarks we run. The GeForce RTX 2060 is the lowest end GPU with dedicated hardware for real-time ray tracing, and so the ROG Strix Hero III brings up the rear, trailing behind laptops and desktops with higher end RTX GPUs.

This is not concerning, because the score of 2,952 is not far behind the
Lenovo Legion 740 15
, which scored 3,490 with its GeForce RTX 2070 Max-Q GPU.
Related content
Comments