iPhone SE 2020 Review: Apple's Latest Value Play Impresses
iPhone SE: Performance Testing and Conclusions
The iPhone SE comes with Apple's highest-performing phone SoC, the
A13 Bionic
, which has a pair of fast high-performance cores and four efficiency cores for background tasks. There's only 3 GB of RAM on board here, but iOS and Android manage memory utilization very differently. Even the high-end
iPhone 11 Pro Max
ships with just 4 GB of RAM, when comparable recent flagships from Samsung and OnePlus are packing 8 to 12 GB, and nobody would argue that an iPhone feels sluggish. Apple's tightly coupled platform is just more efficient with RAM, which saves cost (and likely boosts profits for Apple). There's also 64 GB of UFS storage in our base model, so even primary storage should be pretty quick.
That list of specs is impressive, for a $400 phone, considering that Samsung and Google aren't slapping Qualcomm's
Snapdragon 865
into a midrange phone anytime soon. One would expect the new iPhone SE to dominate its midrange competition on performance metrics, which should extend the usable life of the phone considerably. When one considers Apple's generous software support policy (in which the discontinued 2016 iPhone SE still has the current operating system), the iPhone SE is set up to last for a while.
Let's check out an abbreviated list of benchmarks, only because some of our go-to tests like PCMark aren't available on
iOS
.
Geekbench 5
Single and Multi-Core Performance
In this GeekBench CPU test, we're stressing only the
A13 Bionic
's main processor cores in this handset (not its graphics engine), with both single and multi-threaded workloads. The test is comprised of encryption processing, image compression, HTML5 parsing, physics calculations, and other general purpose compute processing. This test has its bigger sibling as well as high-end Android competition.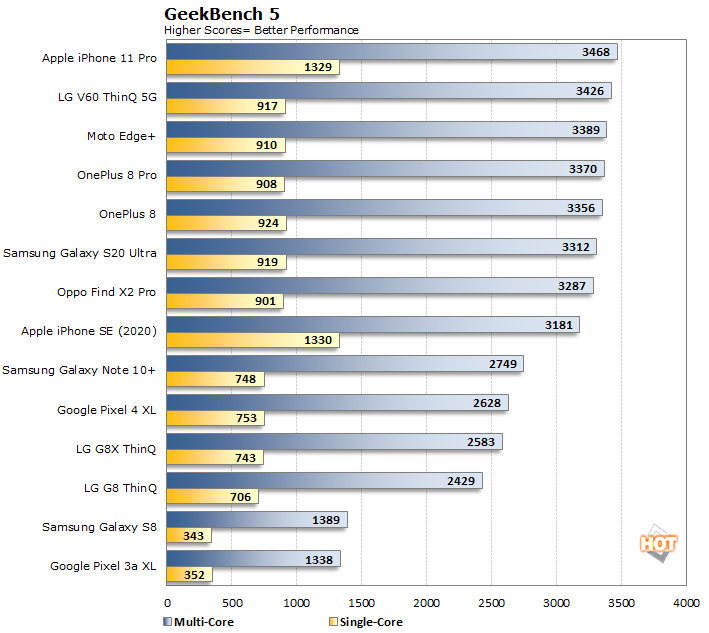 Geekbench very clearly illustrates the A13 Bionic's strengths and weaknesses. To start with, the chip's single-core performance is through the roof, besting all Android competitors with Qualcomm mobile platforms. However, despite a 50% advantage over the Snapdragon 865 competition (thousand dollar phones, mind you) in single-threaded tests, it actually trails the same phones in multi-core performance. That's because Qualcomm's high-end SoCs have four high-performance cores to the A13 Bionic's two. As we go along, keep these differences in mind.
BrowserBench Speedometer and JetStream

Web Application Performance
We recently moved on to
BrowserBench.org
's Speedometer test, which takes a real-world approach web application performance. This test automatically loads and runs several sample webapps from ToDoMVC.com using the most popular web development frameworks around, including React, Angular, Ember.js, and even vanilla JavaScript. This test is a better example of how systems cope with real web applications, as opposed to a pure JavaScript compute test like JetStream. For the iPhone, we used the bundled version of Safari, while all Android tests were performed using the latest version of Chrome.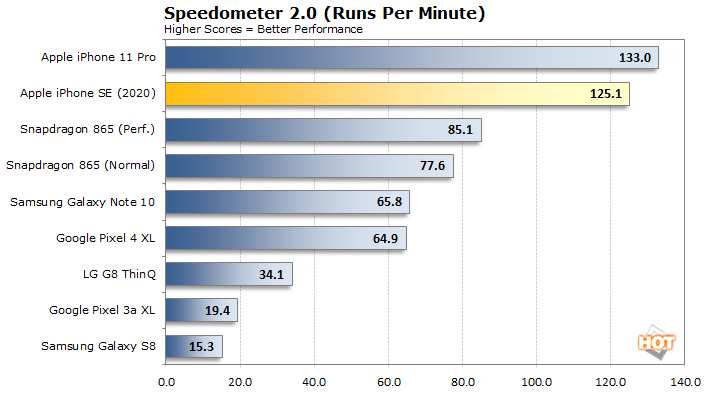 Here we can see that lightly-threaded performance advantage in action, delivering a sound thumping to the
Snapdragon 865
reference platform, which isn't identical to shipping devices, but still in the same ballpark. We've since dropped Speedometer from our retail phone reviews but since it's cross-platform decided to bring it back for the iPhone 2 SE. Meanwhile, older flagship Android devices trail by much more than that, including last fall's
Galaxy Note 10
, which still has a Snapdragon 855. Especially at $400, the iPhone SE impresses.
BrowserBench's
Jetstream
test is a much more compute-oriented test than Speedometer, doing work in JavaScript that might normally be reserved for native applications. Still, this gives us an idea how the iPhone SE handles a heavy JavaScript load, something that mobile Safari has traditionally done well in, and well-suited to the A13 Bionic's strengths.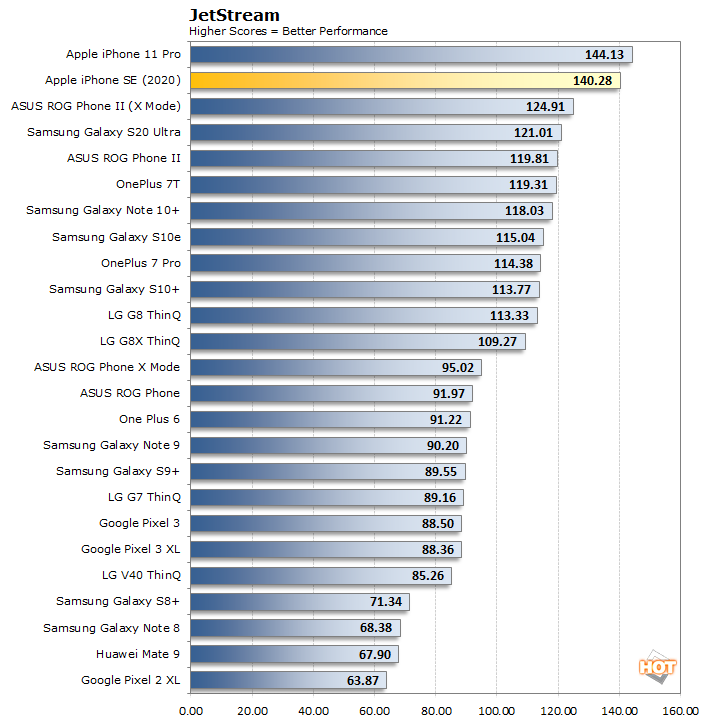 Again, the iPhones sweep the top two spots.
Apple
apparently sees web performance as a top priority in its mobile hardware and software stack, and when one considers that the iPad lineup runs on the same software base with the same silicon engines, it makes sense. Tablets are a pretty enjoyable web browsing platform, and these phones reap the benefits.
Basemark Web 3.0

Web-based rendering performance
Basemark's
Web Test
3.0 for comprehensive, mixed-media web performance analysis that includes HTML5 rendering. Here we'll primarily determine how the iPhone SE's beefy SoC and relatively meager RAM loadout handles this specific workload with the Safari web browser. All tests were performed at the phone's default resolution display resolution on each device, which for the iPhone SE is 1334x750.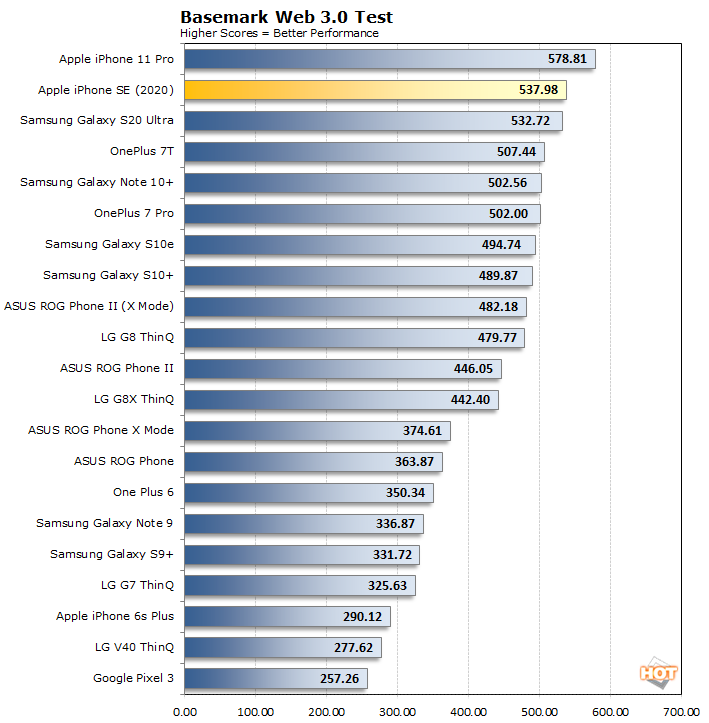 I think we can lay off the web benchmarks now. We've definitely noticed a pattern. Again, the iPhones dominate, and if 2015's
iPhone 6s Plus
is any indication, it'll hang with high-end Android phones two years from now, too. Maybe Qualcomm has some magic up its sleeve?
AnTuTu 8 Benchmark
Platform Benchmarks
AnTuTu's latest benchmark returns a number of metrics ranked with somewhat nebulous scores, rather than frame rates or time to complete. We tested with the latest version of AnTuTu across an all
Android
platform group along with the last two generations of iPhones. AnTuTu returns four top level performance metric results that we are including here: CPU, RAM, 3D, UX (or User Experience), along with a total score.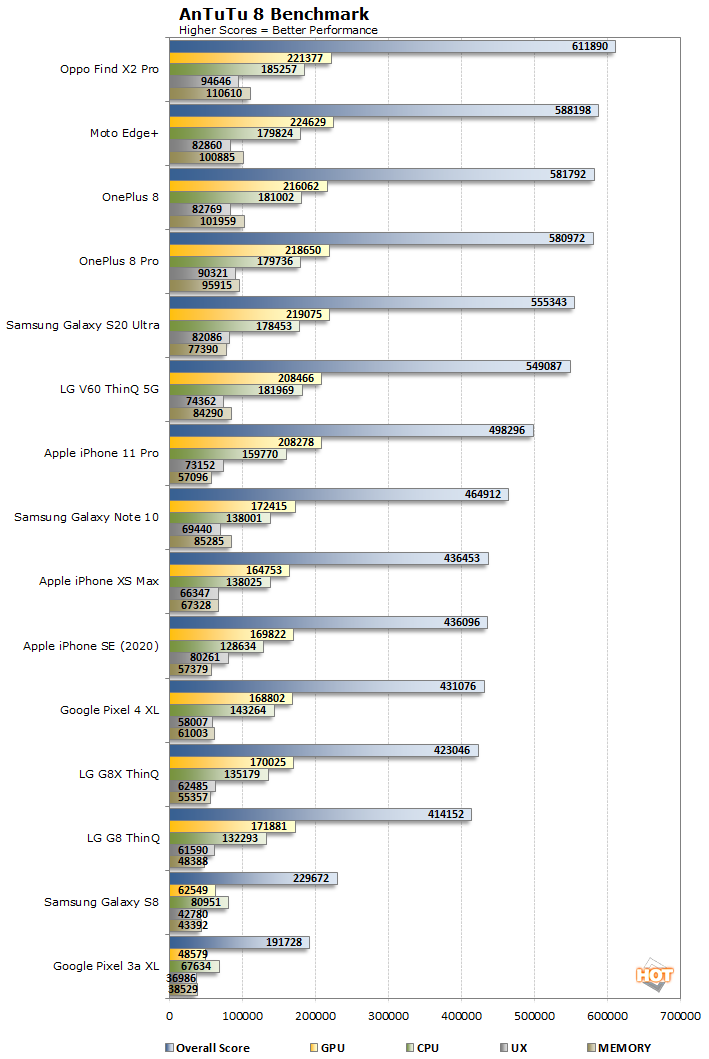 Here's where the Qualcomm design advantages start to appear. The Snapdragon phones overcome Apple's potent SoCs by the sheer number of hardware threads available. Four high-performance cores might not double up the iPhone SE's CPU score, but it's enough to soundly win that test. There also appears to be a whole lot more realized memory bandwidth in recent Android devices as well, not to mention potent graphics performance.
3DMark Sling Shot Extreme
3D Performance
Futuremark's 3DMark Sling Shot is a newer benchmark module that's been added to the 3DMark mobile suite. Versus the previous generation of 3DMark Mobile tests, Sling Shot uses the somewhat more modern OpenGL ES 3.1 on
Android
and cutting edge low level Metal API on
iOS
. This benchmark that employs more advanced rendering techniques than older tests, too, like volumetric lighting, particle illumination, multiple render targets, instanced rendering, uniform buffers and transform feedback.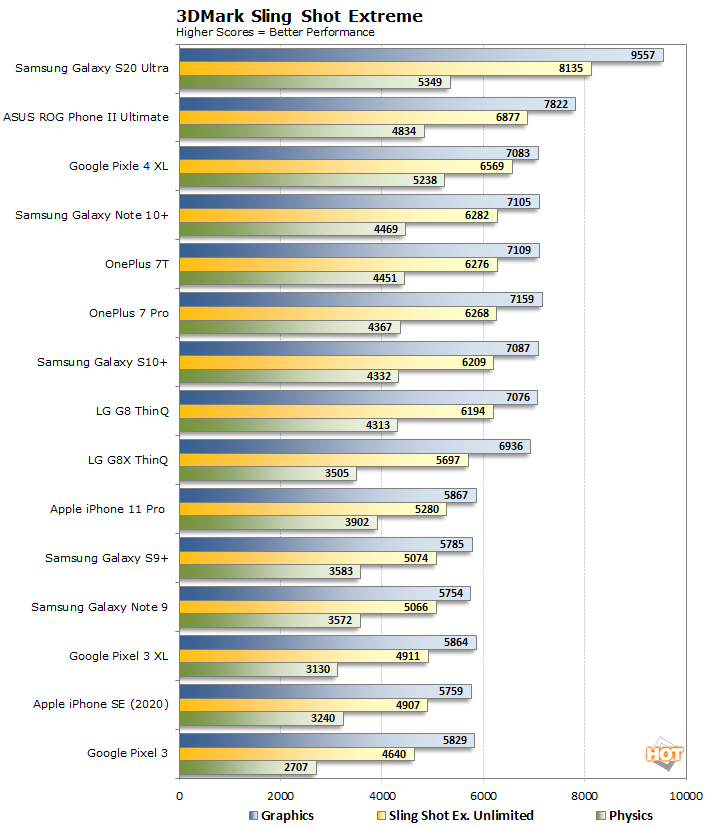 The iPhones get clobbered in this test, which renders off-screen at 2560x1440. That's nearly four times the actual number of pixels in the iPhone SE's screen, so it's safe to say the Apple-designed GPU won't ever have to do something quite that strenuous in actual games. Still,
Qualcomm
's Adreno GPUs sweep the Graphics test, and the high-end Android devices soundly thump Apple in the Physics test, too. Combined, the overall score isn't really a contest. It's not all bad for the iPhone SE, though, as it scores a win over the full-fat Pixel 3, which means Google's similar price point device, the
Pixel 3a
, would be even further back.
2020 iPhone SE Performance Summary
Overall, the A13 Bionic appears to be aimed directly at a specific set of strengths: single-threaded performance and lightly-threaded web application dominance. On those two fronts,
Apple
delivered in spades, even in the $400
iPhone SE
. Its 3 GB of system memory didn't seem to hold it back, although the pint-sized phone lagged its larger siblings by around 10% throughout. That more than likely has more to do with power consumption and resultant heat production than anything else. A phone with a smaller surface area cannot dissipate the heat that a larger device can and thus will hit peak processor clock speeds quick and throttle to maintain skin temps and stability. Meanwhile, the iPhone SE's battery is also much smaller, and as we've already discussed battery life is only so-so.
Once we branched out into other tests, however, more expensive Android devices started winning out. While we didn't always have scores for the Pixel 3a handy, the iPhone SE beat the regular-sized
Pixel 3
across the board, and we already know from prior experience that the
Pixel 3a trails
its more expensive siblings. In the battle of the midrange phones between Apple and Google, we're all winners since both are really nice devices, but Apple clearly takes home the performance crown here.
iPhone SE (2020) Review Summary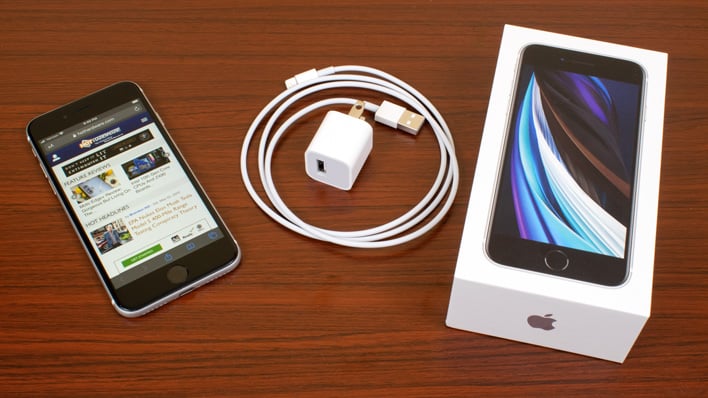 Apple produced a very interesting device in the
iPhone SE
. Creating the perfect $400 phone might be impossible, because most manufacturers still have high-end devices they need to market and sell to prospective customers. As a result, midrange devices have their share of flaws and trade-offs and each device maker tends choose its own particular set of concessions to make. Where Apple stuck to its high-end guns, the new 2020 iPhone SE is a winner. Performance is excellent, and Qi wireless charging is a welcome rarity in this price range of smartphones.
The concessions Apple made here for cost are likely acceptable for a good swath of mainstream users. The
iPhone 8
's display was kind of underwhelming in late 2017 when it shipped, and it's certainly not any better today here in the iPhone SE. The same can be said of the iPhone SE's camera, which likely was carried over as well. Still shots aren't as sharp as they could be, and video leaves a little to be desired, compared to not only high-end phones, but also the rare midranger, like the Google Pixel 3a and
Motorola One Action
. These shortcomings aren't all that bad, but they're obviously the corners Apple chose to cut. At least we get upgraded video rendering of the A13 Bionic in 4K60 shooting.
There are a few other things to consider when looking at the iPhone SE. No Apple device comes with the ability to expand storage via a micro SD slot. For that reason, be sure to get enough built-in storage if the base model 64GB version seems like it might not be enough down the road. There's also a little less RAM in the iPhone SE than the more expensive models—3 GB instead of 4 GB. While it doesn't seem to affect performance much in our tests, there's the increased likelihood that background apps will get kicked out of memory and shut down by iOS, thus hampering response times in some cases. Finally, battery life is only so-so with the iPhone SE, something it inherits from living in the iPhone 8's smaller form factor.
Speaking of the iPhone 8, keeping a design is both a pro and a con for the iPhone SE. The big bezels and huge forehead are kind of a downer compared to more sleek designs of 2019 or 2020. But towards the end of our review period, one huge bonus appeared: accessories. Cases and tempered glass screen protectors designed for the
iPhone 7
and 8 also fit the SE without a hint of trouble.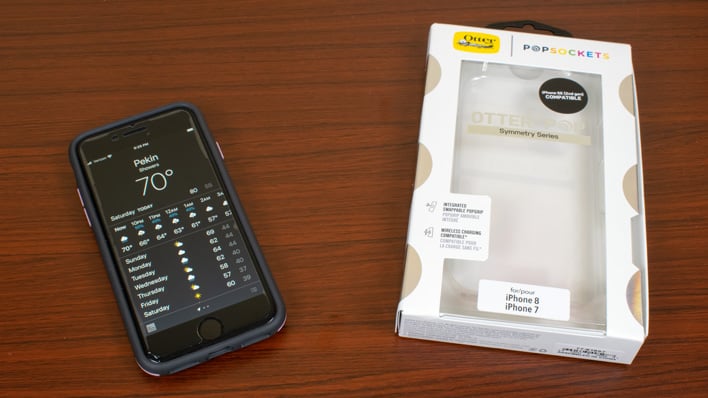 Because our review unit was purchased as a young teenager's first smartphone, we wanted to wrap this thing in as many protective layers as we possibly could, and it was easy to do so. In the photo above, the 2020 iPhone SE has both a screen protector and an
Otterbox Pop Symmetry
case. If pink and purple aren't your thing, there are loads of other phone cases for this form factor, rather than the usual trickle at the start of a new design's life.
When we put it all together
with the iPhone SE's $400 retail price
, this really feels like a can't-miss device if you're looking for a budget phone. Its unique mix of outstanding performance, excellent feature set, and good enough camera put it in the upper echelon of sub-$500 phones, regardless of platform. It's a no-brainer for folks who want to stay in, or are comfortable with, Apple's walled garden of an
AppStore
ecosystem at the lowest possible price. And in that context it's Recommended HotHardware.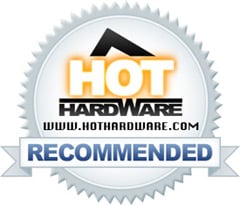 iPhone 11-class performance in a midrange device

Qi Wireless Charging

Very responsive Touch ID fingerprint sensor

4K 60 fps video recording

iPhone 8 form factor = tons of accessories

Great value at $400

Low-resolution display not as sharp as some 1080p panels
Camera in low-light situations is dark and grainy
No facial recognition
iPhone 8 form factor looks dated
Related content
Comments